Subaru BRZ 2023 review: S – Affordable sports car to rival Toyota GR86 twin and Mazda MX-5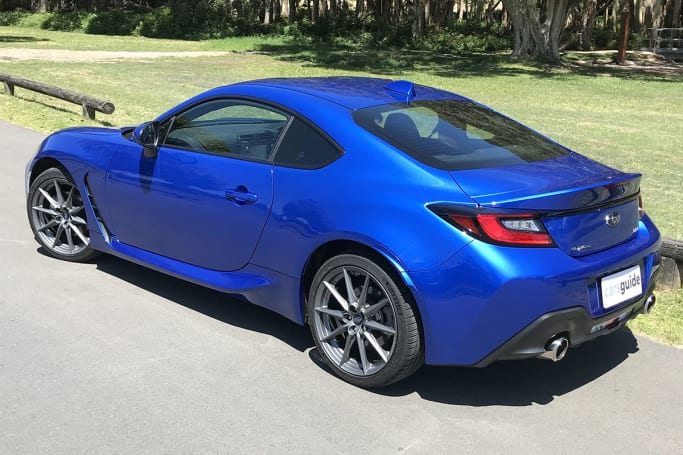 It's an increasingly rare combination. An affordable sports car with a naturally aspirated engine in the front, driving the rear wheels through a manual gearbox. 
In the not-too-distant future enthusiast drivers will be talking about the good old days when the second-generation Subaru BRZ was sitting new in showrooms with a sub-$45K price sticker on the windscreen.
And maybe this BRZ S manual represents your last chance to acquire a mainstream performance-focused combustion car offering such a pure experience behind the wheel.  
Read more about the Subaru BRZ
It's roughly 12 months since Subaru launched the current BRZ in Australia, well ahead of its Toyota GR86 twin, with the first 500 examples selling in the blink of an eye.
So, now that the dust has settled, and a relatively modest price rise from earlier in the year has been bedded down, it's time to catch up with Subaru's in-demand two-door.    
Does it represent good value for the price? What features does it come with?   8/10

At $41,590, before on-road costs, the six-speed manual version of the BRZ S lines up against a couple of similarly priced front-engine, rear-drive manual sports cars.
For starters, there's Toyota's 86 at $43,240 for the six-speed, and the difference boils down to a few specification tweaks, because these near identical twins roll down the same assembly line at Subaru's Gunma plant, north west of Tokyo. 
Another traditional rival is Mazda's evergreen MX-5, the most comparable model being the RF, with its folding hardtop, starting at $42,650.
The six-speed manual BRZ S comes in at $41,590, before on-road costs. (Image: James Cleary)


From there it gets trickier. Nissan's new Z has the same powertrain configuration, with a six-speed manual available. But it's a more serious proposition with a twin-turbo V6 under the bonnet and a $73,300 price tag to match.   
Or what about the mid-engine, RWD Porsche 718 Cayman at $122,800 for the six-speed manual. At three times the price it makes the BRZ look like a cracking bargain.
So, aside from the safety and performance tech covered a little later, what does your circa $40K bring in terms of features?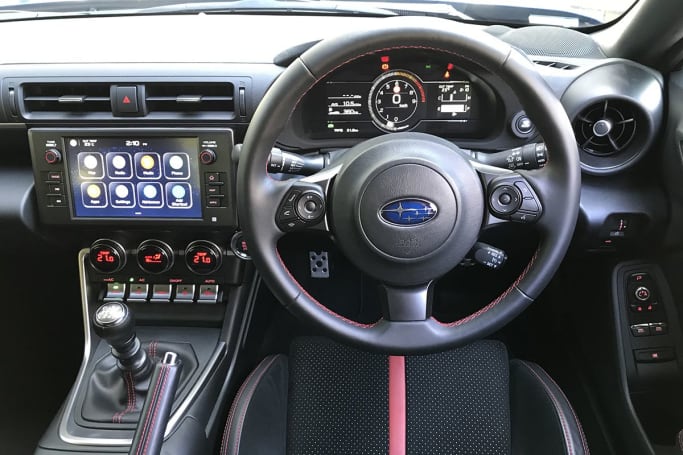 Upfront is an 8.0-inch multimedia touchscreen and a customisable 7.0-inch digital instrument cluster. (Image: James Cleary)
Well, the standard equipment list includes, dual-zone climate control, cruise control, and an 8.0-inch multimedia touchscreen managing navigation, vehicle settings, and the six-speaker audio system, the latter featuring Bluetooth, Android Auto and Apple CarPlay connectivity, as well as digital radio and voice recognition.  
There's also keyless entry and start, a customisable 7.0-inch digital instrument cluster, a reversing camera, a leather steering wheel and gear shift (with red contrast stitching), synthetic 'Ultrasuede' seat trim (with leather accents), heated front seats, 18-inch alloy wheels, and the auto LED headlights are self-levelling and steering-responsive (the DRLs and tail-lights are LED, too).
You'll have to adjust the front seats manually, although that can be understood in terms of cost and weight-saving. And all-in-all it's a pretty solid equipment package relative to the price-point and direct competitors.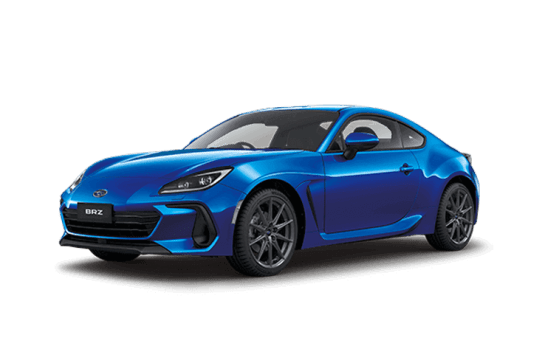 Explore the 2023 Subaru BRZ range
Is there anything interesting about its design?   8/10

The original Subaru BRZ/Toyota 86 design wasn't broken, so, how do you freshen up a winning formula without spoiling it in the process?
That was the challenge facing Project Chief Designer, Koichi Matsumoto and his team at Toyota. As was the case with the first-gen car, Subaru is responsible for engineering and manufacturing, while Toyota took care of the car's design.
And the result is a smooth evolution of the original BRZ's look and feel, using confident, simplified lines to create a more substantial, mature presence.
Large, angular LED headlights, defined by LED DRLs around their perimeter, deep gills feeding air to the front brakes, and a protruding chin spoiler contribute to an intense, focused expression at the front.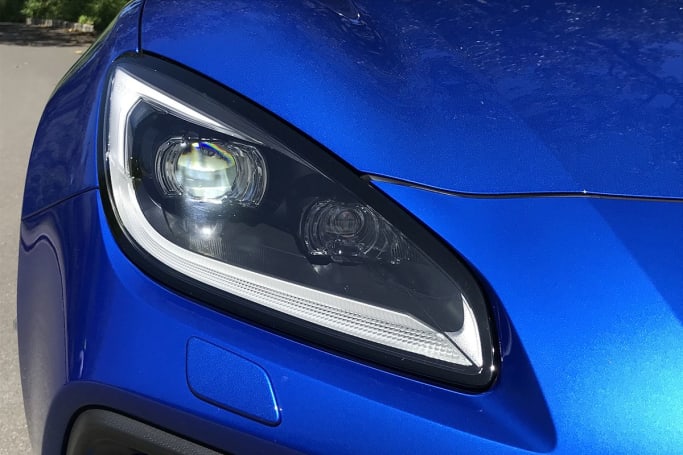 Large, angular LED headlights are defined by LED DRLs around their perimeter. (Image: James Cleary)
One of the most common owner upgrades to the original BRZ/86 was a 'plus-one' step up in wheel diameter from the standard 17-inch rims to 18s. And Subaru is now ahead of that game fitting handsome 10-spoke, 18-inch alloys as standard on the base and S model of the current car. They fill the arches nicely, and again, make the BRZ look more serious and grown up.
Large vents behind the front wheel arches are functional, allowing cooling air to escape cleanly once it's passed through the brakes, and thick integrated side skirts enhance the car's aggressive stance.
Things have been kept simple at the back, with the steeply sloped rear window running seamlessly into the boot, which kicks up abruptly with a large lip spoiler on its trailing edge. Elongated LED tail-lights wrap around the rear corners to neatly finish off the clean rear-end treatment.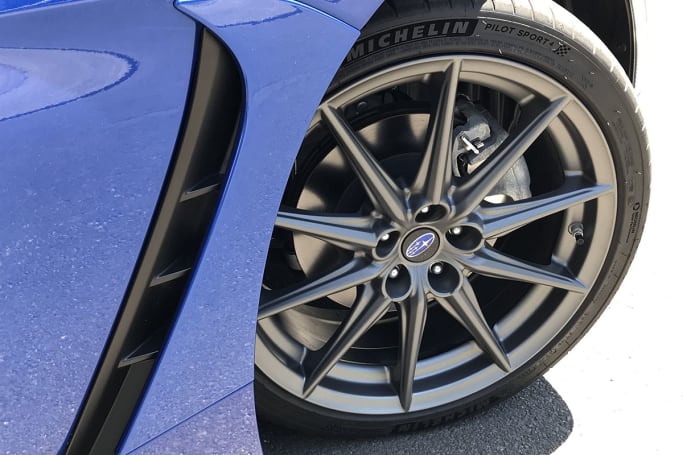 The base and S models are fitted with 10-spoke, 18-inch alloy wheels. (Image: James Cleary)
The interior will be familiar territory for owners of the original BRZ because nothing fundamental has been changed.
Grippy sports front seats are trimmed in synthetic suede (perforated on the central panels) with leather accents, while red highlights and contrast stitching rev up the racy feel.
The dash set-up also has echoes of the previous car, although the media screen is bigger and better, the instruments are digital and LCD displays have been added to the climate adjustment knobs. A mechanical handbrake, located on the 'correct' (right-hand) side of the transmission tunnel and alloy pedal covers help build the cool, sports car vibe.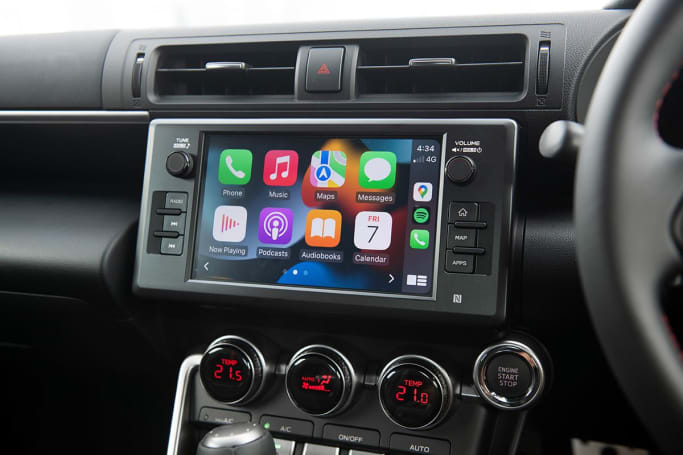 The media screen is bigger and better than the previous BRZ. (Image: James Cleary)
How practical is the space inside?   6/10

Practicality was never going to sit near the top of the design and engineering priority list for this car, But that said, it's a '2+2', meaning there's enough room for adults to sit comfortably up front, and nowhere near enough room for that to happen in the rear.
Skilled contortionists or pre-teenage kids are the only realistic +2 candidates. Headroom is laughable, legroom is non-existent, and if, for whatever reason, you do need to squash a couple of grown-ups back there, be prepared to slide the front seats forward to an uncomfortable, borderline unsafe degree. And stand-by for the chiropractor bills! 
Aside from that, storage is more often than not an 'either-or' proposition. There are two cupholders in the centre console, but they're inside the lidded bin between the front seats. So, space for keys, a wallet and phone… or a couple of cups.
Same with what Subaru cheekily calls "door pockets with integrated bottle storage". Yeah, nah, there's a recess large enough for a bottle, and a small slot beside the armrest. 
The glove box is okay, but it's chock-full of a small phone book-sized (remember those) owner's manual set. Maybe best to set that aside somewhere. But the good news is there's a 12V socket in there.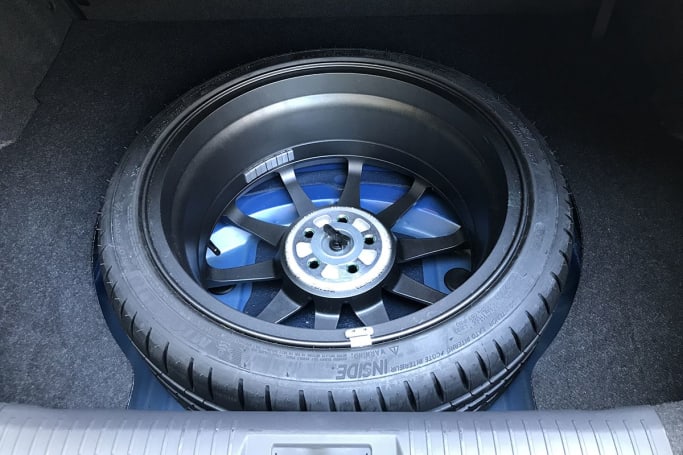 Good news is there's a full-size alloy spare in the boot. (Image: James Cleary)
Speaking of power and connectivity, there are also two USB-A sockets and an 'aux-in' jack in the centre console box.
When it comes to the boot, there's good news and bad news. Good news is there's a full-size alloy spare in there. Bad news is it sits flat in the floor and takes up a lot of the already tight 201-litre space. Practical when you have a flat. Not so much when you're trying to fit the groceries in.
An unlikely side benefit is the dish of the alloy spare helps keep small items under control once you're underway. Which is extra handy because there aren't any tie-down anchors included.
What are the key stats for the engine and transmission?   8/10

The BRZ is powered by a naturally aspirated, 2.4-litre, horizontally-opposed four-cylinder petrol engine.
This all-alloy (FA24) unit features a combination of port- and direct-injection, as well as 'Dual AVCS' variable (inlet and exhaust) valve timing to produce 174kW at 7000rpm and 250Nm at 3700rpm.
It's a derivative of the previous car's 'FA20' engine, with the cylinder bores increased from 86mm to 90mm, to bring capacity up from 2.0 litres to 2.4 litres.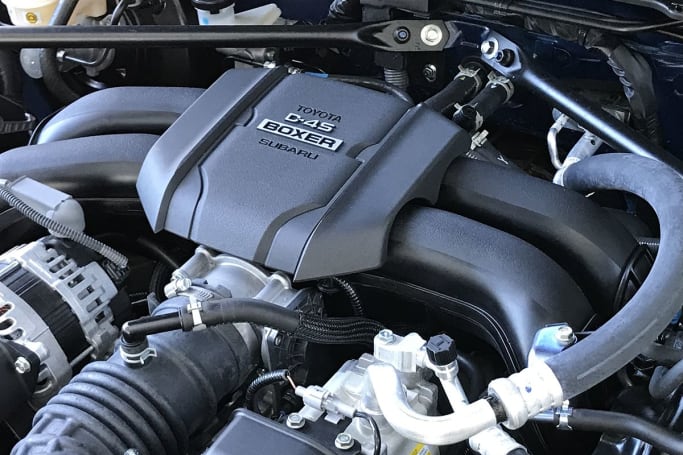 Under the bonnet is a 2.4-litre, horizontally-opposed four-cylinder petrol engine. (Image: James Cleary)
Drive goes to the rear wheels through either a six-speed automatic transmission, or as tested here, a six-speed manual gearbox.
Worth noting this package addresses one of the most common criticisms of the superceded, first-generation BRZ. That is, it needed more power.
While some owners were happy with the power-to-weight balance of the original 2.0-litre car, others turned to various tweaks, including forced-induction, to up the ante.
But the second-gen car adds an extra 389 ccs, 22kW and 38Nm in an attempt to satisfy those with a need for extra speed.
How much fuel does it consume?   8/10

Subaru's official fuel economy number for the combined (ADR 81/02 – urban, extra-urban) cycle for the six-speed manual BRZ is 9.5L/100km (six-speed auto – 8.8L/100km), the 2.4-litre four emitting 217g/km of CO2 in the process.
Over a week of city, suburban, and some freeway running we saw a dash-indicated average of, you guessed it, 9.5L/100km. And doing the arithmetic after filling up at the bowser we arrived at an average of 9.1L/100 for the same period. Not bad for a sporty coupe like this. 
Pricey 98 RON premium unleaded is required, though, and you'll need 50 litres of it to fill the tank.
Using the official number that translates to a range of 526km, which rises to just under 550km using our real-world (at the pump) number.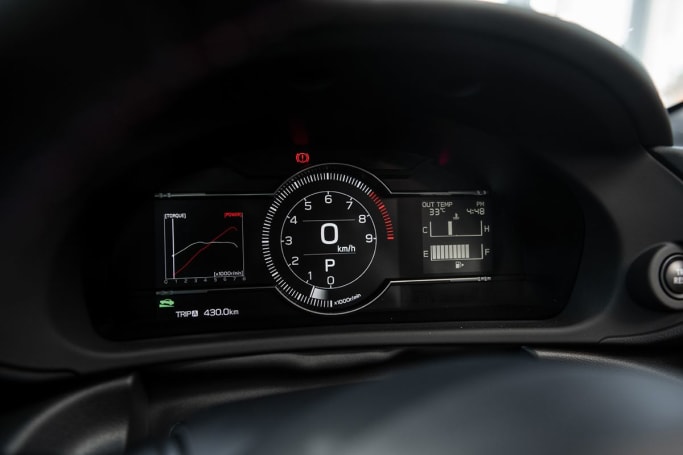 The official fuel economy number for the six-speed manual BRZ is 9.5L/100km and 8.8L/100km for the auto. (Image: James Cleary)
What safety equipment is fitted? What safety rating?   6/10

Manual gearbox models are a surprising weak point in Subaru's traditionally robust active safety offering.
All BRZs are fitted with a reversing camera, blind-spot monitoring, lane change assist, and rear cross-traffic alert under the umbrella of 'Vision Assist', but only the auto features high-beam assist and reverse AEB, as well.
Then there's the yawning chasm otherwise known as 'EyeSight'; standard on the auto BRZ but unavailable on the manual. 
This means a host of crash-avoidance features are left out of this car, including AEB, adaptive cruise, lane departure warning, 'Lane Sway Warning', and more. 
At the time of writing the Subaru BRZ had not been safety assessed by ANCAP. (Image: James Cleary)
Why, is a mystery because other brands are able to make these systems work on manual models. And all Subaru Australia will say is it's working with the factory to rectify the situation as soon as possible. But it's been this way for years.
Yes, tyre pressure monitoring and (non-adaptive) cruise control are on the standard equipment list, but the loss of the EyeSight package is a significant one, and something you'll want to consider carefully before opting for this three-pedal model.   
If a crash is unavoidable, the airbag count runs to seven – dual front, dual front side, dual curtain and driver's knee. And there are child seat top tether points and ISOFIX anchors for both rear seat positions. 
At the time of writing the Subaru BRZ had not been safety assessed by ANCAP.
Warranty & Safety Rating
Basic Warranty
5 years / unlimited km
warranty
What does it cost to own? What warranty is offered?   7/10

Subaru covers its Australian line-up with a five-year/100,000km warranty, which is now cost-of-entry in the local new car market, and 12 months roadside assistance is included.
Service intervals are 12 months/15,000km, and a 'Capped Price Servicing Program' is available over five years/75,000km.
A one month health check is free with annual maintenance averaging $478 per service over the five years. Not outrageous, but not amazing, either.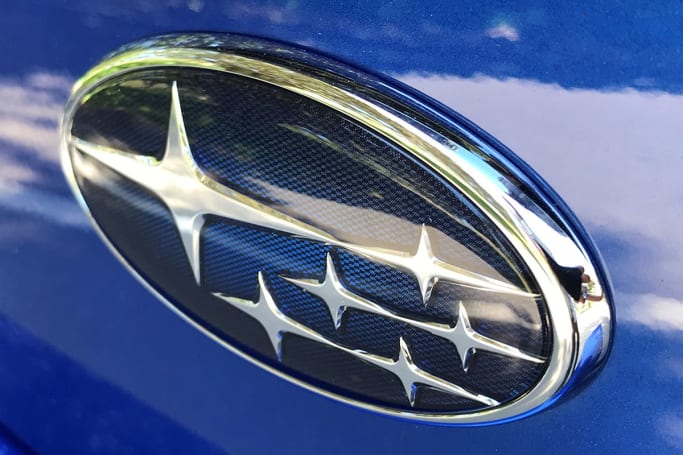 The BRZ is covered by a five-year/100,000km warranty. (Image: James Cleary)
What's it like to drive?   9/10

The sports experience begins the moment your backside hits the driver's seat. And to get to that point in the BRZ you have to be fairly athletic and flexible.
At just 1.3m tall this car is something of a low-rider, and you find yourself grabbing the A-pillar with your right hand, and adopting a 'swing-down-and-in' entry technique, bookended by a 'grab-and-lift' approach on the way out.
And that's if you can open the door all the way. Sporty coupes look sleek, but those lengthy doors mean when you're parked next to another car in the shopping centre you have to fold yourself up like an origami crane for exit or entry. Literally, a pain.
But once settled behind the wheel, the BRZ is all business, with a simple, logical layout for all major controls and the heavily bolstered sports seat enhancing the cockpit feel.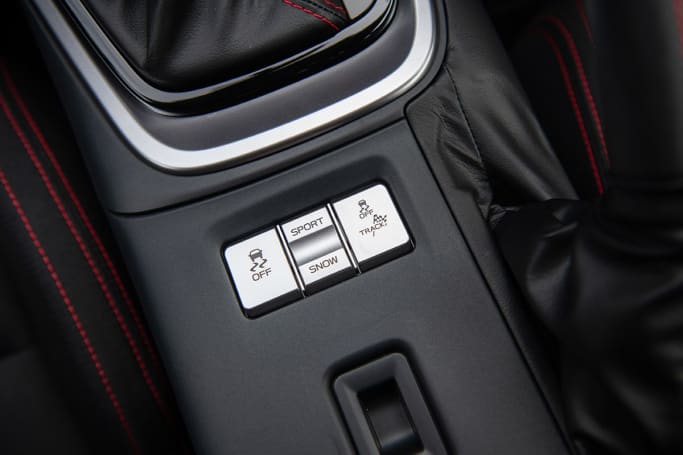 You can expect 0-100km/h acceleration in the high six-second bracket (auto around 7.5sec). (Image: James Cleary)
The signature churn of the Subaru starter motor fires up the 2.4-litre 'flat' four and the first push into first gear highlights how smooth, yet precise the six-speed 'box is.
Once on the move the second-gen BRZ's extra torque is immediately noticeable, especially low down, and the way it's delivered is more linear. 
For context, as soon as tuners started putting the first generation 2.0-litre BRZ on the dyno, reports of a "mad" torque profile began to emerge. A distinct dip in pulling power at around 4000rpm was a bit of a head-scratcher, but the new 2.4-litre not only delivers more torque, its smoother arrival makes a notable difference.
You can expect 0-100km/h acceleration in the high six-second bracket (auto around 7.5sec) but it's when the road starts to twist this car comes into its own. 
Suspension is strut front, double-wishbone rear, and the BRZ uses aluminium front hubs to reduce unsprung weight, while Toyota's GR86 sticks with steel.
Inside is a simple, logical layout for all major controls. (Image: James Cleary)
The Subaru also features a hollow sway bar, as well higher spring rates (all around), specific dampers, a firmer rear trailing link bushing, and a stiffer rear sub-frame.
The 'flat' engine helps lower the car's centre-of-gravity, while the rear track has been widened by 10mm for extra stability. And if you really want to get the bit between your teeth a Torsen-type limited slip differential ensures drive is going to the rear wheel that can make best use of it.
At 1289kg the BRZ is quite trim, with things like an alloy roof, bonnet, and front fenders making a significant contribution to weight loss. Even the fuel lid is resin!
Tyres are 215/40 Michelin Pilot Sport 4 compared with the intentionally less-sticky Michelin Primacy rubber fitted to the previous BRZ. While I get that the intention was to make the car a little looser and prone to breaking traction, I prefer the extra grip of these Pilot Sports.
Precise and balanced, with great steering feel, the BRZ is a joy to punt along a quiet B-road. Thanks to the upgraded tyres and LSD, power down out of tighter corners is exceptional.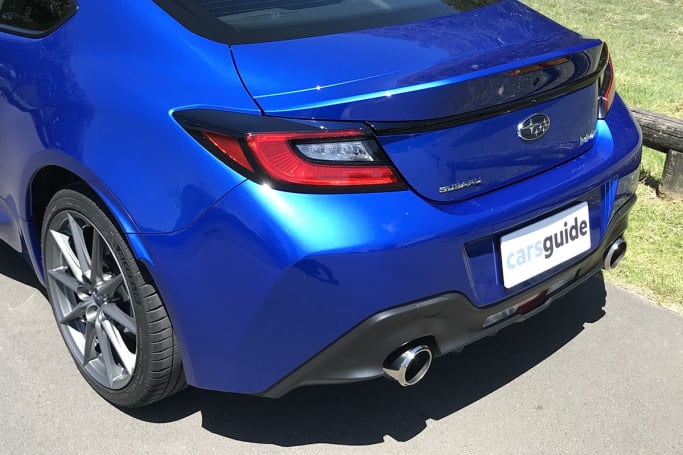 Tyres are 215/40 Michelin Pilot Sport 4. (Image: James Cleary)
The flip side is you'll need to be prepared for a firm ride over typically pock-marked Aussie roads. It's just part of the deal when you sign on for a sports car at this price point.
The horizontally-opposed engine's characteristically choppy sound adds to the fun, but bear in mind part of that is Subaru's 'Active Sound Control' system using a speaker behind the dash to enhance it. You might not care, but I always feel short-changed when synthetic sound is brought into play.
Braking is by vented rotors front and rear (294 fr / 290mm rr), with two piston calipers at the front and singles at the rear. They're great, and the pedal set is ideal for a bit of old-school heal-and-toe shifting on the down changes.
Verdict
The Subaru BRZ S has so much going for it. Smile-inducing dynamics combined with a noticeable power boost relative to the first-gen version, as well as impressive economy for a car of this type, good value and sleek design. But even in the typically confined world of sports cars, practicality is a negative. The 2+2 layout doesn't offer a whole lot of flexibility, and in-cabin storage is less than ideal. However, the biggest mark-down goes against the baffling omission of the EyeSight safety suite on this manual version.