A Tuned Audi RS3 And Jeep Grand Cherokee SRT Trackhawk See Who Is The Ultimate Grocery Getter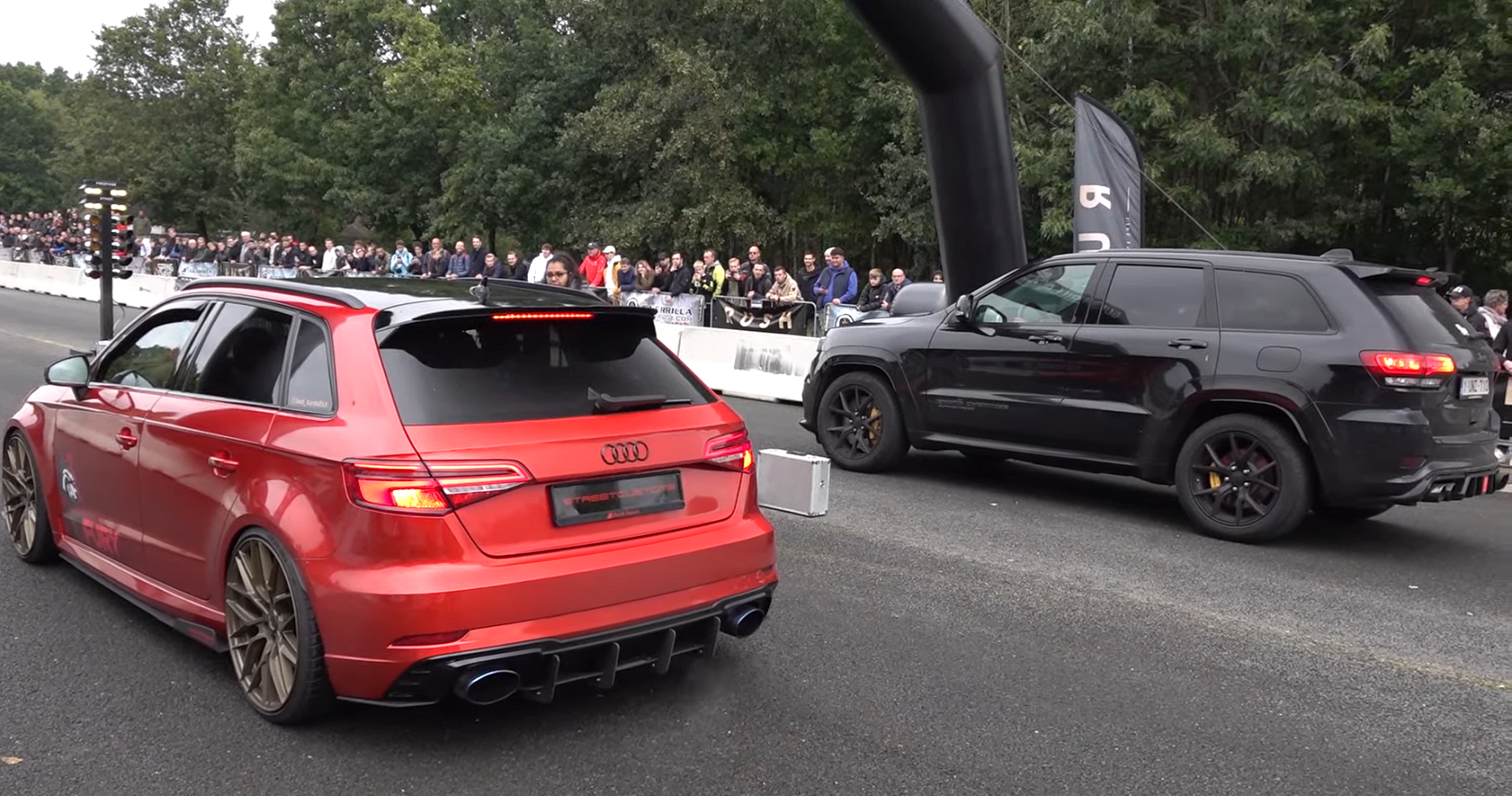 Although the Jeep makes 1,000 hp, the baby Audi hatchback has a few tricks up its sleeve to put the Trackhawk in its place.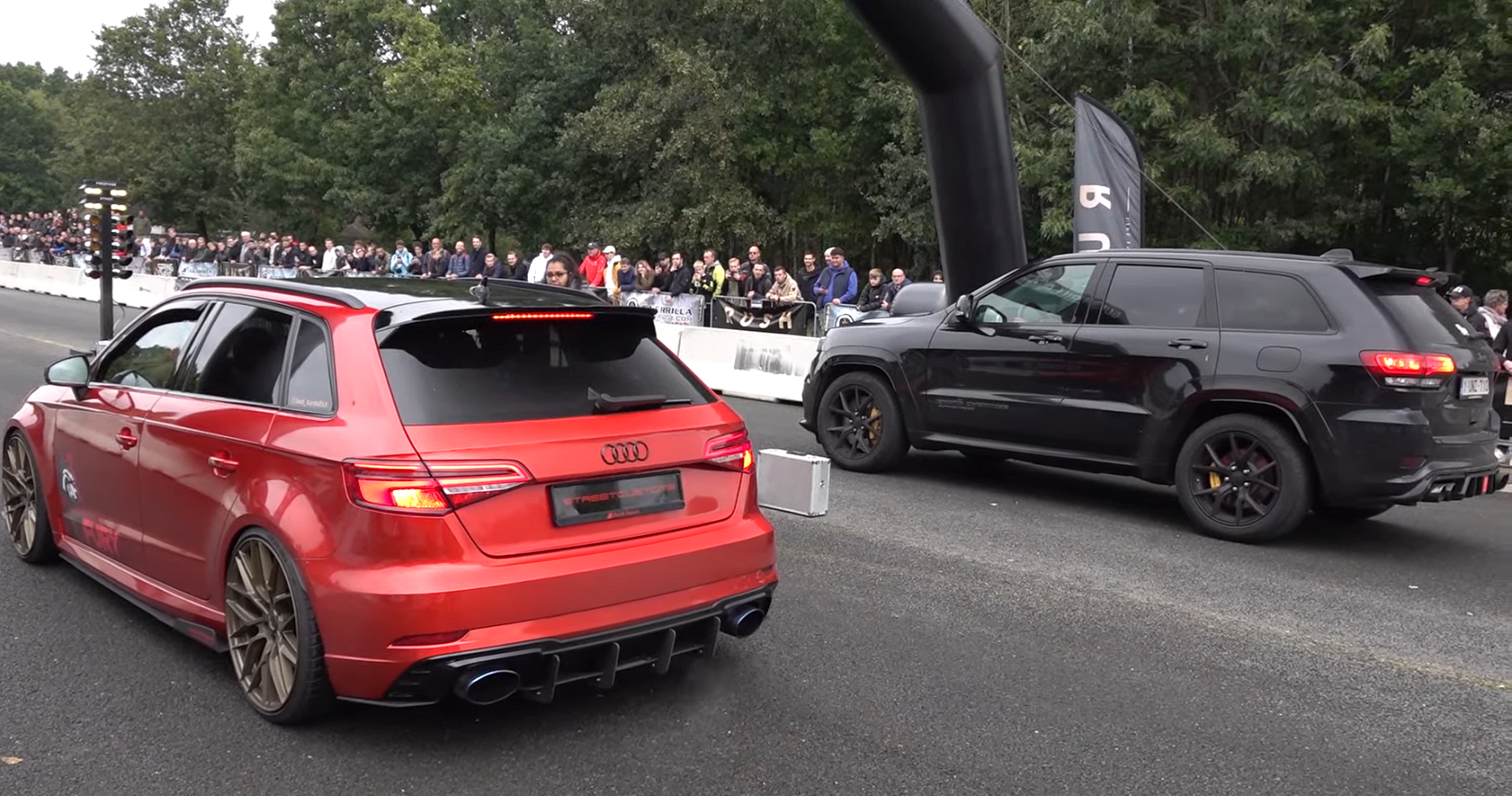 What an age to be alive. It's a time of polarizing new cars and uncertainty in the industry, but it has also birthed some of the wildest, most cutthroat performance vehicles on the planet, built on platforms you wouldn't have expected a couple of decades ago.
Look at the Audi RS3 with its rally-inspired turbo five-cylinder or the Jeep Grand Cherokee SRT Trackhawk and its supercharged titan of a V8. Both are quicker than any family hauler has any right to be, and longtime YouTuber and modified sports car chaser, Gumbal, gives us a great look at these examples going toe-to-toe.
It's not an apples-to-apples comparison, but it's far more exhilarating, as this latest video sees Gumbal recording a peculiar theme at the Petrolhead Spring Event in Germany. It appears to be the sensible enthusiast's dream; a drag race of almost entirely hopped-up grocery-getters.
Hot hatches, SUVs, and wagons from all over Europe arrived to throw down on the quarter-mile, and the all-stars are arguably a 670-horsepower Audi RS3 hatch and 1,000-horsepower Trackhawk that do battle twice throughout the video.
RELATED: BMW M240i Vs Audi RS3 Vs AMG CLA 45S Drag Race
Audi RS3 Vs. Jeep Trackhawk: Clash Of The Commuters
Mods for the Audi RS3 aren't detailed throughout the video or description other than its Milltek exhaust and TheTurboEngineer's TTE700 big turbo, good for an estimated 670 horsepower. Whether this is at the crank or the wheels is not disclosed. For reference, a stock RS3 pushes a pony car-rivaling 401 horsepower.
The SRT Trackhawk sports a Meisterschaft exhaust and "stage 2 tuning" from an undisclosed tuning company, allegedly good for a healthy 1,000 horsepower. For reference, a stock SRT Trackhawk makes do with a still-gargantuan 707 horsepower from its Hellcat-sourced V8.
Their first race appears to be an even match, although the angle isn't the best for determining a clear winner. In their second race, however, the Audi's driver gets the jump by a split second, just enough to put a massive gap between them and the Jeep.
RELATED: This Jeep Grand Cherokee Trackhawk Is A Global Powerhouse
The Fellow Hatches Of The Petrolhead Spring Event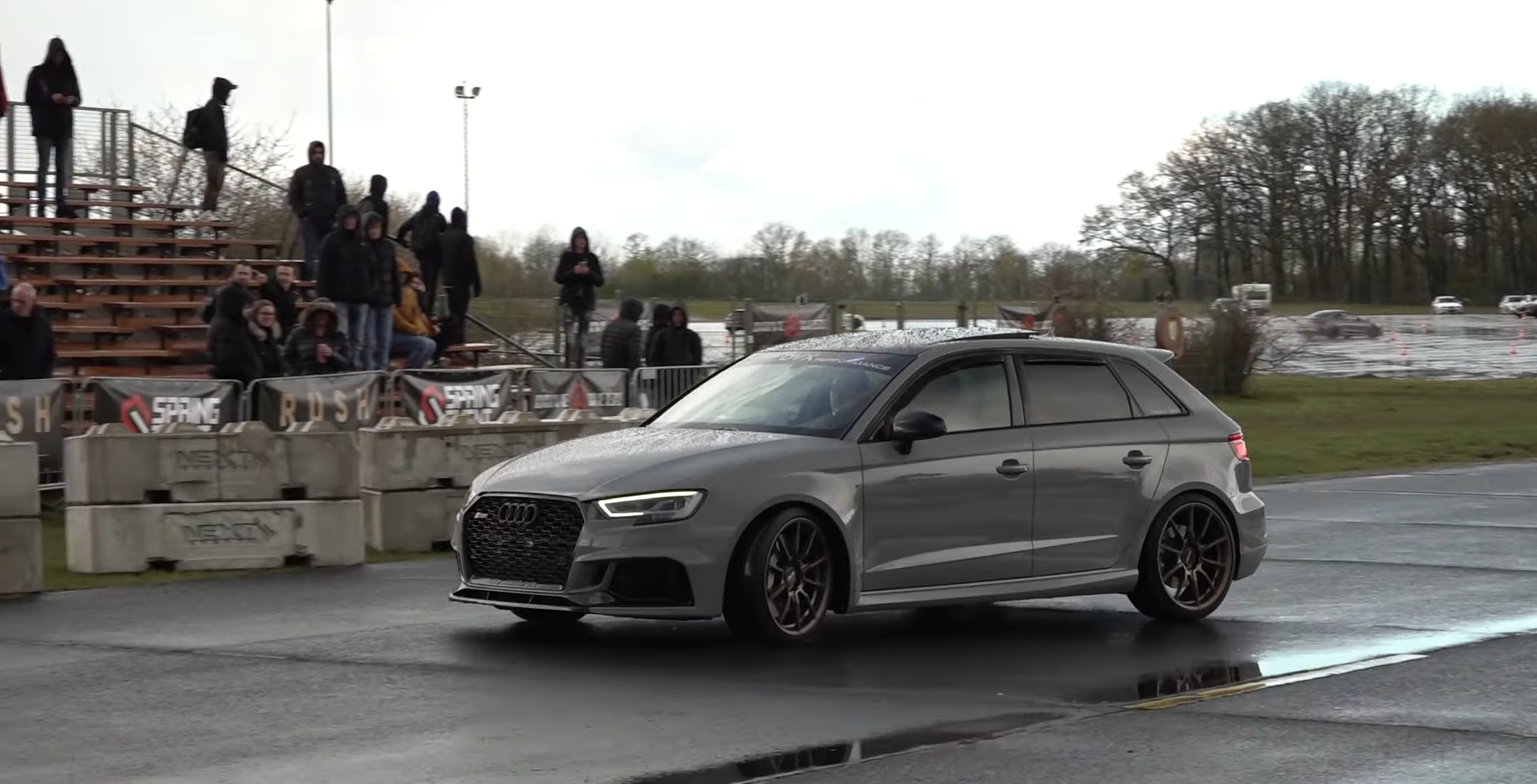 The theme continues away from the all-stars. There's no shortage of fellow RS3s hatchbacks speeding down the quarter-mile, as well as an Audi R8 Spyder, which may as well be a knife at a gunfight with nearly every car showing evidence of tuning.
Perhaps the most pleasant car, visually and audibly, was the seemingly-stock W204-generation Mercedes-Benz C63 AMG wagon in attendance, a rare and loud statement in old-school AMG performance.
Source: YouTube, Gumbal