Motorcycling – A Kolkata biker and his Australian friend find zen in their art of motorcycle maintenance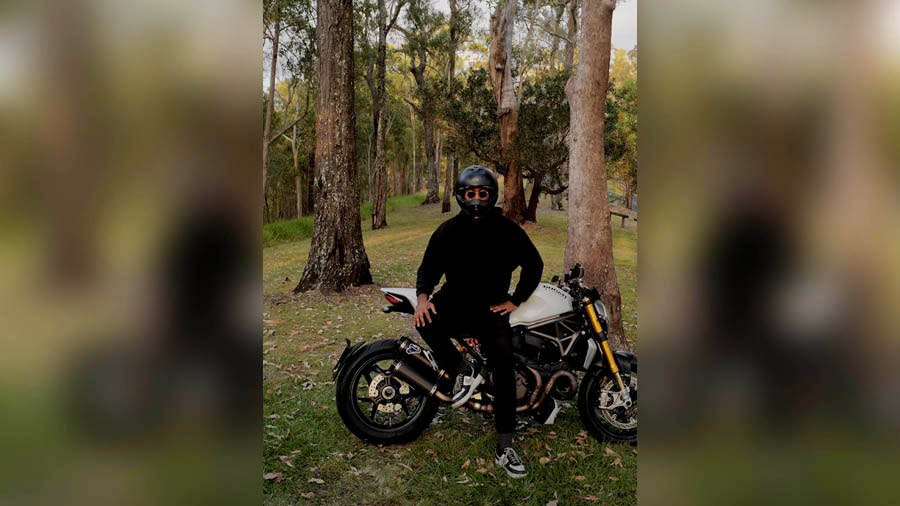 Ankit Ghosh can vividly recollect the walkway in his childhood Tollygunge home. This was where he learnt to ride his first two-wheeler — a bicycle. "None of my other early memories has ever matched that feeling," says Ghosh. The 24-year-old remembers a vacant spot where his father and uncle had first taught him to ride without training wheels. "My father would literally hold onto my shoulders, never letting go. But my uncle had a different approach. He would let me be after a point. I would fall and bruise myself, but I would learn my lesson. Looking back, I think both strategies worked." Ghosh's nostalgia is keenly felt. He says he can even recall rusty leaves falling in golden Kolkata afternoons. "Everything smelt great."
Though Ghosh's fascination with motorbikes would seem like a natural progression, his yearning for one came early. His uncle rode a bike. For his uncle, recalls Ghosh, distances never mattered: "He would just get on his bike and ride from point A to B. I wanted that independence. I'd think that it was only when you are riding can you control life's pace."
Ghosh finally started riding bikes in Brisbane, Australia. An undergraduate engineering student at the University of Queensland, Ghosh admits that the decision to ride was an impulsive one, but adds that it very quickly "triggered old memories". He says, "I was instantly pushed down memory lane and was reconnected with the lost sensation of what it feels like to handle powerful machinery. I understood why I loved riding two-wheelers."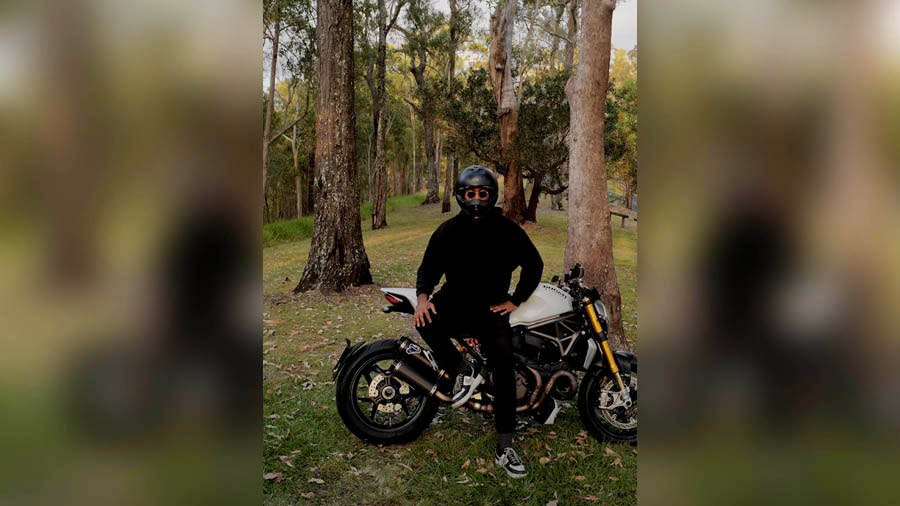 Andy Lee with his Ducati Monster
When interning in San Francisco, Ghosh met a fellow University of Queensland student, Andy Lee. After having moved to Australia from Taiwan when he was six years old, Lee, a business and physics major, grew up with a straightforward, pragmatic approach to life. "If someone had asked me to go on a biking trip two years ago, my reaction would have been 'How will it help me?' Today, I know that biking leaves me with memories of a lifetime."
With time, Ghosh and Lee discovered they both like using their bikes — the Triumph Thruxton R and Kawasaki 300, respectively — to ride cross-country.  Upon their return to Brisbane, the two friends decided to do something about their mutual passion. In April 2020, they founded Entravellers, a motorbiking club, which, according to Ghosh, simply "focuses on riding and having a great time". He says, "In terms of distinctiveness, we'd like to believe we have forgone the pitfalls of other riding groups by focussing on riding and collaboration. We are not into the glorification of motorbikes. We don't believe in showing them off."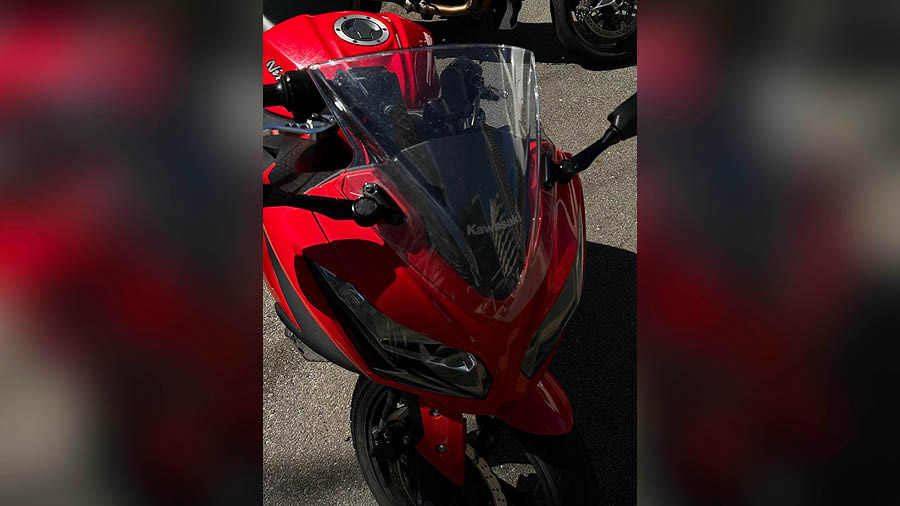 Lee's Kawasaki 300
While Lee, 24, works on Pluton, his project to promote financial literacy among young Australians, Ghosh is working on Magicae. "My team and I are currently working on a first-of-its-kind software ecosystem that focuses on redefining creativity in textual documentation," he says. Like Lee and Ghosh, the other 14 members of Entravellers all keep busy. "We find a time that works for everyone. We don't rely on online reviews. We just pick a spot on the map and set off. Fortunately, none of us is that picky about food," says Ghosh.  
An expedition of epiphanies

Of all the hundred-odd expeditions that Entravellers has organised, both Ghosh and Lee agree that their first ride had, in retrospect, set a benchmark for their other trips to match. They remember they were some 20 km from Hobart, riding up Mt. Wellington, one of the highest peaks of Tasmania. As they powered up to reach the 4,120 ft peak, landscapes changed, as did the mannerisms of people they met. The chill in the air was never a deterrent. Ghosh remembers a moment when he and Lee had stopped to take a breather: "I had pretty much documented the trip to a great extent, but then I saw this flock of sheep that just kept staring back at me. The sun was lighting everything up. I took my camera out and, right then, the sheep looked away in unison, and walked towards the sunset. It was surreal. I still document some aspects of our trips, but the best moments are off-camera. We keep those to ourselves."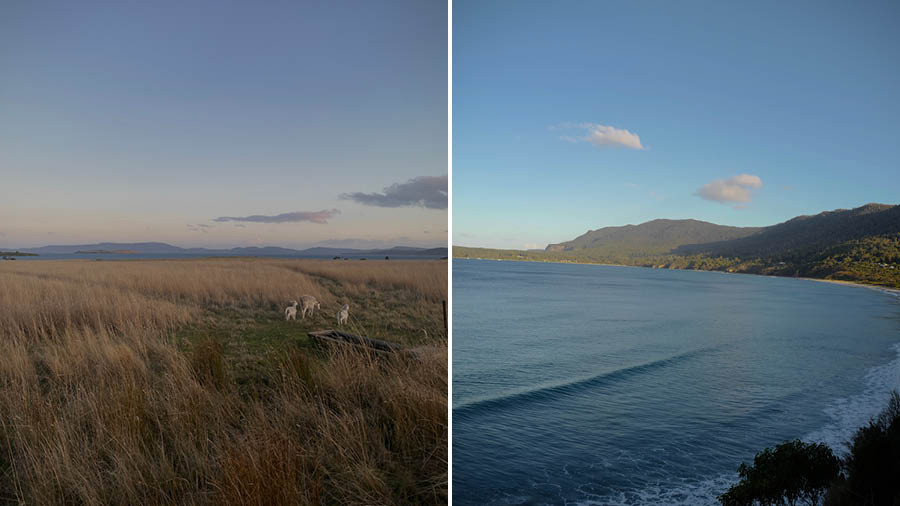 Vistas of Tasmania
It seems clear that for Ghosh and Lee riding can, also, sometimes be a profoundly philosophical experience. They both think that their bikes force them to live in the now. Lee, for instance, says, "My biking expeditions have taught me to really live in the moment, to be open to people, opportunities and diverse cultures." For Lee, "the excruciatingly painful process of riding inappropriate vehicles under adverse circumstances" has been a "holistic experience" that now drives him in different aspects of his life. He adds, "We have treated this as a medium of instilling self-discipline." Ghosh too, says, he has used biking to discipline himself in several ways: "It has helped me show restraint and master defence."
Lee, for one, hopes that their journeys can be a testament to the power of  "thinking differently, and most importantly, taking action". Recently, Entravellers even gave its members an opportunity to volunteer collectively. Ghosh says, "A while ago, we volunteered at an animal shelter, but we are currently in search of that one true purpose that will draw together every member of our group. There is talk of riding to provide medical or financial aid to Africa."
Easy goes the rider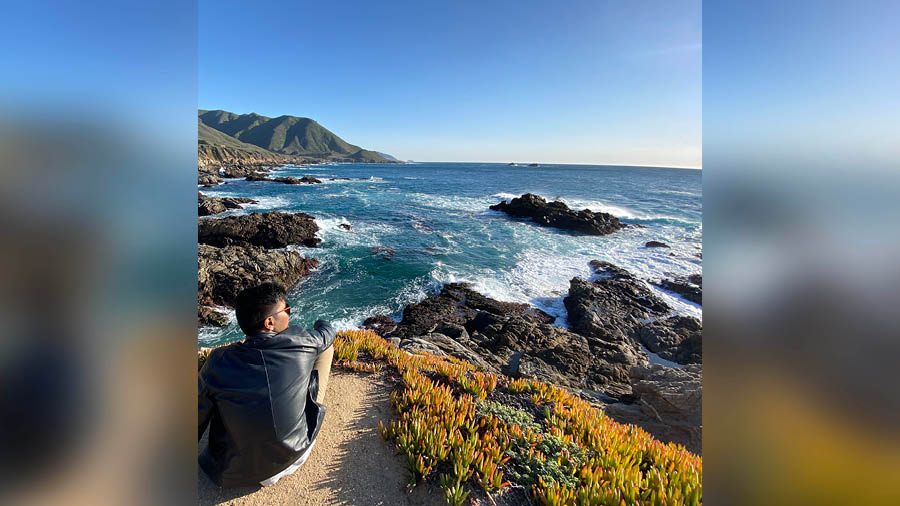 Ghosh during his California trip
In 2020, Ghosh went on a 600-km-long solo biking adventure, from San Francisco to Los Angeles. He says, "Unlike the Tasmania trip, which required us to take many turns every now and then, this road just went straight. So, superbikes could traverse freely on one stretch of road; a true 'joyride' for a rider!" Soon after Ghosh had left behind him the upscale localities of San Francisco, inclement windy weather interrupted his view of the ocean. Ghosh's rear tyre slipped, but, thankfully, he was able to regain control. "Honestly, I just got lucky!"
Up ahead, near the Bixby Creek Bridge, Ghosh fell into conversation with a woman in her seventies. "She told me that she and her husband would often take this road to Los Angeles, and that years after his death, she still liked travelling these familiar paths." So moved was Ghosh by the lady's candour, he has since tried to imbibe her honesty in his everyday life.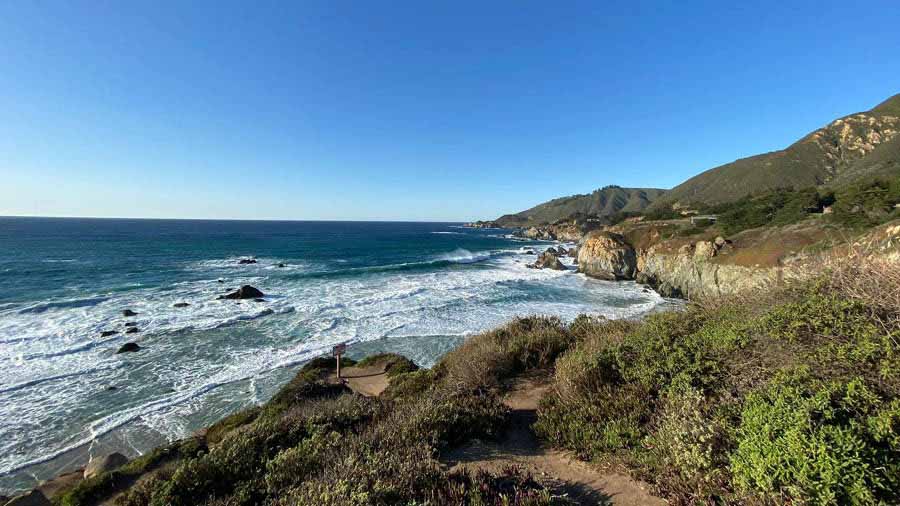 The California coast
Compared to riding in Australia and the US, taking his bike out in India, says Ghosh, is a very different experience: "If you haven't taken appropriate precautionary measures, highway riding is dangerous either way, but I think riding long distances in India can feel more engaging, because of the openness of our highways. That said, though, some Californian and some Australian highways stretch along the coast. They can truly be soulful."