2023 Lexus RX review, test drive: design, performance, features, ride and handling, expected price – Introduction
We spent some time with the new-gen RX hybrid in the USA to see what it's all about.
Lexus enjoys good brand equity in India, but oddly enough, the Japanese luxury firm has kept its India operations a very low key affair. That's changing though with the brand now increasing its focus on the Indian market; this year it had its first Auto Expo outing, and since 2021, has added more dealers and service points to its network. So, the new RX should get the attention it deserves.
The RX, now in its 5th generation, swaps the older car's K-platform for the newer TNGA-K (GA-K) platform, which is also what underpins the recently launched NX SUV. Thanks to weight saving measures like aluminium front fenders and hot-stamped B-pillars, weight is down 90kg compared to the previous model. Unlike the trend though, the new RX has not grown in length, and stays identical to its predecessor, although the wheelbase is up a good 60mm, increasing space for passengers. Height is lower by 10mm while the center of gravity is down 15mm, which, along with an increase in tread (front +15mm, rear +45mm) aids handling, says Lexus.
Lexus RX: exterior design
At first glance the new RX resembles the previous car, which means there's no mistaking this for anything but a Lexus. But while the cuts and creases are all familiar it's soon apparent that a lot is new, beginning with Lexus' signature grille.
Still a spindle grille, but the top portion is body coloured.
The new grille still retains that pinched 'spindle' shape, but the top is now body coloured leaving the black area below looking more like a trapezoidal grille. Perhaps this is a slow departure from the signature design. The headlights remain slender and retain the jagged LED style. Over to the side, the sharply dipped window line remains with the trailing edge pinched a bit more than before.
Glasshouse trails off sharply at the rear and looks nice and sleek.
The rear is perhaps the most easily distinguished part of the car, with the tail-lights now stretching out across the width. It's not an even bar and the design looks neat with its flared edges and slender mid-section. As before, the rear windscreen is sharply raked and topped by an integrated spoiler.
Lexus RX: interior design 
Inside it's all new, and if you've seen the new NX, the dashboard design of both cars is pretty much the same, including the massive 14-inch touchscreen that stylistically fuses with the instrument panel, and, as a result, does not stick out massively.
Convenient physical dials for HVAC controls operate with a nice damped feel.
The instrument panel is a digital affair, and what I particularly like are the twin HVAC dials that cut into the screen area. They not only look neat, but are also easier to use than a touchscreen with a nice damped feel. There are steering wheel-mounted controls, and interestingly, they are both touch as well as pressure sensitive – it's a good idea as it combines different functions on the same button, although it does take getting used to.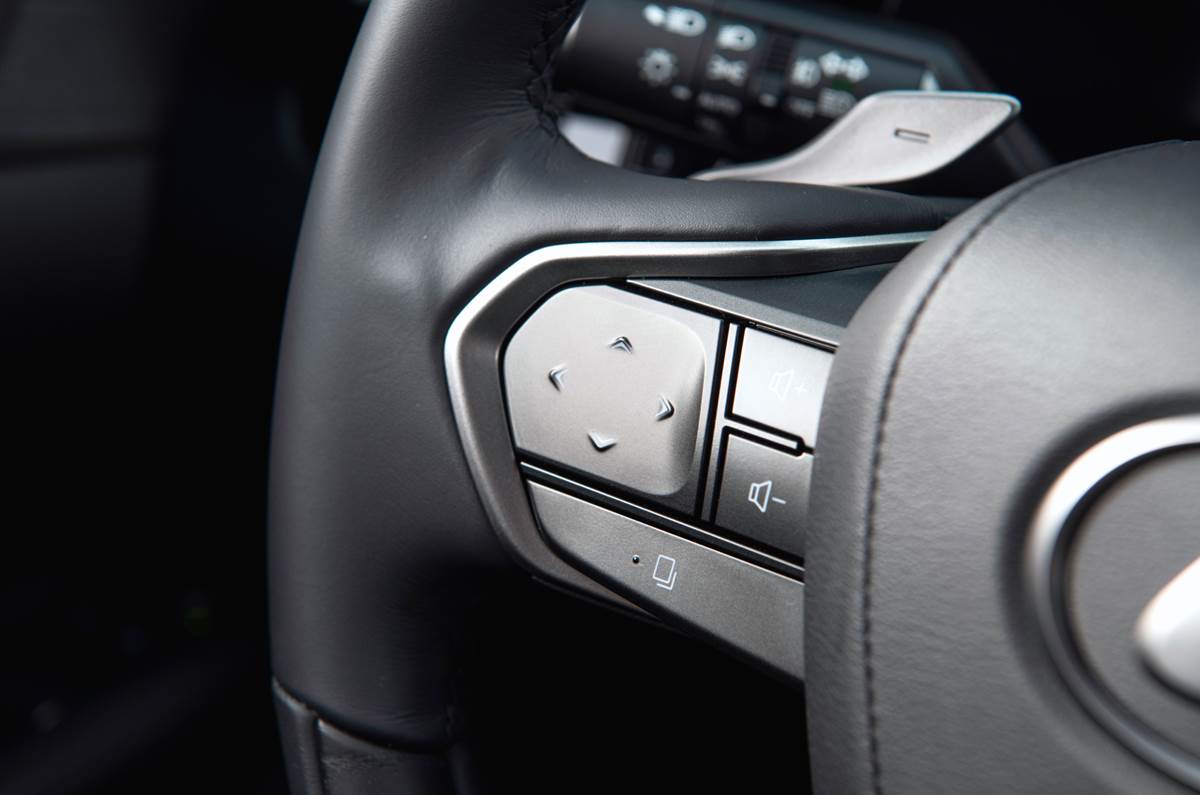 Navigation buttons on the steering wheel are both touch and pressure sensitive.
There's also a lot of storage space inside, and a neat touch is the center console box that has hinges on both the driver and passenger side, enabling it to open on either side. And speaking of space, passenger room is very good all around. The lengthened wheelbase liberates more legroom, the headroom is also good; even my 5 foot 8 inch height had enough room.
Lexus RX: features
In terms of features there's a lot to be had with heated and cooled seats at the front and rear, a three-zone climate control system, a wide 10 inch colour heads-up display, panoramic sunroof and a 21 speaker Mark Levinson sound system. The RX also has all the expected safety equipment, including a comprehensive ADAS suite that features traffic jam assist. The RX will also be the first Lexus car to offer the full connected car service and it also works via a smartwatch.
Interior door handles are buttons instead of usual pull-type handles.
Also, like we saw with the new NX, the new RX also comes with Lexus' e-latch system, which means you don't pull the handle on the outside, but when you tug them, your fingers press a button behind that releases the lock. On the inside, too, pushing on the handle presses a button that releases the lock, and you open the door with an outward push, unlike traditionally where you'd pull the handle and then push to open the door. The system also has a safe exit assist system that momentarily prevents you from opening the door into passing motorists or cyclists.
Lexus RX: engine and performance
The new generation RX has a host of powertrain options – a regular internal combustion engine, strong hybrids and plug-in hybrids too. However, going by Lexus India's trend, we would likely get the strong hybrids only in the 350h and 500h guise.
Both powertrains on the Lexus RX are strong-hybrid units.
The 350h is powered by a 2.5-litre 4 cylinder engine that has a combined output of 250hp and a combined system torque of 316Nm. The 500h makes use of a smaller 2.4-litre 4 cylinder engine, but its turbocharged, and thus, total system power stands at 371hp and 550Nm.
The 350h is quite relaxed to drive and this is pretty much what you'd want in a Lexus. It isn't peppy, but power build up is strong and linear. Lexus claims a 0-100kph time of 7.9 seconds, which though not sporty, is quite respectable. There are paddles shifters too, and its best to use them in S or Sequential mode as in D, you don't end up with too much influence. In S mode, however, the system gives you more freedom and you can hold revs longer or shift earlier.
Relaxed is the best way to describe the 350h's driving experience.
Being a strong hybrid, you have full EV mode, but it's useable only if you drive with a light foot. Give the throttle a bit of a poke, and the engine will switch on, and when it does, power flow does become smooth, but you can hear its coarse note. The engine note settles to a hum on a steady cruise, but when accelerating, it gets quite audible. Overall refinement is good with wind and road noise quite minimal.
500h's performance is livelier and the engine is more refined too.
Speaking of refinement, it's the more powerful 500h that's smoother, and of course, quicker. Lexus claims a 0-100kph time of 6.2 seconds in the 500h, and while it's quicker on the clock, it feels so with a bit more urgency when accelerating hard. Put your foot down in the 350h and there's a pause before you get going, while it's more immediate in the 500h. So it's the 500h that would be our pick given its better performance and refinement. The 500h gets paddler shifters too, and in M – Manual mode – it allows a great degree of control, even letting you drop a gear at fairly high revs.
Lexus RX: ride and handling 
In the past, Lexus cars have always focused on comfort, but with the new RX, it's quite clear that the company has focused attention on dynamics too. Both the 350h and 500h feel sure footed behind the wheel, and the steering is smooth with just the right amount of weight. The ride over undulating surfaces is settled, and over the few cracked tarmac stretches we came across, it was comfortable. Lexus says the rear has a newly developed multi-link suspension set-up that offers smoother ride with better body control. And it shows; put the car through some corners and there's sufficient grip and good body control.
Lexus RX: verdict
In India, Lexus cars are generally priced a bit higher than their western competitors, and it's likely to be the same with the RX. Though our sources say the target is to price it competitively, we'll have to wait and see. The current RX costs Rs. 1.11 crore (ex-showroom), so expect the new generation car to cost a bit higher.
What you get for your money is a very distinctive product that looks sharp and quite easily stands out in a crowd of premium SUVs. Performance on the 350h isn't lively, but it handles well, is comfortable and spacious, is loaded with equipment, and, in typical Lexus fashion, built well too. If you do want a bit more performance, there's the 500h that delivers on that front. Thus, while you may pay more for an RX, there's more that you get too, and if you are in the market for a luxury SUV, look east as well.
Also See:
Lexus RX video review
Auto Expo 2023: Lexus RX walkaround video
Auto Expo 2023: Lexus RX makes India debut, launch by March 2023