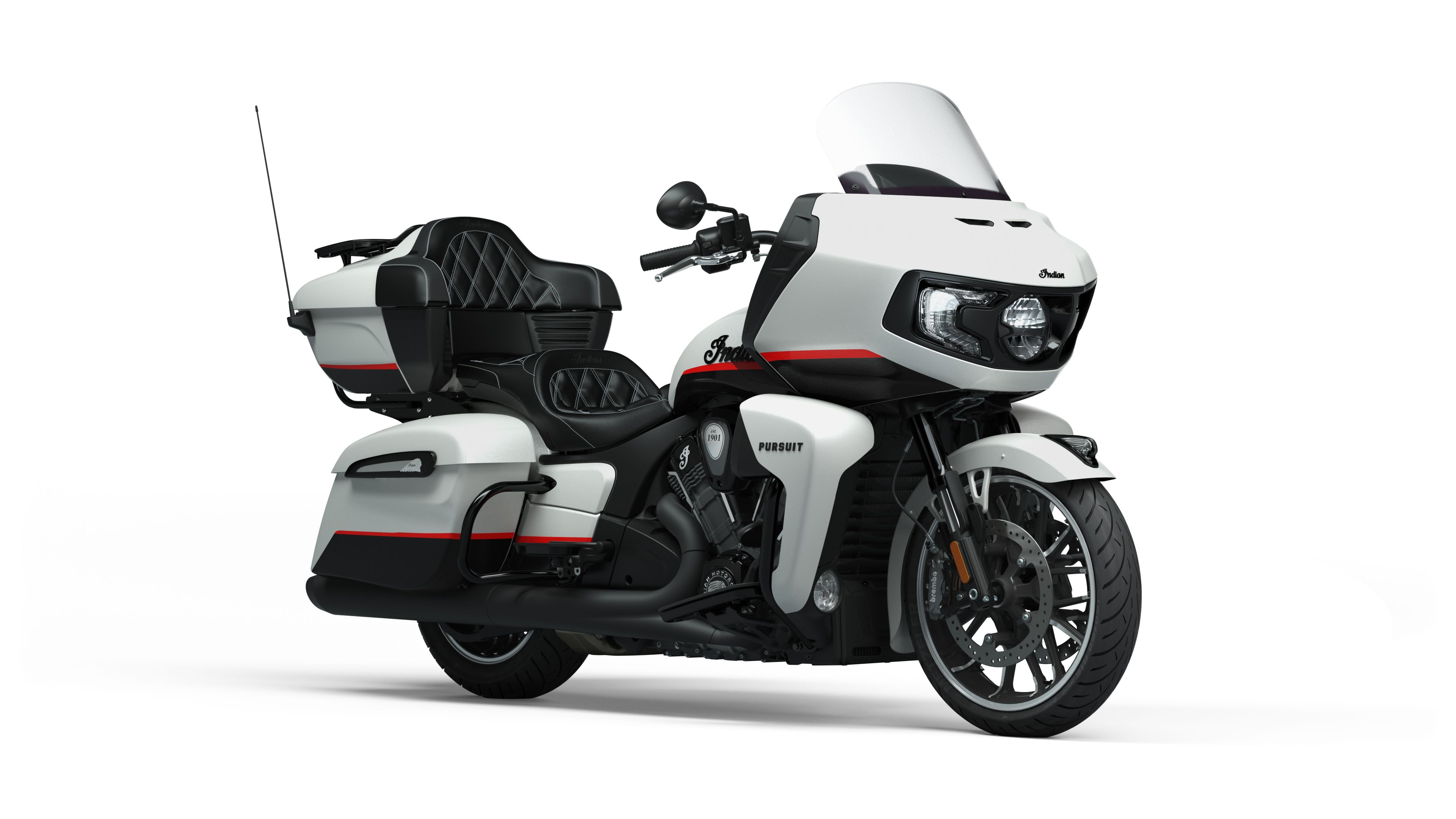 Indian Motorcycles has made a name for itself with retro-styled large American V-Twin motorcycles. But, in recent times, the company has taken a more modern route, adding up-to-date styling to the already competent mix of comfort and long-distance ability. To the Challenger model, Indian has added a top box and not a small dose of sportiness in its bid to create the ultimate touring motorcycle that it calls the Indian Pursuit.
10

The Indian Pursuit Is Just Brilliant In Every Respect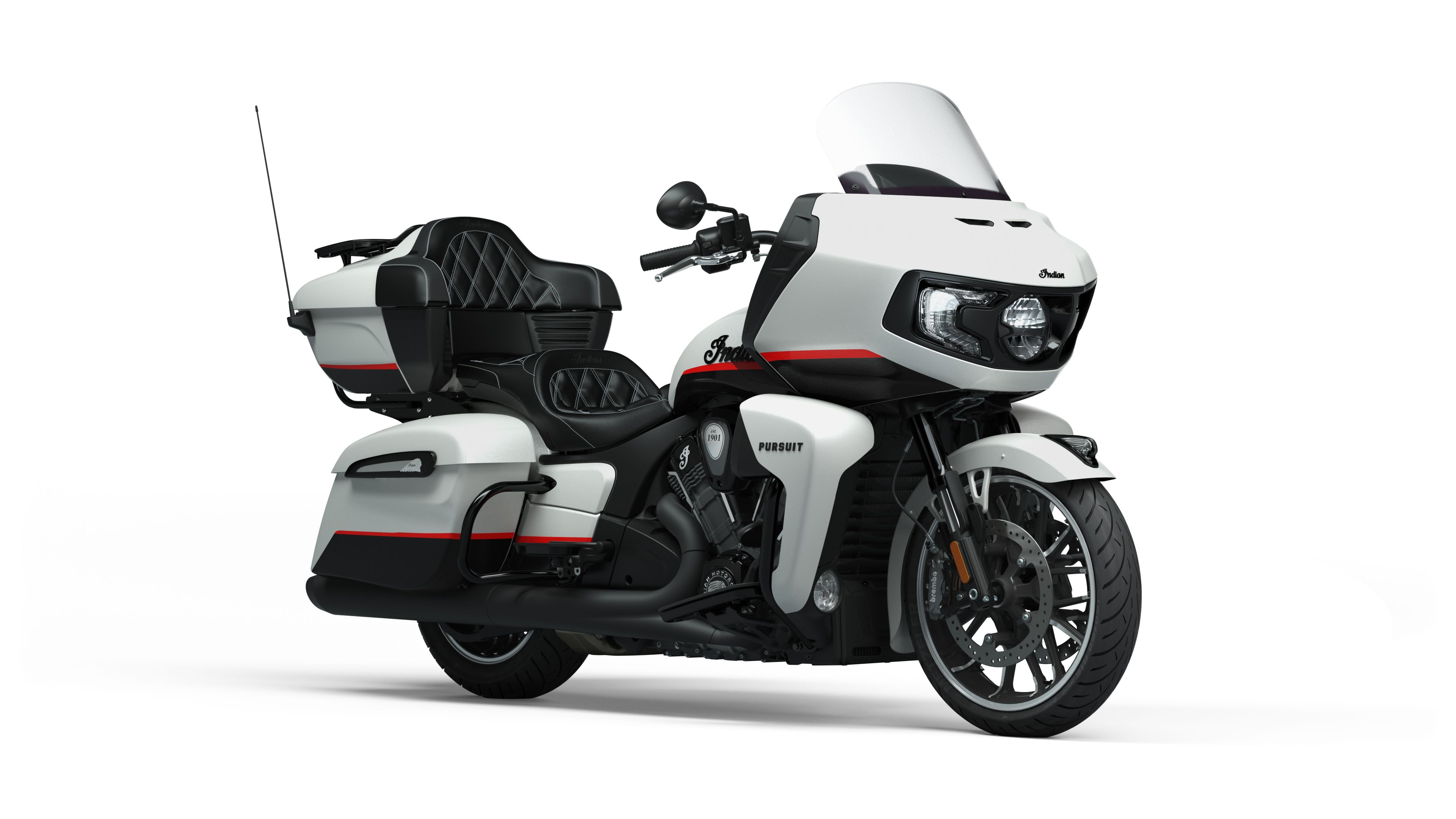 Indian Pursuit in white and black, facing right
It is impossible to focus on any one point of the Indian Pursuit as being its defining characteristic. The engine is powerful and smooth, the comfort is near-perfect, the chassis and suspension dynamics offer a riding experience not usually associated with a motorcycle of this size and weight, the luggage capacity is excellent, and the overall quality has to be seen to be believed. Never has big and heavy been so attractive.
9

The Indian Pursuit Features The PowerPlus V-twin Engine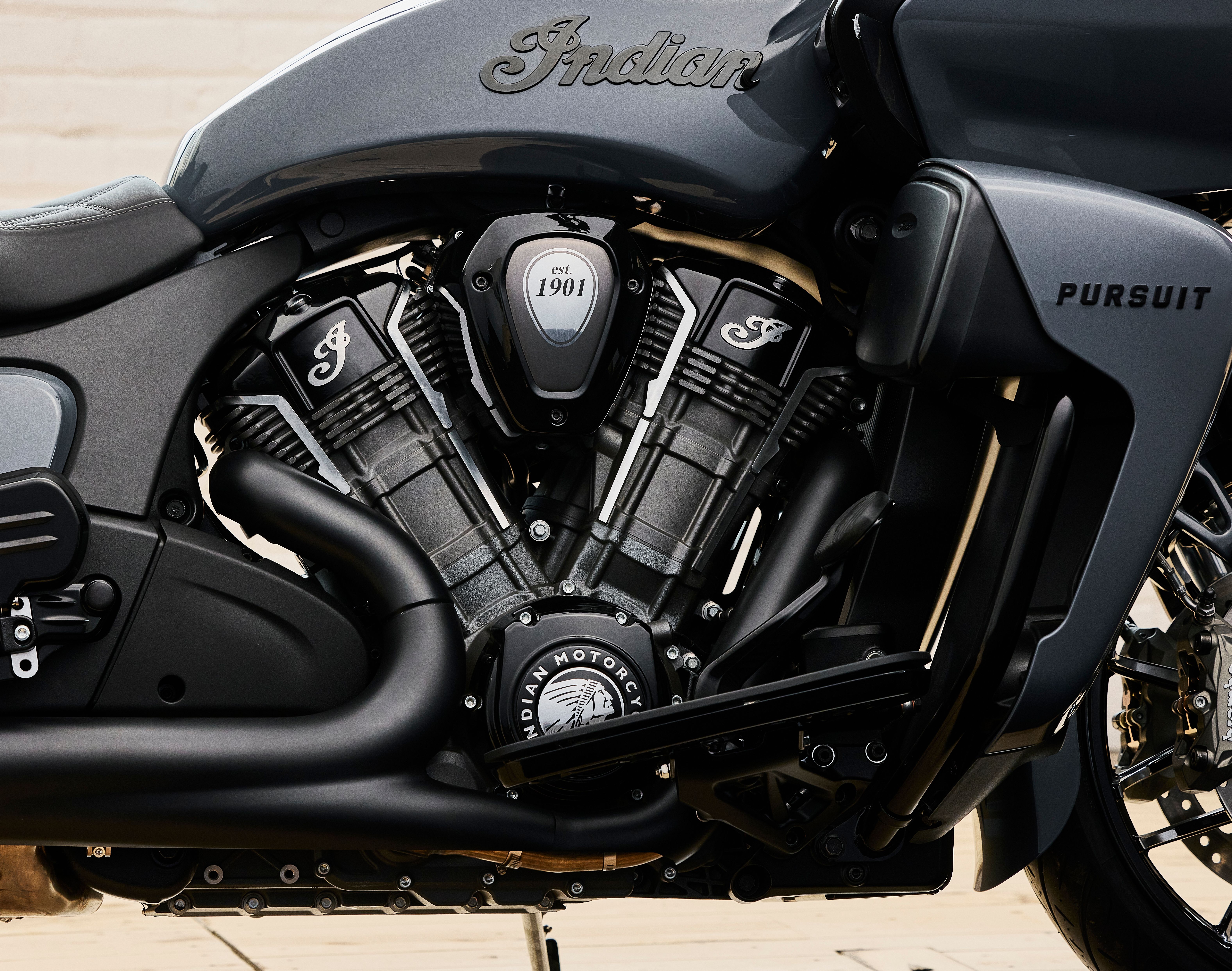 Indian Pursuit engine detail shot
It's well known that size and comfort go hand-in-hand, but that's no good if the bike is too heavy to get out of its own way. Luckily, the Indian Pursuit is fitted with the 108ci PowerPlus V-twin engine, which is both muscular and eerily smooth. 122 horsepower and 128 pound-feet of torque give this 912-pound behemoth sparkling performance, with 100 mph, all-day cruising completely within its capabilities. As powerful as it is, it is also completely docile at lower speeds, with no transmission snatch to upset the equilibrium. The spread of torque is vast and even, with plenty of overtaking urge whenever you need it without having to stir the gearbox unnecessarily.
Related: 10 Motorcycles With The Biggest Engines That You Can Buy In 2022
8

The Indian Pursuit Has Three Power Modes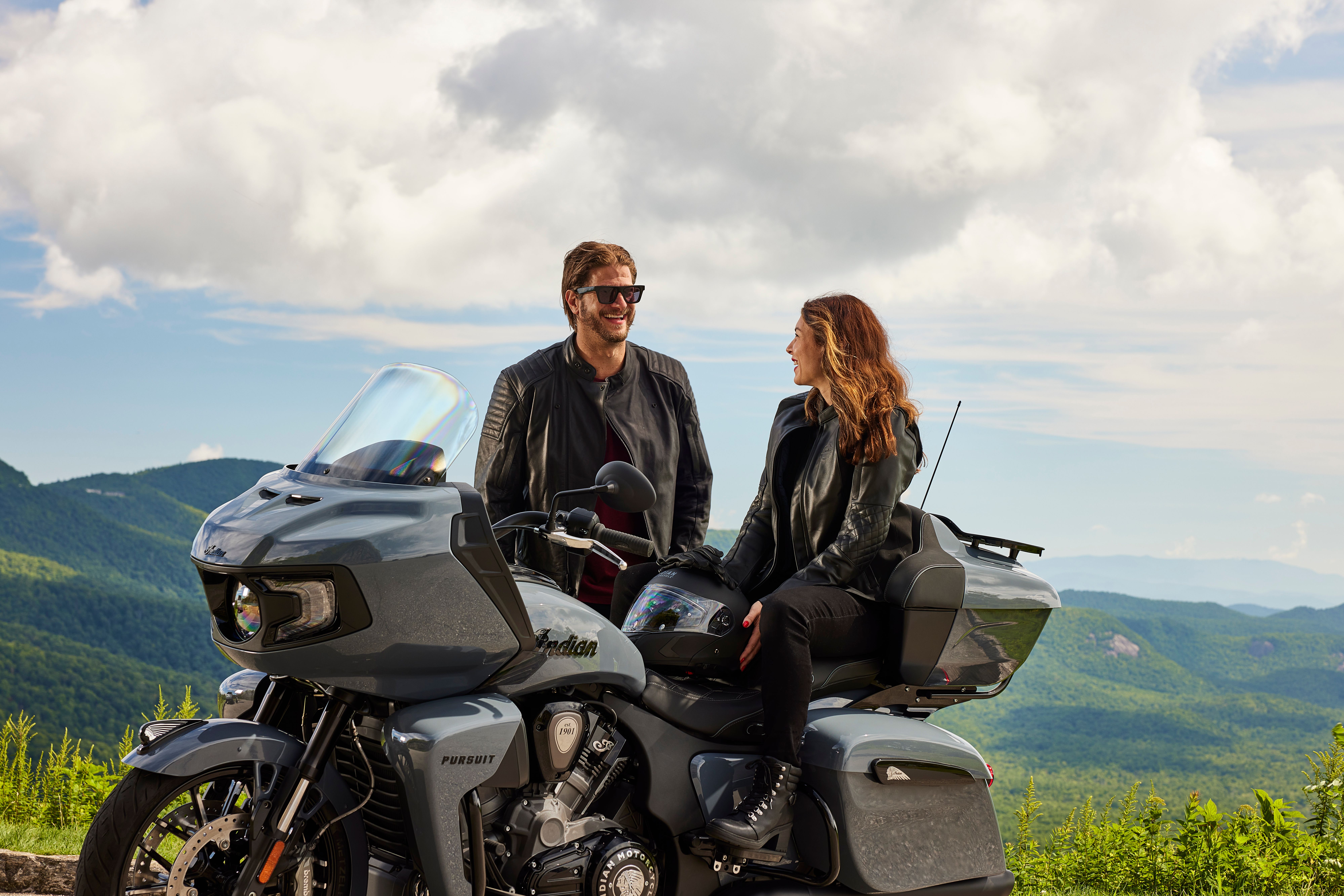 Indian Pursuit facing left with a panoramic scene behind
The ride-by-wire throttle allows for three different power modes: Sport, Standard, and Rain. 'Sport' give the sharpest throttle response, but power delivery remains smooth. 'Standard' power mode slows throttle response down noticeably and is actually the worst of the three, giving a slightly elastic feel to the throttle, as if your right hand is connected to the engine by a rubber band. 'Rain' chops down throttle response and calms things down even further for when riding in wet or slippery conditions but, strangely, it is a much more satisfying mode to ride in than Standard.
7

The Gearbox Of The Indian Pursuit Has Been Carefully Designed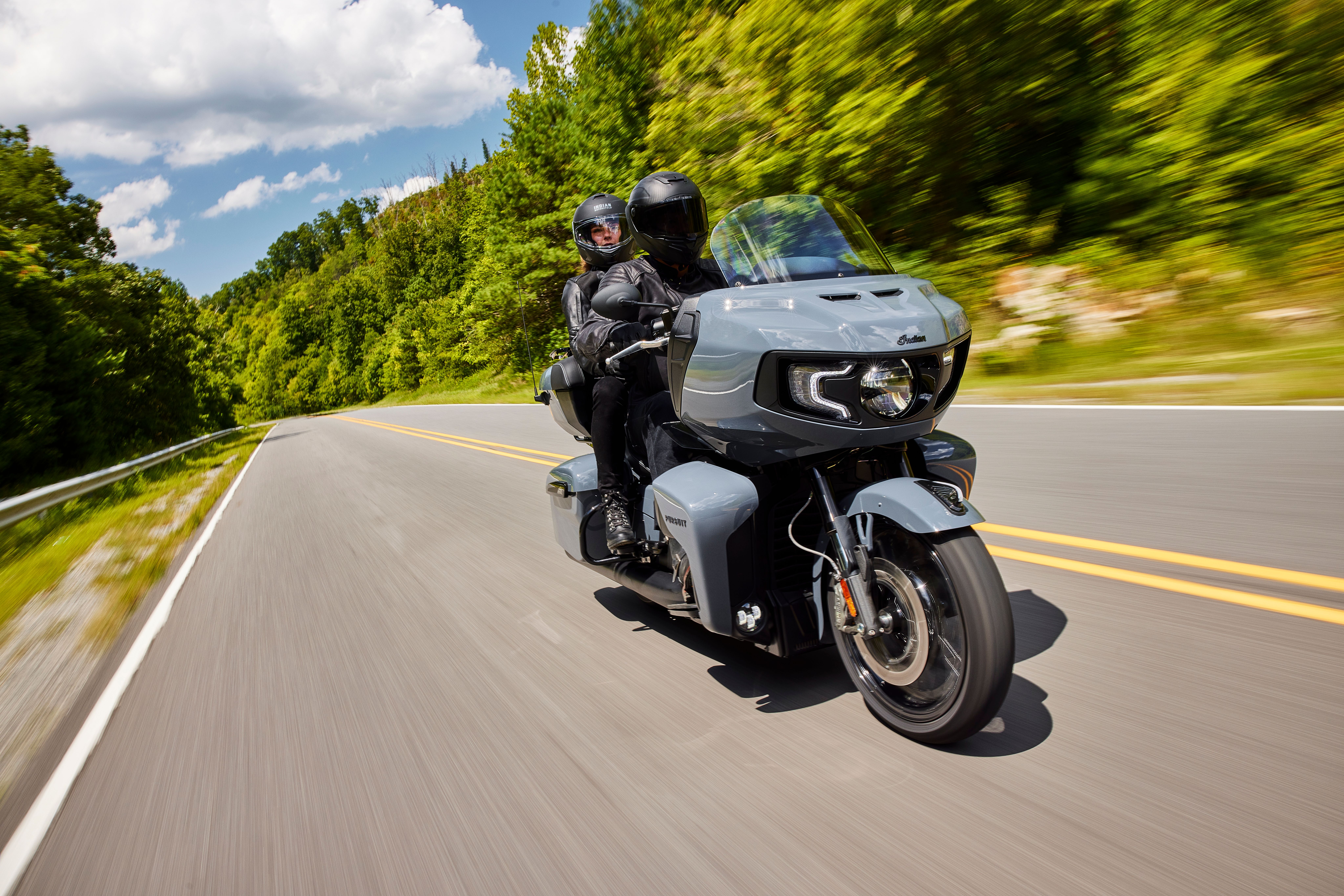 Indian Pursuit riding from left to right with pillion passenger
Six speeds in your motorcycle transmission is nothing out of the ordinary nowadays and this is exactly what the Indian Pursuit has. In comparison to Indian's main rival, Harley-Davidson, however, the Indian's gear change is knife-through-butter smooth, something not always possible with such a high-torque engine. The ratios are near-perfect, offering the right ratio in any riding conditions, whether threading through traffic in town, rolling down the highway, or tackling the twisty back road. The clutch has an assist function that reduces lever force, which is again welcome as the clutch has to be fairly beefy to handle all that power and torque.
Related: 10 Best Modern Classic Motorcycles Over 1000cc
6

The Indian Pursuit has Near-Perfect Ergonomics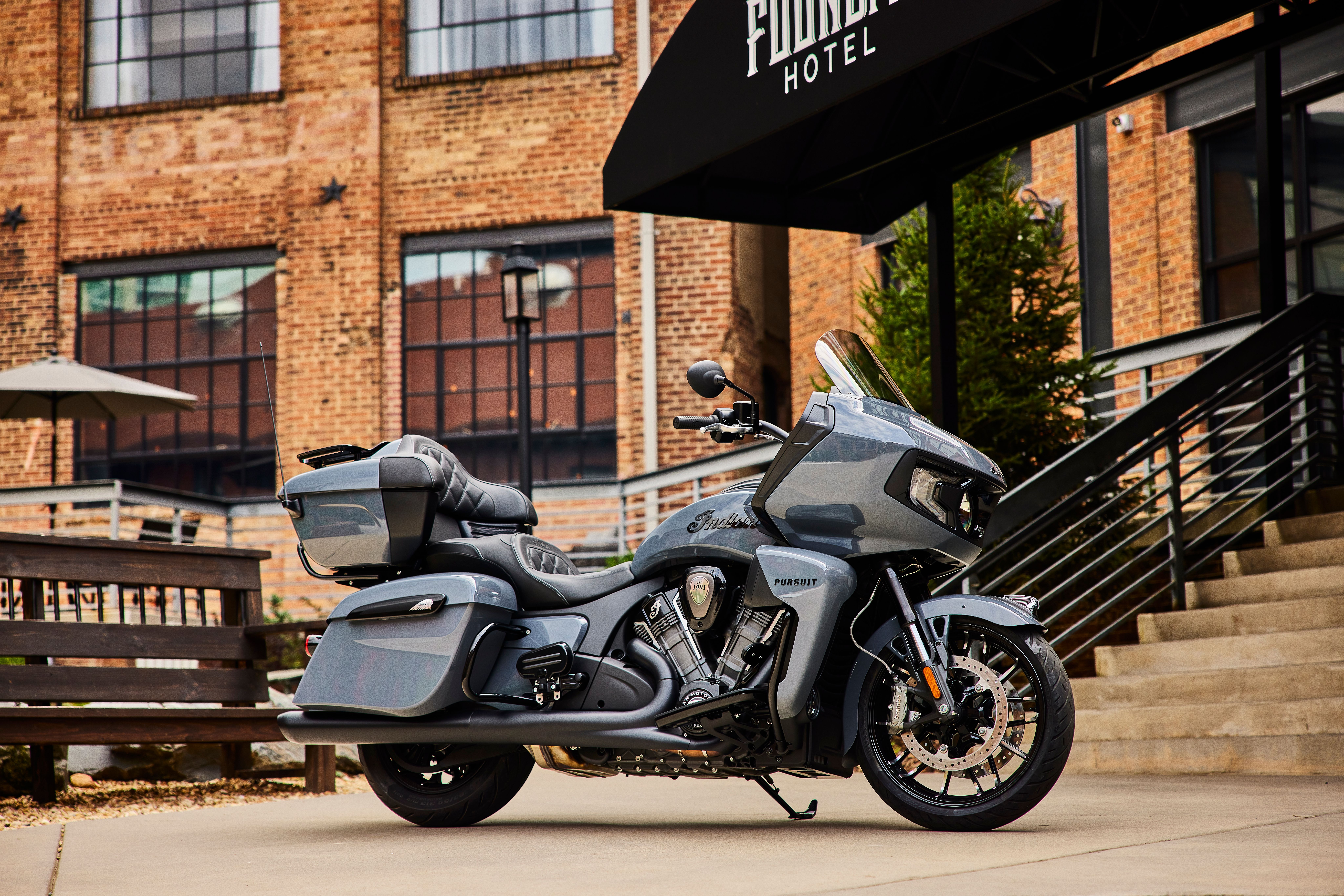 Indian Pursuit facing right outside a building
The Indian Pursuit was designed to be the ultimate touring motorcycle, so naturally, the company spent a lot of time perfecting the ergonomics and weather protection. This effort has paid off and the frame-mounted fairing complete with its electronically-adjustable screen is just about the best that money can buy. The leg shields have adjustable louvers to control airflow. The rider triangle is supremely comfortable, with the reach to the wide handlebars just right and the hands falling naturally onto the grips. The footboards allow you to put your feet in many different positions and the seat is deeply dished and offers lower back support. It would be hard to think of a better touring motorcycle.
5

The Indian Pursuit Shouldn't Handle This Well, But It Does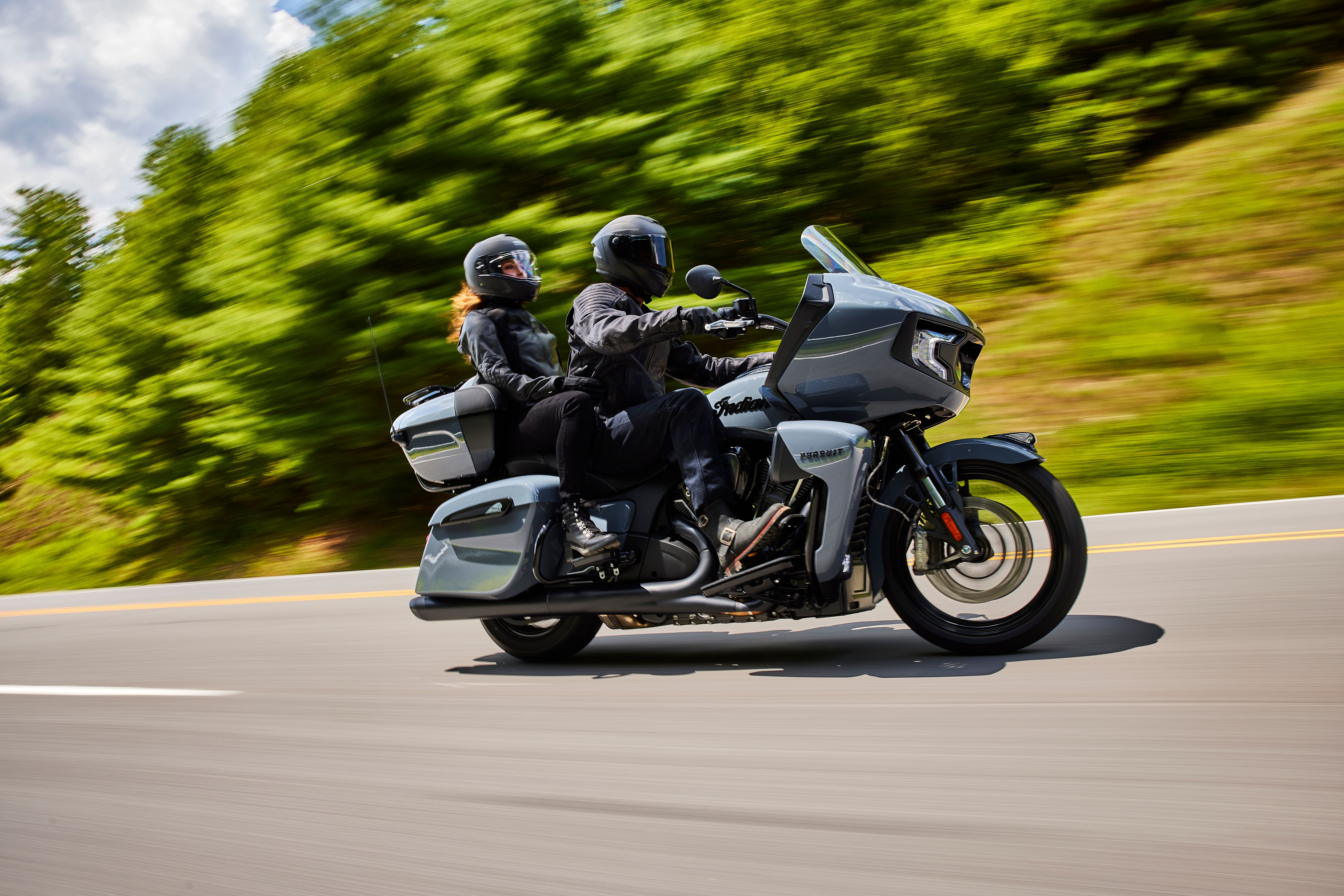 Indian Pursuit riding from left to right
Big, heavy, with long, low-chassis motorcycles shouldn't, by general rule-of-thumb, handle very well. Someone forgot to tell Indian that, and despite its 912-pound weight, the Pursuit is an absolute blast to throw through corners. Much of the ability is down to the super-stiff aluminum chassis, which allows the suspension to do its work properly. Look, it's never going to be sports bike-sharp, and you have to pick your times to throw caution to the wind when approaching a corner but, once you've picked a line through it, the Indian Pursuit will hold it until the cows come home. It is super-stable in any condition and on any type of road, and it just gives the rider so much confidence.
Related: 10 Reasons Why You Need The Indian Scout In Your Life
4

The Indian Pursuit Is Fast, And Thankfully, The Brakes Are Up To The Job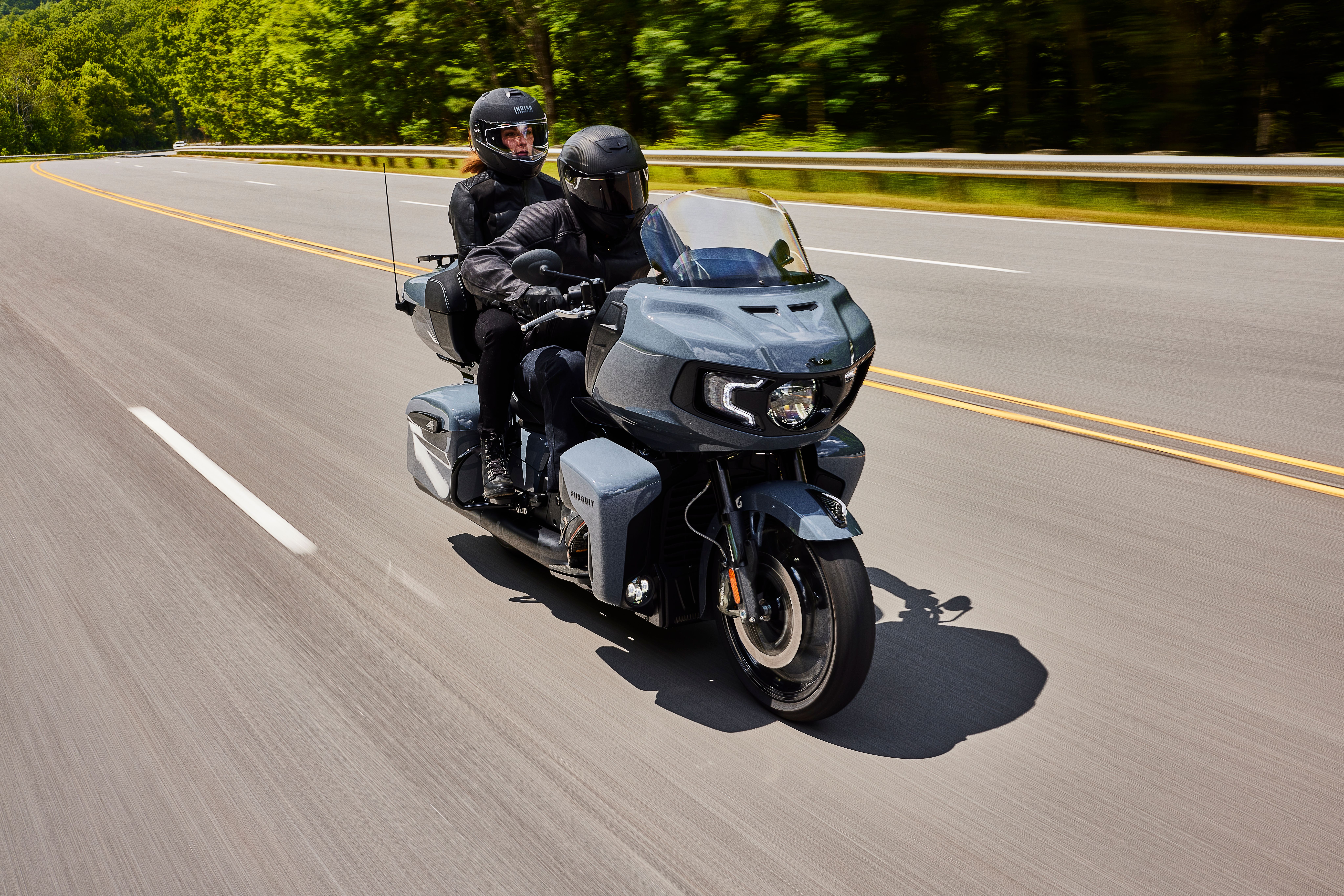 Indian Pursuit three quarter front view riding shot
It's all very well-being able to accelerate sharply and maintain high average speeds but all that is no good if you are forced to hold back because you know the brakes will give you grey hairs when it comes time to slow down. Indian is pitching the Pursuit as a premium motorcycle and so has refused to compromise on the hardware. This is particularly noticeable in the braking department, with twin 320mm discs up front being clamped by four-piston Brembo calipers. At the rear, a single 298mm disc helps massively with overall braking as well as helping to stabilize the bike and hold its line in corners. Initial bite is smooth which not only helps keep things stable but avoids unnecessary jerkiness which can be uncomfortable for pillion passengers. There's a lot of mass to control, so ABS is more essential than on many motorcycles.
3

The Indian Pursuit Has All The Bells And Whistles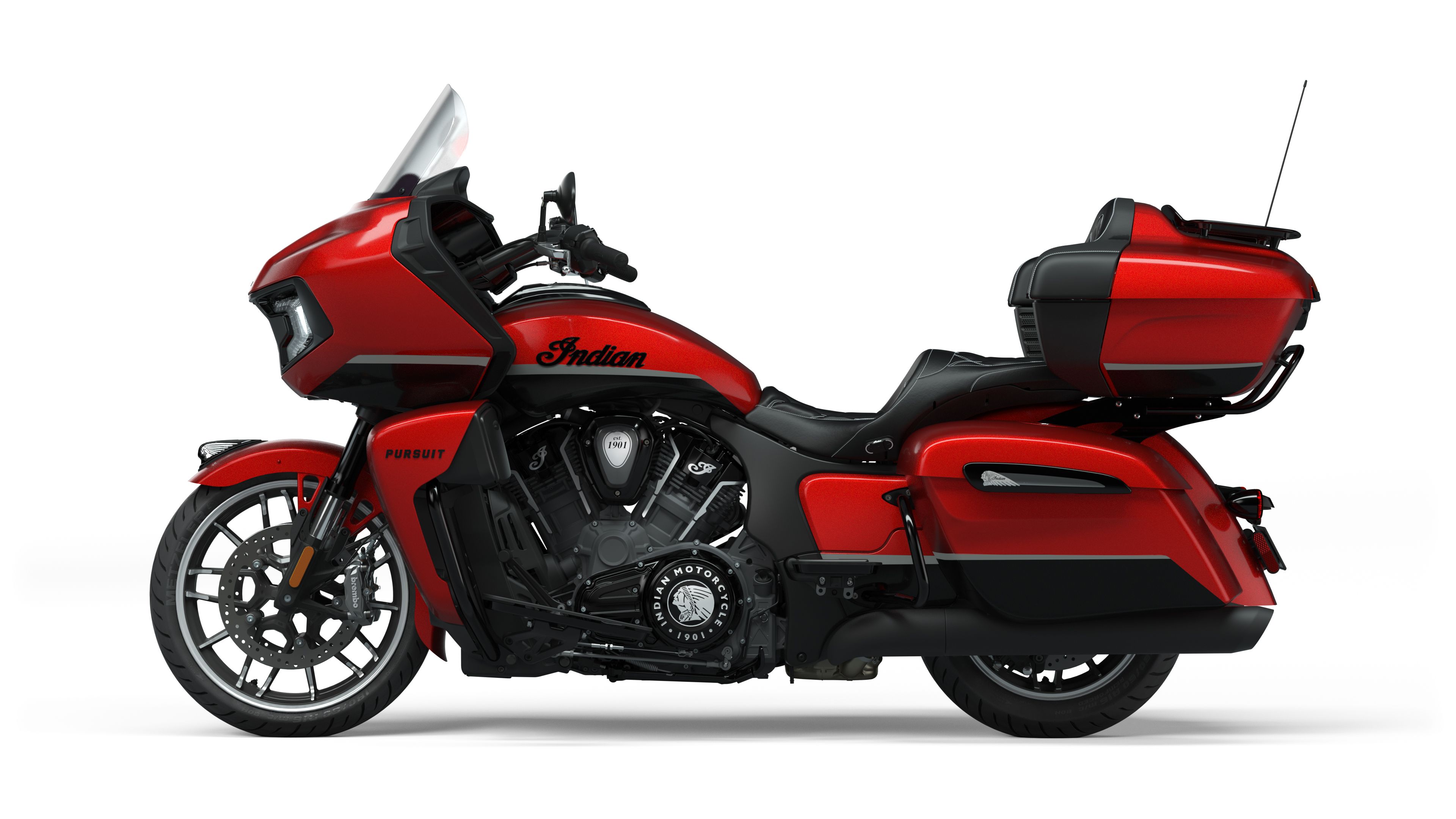 Indian Pursuit in red, facing left
With motorcycles becoming ever-more electronically complex, an easy-to-navigate interface is essential, and Indian has got this better sorted than many other manufacturers. The seven-inch, full-color screen is touch-sensitive, even with gloves, and works in conjunction with buttons on the left handlebar. It is an intuitive system and, if you opt for the Dark Horse model, you get Indian's Ride Command+ system, which comes with a host of features such as access to Apple CarPlay, traffic and weather notifications, and easy Bluetooth pairing. There is a two-speaker stereo system built into the fairing but, as with many of these systems, it is almost inaudible at highway speeds.
Related: TopSpeed's Best Touring Motorcycle Of 2022: Indian Pursuit Dark Horse
2

The Indian Pursuit Is Available With A Lot Of Optional Equipment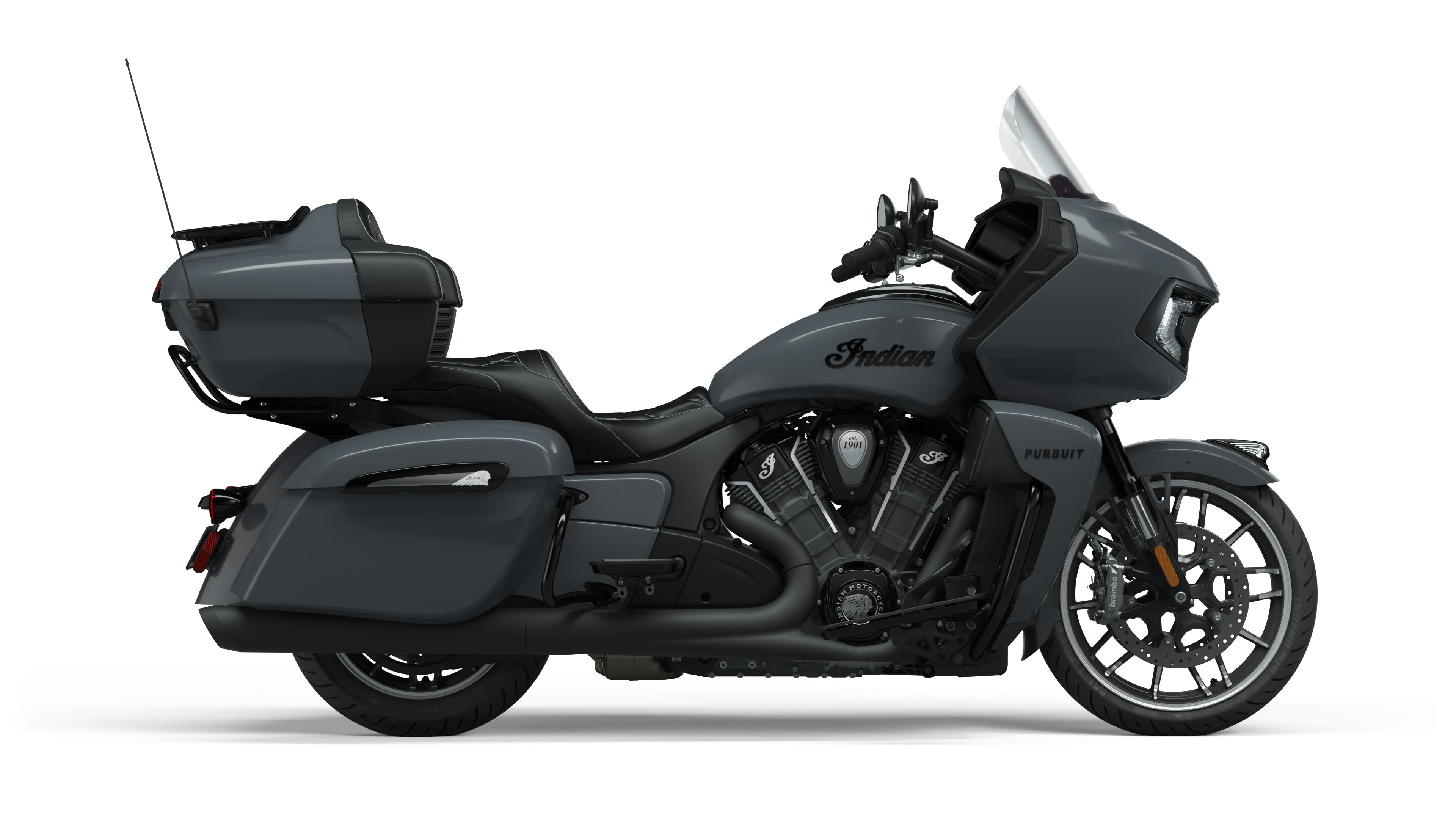 Indian Pursuit in grey, facing right
Buy an Indian Pursuit in its standard form, and you are getting a massively competent touring motorcycle but should you still have money burning a hole in your pocket, Indian will help you spend it through the purchase of the $3,000 Premium Package. This adds electronically adjustable rear shock preload, cornering ABS and traction control, fog lights, and a heated seat. The rear shock adjustment is effected by entering the rider and pillion weight plus luggage weight and the bike determines the spring preload. Very clever.
1

The Indian Pursuit Costs A Pretty Penny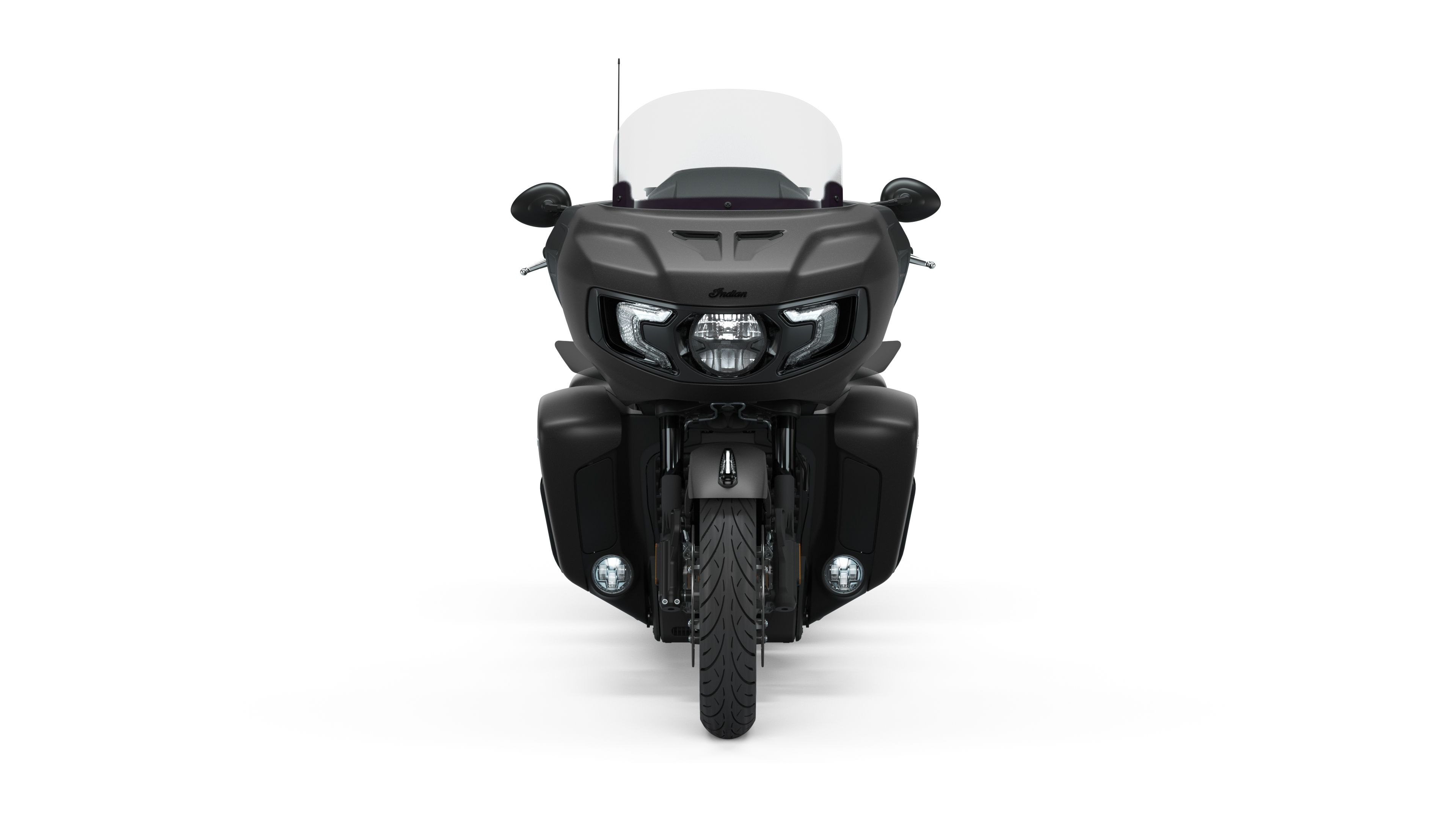 Indian Pursuit frontal view, in grey
An Indian Pursuit Dark Horse will cost you $30,999, and you can add the $3,000 Premium Package. You might not think it at first, but the large touring bike category is fairly crowded, with rival models from Harley Davidson, Honda and BMW. Harley has the Road Glide Limited and Ultra Limited models, selling for $21-23,000 and $30,699 respectively. Honda's Goldwing sells for $25,600 with the DCT transmission, while BMW offers two routes, the K1600GTL and the R18 Transcontinental. The K1600GTL retails for $27,790 and the R18 for $30,025.
FAQ
Q: How much horsepower does the Indian Pursuit have?
The Indian Pursuit's 108ci engine produces 122 horsepower and 128 pound-feet of torque
Q: Is the Indian Pursuit a Challenger?
Yes, the indian Pursuit is an Indian Challenger with a top box mounted behind the pillion seat
Q: is the Indian Pursuit water-cooled?
Yes, the 108ci PowerPlus V-twin engine in the Indian Pursuit is water-cooled.