10 Types Of Harley Davidson Motorcycles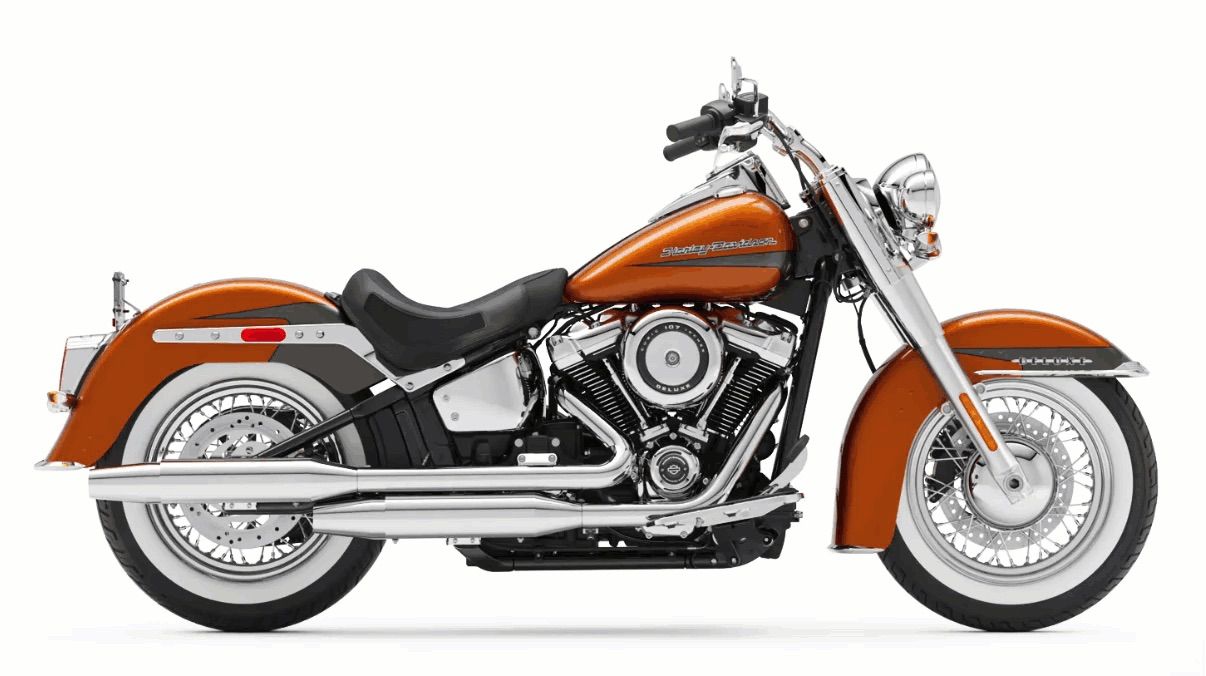 Harley-Davidson motorcycles tend to get a bad reputation. People tend to think they are all large, heavy, and full of chrome. While this may be true for many of them, it isn't true for all of them. This is especially true for the newer generations of motorcycle models, where Harley has tried to venture away from its heritage of chrome. In addition, not all Harley motorcycles are meant for packing up and touring. If you are ready to give Harley another chance, the first step is learning about the 10 different types of Harley-Davidson motorcycles.
Related: These 10 Motorcycle Engines Prove That Perfection Exists
10/10

Cruiser Motorcycles – Softail Standard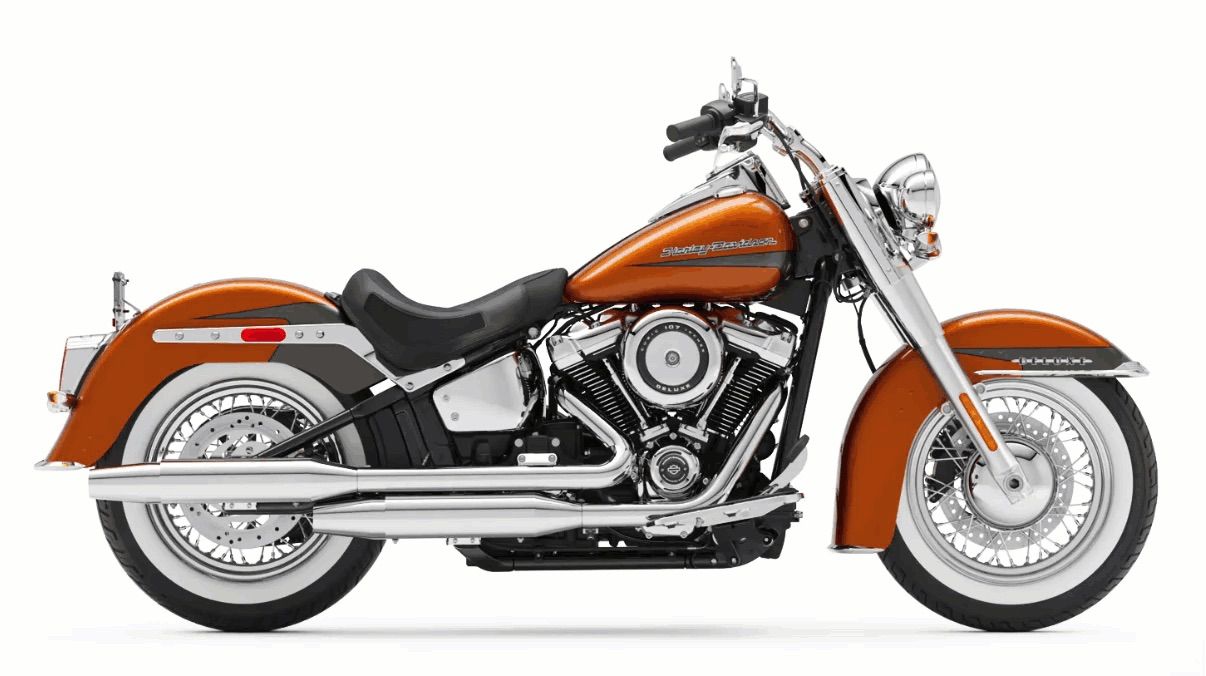 Stock image of an orange 2020 Softail Deluxe Harley Davidson cruiser motorcycle facing right on a white background. 
The cruiser is probably one of the most familiar types of Harley-Davidson motorcycles. These bikes make great daily riders or are perfect for cruising around town on weekends. They have a comfortable seated position with a low height, making them easy to ride in heavy traffic. They also don't come with all of the large fairings and bags that you see on the Harley touring motorcycles. This keeps them lighter and easier to maneuver in congested places. Harley motorcycle models that fall into this category include the Softtail, Street Bob, and Sport Glide. There are also many options for customizing these bikes, making them popular among riders looking to express their personal style.
9/10

Adventure Touring Motorcycles – Pan America 1250
Stock image of a blue and white 2022 Harley Davidson Pan American 1250 Special adventure motorcycle facing right on a white background. 
A relatively new category for Harley, the Pan America is an adventure touring motorcycle. Unlike other motorcycles produced by Harley, this one has a taller stance and higher seat height. The handlebars come back further, and the windshield extends high for plenty of protection. You'll find the Pan America adventure touring bike is durable and ready for anything, both on and off the road. Harley succeeded in taking its knowledge of touring motorcycles and applying it to the adventure motorcycle sector. You'll find the bike to be comfortable and loaded with all of the technology that typically comes on the Harley touring motorcycles.
Related: Is The Street Bob The Most Well-Rounded Harley-Davidson?
8/10

Trike Motorcycles – Tri Glide Ultra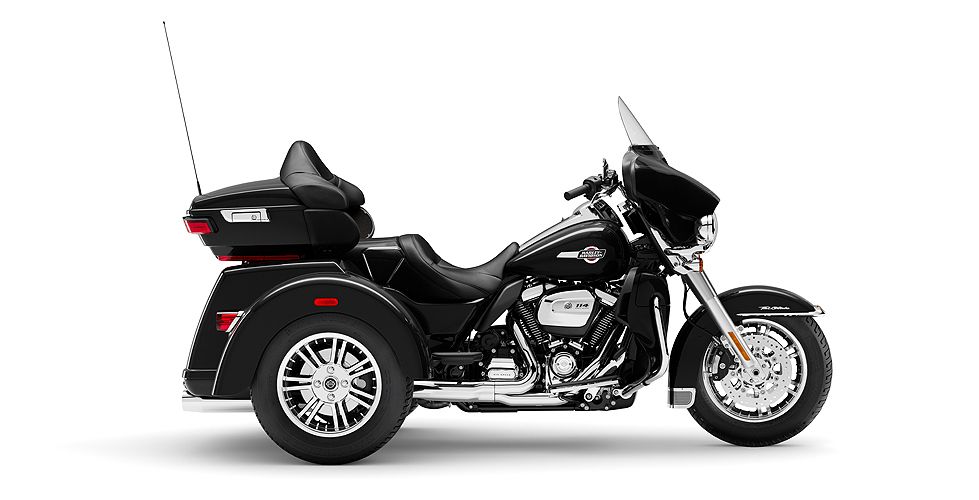 Stock studio image of a black Harley Davidson Tri Glide Ultra 2022 trike motorcycle facing right on a white background. 
There comes a day in every rider's life when they take their helmet and boots off for the last time. For some, it is a conscious decision, while for others, the choice gets made for them. Trike motorcycles can delay this sad day by making it easier to continue riding. Instead of having two wheels, there are three. One wheel is in the front, and two are in the back. These bikes are perfect for maximizing comfort, increasing storage capacity, and adding a bit of luxury to riding. Hop on one and give it a chance; you'll find yourself surprised by how agile and sporty they handle. While the corner lean takes some getting used to, you will quickly get the hang of it.
7/10

Touring Motorcycles – Street Glide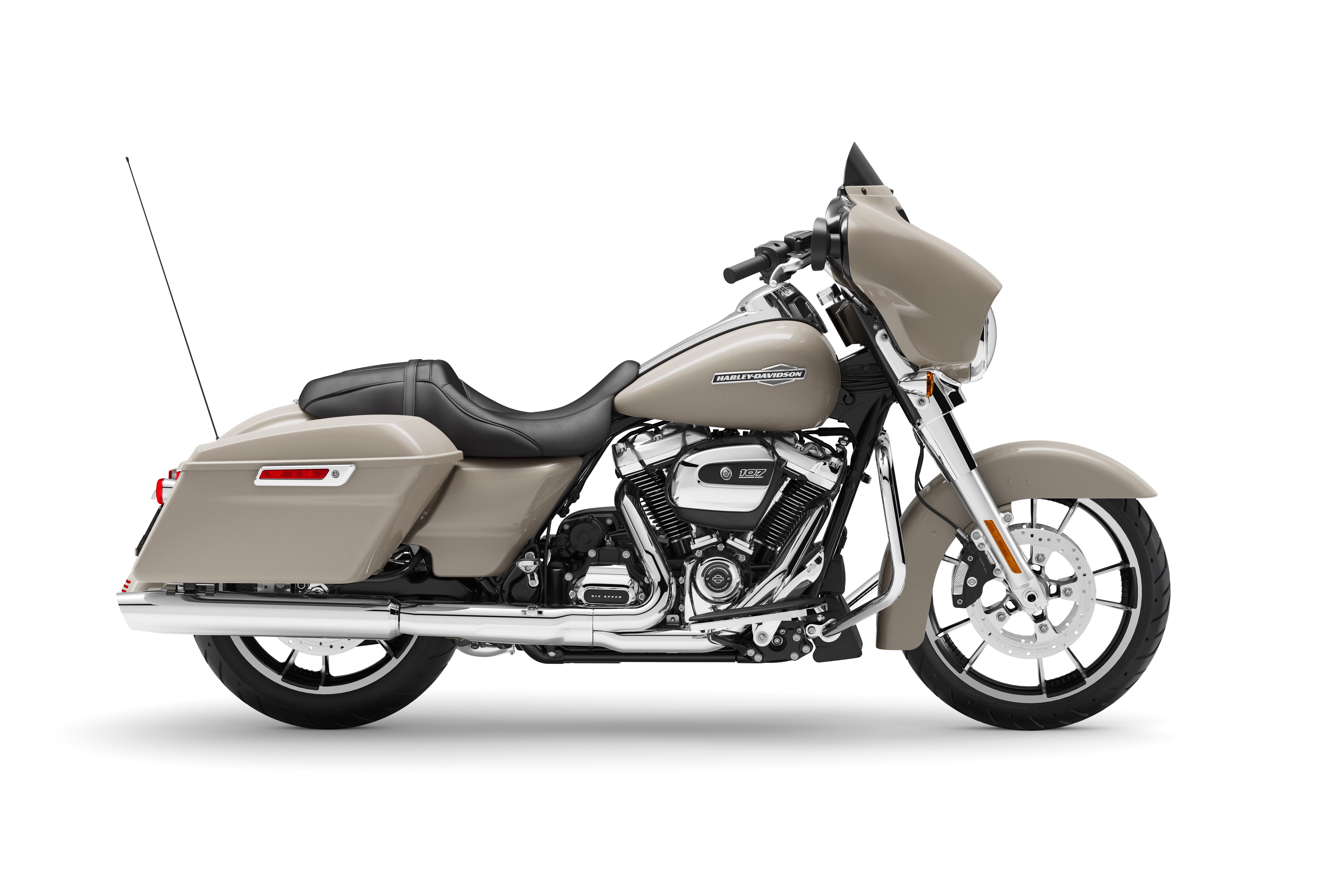 Stock studio image of a 2022 Harley Davidson Street Glide facing right on a white background. 
There was a time when touring motorcycles were the bikes that people turned to when they wanted to travel. These days, touring motorcycles can be more versatile. They come in various sizes, making it possible to find the perfect fit for your riding needs. Perhaps you want a small touring bike with saddlebags for commuting to work. Maybe you prefer a slightly larger motorcycle for taking a weekend getaway. Harley has made this category more flexible so that there is a broader appeal and versatility for these bikes. Popular touring motorcycles in the lineup include the Road Glide, Street Glide, and Road King.
Related: The Cheapest Harley-Davidson That Money Can Buy In 2023
6/10

Grand American Touring Motorcycles – Ultra Limited Stock studio image of a 2022 Harley-Davidson Ultra Limited facing right on a white background. 
The grand American touring motorcycles are a type of bike that Harley is responsible for developing from the ground up. These are supersized bikes that most people refer to as "half a car". They can easily weigh 800 plus pounds and have a storage capacity that could rival a trunk. If you plan to log thousands of hours in the saddle or travel across the country, you'll want one of these motorcycles. There is plenty of comfort and storage for you and your passenger. In addition, the engines are tuned for optimal performance when running for long hours at highway speeds. There are also plenty of rider-assist features to make your time behind the handlebars an enjoyable one.
5/10

Electric Motorcycles – Livewire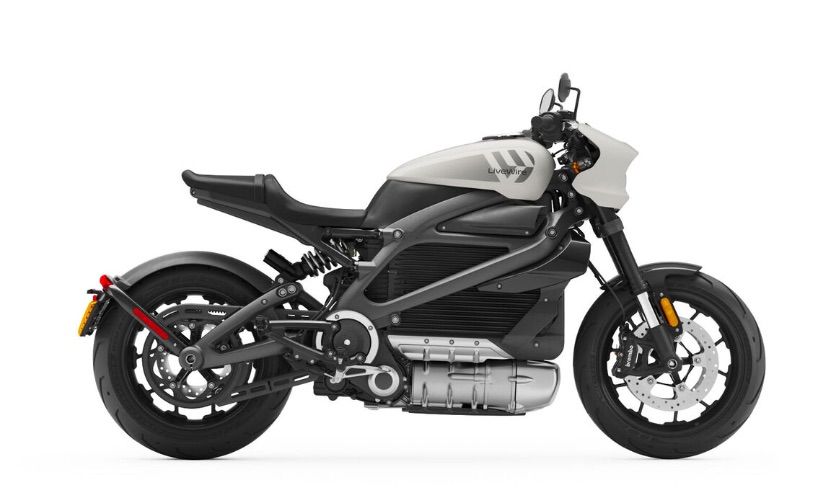 Stock image of a white LiveWire One electric motorcycle in right profile on a white background. 
Despite Harley introducing the Livewire in 2020, it is still strange to think of this classic American motorcycle manufacturer embracing such new technology. This is the first electric bike offered by Harley. These days, it is its own brand. Similar to other electric motorcycles, the bike comes with several rider modes for a customized riding experience. These electrically controlled ride modes can change the way the bike's engine performs. Performance is the focus of this bike, with it capable of going 0-60 in three seconds. It has a total riding range of 95 miles and a charging time of just 60 minutes.
Related: 10 Best Harley-Davidson Touring Motorcycles Currently On Sale
4/10

Sport Motorcycles – Sportster S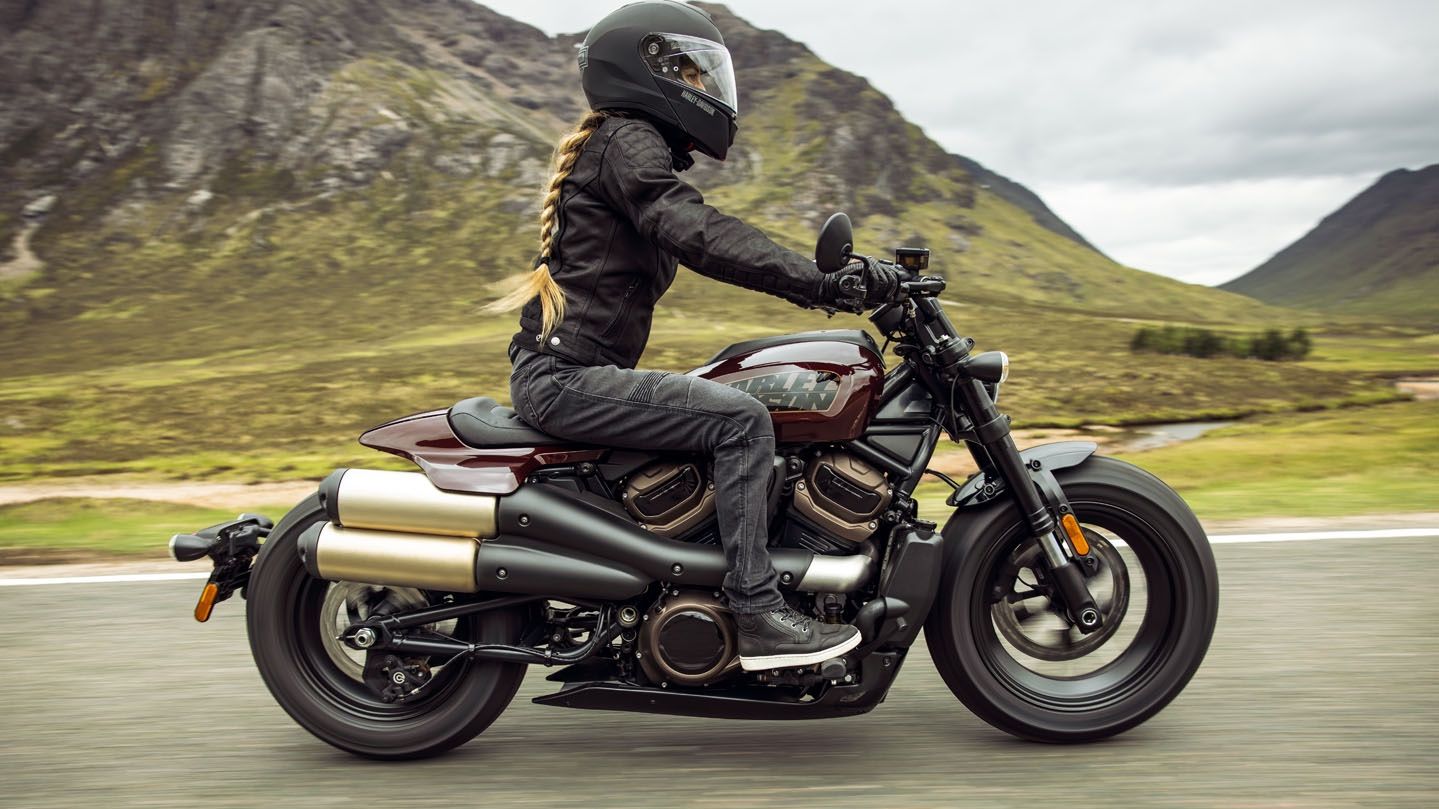 Side view of a woman driving a HD Sportster S.
Don't let the title of this category confuse you. Harley-Davidson does not produce what most motorcycle riders would consider a true sport bike. However, there are a few motorcycles in the model lineup that Harley likes to call the sportier options. These are bikes that have performance and fun in mind. The engines are tuned for better acceleration, and the body has better balancing for better cornering. In addition, you'll find they have a more aggressive riding position, making them better for city riding than cross-country touring. The most popular sporty model is the Sportster, but others have made an appearance throughout the years, such as the V-Rod.
3/10

Custom Vehicle Operation (CVO) Motorcycles – Street Glide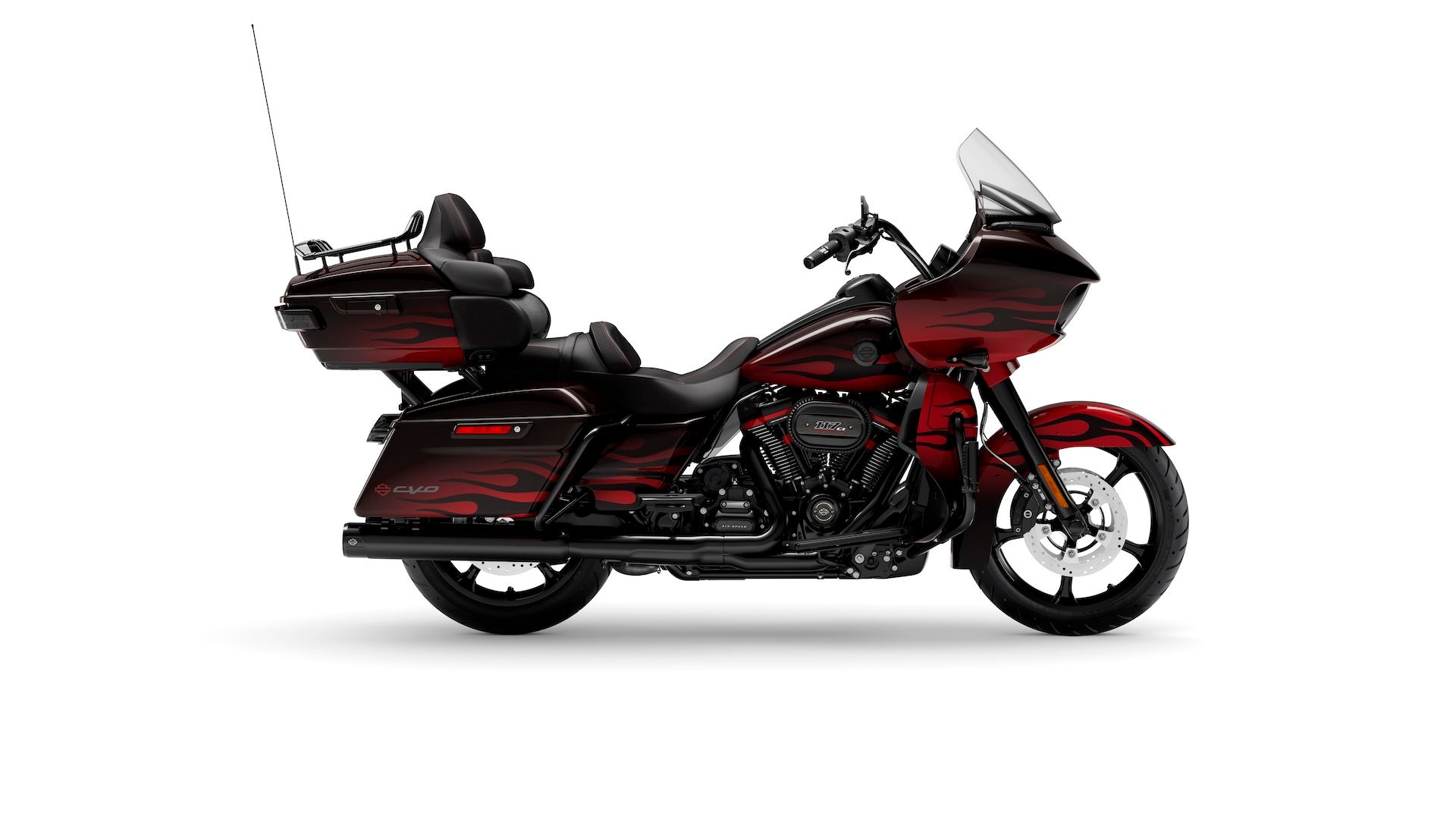 Stock image of a red flame Harley-Davidson CVO Limited 2022 touring motorcycle facing right on a white background. 
Harley now offers the Custom Vehicle Operation (CVO) lineup for motorcycle enthusiasts who have a more refined taste. These are essentially high-end motorcycles that embody the pinnacle of design and build. Each motorcycle is part of a limited number production to ensure maximum attention gets given to every detail. Much of the work, such as the intricate paint job, is done by the hands of expert craftsmen. The bikes feature the Milwaukee-Eight 117 engine, Harley's latest and most impressive engineering development. Currently, there are four motorcycles in the CVO lineup, the Street Glide, Road Glide, Road Glide Limited, and Tri Glide.
Related: Is The Road King Harley-Davidson's Best Touring Motorcycle?
2/10

Icons Collection Motorcycles – 2022 Low Rider El Diablo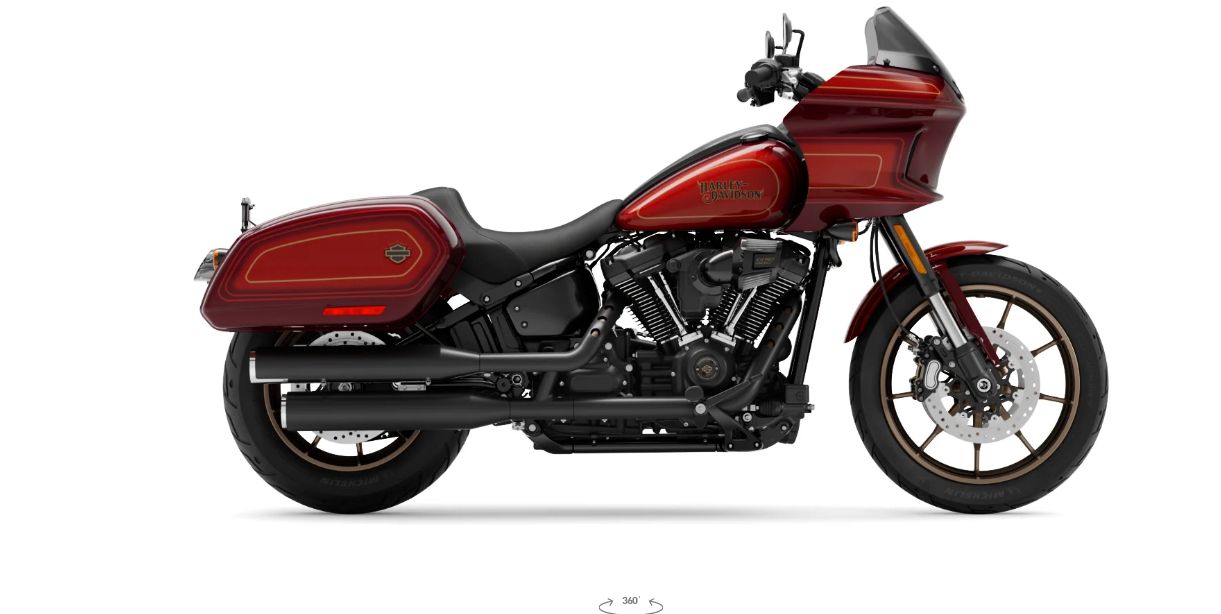 Harley Davidson Low Rider El Diablo in red facing right
The Harley-Davidson Icons Collection is a new offering from Harley, with just two bikes in the lineup. However, Harley does maintain that there are plans for more in the future, with a new bike released annually. This series features motorcycles that pay homage to some of the most well-known motorcycles in riding culture. The first, an Electra Glide Revival, celebrates the classic tri-colored bikes of 1969. The second is a Low Rider El Diablo, honoring the West Coast motorcycle designs of the 1980s. Both motorcycles feature custom paint schemes and design features that stay true to the bikes they are inspired by.
1/10

Enthusiast Collection Motorcycles – 2022 GI Enthusiast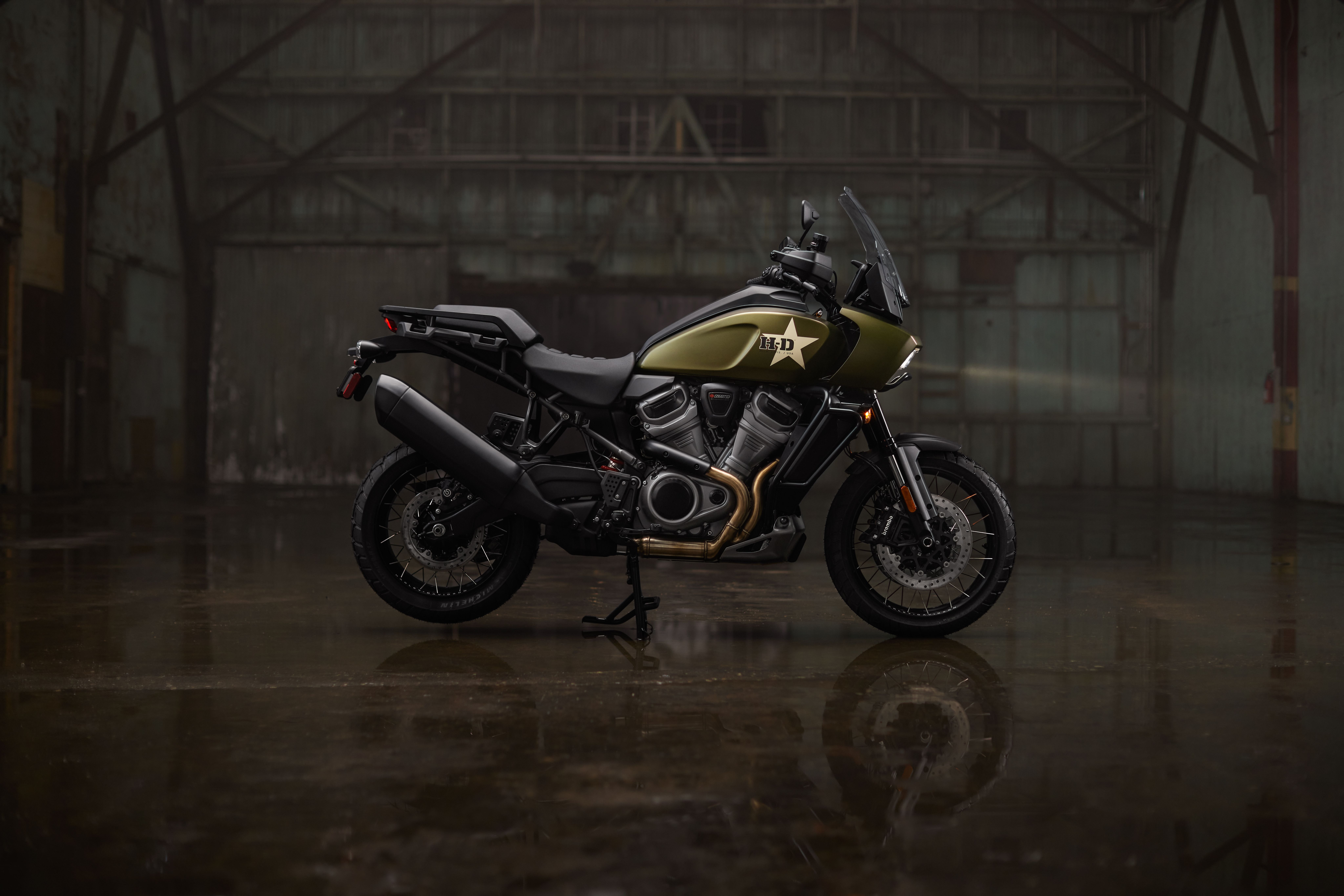 Styled image of a 2022 Pan America Enthusiast Collection Harley Davidson in a grunge warehouse. 
Similar to the CVO and Icons collections, the Harley Davidson Enthusiast Collection is a lineup of motorcycles designed to honor a piece of riding culture. For this collection, Harley wanted to honor the riding community with bikes inspired by passionate riders and their unique stories. The first bikes in this collection are a Pan America 1250 and Tri Glide with a G.I. theme. Each comes with an origin story of the American military service member that inspired the bike. In addition, both limited edition models have a military-inspired green color scheme and graphics. Harley states that it will add new stories and bikes to the collection annually.