Motorcycling in America presents challenges unlike anywhere else in the world: vast open landscapes and equally vast distances require a motorcycle with supreme comfort, long-legged performance, luggage capacity and excellent wind protection.
Handling is not always a prerequisite given that these motorcycles are not expected to be flung through twisty canyon roads, although modern suspension technology is giving even the most porky touring bike handling characteristics, that a decade or so ago, would have been unthinkable. To tour America in authentic fashion, you need a Grand American Touring bike and here we present ten of the best.
Related: Road King vs Road Glide vs Street Glide: Which Touring Harley-Davidson Is The Best?
10
Harley-Davidson Street Glide ST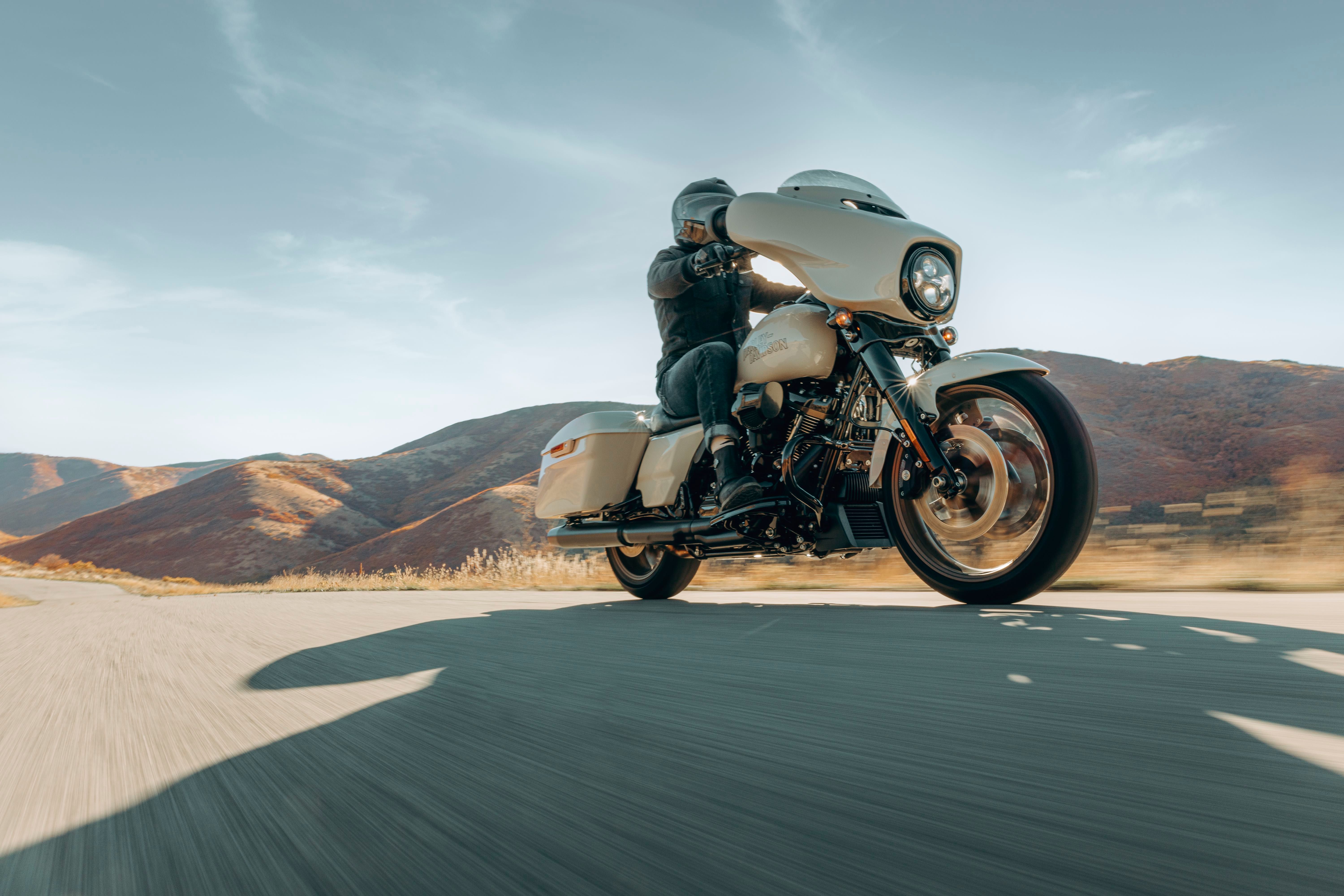 Harley Davidson Street Glide ST riding left to right
Might as well get the obvious out the way first. Harley-Davidson might or might not have coined the phrase Grand American Touring, but there can be no doubt that their models are the epitome of Grand American touring. In the line-up are a total of eight models that fall under the GA touring label, five which could also fall under the Bagger name and three fully-dressed touring bikes.
Of the baggers, the Street Glide ST might just be the best, with 117 cubic inches of Milwaukee Eight power and torque providing effortless performance and chassis dynamics that encourage taking the road less traveled. A big bat wing fairing and hard panniers ease the pain of long distance rides. 814 pounds might be 100 pounds lighter than the Road Glide Limited, but it's still a hefty weight to be throwing around.
9
Harley-Davidson Road Glide Limited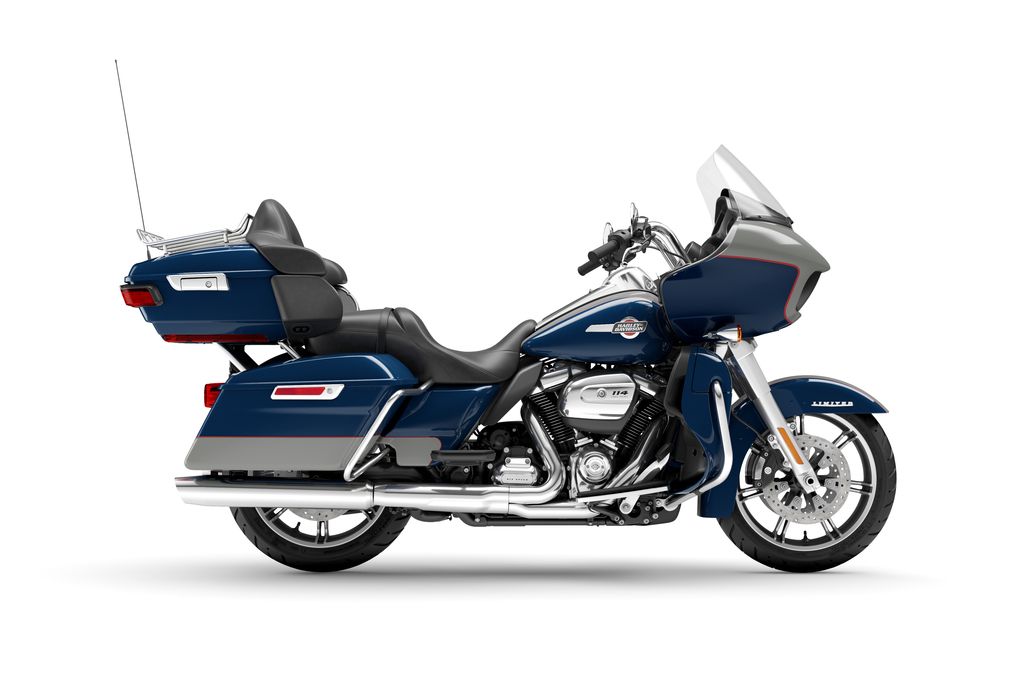 Harley Davidson Road King Limited facing right
In reality, any of the full-dress touring bikes in Harley's Grand American touring range could be included here, but we've chosen the Road Glide Limited as a representative example. Strangely, Harley has given this monster of a bike the smaller of the two Milwaukee Eight engines – the 114 cubic inch – which will need to be worked hard to pull along 910 pounds plus a couple of passengers and their luggage.
Thankfully, the power delivery is smooth and linear, despite the bulk, handling is also pretty good. Where the bike can't be faulted, however, is in the comfort afforded to both passenger and pillion: large seat area, the top trunk providing a back rest for the pillion and the riding position natural and easily maintained for long days in the saddle. As stylish and all-American as you could possibly wish to be.
8
Indian Roadmaster Limited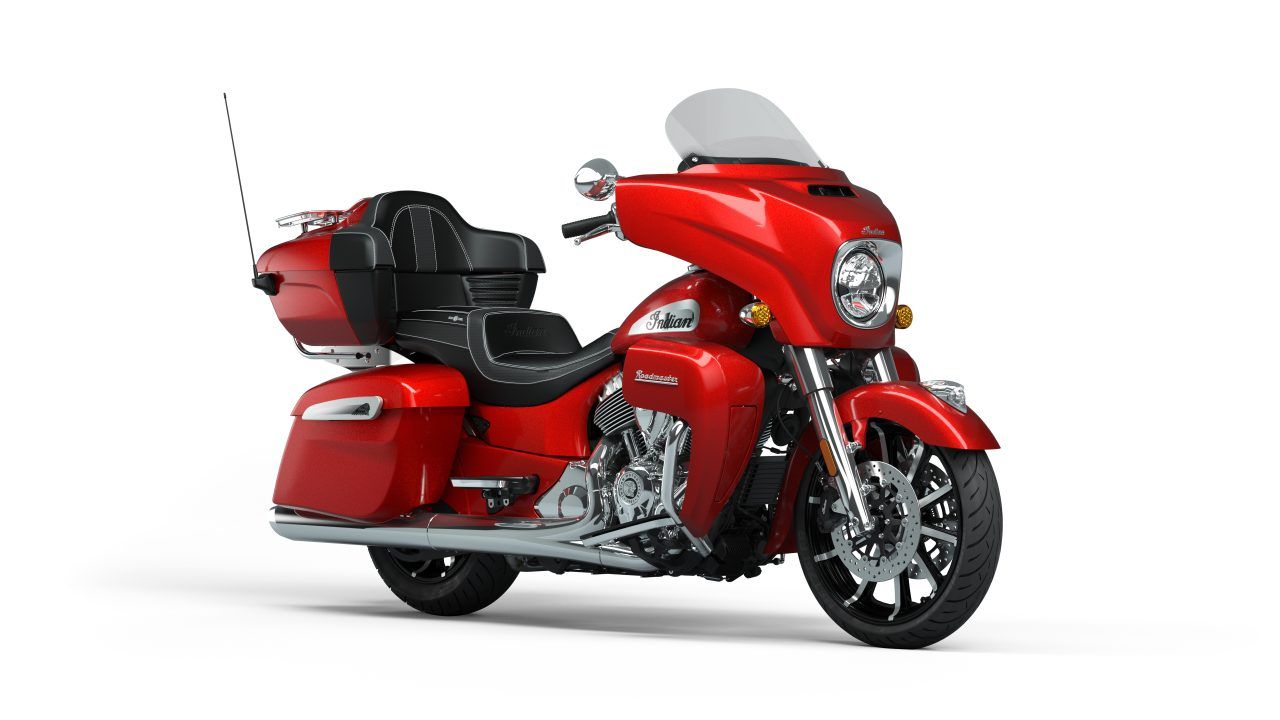 Stock image of a red Indian Roadmaster Limited 2023 touring motorcycle facing right on a white background. 
Since 2011, Harley-Davidson has found itself being challenged note for note by Indian, who offer a similarly typical American riding experience with a more retro look, even if there is nothing retro about the riding experience. In The Roadmaster Limited, the Thunderstroke 116 engine pushes you along the road with 92 horsepower and 126 foot pounds of torque, not to mention praise-worthy smoothness. Excellent wind protection, surprisingly complete electronic rider aids, generous storage and one of the comfiest seats in the business all add up to a riding experience that is similar, yet curiously different to the Harley Road Glide Limited.
Related: 2021 Indian Roadmaster Limited
7
Indian Challenger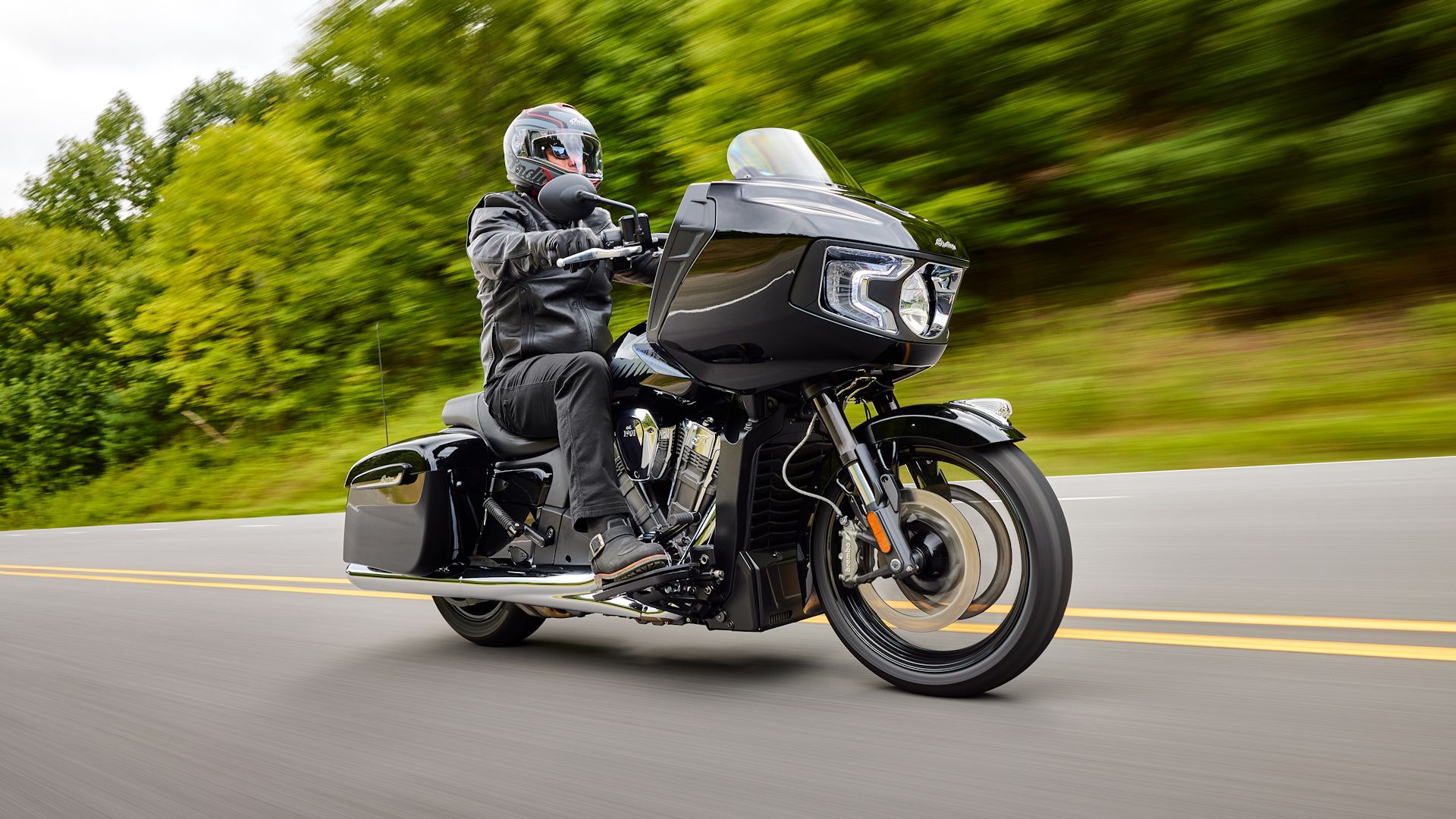 Black Metallic 2023 Indian Challenger cruising on the highway
As up to date in the styling department as the Indian Roadmaster is retro, and none the worse for it, while still adhering to the Grand American touring tradition. Strictly speaking, the Challenger is a bagger, although a top trunk is available as an accessory. The PowerPlus liquid-cooled engine is certainly powerful, with class-leading figures of 122 horsepower and 128 foot pounds of torque, although the 839 pounds weight certainly needs all the help it can get, and that's without a top trunk fitted. The pillion seat is a better place to sit compared to the Harley Street Glide, although you might want to insert a back rest if you want your pillion to be talking to you after a day in the saddle. Fully up-to-date in the electronics department, and the riding experience has to be tried to be believed.
6
Kawasaki Vulcan Voyager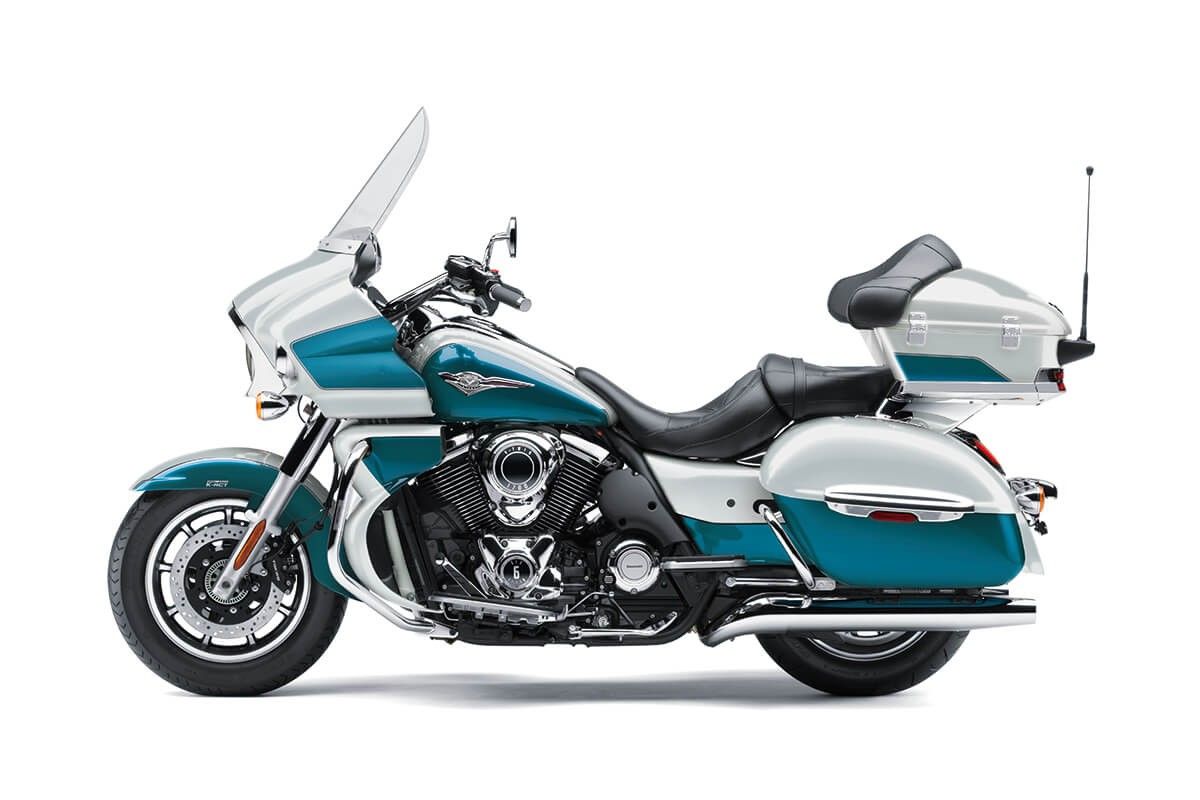 Kawasaki Vulcan 1700 Voyager in green and white facing left
We are quick to accuse the Chinese of wholesale copying of motorcycle designs but couldn't the same accusation be leveled at the Japanese? A large, heavy cruiser is as far as you can get from the lightweight sporting motorcycles that Japanese built their reputation on, and yet they make strangely tempting alternatives to the traditional American cruiser.
The Kawasaki Vulcan Voyager is gaudy and brash, but this only serves to hide what is an accomplished touring motorcycle. The 1,700cc V-Twin pushes out 72 horsepower and 100 foot pounds of torque, the comfort values are off the scale, the luggage capacious, and it is up-to-date on the electronics front as well. If Honda has resolutely gone its own way, Kawasaki has realized the value of sticking to a tried and trusted formula.
5
Yamaha Star Venture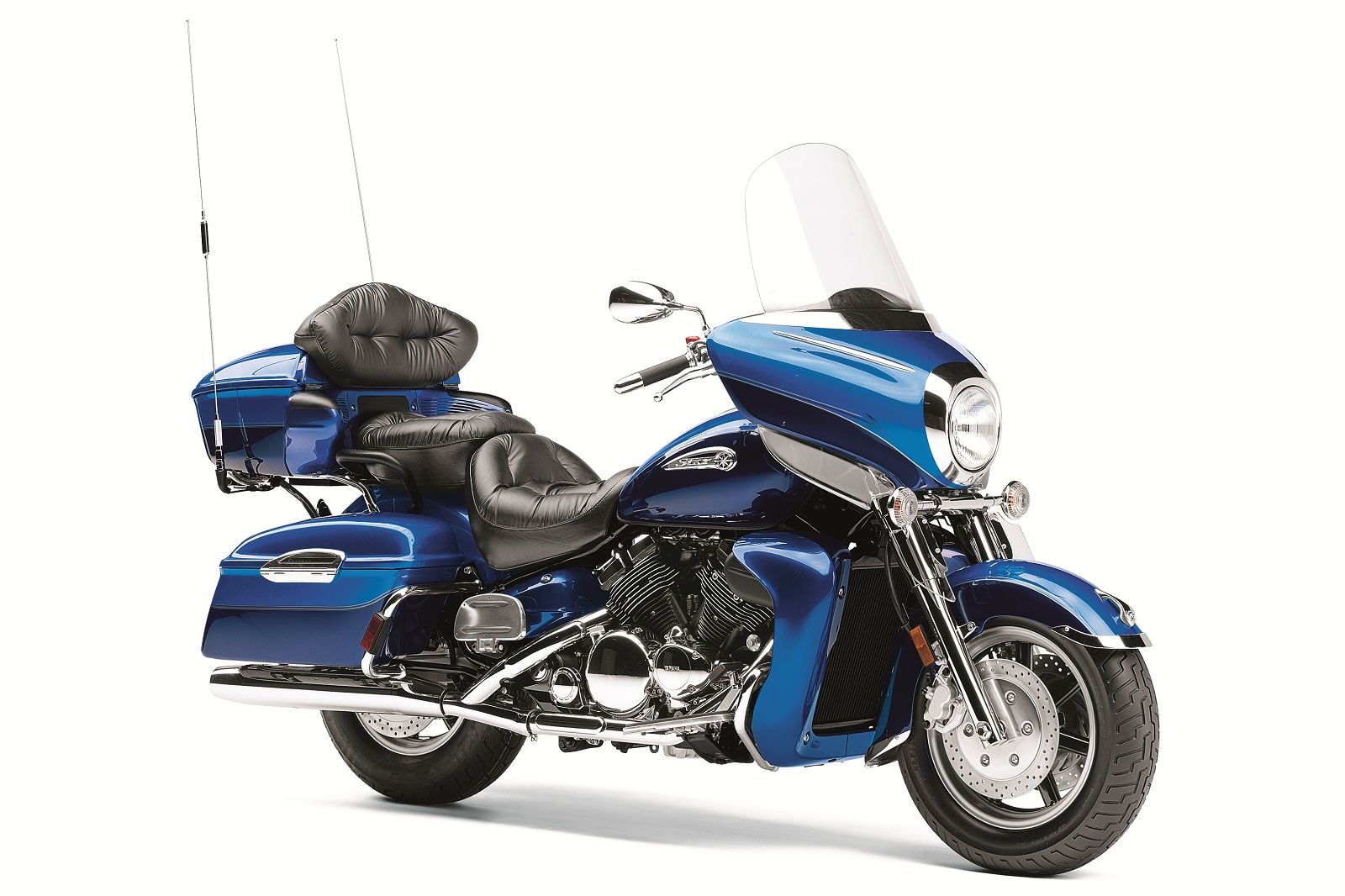 Yamaha Star Venture in blue, facing right
The second Japanese offering in the Grand American Touring class adopts a more modern look, closer to the Indian Challenger than the Harley-Davidson Road Glide Limited, and it's all the better for it. The engine is a 1,854 air-cooled V-Twin with 85 horsepower and a mountainous 126-foot pounds of torque, so performance is nothing to be ashamed of and neither is the chassis behavior.
What Yamaha doesn't know about making bikes handle well isn't worth knowing, and the company engineers have done an amazing job of 'hiding' the bulk and weight of the Star Venture, even if it does weigh a colossal 957 pounds. It is closer to the BMW K1600 Grand America and Honda Gold Wing than the Harley-Davidsons or Kawasaki but still offers an authentic touring cruiser feel.
4
Honda Gold Wing Tour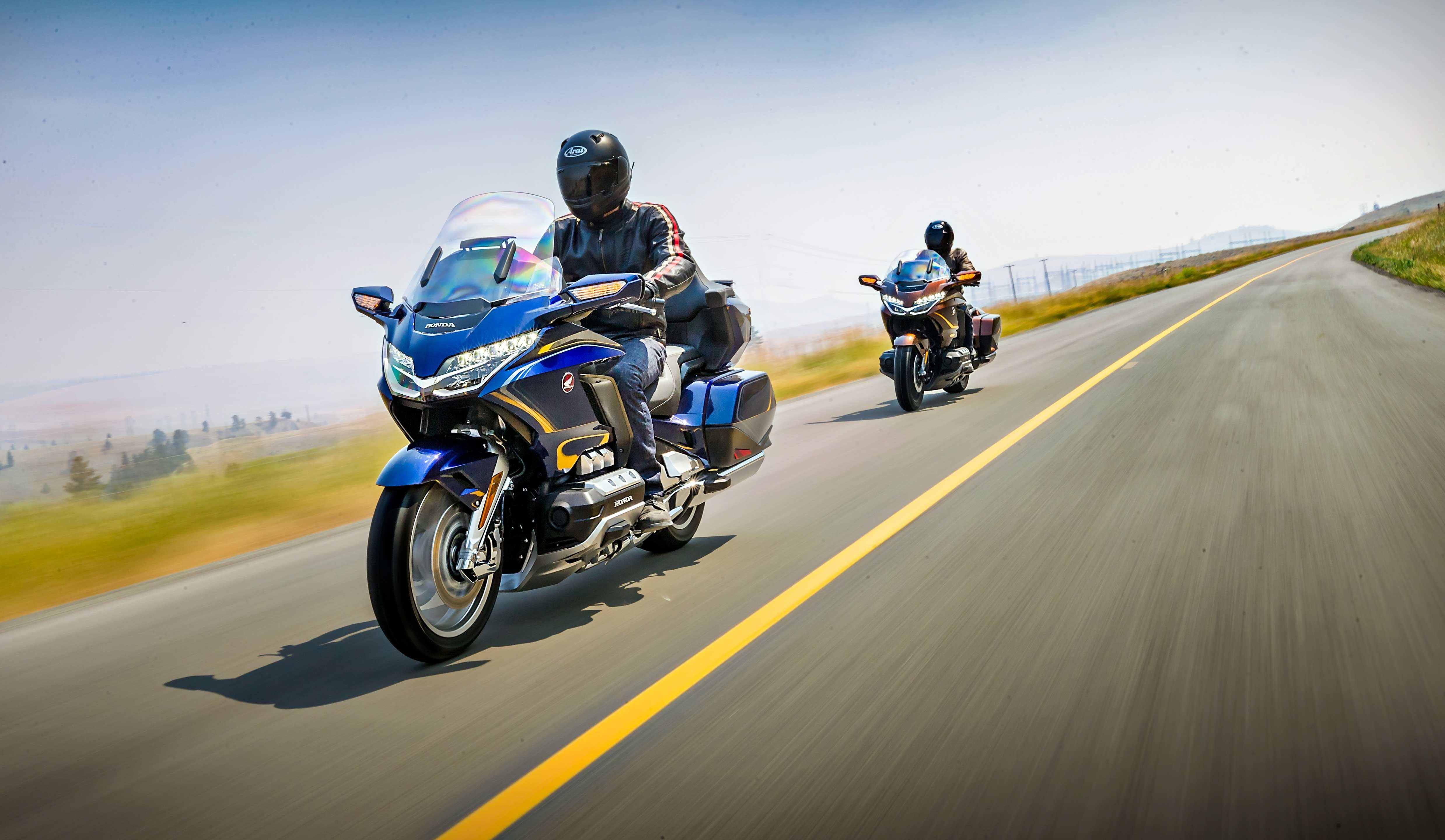 Honda Gold Wing Tour riding right to left
Surprisingly, Honda intended the Gold Wing to be a large-displacement sport bike, but when they found out owners were using it for long-distance touring trips, they decided to change it to a full-dress touring bike. Today, it is one of the most comfortable, technically advanced touring bikes you can buy, with a beautiful 1,833cc flat six engine driving through an optional DCT transmission which is possibly the ideal application for that. Interesting and brilliant suspension, huge tech, ultra-modern style and enormous ability, whether cruising down the highway or taking the scenic route, the Honda Gold Wing is one of those by which all others are measured.
Related: Harley-Davidson Road Glide Limited vs Honda Gold Wing
3
BMW K 1600 Grand America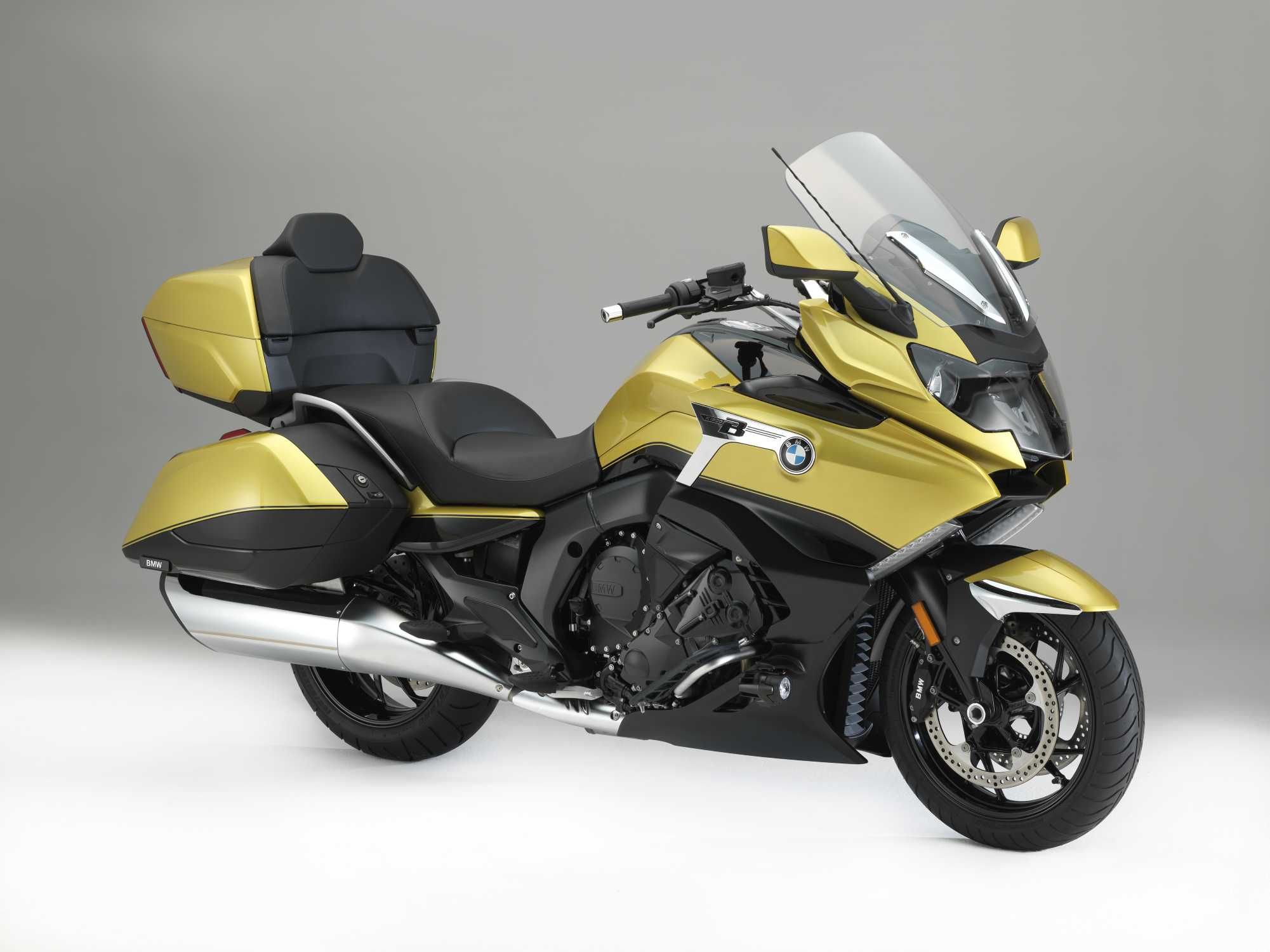 Stock image of a yellow BMW K1600 Grand America sport touring motorcycle facing right on a grey background. 
If Honda has had five decades to get the Gold Wing right, then BMW has to be commended for creating the K 1600 range and taking the fight to Honda in short order. It combines huge comfort and even sporting ability, with up-to-the-minute tech, great storage, excellent weather protection and an incredible inline six-cylinder engine that just begs to be revved to the red line everywhere, with an incredible soundtrack.
160 horsepower and 129 foot pounds of torque more than does the business and the size and weight (a featherweight – in this class at least – 740 pounds) just shrinks away when on the move. Super-stable, with chassis dynamics that wouldn't disgrace a sport bike, the K 1600 Grand America brings efficiency and dynamism to the class.
2
BMW R 18 Transcontinental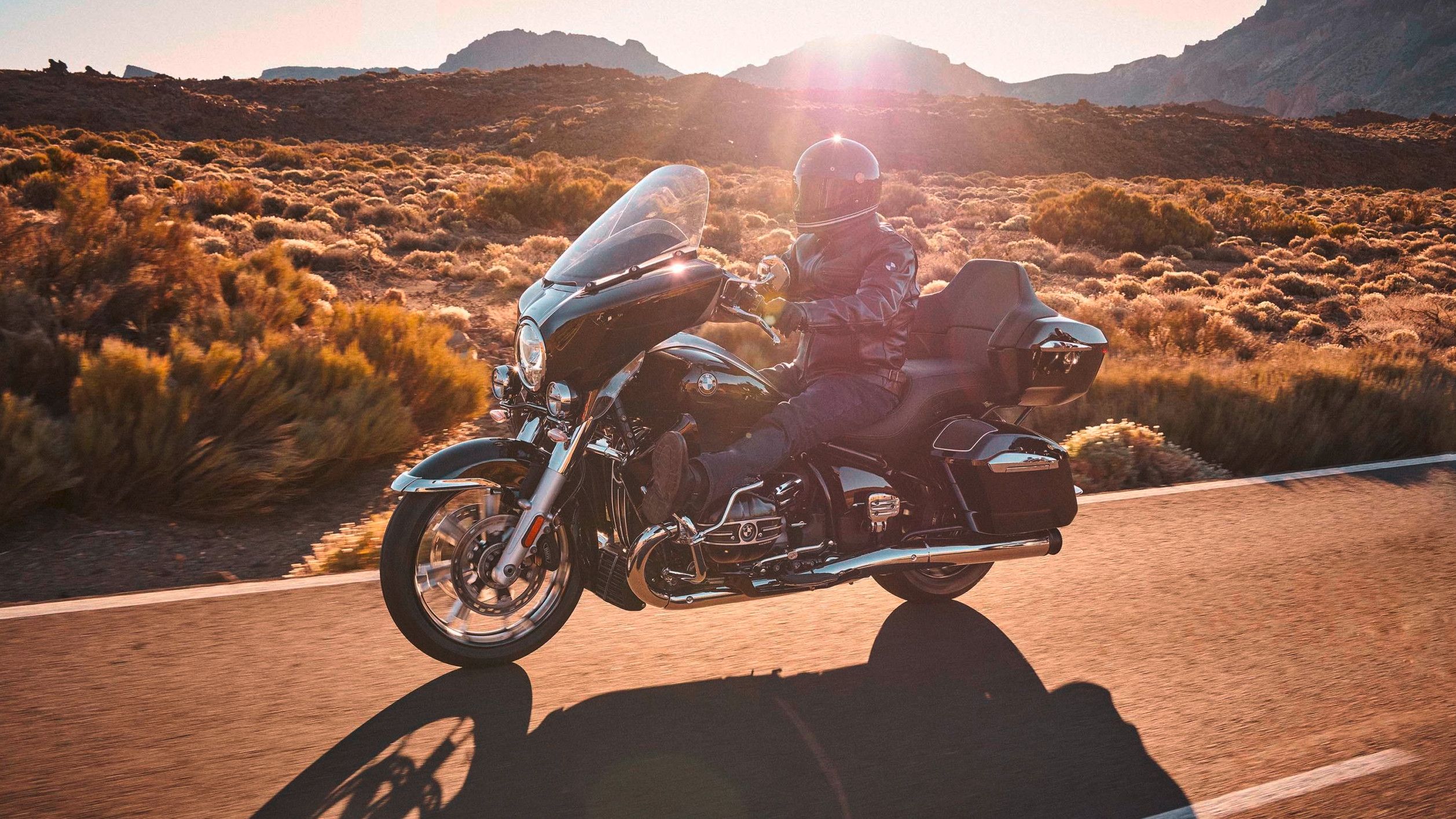 Motorcycle riding on road in sunset.
When the R 18 appeared, BMW called it a blank canvas for customization, and it was certainly a completely new direction for the German company. With its long wheelbase and huge 1,800cc boxer engine, there was no doubt it could be massaged into different roles and that's exactly what BMW did when it created the R 18 Transcontinental.
Not as technologically advanced as the K 1600, it nevertheless gives BMW another string to its already impressive touring bow. 91 horsepower and 116 foot pounds of torque do have to work relatively hard to move the 941 pound bulk, but it is impressively smooth and very comfortable. Much closer to the conventional American cruiser than the K 1600 in appearance and riding experience but still with a large dollop of German efficiency and quality.
1
Moto Guzzi California 1400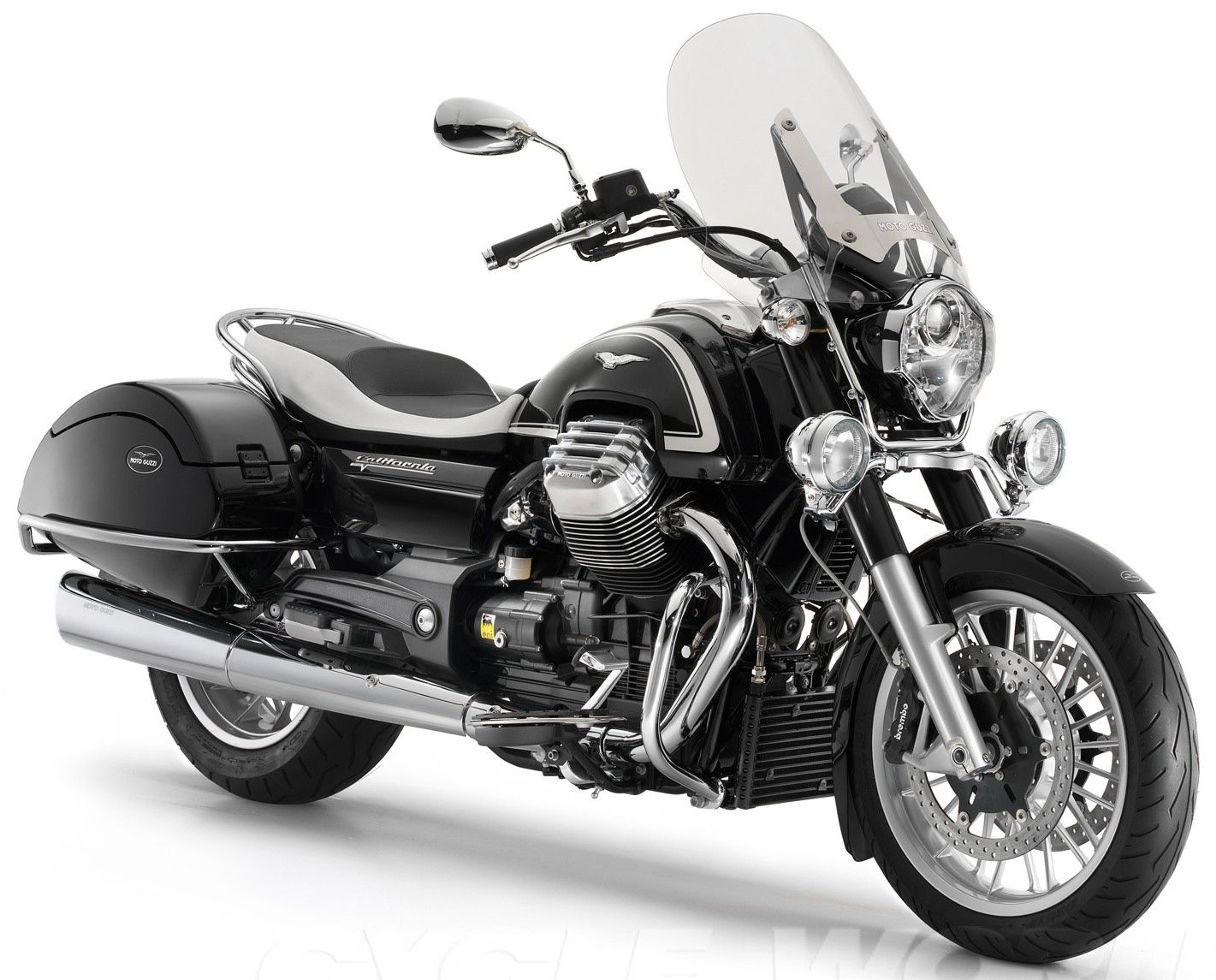 Moto Guzzi California 1400
Something a little different to end with. Moto Guzzis have been powered exclusively by the transverse V-Twin engine for decades, but it still holds up as a power plant with the perfect characteristics for a cruiser: bucket-loads of low down torque and surprisingly smooth. The 1,380cc engine produces 95 horsepower and 88 foot pounds of torque, with an all-in weight of 742 pounds. It's not only lighter than much of the opposition, it also lacks a bit of all-round practicality for the class, with panniers only and a bolt-on screen. Although it is supremely comfortable and provides effortless long-legged touring ability combined with typical Italian design flair.