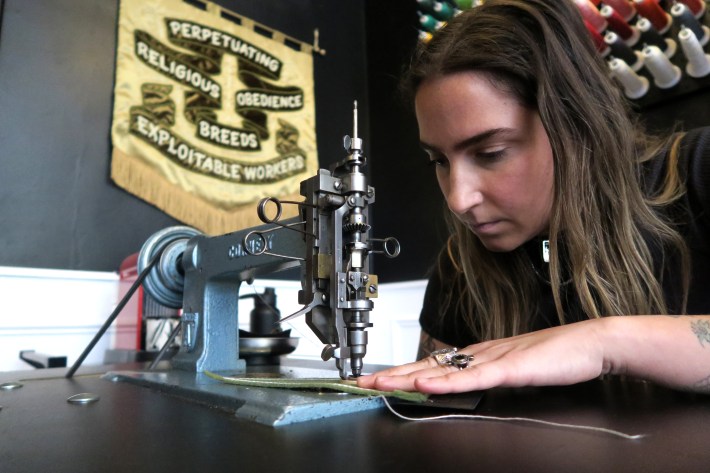 IRVING PARK — An artist specializing in crafting custom designs using a vintage embroidery machine has moved her studio and shop to Irving Park. 
Vichcraft owner Jenna Blazevich's crank-and-wheel Cornely A chainstitch machine is a little more than 100 years old — but it still works well for her customers' stitching needs. When creating a custom design, Blazevich leads the direction of the needle freehand over pennants, shirts and other items. 
"If you picture a mechanic shirt or a bowling shirt, they would have been personalized with this kind of machine," Blazevich said. "It's a really special, very rare machine."
Blazevich relocated her business to 3757 N. Kedzie Ave. last year and started seeing customers by appointment this summer. Starting Oct. 30, she plans to have the shop open 11 a.m.-5 p.m. Sundays or customers can make an appointment online.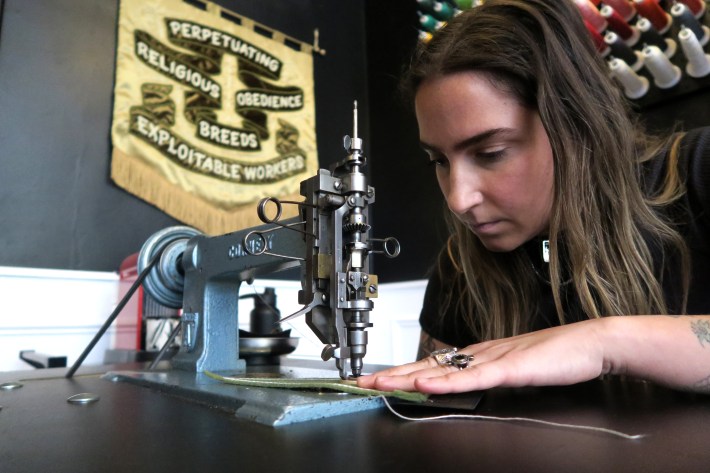 Blazevich loved to draw as a kid. When she got to college, she initially studied fashion before changing her focus to graphic design, she said. She also has an interest in printmaking and lettering, she said. 
Blazevich launched her business in 2015 and was previously based out of an artist collective in Humboldt Park and later a studio in Ukrainian Village.
"It's always kind of been my interest to make my own clothes and be able to put ideas into a wearable format," Blazevich said. "And there's a rich history of textile arts in my family. My great-great-grandma was very talented with hand embroidery, which I think is really cool."
During 2020, Blazevich's studio lease expired; because of pandemic disruptions, she decided to start working from home.
Last year, Blazevich and her husband moved into Irving Park, and she noticed the Kedzie Avenue storefront was vacant.
Blazevich decided to relocate her shop to the Kedzie spot. She and her husband spent the past year "chipping away" at renovating the former tattoo studio into Vichcraft and getting ready to open to the public, she said.  
Besides custom chainstitch designs, Blazevich creates designs on stained glass and designs logos for clients, she said. She also has her own line of prints that she sells via her website and storefront. 
"Most of it falls under the umbrella of working with custom letters, taking a phrase or word and beautifying it, making it interesting in whatever medium I'm using," Blazevich said. "I do events … throughout the city a lot where a business like Madewell, J Crew or something have me come in and do personalization on the things that they sell."
Blazevich's friend gilded the shop's window with Vichcraft's logo. Blazevich and her husband also placed the Honda motorcycle they built together in 2017 as the main display behind the front window. 
"It was so fun to make it because it has this 'Handmaid's Tale'-inspired artwork on the gas tank, and we made a tank badge that says Vichcraft instead of Honda," she said. 
Blazevich's previous locations would host workshops open to the public focused on font design or motorcycle maintenance, and Blazevich hopes to bring those events back to her new location next year. 
"I'm excited that now there's going to be a catch-all day of Sundays where people can come by and get their stuff stitched," Blazevich said. 
Listen to "It's All Good: A Block Club Chicago Podcast":