Big Touring Motorcycle
Suzuki Announces More Of Its 2022 Motorcycle Lineup (Updated) – Roadracing World Magazine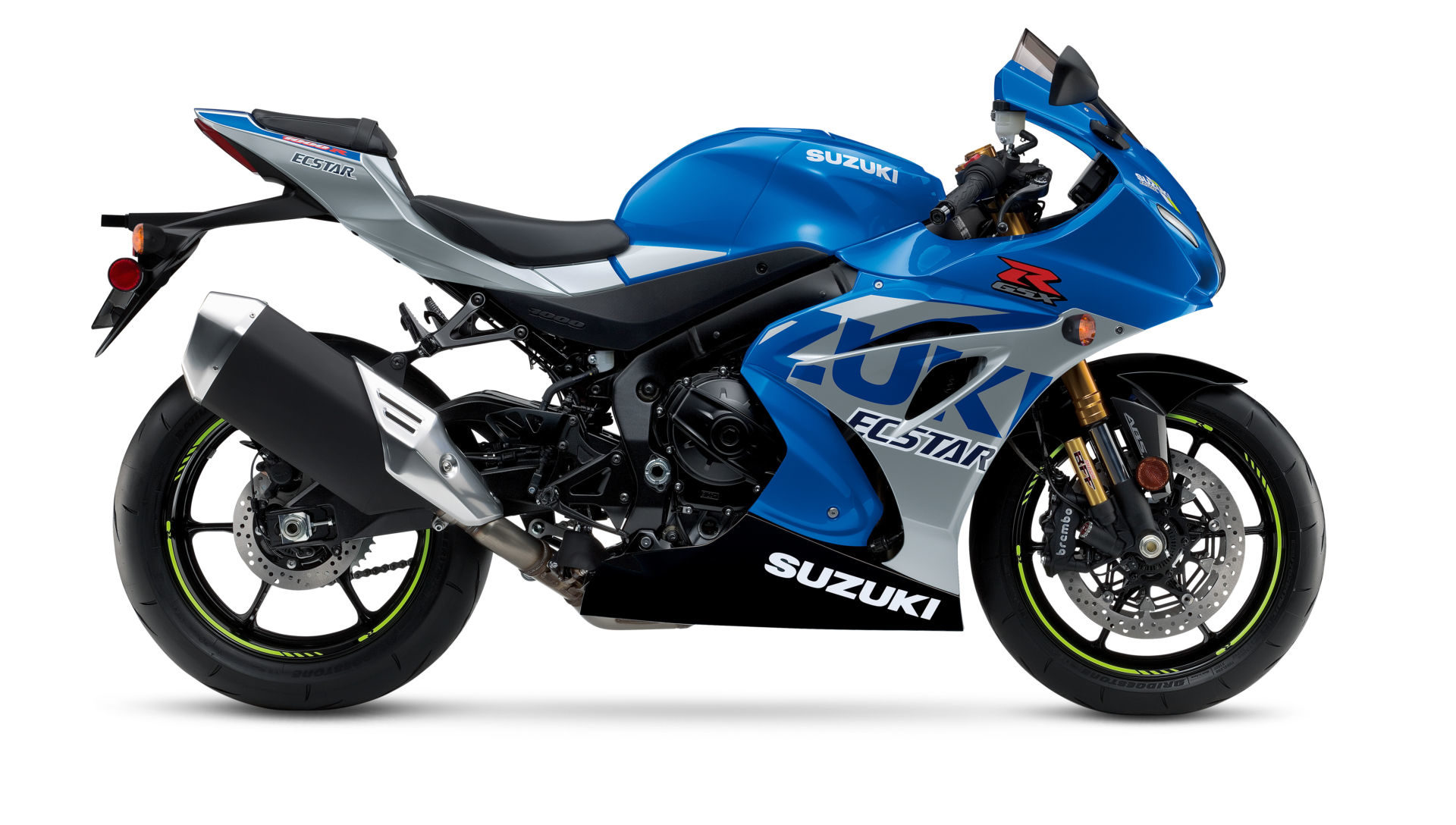 Suzuki Announces Its Fall 2022 Motorcycle, Scooter, and ATV Line up
Brea, CA (September 8, 2021) – Suzuki Motor USA, LLC is pleased to announce the next group of dynamic models in its 2022 Powersports product line. The new 2022 Suzuki models offer race-winning GSX-R sportbikes, technology-laden and versatile V-Strom Adventure bikes, precise handling street bikes, a sophisticated Burgman scooter, a bold Boulevard muscle cruiser, easy-to-ride youth models, and rugged, reliable KingQuad ATVs.
Sportbike
GSX-R1000 – In 1985, Suzuki revolutionized the sportbike category with the introduction of the original GSX-R750, and then created another milestone in 2001 with the introduction of the GSX-R1000. Using the lithe chassis of the GSX-R750 and a 988cc inline four-cylinder engine design that Suzuki is renowned for, Superbike performance became available to riders everywhere.
This dedication to performance at the highest level is seen in every aspect of Suzuki sportbike development and the lessons learned in winning the 2020 MotoGP Championship and the impressive victories in the MotoAmerica Championship can be felt in every GSX-R in the series.
A proud member of the GSX-R family of ultra-high-performance motorcycles, the 2022 GSX-R1000's versatile engine provides class-leading power delivered smoothly and controllably across a broad rpm range. Like the original GSX-R1000, the 2022's compact, light, and strong chassis deliver nimble handling with excellent suspension feel and braking control, ready to conquer a racetrack or cruise a country road. Advanced electronic rider aids such as traction control* and a bi-directional quick shifter enhance the riding experience while the distinctive, aerodynamic GSX-R bodywork slices through the wind.
Equipped with Showa's Big-piston Fork plus Brembo T-drive rotors and Monobloc brake calipers the GSX-R1000 help deliver the sort of performance and confidence your favorite canyon road ride or local track day demand. A new Metallic Matte Black No. 2 and Glass Matte Mechanical Gray paint scheme with contrasting black graphics joins the popular monochromatic Metallic Matte Black No. 2 body treatment delivering an aggressive look seen on a spy plane.
2022 GSX-R1000
MSRP $15,849
GSX-R1000R – At the pinnacle of the GSX-R family of ultra-high-performance motorcycles, the 2022 GSX-R1000R's high performing engine combines championship-winning engineering with agile potency. Cutting edge traction control*, launch control, and a bi-directional quick shifter help deliver an unparalleled sport riding experience.
The GSX-R1000R offers high quality Showa BFF and BFRC-Lite suspension components delivering suspension feel that will help a rider rule any track day or mountain pass. Up front, stainless steel brake lines, radially mounted Brembo Monobloc brake calipers grasp a pair of 320mm Brembo T-drive floating brake rotors for incredibly strong stopping power with outstanding braking response and lever feel.
For 2022, the GSX-R1000R is offered with a historic Metallic Triton Blue and Metallic Mystic Silver paint scheme similar to the Team Suzuki ECSTAR MotoGP world championship livery, a stunning Metallic Matte Black and Glass Matte Mechanical Gray, or a stealthy Metallic Matte Black paint scheme.
The GSX-R1000R continues its reign as the best liter-class supersport with an unmatched combination of reliability, durability, usability, and overall performance with excellent racing potential in a striking package that respects the GSX-R legacy.
2022 GSX-R1000R
MSRP $17,999
2022 GSX-R1000R
MSRP $17,899
GSX-R750 – On the road or on the track since 1985, the GSX-R750 delivers a breathtaking combination of outstanding engine performance, precise handling, compact size, and light weight that combine for an exhilarating motorcycle. Its secret is an unequaled pairing of 750cc performance with the lightweight, compact chassis of a 600cc Supersport, complemented by technologically advanced suspension front and rear.
The 2022 GSX-R750 is the latest expression of the GSX-R's original concept and builds upon Suzuki's championship-winning heritage.  Like no other sportbike, the GSX-R750 offers a precise, high performance riding experience that may be used on the street or on the racetrack.
2022 GSX-R750
MSRP $12,599
2022 GSX-R750
MSRP $12,699 (blue/silver)
GSX-R600 – The GSX-R600's compact, powerful, four-cylinder engine reacts with vigor when you demand it, while its supremely refined suspension and brakes provide precise, responsive confidence-inspiring handling.
The superb ergonomics enhance your control and comfort and the iconic GSX-R bodywork delivers an agile look under any of the three available 2022 paint schemes- new Glass Matte Mechanical Gray and Pearl Brilliant White, and Glass Blaze Orange and Glass Sparkle Black schemes join Suzuki's historic Metallic Triton Blue and Metallic Mystic Silver paint scheme that was used on the MotoGP World Championship winning GSX-RR.
The GSX-R600's race-ready look isn't manufactured, it's the byproduct of the GSX-R's multiple decades of production roadracing dominance. Dominance that continues to this day in multiple race series around the world. For a rider considering a mid-size supersport bike at home on the track or the street, there's only one choice; the Suzuki GSX-R600.
2022 GSX-R600
MSRP $11,499
2022 GSX-R600
MSRP $11,599 (blue/silver)
Street
SV650/SV650 ABS – Suzuki riders struck gold when the first SV650 launched in 1999. Since then, this iconic middle weight has seen continual improvements while still embodying the sporty ride, precise feel and riding versatility and prowess only a provocative, mid-sized V-twin roadster delivers.
The 2022 SV650 and SV650 ABS use an entertaining and refined engine delivering torquey middle weight performance, low emissions, and outstanding fuel economy. This enjoyable V-twin mill is mounted in a trim and lightweight chassis delivering a keen and spirited riding experience like no other 650.
For 2022, the SV650's Glass Sparkle Black bodywork is draped upon a metallic gold trellis frame that rolls upon black, cast-aluminum wheels, while the SV650 ABS features Metallic Matte Black bodywork combined with a sexy blue trellis frame rolling on matching blue, cast-aluminum wheels.
Both SV650s' great looks and sparkling performance deliver sportbike-like handling, value, and riding versatility that a broad range of riders continue to embrace, whether they are new to the sport or avid road racers; the Suzuki SV650 is their ideal ride.
2022 SV650
MSRP $7,299
2022 SV650 ABS
MSRP $7,749
Adventure
V-Strom 650 models – Suzuki's V-Strom 650 models attract riders demanding versatility combined with a rousing riding experience, who demand their motorcycles excel at touring, commuting, or augment a fun adventure when their ride demands it. These are touchstone motorcycles offering unprecedented balance with a natural riding position, comfortable ergonomics, and a flexible and vibrant engine signature that produces stress-free riding during commuting rides around town or a high-mile touring adventure.
V-Strom 650XT Adventure – Point the iconic Suzuki DR-BIG-inspired beak of the V-Strom at the horizon as the 37L quick-release aluminum panniers, rugged accessory bar, handlebar cross-brace, and mirror extensions are standard equipment. Finished with deep, Glass Sparkle Black paint, the 2022 V-Strom 650XT Adventure performs on tubeless-spoke wheels with blue-anodized rims conveying style, strength, and performance.
Loaded with intelligent features and ready for any adventure, the V-Strom 650XT Adventure continues the V-Strom legacy of being a fun, agile, adventurous motorcycle offering unmatched versatility. The engine delivers stellar performance and great fuel economy while achieving worldwide emission standards. Suzuki's proven engineering deliver a bike with low weight and a trim chassis, creating a V-Strom 650XT Adventure that does so many things well, it could be called the pocket-knife of bikes.
Check out a 2022 V-Strom 650XT Adventure for your next ride and you'll see it checks off every box on your exploration list.
2022 V-Strom 650XT Adventure
MSRP $10,499
V-Strom 650XT – Riders love the Suzuki 2022 V-Strom 650XT for its unique merger of a lightweight chassis coupled with an exciting liquid-cooled, 90-degree, 650cc, V-twin engine. A merger that creates a perfectly balanced motorcycle capable of delivering excitement, comfort, and confidence on every ride.
Riders exploring the V-Strom 650XT see it delivers on motorcycling adventure while bringing a big dose of intelligence and versatility.  The 2022 V-Strom 650XT comes in attractive Pearl Vigor Blue and Metallic Matte Sword Silver livery and is complemented by hand guards, a lower engine cowl as well as color-matched spoke-style blue-anodized wheels mounting tubeless radial dual-sport tires.
2022 V-Strom 650XT
MSRP $9,399
V-Strom 650 – Looking for adventure or a real smart buy? The Suzuki V-Strom 650 is the perfect motorcycle for riders looking for exceptional value. The 2022 V-Strom 650's perfect blend of V-twin performance in a strong, yet lightweight chassis delivering thrilling rides and cost-effective fun is like no other adventure tourer on the scene today.
The 2022 V-Strom 650 rocks Suzuki's beautiful Pearl Brilliant White paint complemented with black accents giving this model runway looks. The beak-style fairing, with vertically stacked headlights, augments the V-Strom 650's aerodynamic prowess while protecting the rider in style. Light and strong 10-spoke cast wheels shod with Adventure-spec Bridgestone Battlax 19-inch front and 17-inch rear tubeless radial tires are great for all-around performance.
Be smart and go find your next adventure on the V-Strom 650 and you'll be amazed at where you can go on this incredibly versatile V-twin powered Suzuki.
2022 V-Strom 650
MSRP $8,904
DualSport
DR650S – The 2022 Suzuki DR650S continues its legacy as the best all-around, dual-purpose motorcycle available today. Always an outstanding performance value, every DR650S is quality engineered and built by Suzuki and features a reliable, proven 644cc, oil-cooled, four-stroke, single-cylinder engine carried in a strong steel, semi-double cradle frame.
The DR650S's telescopic fork and link-style rear suspension tackle tough trails or sketchy urban roads easily and consistently. So that a variety of riders may enjoy this motorcycle, the seat height can be significantly reduced (by your service department using an optional kit from Suzuki Genuine Accessories that includes a shorter side stand). Strong aluminum, spoke-style rims carrying tires that instill confidence on the street or dirt are fitted so riders can tackle any pavement or trail conditions with ease.
With Solid Black bodywork featuring attractive red and silver graphics, the DR650S looks great while performing on a ride or parked at your favorite watering hole. Whatever riding adventure your customers plan to undertake, the 2022 Suzuki DR650S is a willing partner that performs with rock-solid engineering.
2022 DR650S
MSRP $6,849
DR-Z400S – The 2022 DR-Z400S is the latest version of the motorcycle that's the foundation of the modern DualSport movement. Starting with the DR350S and then again with the DR-Z400S, Suzuki made fun, reliable, and capable motorcycles available to anyone who's ready to take a ride down their favorite off-road trail or ribbon of asphalt.
Riders will be impressed with the amount of torque coming from the 398cc, liquid-cooled powerplant, as well as the crisp handling from the adjustable suspension. This ultra-reliable bike is completely street legal, with an electric start and easy-to-read instrument cluster. The black and gray bodywork with contrasting black, silver and yellow graphics make the bike stand out on the road, on the trail, or even when parked.
Whether you're on the highway or on a twisty forest path, the Suzuki DR-Z400S can't be beat.
2022 DR-Z400S
MSRP $6,999
Scooter
Burgman 400 – Already the leader in its category, the 2022 Suzuki Burgman 400 has a host of styling, technical, and feature updates galvanizing its reputation as the Elegant Athlete of the scooter world. The Burgman 400's slim and sharp styling features a new Metallic Matte Sword Silver paint scheme augmented with blue wheels and stitching on the seat that pay classy homage to Suzuki's on-road championship heritage.
The Burgman's nose and tail blend sophisticated styling with full LED function, as the dual headlights have integrated position lights, while the rear combination taillight elegantly blends with the smooth bodywork. Functional design is brought to the well-thought-out instrument panel.   Riding range and real-time fuel consumption indicators also may help the rider conserve fuel.
The Burgman's strong and responsive 400cc engine has a revised camshaft profile and a new dual-spark technology ignition system achieving worldwide emissions standards, while offering great fuel economy and highway riding power.
Like systems used on Suzuki's V-Strom 650 and GSX-S750, the Burgman now features a rider-selectable Traction Control* system offering the rider peace of mind and excellent road-holding ability in a variety of road conditions. Suzuki's Easy Start System is now a standard Burgman feature, so a simple, momentary press of the starter button starts the engine, while an updated fuel injection system maintains a steady, smooth idle under all conditions. Suzuki's Easy Start System is now a standard Burgman feature, so a momentary press of the starter button starts the engine, while the updated fuel injection system maintains a steady, smooth idle under all conditions.
The large-diameter 15-inch cast front wheel increases stability while enhancing the visual appearance and carries a pair of 260mm disc brake rotors. The 13-inch rear wheel has a 210mm hydraulic disc brake for reliable stopping control. The Anti-lock Brake System (ABS)** monitors wheel speeds and hydraulic pressure hundreds of times per second to help provide stopping power that matches the available traction.
Blending styling, engine, and chassis performance, along with confidence-inspiring rider aids, the Suzuki Burgman 400 remains the premium scooter-of-choice for riders of all experience levels seeking a scooter that makes a statement of intelligence and bravado.
2022 Burgman 400
MSRP $8,499
Cruiser
Boulevard M109R – The 2022 Suzuki Boulevard M109R B.O.S.S. continues to be the performance cruiser other bikes wish they were. The muscular M109R has a powerful V-twin engine using some of the largest pistons in the industry offers an adrenaline rush of power. This dynamic and torquey 109 cubic inch engine is wrapped with aggressive blacked-out styling with slash-cut mufflers, drag-style bars, a supplied solo seat cowl, and a distinctively shaped headlight nacelle that's uniquely Suzuki.
The deep red and black or bright blue and black paint schemes are so visually stunning, the M109R draws attention away from everything else on the road. This bike is not just about aggressive looks either, as stout inverted forks, a hidden single-shock rear suspension, and an ideally designed saddle deliver responsive handling and an exceptionally comfortable ride that thrills. Hold on as muscle cruiser performance never looked so good.
2022 Boulevard M109R B.O.S.S.
MSRP $15,299
Off-Road
DR-Z50 – The 2022 Suzuki DR-Z50 is the ideal bike to introduce young, beginning riders to the sport of motorcycling. This compact, Suzuki-built mini-bike brings ease, confidence, and convenience to riders just getting started on two wheels.
With an automatic clutch, three-speed transmission, electric starting, and a low 22-inch seat height, this race-styled bike will help build confidence and riding ability for young, learning riders while being supervised.
The 49cc engine delivers a smooth, controllable power band, and adult supervisors may adjust its power level so young riders may learn at a proper and comfortable pace.
The 2022 DR-Z50 is EPA emissions compliant and qualifies for California Green Sticker Off-Road Registration. Moreover, this motorcycle will be in the family for years, thanks to its rugged construction and sturdy 10-inch wheels. The peppy DR-Z50 combines a reliable engine with quality running gear that's built to last. The DR-Z50 is the best way for your customers to get their whole family involved in motorcycling!
2022 DR-Z50
MSRP $2,209
KingQuad ATVs***
The Suzuki KingQuad is not just any ATV, it's a KingQuad ATV- noted for precise and proven engineering, thoughtful features, and rock-solid reliability. Suzuki, the inventor of the 4-wheel ATV, has created the world's best sports-utility quad, offering bold styling, tough terrain handling capability, and more reliability than ever before. The iconic KingQuad remains rooted in excellent engineering and durability and is ready for your customers to join its rugged history. KingQuad ATVs are proudly built in Suzuki's manufacturing facility in Rome, GA.
KingQuad 750AXi Power Steering – The Suzuki KingQuad 750AXi Power Steering is the perfect machine for work or play. The exceptional Suzuki engineering combined with bold styling and legendary durability provide everything needed to get the job done and the ability to play after work. Additionally, the cargo racks have high-impact carrier covers to shield cargo from wear while enhancing the quad's appearance. The covers are easily removable for mounting Suzuki accessories or other gear directly to the cargo racks.
2022 KingQuad 750AXi Power Steering
MSRP $10,099
KingQuad 500AXi Power Steering – For those looking for Suzuki KingQuad performance in a 500cc package, the Suzuki KingQuad 500AXi Power Steering is just the ticket. The combination of a proven 500cc Suzuki four-stroke powerplant, with a Quadmatic CVT type automatic transmission, and fully independent rear suspension delivering 7.7 inches of wheel travel provide all the performance, durability, and comfort you need in a modern sport utility ATV.
2022 KingQuad 500AXi Power Steering
MSRP $9,199
KingQuad 400FSi Camo – In 1983, Suzuki introduced the world's first 4-wheel ATV. Today, Suzuki ATVs are everywhere. From the most remote terrain to the most demanding outdoor job sites, you'll find the KingQuad powering a rider onward. Across the board, our KingQuad lineup is an exceptional group of sport-utility ATVs.
The 2022 Suzuki KingQuad 400FSi Camo features a five-speed manual-shift transmission and semi-automatic clutch for those who favor a bit sportier performance from a mid-size ATV. The 400FSi cranks out an impressive amount of torque and has an incredibly wide powerband for exceptional performance on the trail or on the job.
Note: The KingQuad 400FSi Camo is not eligible for sale in California per California Air Resource Board (CARB) regulations.
2022 KingQuad 400FSi Camo
MSRP $7,049
Youth ATV
QuadSport Z90 – The 2022 Suzuki QuadSport Z90 is the ideal ATV for adult-supervised riders ages 12 and older to learn on and develop their off-road riding skills. Convenient features like an automatic transmission and electric starter help make this ATV easy to operate while those skills are being learned and improved. Plus, the 2022 QuadSport Z90 is EPA emissions compliant and qualifies for California Green Sticker Off-Road Registration.
An easy-to-set throttle limiter lets adults adjust the power level appropriately for young riders, and a keyed ignition switch makes sure there are no unauthorized journeys. Show your age-appropriate young rider the QuadSport Z90, so they may join the outdoor fun and the joy of riding a Suzuki!
2022 QuadSport Z90
MSRP $3,099
*The Traction Control System is not a substitute for the rider's throttle control. It cannot prevent loss of traction due to excessive speed when the rider enters a turn and/or applies the brakes. Neither can it prevent the front wheel from losing grip.
**Depending on road surface conditions, such as wet, loose, or uneven roads, braking distance for an ABS-equipped vehicle may be longer than for a vehicle not equipped with ABS. ABS cannot prevent wheel skidding caused by braking while cornering. Please ride carefully and do not overly rely on ABS.
***Suzuki KingQuad ATVs may be used only by those aged 16 and older. Suzuki highly recommends that all ATV riders take a training course.  For safety and training course information, see your dealer or call the SVIA at 1-800-852-5344. ATVs can be hazardous to operate. For your safety, read your owner's manual thoroughly.