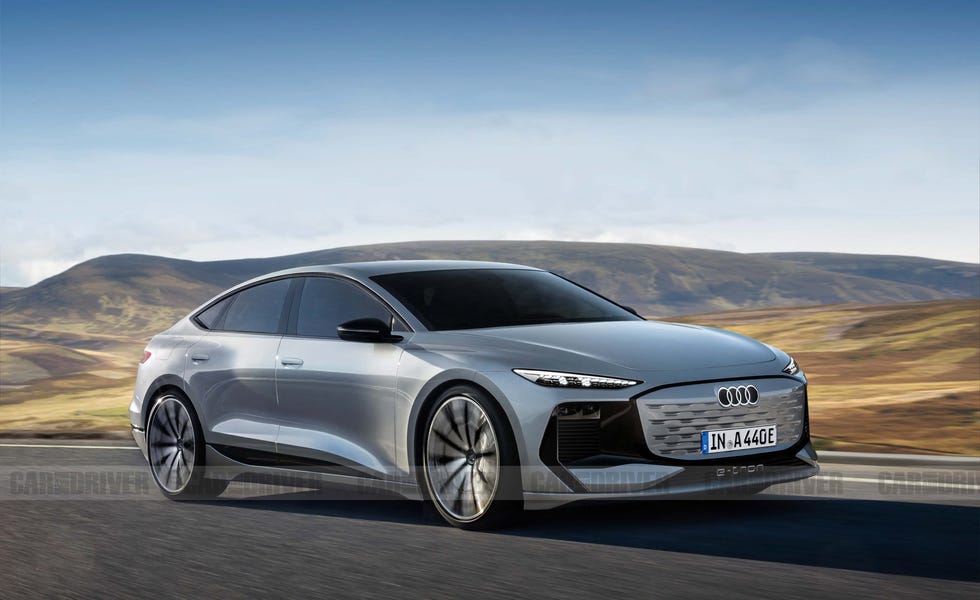 While Audi is planning many new electric models, gas cars will stick around for the time being.
Cars such as the A4 and A6 will be renamed to fit with existing odd-numbered models to differentiate them from the even-numbered EV nameplates.
The TT and R8 sports cars will cease to exist, but the Q5 and Q7 SUVs reach a next generation, and a Q9 could join the lineup.
2023 is going to be another slow year for Audi—a couple of facelifts and the arrival of the new Q6 e-tron—but 2024 and 2025 will be bumper years for the four rings. A whopping 17 and 15 launches are penciled into two tight twelve-month time frames. While most rivals put all their money on EVs, CEO Markus Duesmann and his team will carry on introducing new ICE models through the mid- and late-2020s, and there is no end in sight until Europe's announced registration ban for new petrol- and diesel-engined passenger cars takes effect in 2035.
Let's go through the ICE ranks step by step to see how the lineup will be rearranged. (The EV lineup is a whole different story, but expect the "e-tron" designation to be dropped altogether and for names like E4 and E6 to arrive at some point.) The common platform used for all future ICE Audis is codenamed PPC, short for Premium Platform Combustion. The gasoline cars will be renamed to odd numbers to differentiate them from the even-numbered EV models.
A4 Becomes A5, A6 Becomes A7
Audi will next year launch the A5 sedan and Avant wagon, which used to carry the A4 moniker. Completing the trio is the new A5 Sportback. Also due in 2024 is the new A7, again as sedan and Avant, both of which are currently listed as A6. Confusing? You bet. The A7 Sportback follows in 2025 along with the second-generation A5 coupe and cabriolet. All of the above are good to go through 2031 and 2032.
SUVs and Performance Models
Similar lifespans apply to the next Q3 and Q3 Sportback earmarked for 2024, the last-of-its-kind Q5 (2024) and Q5 Sportback (2025), as well as the final Q7 scheduled to bow in mid-2025. Instead of the rumored Q7 Sportback, we may see a plusher and more upmarket Q9 worthy of the Horch badge in China.
In addition to the mainstream offerings, PPC will spawn a full range of performance hybrid S and RS models good for up to 550 hp in the top-of-the-line A5s and over 700 hp in the V-6–engined RS7 Performance which will again be available as sedan, wagon, and Sportback.
Sports Cars Say Goodbye, A3 Sticks Around
Living on borrowed time are two of the marque's ICE legends, the TT and the R8. The TT is due to be phased out later this year, and there is no confirmed successor in sight, but if the new regime in Wolfsburg is really serious about mold-breaking synergy effects, Audi may yet eventually be able to sell rebodied versions of the fully electric Porsche 718 replacement out next year. Since the charismatic V-10 engine is unfit to straddle European emissions hurdles, the R8 bites the dust next year. Its fully electric replacement, which may well find second homes with Bentley and Lamborghini, is expected to use the SSP61 architecture conceived in Weissach.
The A3, however, will soldier on—either until 2026 when its successor would adopt the advanced electric MEB+ platform, or until 2028 when the even more sophisticated SSP3 components set chaperoned by VW becomes available. More sophisticated? The Scalable Systems Platform ups the electric ante in all major departments from range to charging time to energy density. The next A3 should be badged E3, bucking the even-numbered trend.
This content is imported from poll. You may be able to find the same content in another format, or you may be able to find more information, at their web site.

Contributing Editor
Although I was born the only son of an ornithologist and a postal clerk, it was clear from the beginning that birdwatching and stamp collecting were not my thing. Had I known that God wanted me to grow to 6'8″, I also would have ruled out anything to do with cars, which are to blame for a couple of slipped discs, a torn ligament, and that stupid stooped posture behind the wheel. While working as a keeper in the Aberdeen Zoo, smuggling cheap cigarettes from Yugoslavia to Germany, and an embarrassing interlude with an amateur drama group also failed to yield fulfillment, driving and writing about cars became a much better option. And it still is now, many years later, as I approach my 70th birthday. I love every aspect of my job except long-haul travel on lousy airlines, and I hope it shows.