Five Touring Bikes We Love (And Five Adventure Bikes We'd Rather Buy)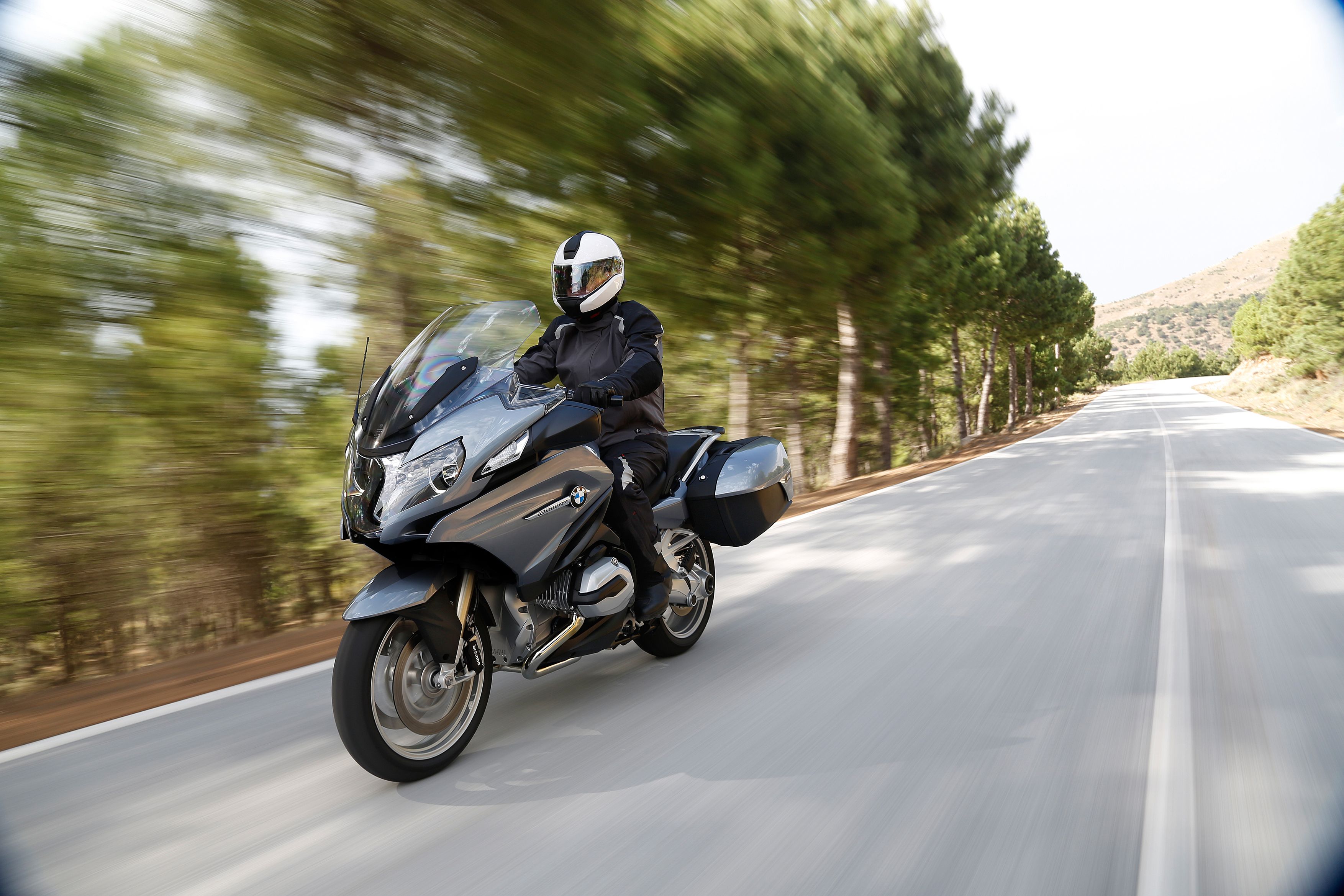 Since the dawn of motorcycling, people have used motorcycles as a means of escape and travel. For many decades, there was no such thing as a 'touring' motorcycle, just a bike that people chose to use for a long trip.
Gradually, however, manufacturers started better equipping models for long distance riding, with weather protection, comfort and luggage capacity, not to mention ever greater performance. But then came the adventure bike craze, with models that were not only good off-road but also made a convincing argument for fulfilling a touring role, with equally good comfort, weather protection and luggage capacity, not to mention an all-round ability that no touring motorcycle could match. But which do you choose: touring or adventure?
Related: 10 Reasons Why The BMW R 1250 GS Adventure Is The Best Adventure Bike
10
Tourer: BMW R 1250 RT – $21,690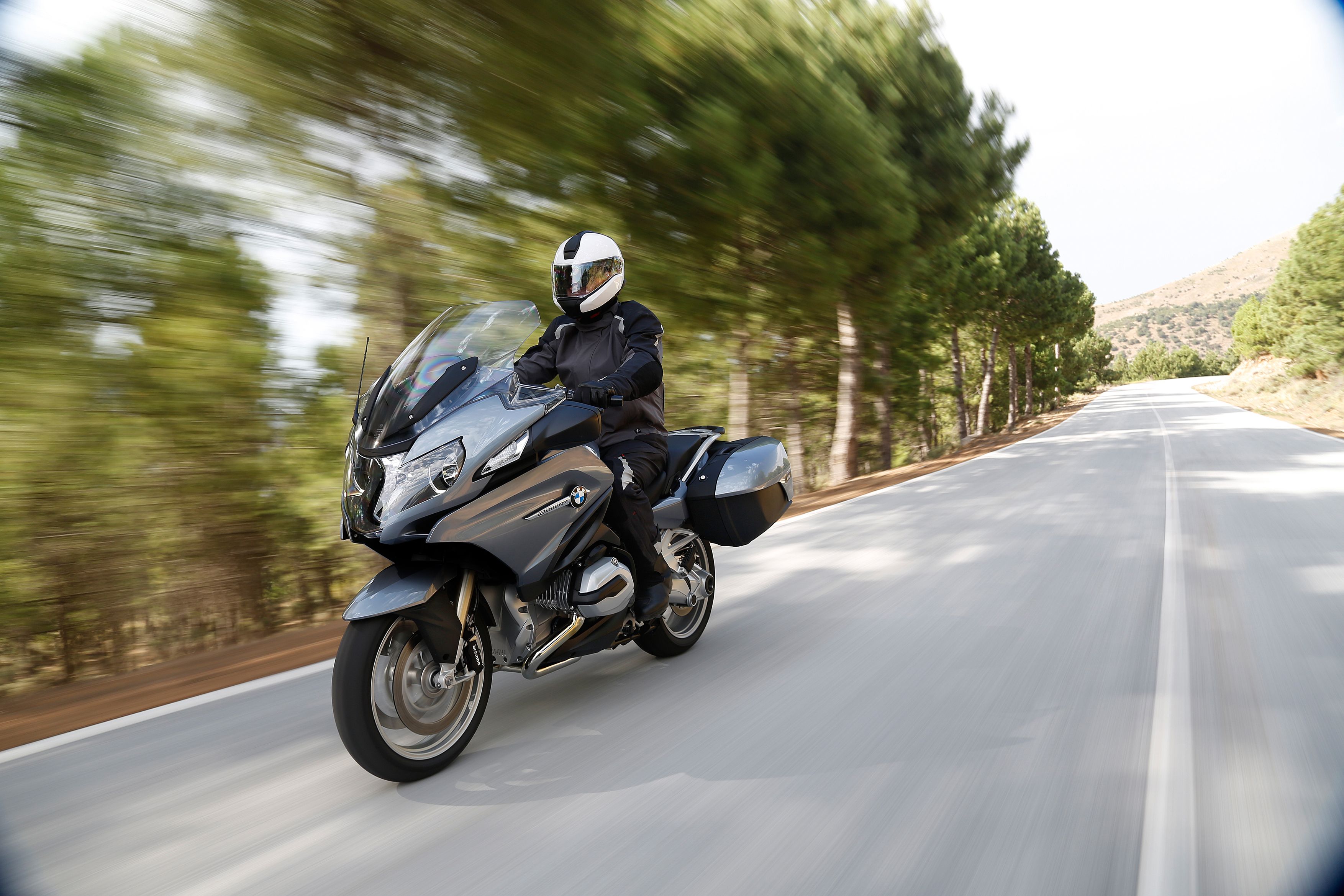 BMW R1250RT riding in the country, right to left
What BMW doesn't know about touring motorcycles could be written on the back of a postage stamp. Bikes such as the R80RT and R100RT in the 1970s and 80s set a template that BMW has developed ever since and the latest R 1250 RT is not only a technical tour de force but also a supremely brilliant touring bike. It belies its large and bulky stature with a chassis that is the match of many a sport touring bike and the new Shiftcam-equipped engine gives excellent performance no matter how laden the bike is. Comfort and weather protection is simply unequaled.
9
Tourer: Kawasaki H2 SX – $27,500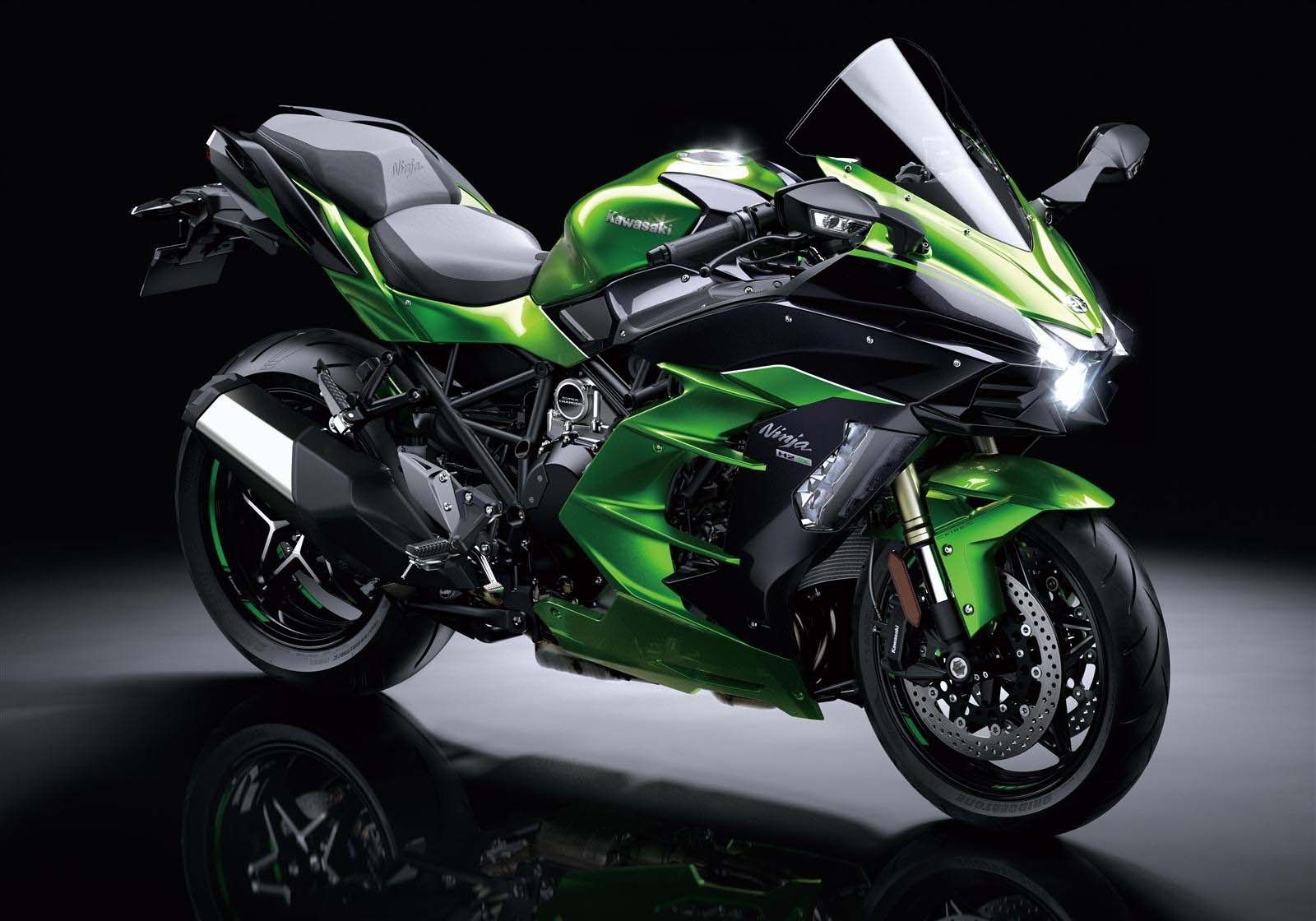 Kawasaki H2 SX in green, facing right
A sub-division of touring bikes is sport tourers, which have the comfort and practicality of a full touring bike but with sporty pretensions. Kawasaki's mad supercharged H2 is the perfect base for a sport tourer as it is large enough to be comfortable for hours on end with a good seat and wind protection, yet powerful and with a chassis that wouldn't be out of place on a dedicated sport bike. Yes, it is a compromise, both in terms of trying to be a full-on touring bike and a full-on sport bike but, if you need a bit of both in your life, then this is an epic choice. A fair chunk more expensive than the BMW RT, but then it has more facets to its character.
8
Tourer: Harley-Davidson Ultra Limited – $31,164 Stock studio image of a 2022 Harley-Davidson Ultra Limited facing right on a white background. 
Just like BMW, what Harley-Davidson doesn't know about building the perfect touring bike isn't worth knowing. For many, there is no other motorcycle than a Harley and that's OK as Harley will give you what you want, and you know it will be good in its own way. It's never going to be the lightest touring bike, nor the fastest or the best handling and neither will it match any of the European or Japanese offerings in terms of electronic rider aids, but neither does it make any pretense at being something it is not.
Hugely traditional and stylish, you are making a statement when you ride a Harley. Overweight, perhaps, but you could never accuse it of being underpowered, especially with the 114 cubic inch Milwaukee Eight engine installed: torque for days and never overstressed. A great riding experience.
Related: Harley-Davidson Ultra Limited
7
Tourer: Indian Challenger – $34,999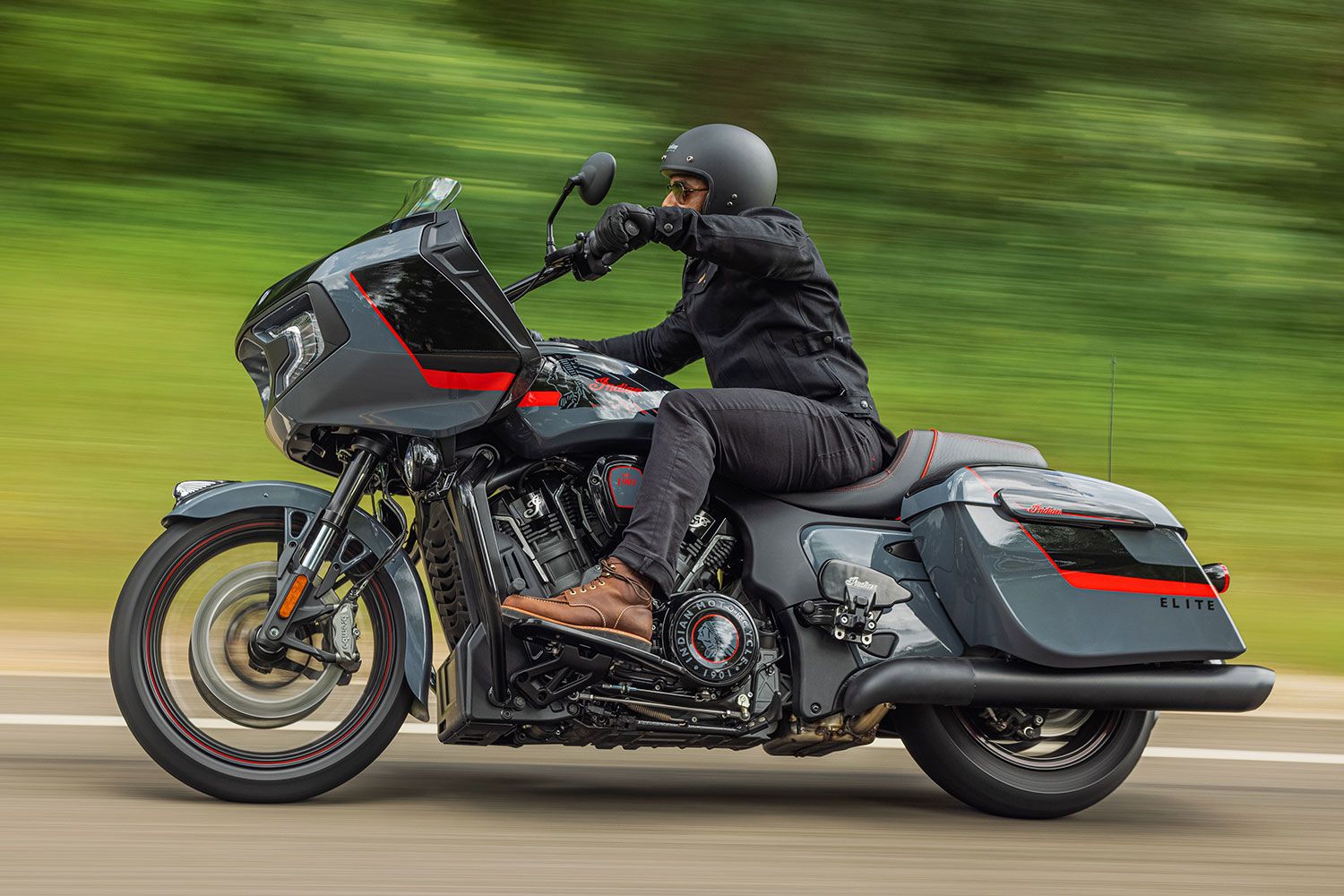 SHot of a black and red Indian Challenger Elite cruising
Harley's strongest competitor in the traditional American touring cruiser class, Indian, has in a short space of time, proved its credentials, and deserves to be taken seriously. With the latest Challenger touring bike, it is giving Harley a real headache. As much European as American in its design and execution, with the smooth sophistication of Europe meshing nicely with traditional American flavor in terms of the large displacement V-Twin and heavyweight attitude.
Even by Harley-Davidson standards, it's not cheap, but it has been well thought out and feels a lot more modern than the Harley Ultra Limited. In terms of handling and dynamics, it's never going to be a sport tourer but, by the same token, it behaves a lot better than a bike of this size and weight has any right to.
6
Tourer: Honda Gold Wing – $25,600 – 32,900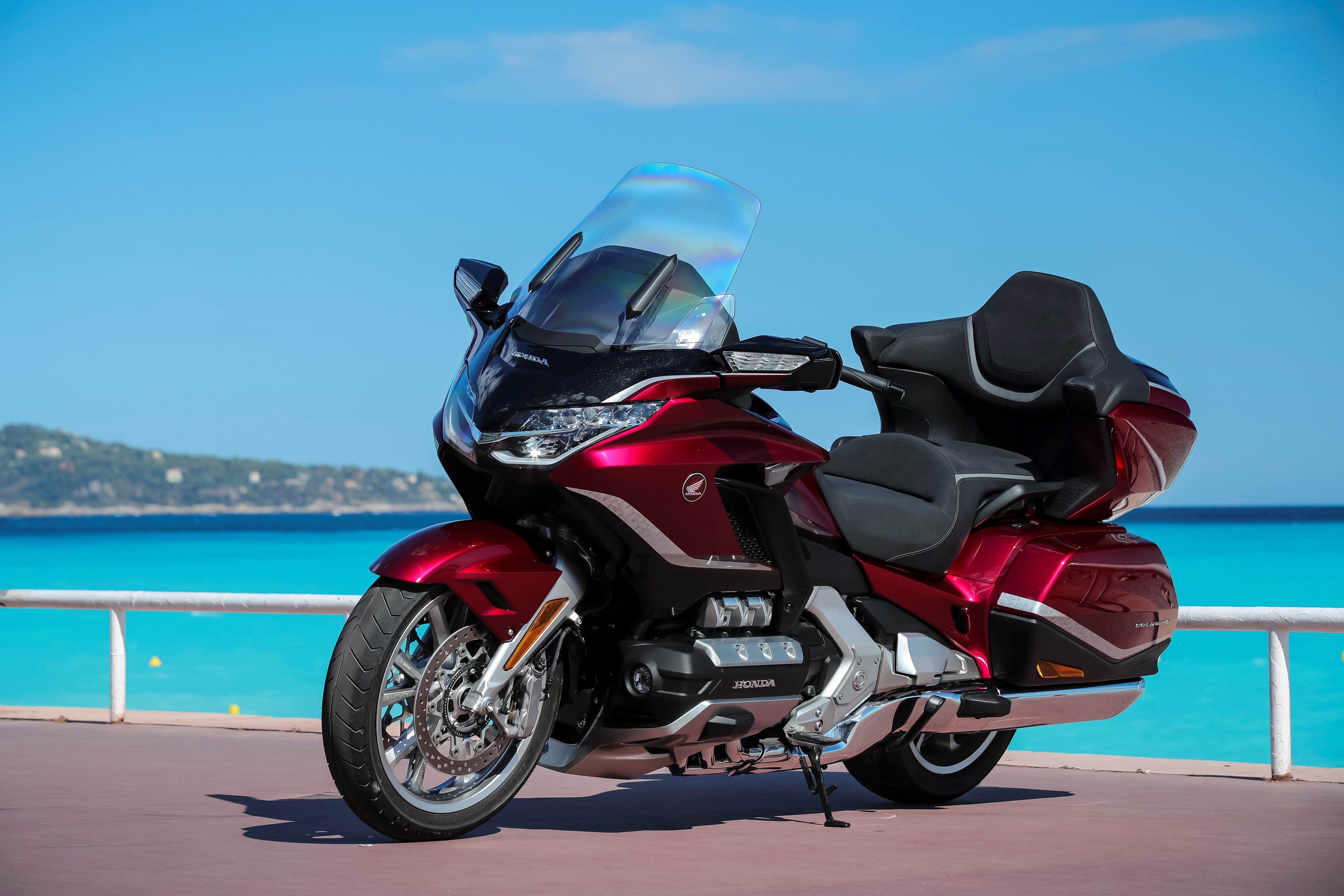 Honda Gold Wing in red, facing left
Honda initially intended the Gold Wing to be its flagship sport bike but soon realized that, in the American market, at least, it was being used for long-distance touring. Thus, the Gold Wing became ever larger, more powerful and more complex. A complete redesign in 2018 brought the concept right up to date, with a new engine, chassis, suspension, electronics, bodywork, etc. In this form it is a supreme touring machine in the Japanese/European idiom: stylish, smooth, excellent dynamics, powerful, fast and beautifully made. If it's not particularly light, then it is at least light on its feet.
5
Adventure Bike: BMW R 1250 GS – $17,995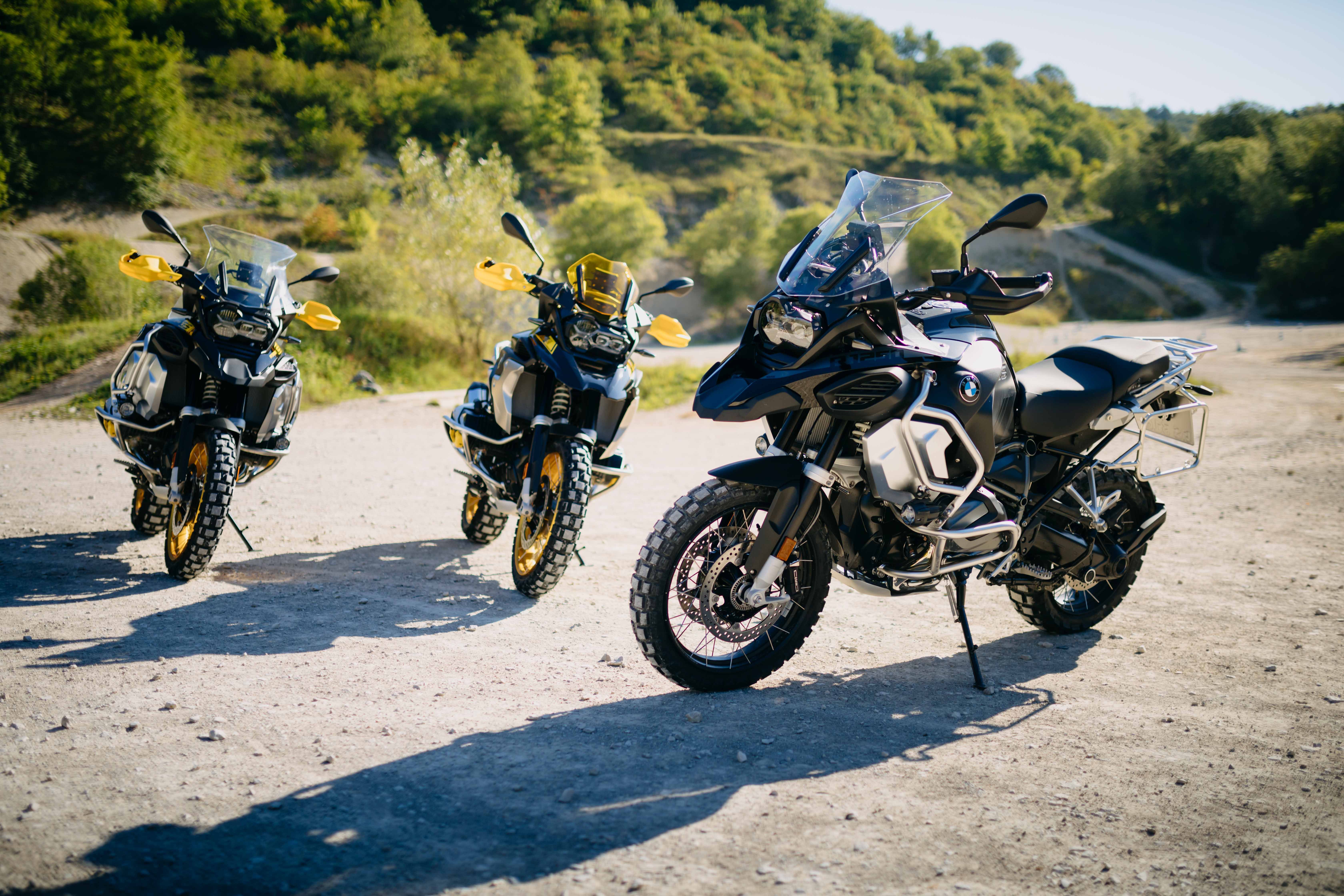 BMW R1250 GS against a background of trees
Quite simply, one of the most convincing arguments for choosing an adventure bike over a touring bike. The GS began its life forty-plus years ago, and it has completely redefined what a motorcycle can be. At any one time, it is an ideal everyday workhorse, high-day and holiday dirt trail basher and long-distance highway companion, and it does each and every one with skill, finesse, comfort, ability and poise. The engineering and electronic quality is class-leading and, despite its size, it's beautifully balanced: if you have the height to cope with it, it is an incredibly rewarding ride. If it is hardcore, it hides it well under a sheen of class that, once sampled, is hard to forget.
4
Adventure Bike: KTM 1290 Super Adventure S – $20,299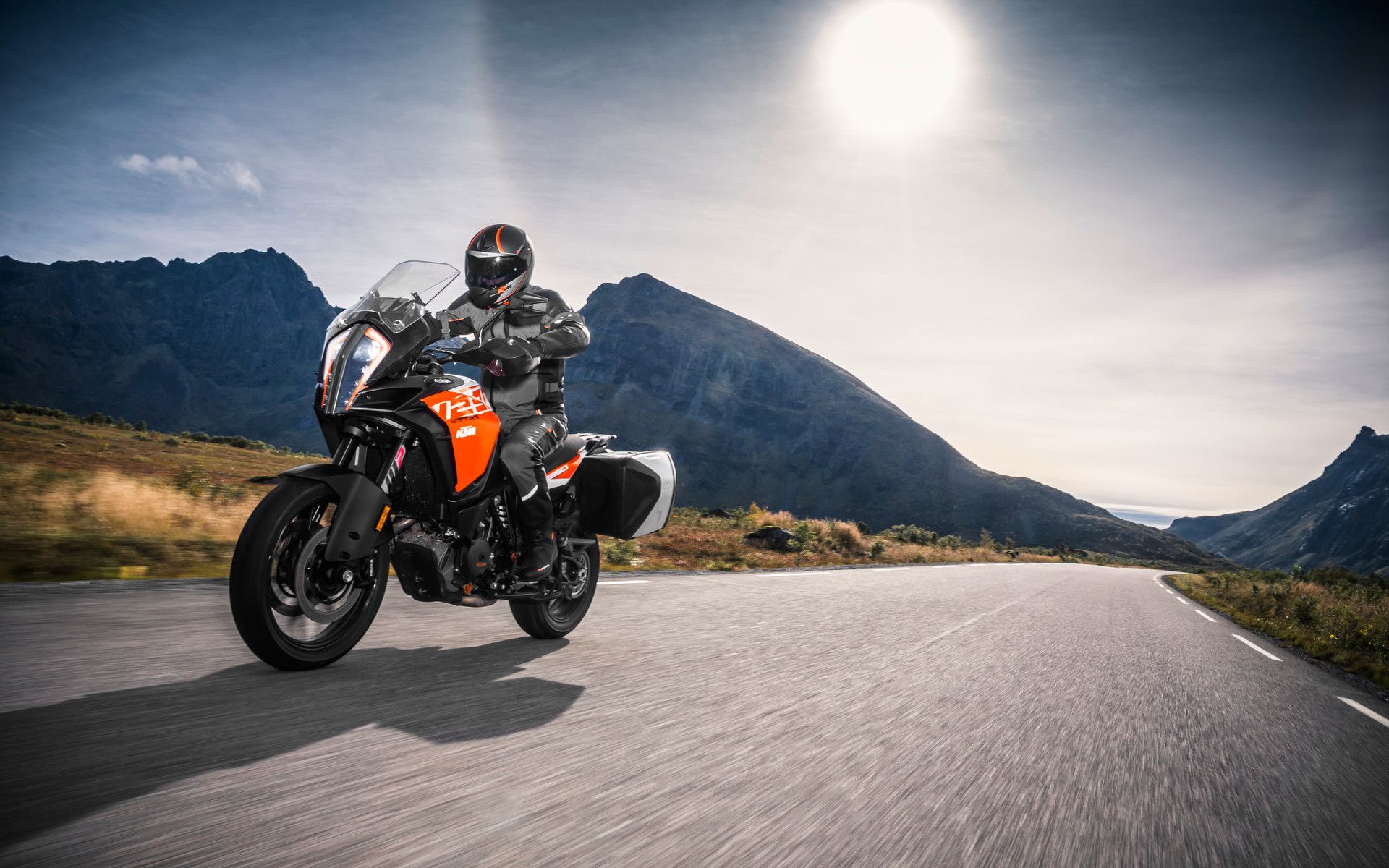 KTM 1290 Super Adventure S riding right to left
KTM's aim with the 1290 Super Adventure was to appeal to the more hardcore adventure rider, drawing on its vast experience and success in the MX and Enduro worlds, believing the BMW GS had got too soft. KTM achieved that, but realized that there was a huge market out there who wanted adventure styling and capability but who were unlikely to put any of that ability to use.
Therefore, the 1290 Adventure S is slightly more road-orientated than the all-singing, all-dancing Adventure R, but no less potent or sophisticated. It really is a dynamic ride, helped by the enormous urge of the 160 horsepower V-Twin engine. In terms of practicality, comfort and weather protection, it is a match for the BMW. Whether it can match the German offering in terms of quality and longevity, is another matter. Still a devastatingly effective and entertaining way of covering large distances.
Related: 2017 – 2020 KTM 1290 Super Adventure S
3
Adventure Bike: Ducati Multistrada V4 – $29,995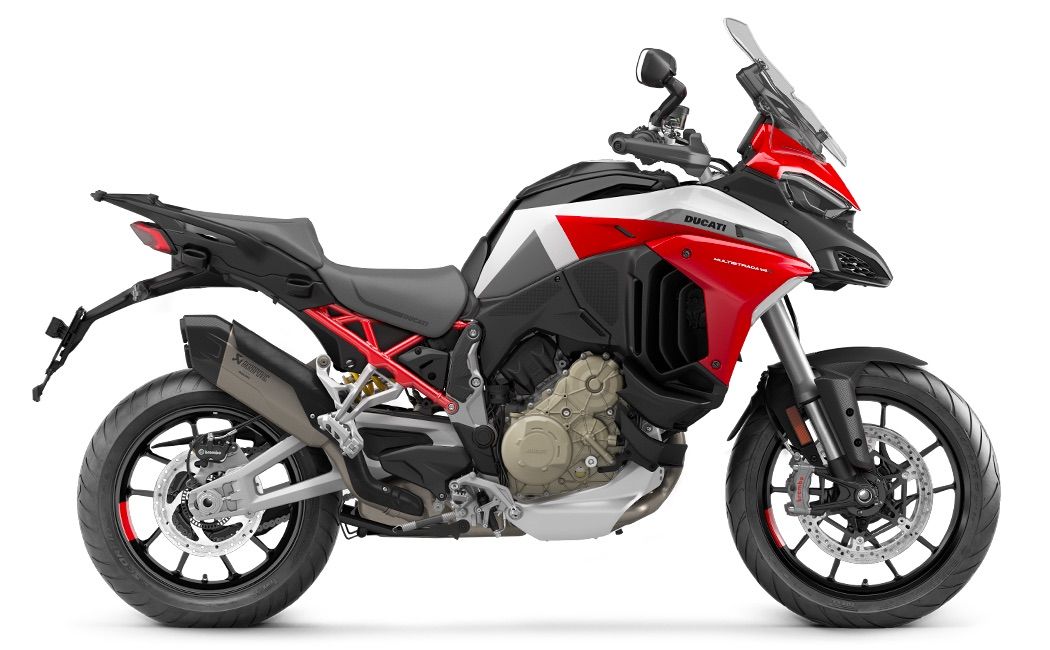 Stock image of a red Ducati Multistrada V4 2022 adventure motorcycle facing right on a white background. 
If you thought that the horsepower wars had peaked with the KTM 1290, then think again, as Ducati released the V4-engined Multistrada not long after the Panigale V4 sports bike. Detuned the engine might be but that still means 170 horsepower and all the Italian flair and style you could ever want.
In truth, it's not an adventure bike, more of an adventure-styled bike but the tall stance and long travel suspension give it a purposeful look. It is also fantastically dynamic on the road, as it should be with the Ducati DNA in its blood and could very well be the fastest and most entertaining way of getting from A to B, even when 'B' is a thousand miles away. It's the sort of touring bike that encourages you to take the scenic route and still be there in time for dinner. Your eyes will be on stalks, but boy, what a ride!
2
Adventure Bike: Triumph Tiger 1200 GT Pro – $21,400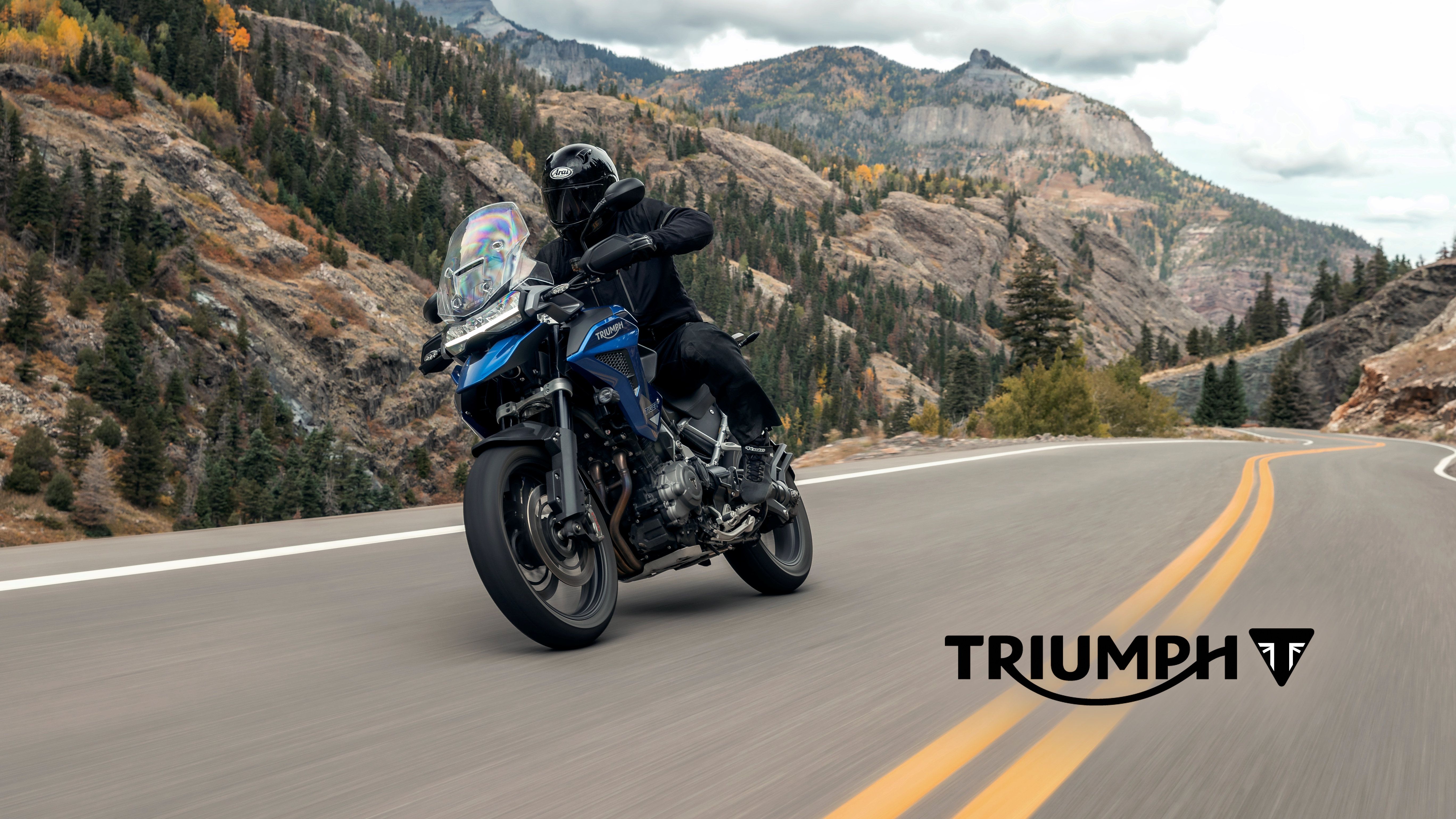 Triumph Tiger 1200 GT & GT Pro riding right to left
Triumph's re-engineered adventure bike is a massive step forward, which when you remember how good the last generation model was, is no small compliment. Where Triumph has always scored with the Tiger range is in having distinct road and off-road models. Yes, even the so-called 'road' models will have the ability to tackle a dirt road, but the wheel sizes are specifically designed to take road tires as well as quickening up the steering through the smaller diameter of the front wheel.
The revised engine is chock-full of character, power and flexibility, the exhaust note being spine tingling at high revs, but the engine is still massively tractable at lower revs. Comfort is excellent, wind protection surprisingly good from the small screen and, even with the 8 gallon gas tank on the GT Explorer, the bulk is kept well under control, unlike the BMW R 1250 GS Adventure with similar capacity tankage. The Triumph is refined and the design and execution of the details has to be seen and felt to be believed.
1
Adventure Bike: Kawasaki Versys 1000 – $18,899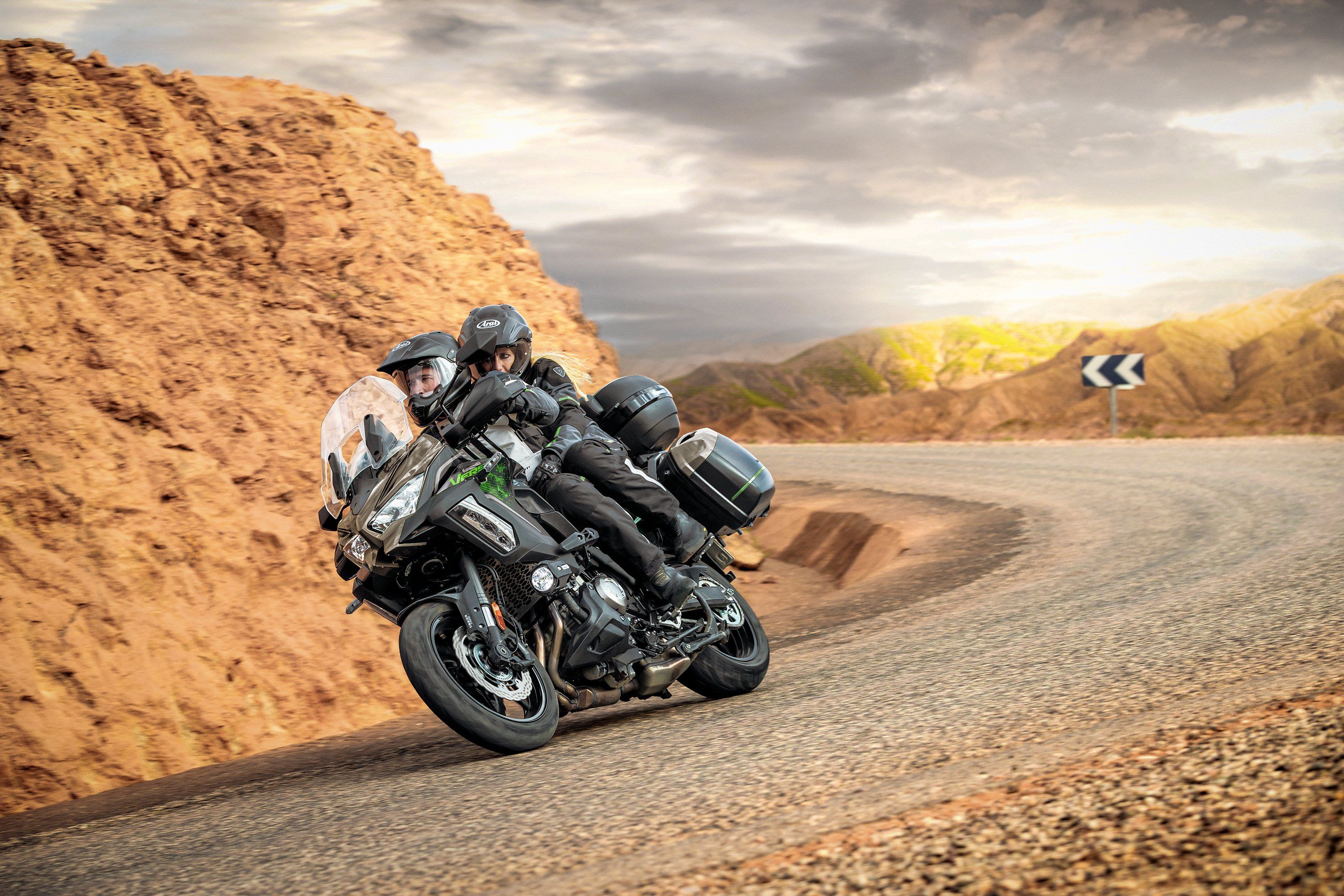 Kawasaki Versys 1000 SE LT+ riding right to left, with pillion passenger
OK, so this really is an adventure-styled sport tourer, with no off-road pretensions whatsoever, but because of that, it is even more focussed on being an excellent touring machine. Based around the 1000cc inline four engine that does duty in the Ninja 1000SX, the stance is a lot taller, giving a much roomier and more upright riding position which, for some, is great for carving through the twists, due to increased leverage on the bars.
In line with all the other bikes on this list, the practicality is not in question and neither are the chassis dynamics, although the suspension isn't quite as well-sorted as on the Triumph or KTM. But it's something different, with the smoothness of that inline four-cylinder engine, which is still surprisingly punchy at lower RPM.