2023 KTM 890 Adventure Review
Written by Dan DiMaio | Photos by KTM / KISKA GmbH. Posted in Bikes
KTM brought us to Óbidos, Portugal, to ring out the new 2023 890 Adventure on a wide array of country twisties and a ton of super-fun off-road routes at various elevations. Let me assure you that the big orange brand knows how to engineer a crazy-fun and powerful parallel twin which is now lighter, more compact and puts out more ponies. With redesigned bodywork, seat, TFT display and more updated features, there's a lot to like in this new iteration of an all-round favorite.
• Engine
First and foremost, let's talk about the compact LC8c parallel twin powerplant. For 2023, the engineers made it tighter and lighter, along with new fuel mapping and airbox to bring the 889cc parallel twin up to 105 HP with around 74 ft.-lb. torque. Portugal was a great playground to put the motorcycle through its paces on a variety of on- and off-road sections featuring sand, rocks and ruts.
The motor performed flawlessly on the mixed terrain with plenty of low-end grunt and lots of over-rev. I found the sweet spot was in the 5,500–7,000 RPM range while it pulls hard in the upper RPM range. As I previously spent time on the 2020 KTM 790 and 790R, it's amazing how much difference 90cc makes.
Also worth noting, the first major service (valve check) isn't until 15,000 km (9,320 miles). This is impressive considering how performance-oriented this powerplant is.
• Technology 
Although the original 790/890 had a great TFT display, the 2023 model comes with an all-new five-inch TFT display, which is very bright and easy to read in all light conditions. Controls for the engine modes remain on the left side of the handlebars and remain easy to use.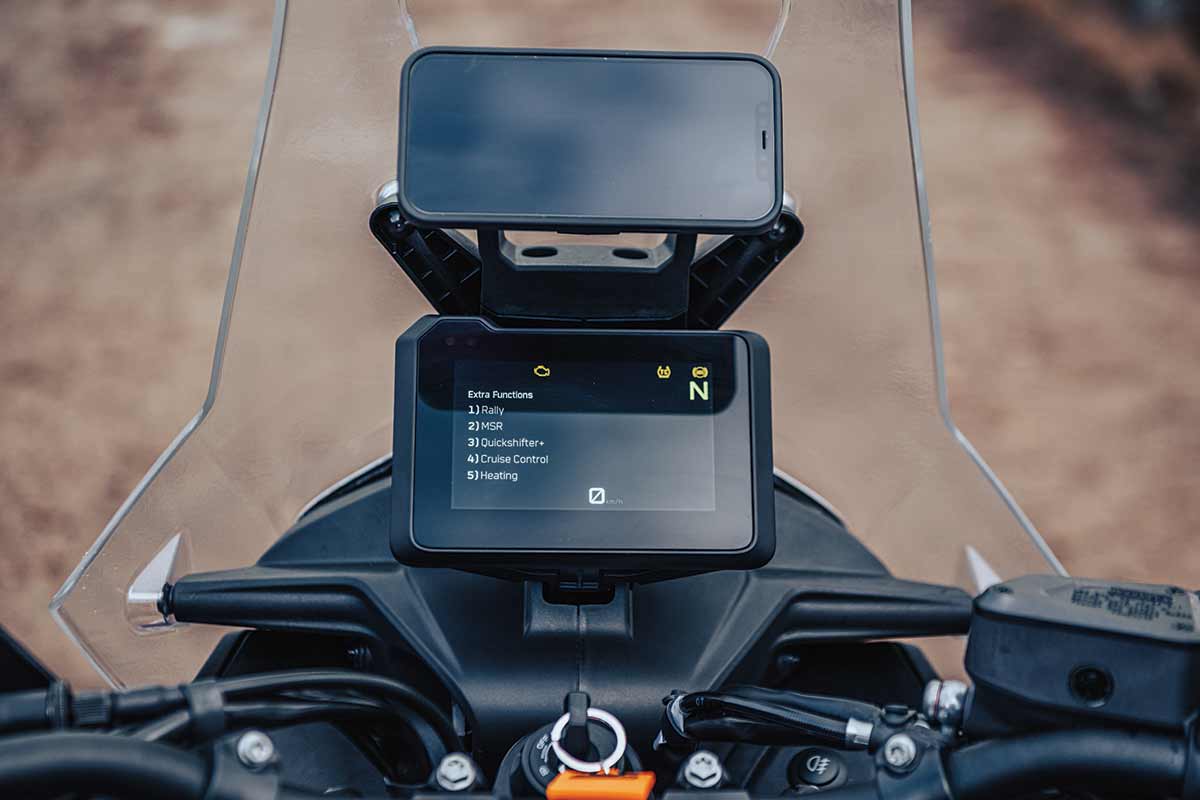 The bike has powerful safety electronics built in from the factory, but some online reviewers have criticized the new Demo mode. The motorcycle is delivered in unlocked (Demo) mode for 1,500 km (~1,000 miles), so the owner can experience all the bike's built-in technology upgrades: heated grips, cruise control, quickshifter, and Rally mode. At 1,000 miles, the rider can decide which ones they want and pay for specific features.  If a rider lives in Florida or a warm climate area, they probably wouldn't need heated grips. Or, if a rider doesn't intend to spend much time off-road, they probably wouldn't need Rally mode.
While some find the idea of receiving something fully unlocked, then have features taken away questionable,  this hopefully reduces the initial price.  That said, it's an interesting take on paying for just the features you want and we'll have to see how this pans out. In theory the Adventure R version should have everything unlocked but can't confirm it at this time.
Most modes (Street, Rain, Off-Road) are self-explanatory apart from the Rally mode, which allows the rider to control the level of traction control interaction all on the fly while in motion. After playing with Street and Rain mode, I pretty much left it in Rally mode and just adjusted the level of traction control between road and dirt sections. The beauty of the new system is that when you turn the motorcycle off for a quick stop, the settings stay where they were set previously. So, no more going through the modes to get it back to where you left them.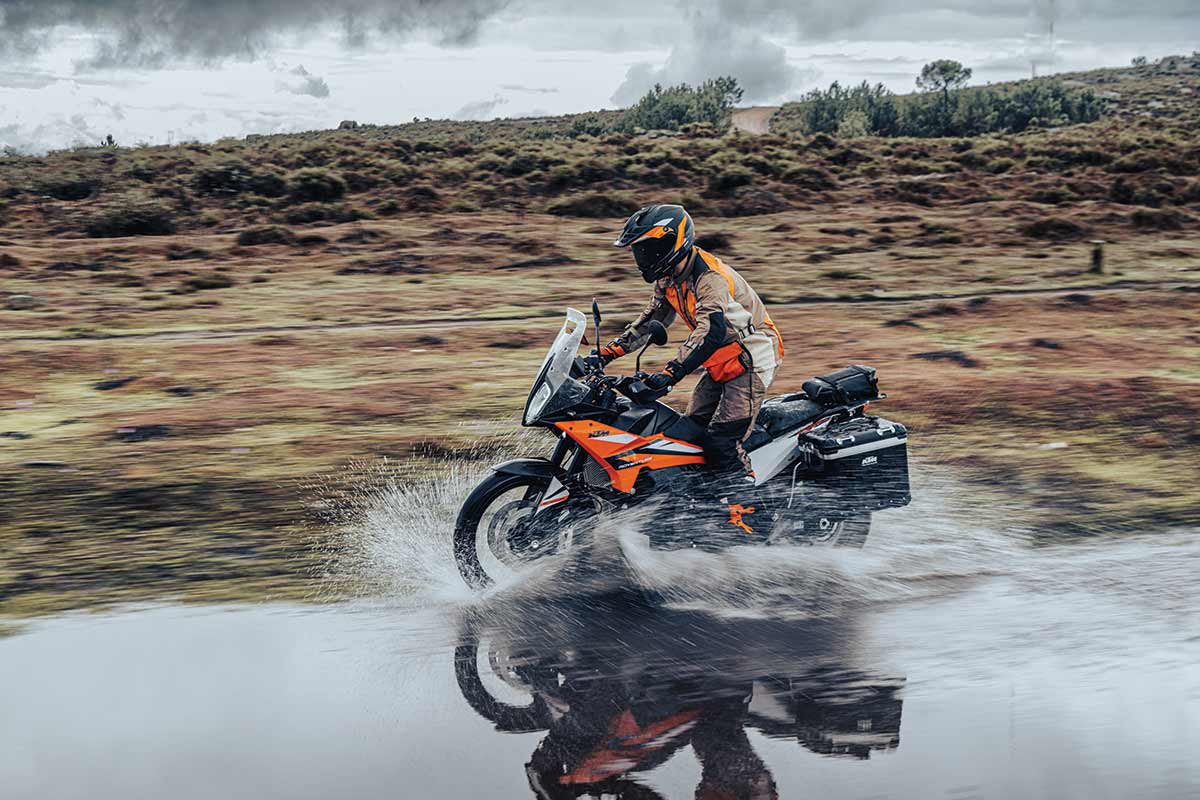 There is an optional connectivity unit, or "CU," that ties in the KTMconnect app and the TFT display. This allows you to use your phone for turn-by-turn navigation, phone calls, and music all visible on the bike's display. Also the dash looks to have been designed to add your phone to in a clear easy to see position.  Since many people still use their phone for navigation (which we recommend in all conditions), having it off handlebars or needing extra brackets is a welcome touch. 
• Chassis/Suspension
For the most part, any modern-day ADV motorcycle is well-sorted in the suspension department. The 2023 KTM 890 Adventure comes with new WP Apex 43mm open cartridge front forks with full rebound, compression, and preload adjustability. The Adventure model is optimized for two-up adventure touring. We were able to push its limits off-road and the suspension did a great job of soaking up the terrain with the stock settings. If you want to tweak the settings, the fork and shock are both fully adjustable to suit your riding style.
The new 890 has a re-tuned WP Apex shock with rebound adjuster and hand-turn preload adjuster. With approximately eight inches of travel, the rear soaks up big hits with little-to-no bottoming.
The motorcycle's lightweight 21-in. front and 18-in. rear spoked tubeless wheels are wrapped in Pirelli Rally STR tires, delivering a nice balance of on-road confidence and off-road grip in dry conditions. We encountered everything from wet pavement to deep sand and light mud. The Pirellis performed as they should although we recommend using your favorite tires for your riding conditions.
Keeping things stable and upright the newly updated cornering-sensitive ABS uses a 6D sensor to continuously monitor the dynamic state of the motorcycle when under hard ABS braking, adjusting the braking power to keep things upright. In addition to the cornering ABS, KTM uses an effective steering stabilizer to keep the front end in check while traversing technical off-road terrain at speed.
• Styling/Ergonomics
Owners either loved, hated or tolerated the previous generation's looks. I loved that the previous generation had more of a "dirt" look to it, but not so much on long road stints due to the lack of rider wind protection. The 2023 890 Adventure brings the best of both worlds together with an all-new windscreen that reduces helmet buffeting. The redesigned bodywork also pulls the windscreen, headlight, and shrouds together in a rally-inspired look that looks good, and it's also functional.
Now, let's talk about something for your tush. KTM redesigned the seat, adding 10mm of varying-density foam to make the stock seat super comfortable. It has two adjustments of low (33 in.) and high (33.9 in.) giving you options for more feet on the ground if needed.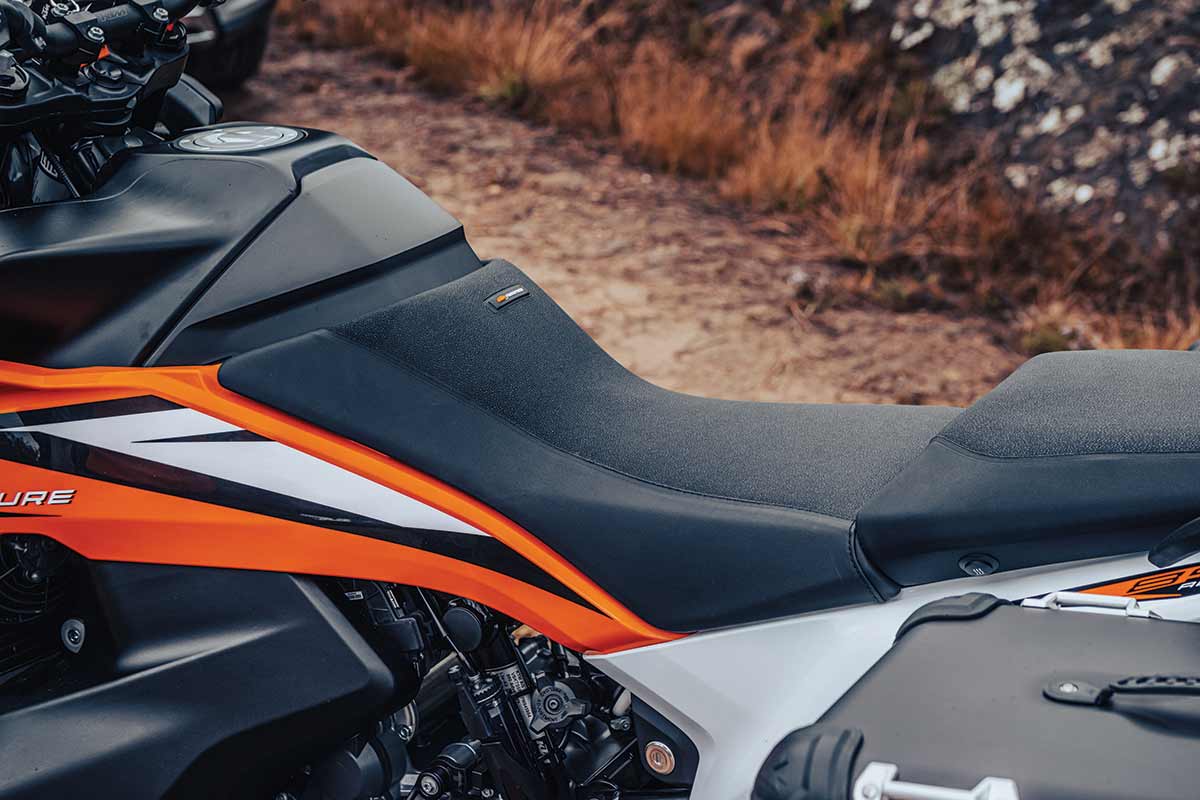 All in all, the updates to the iconic KTM 890 were what riders wanted and then some.  Also, the KTM Powerparts catalog has over 150 add-ons for the 890 which can help make the new 2023 890 Adventure your own.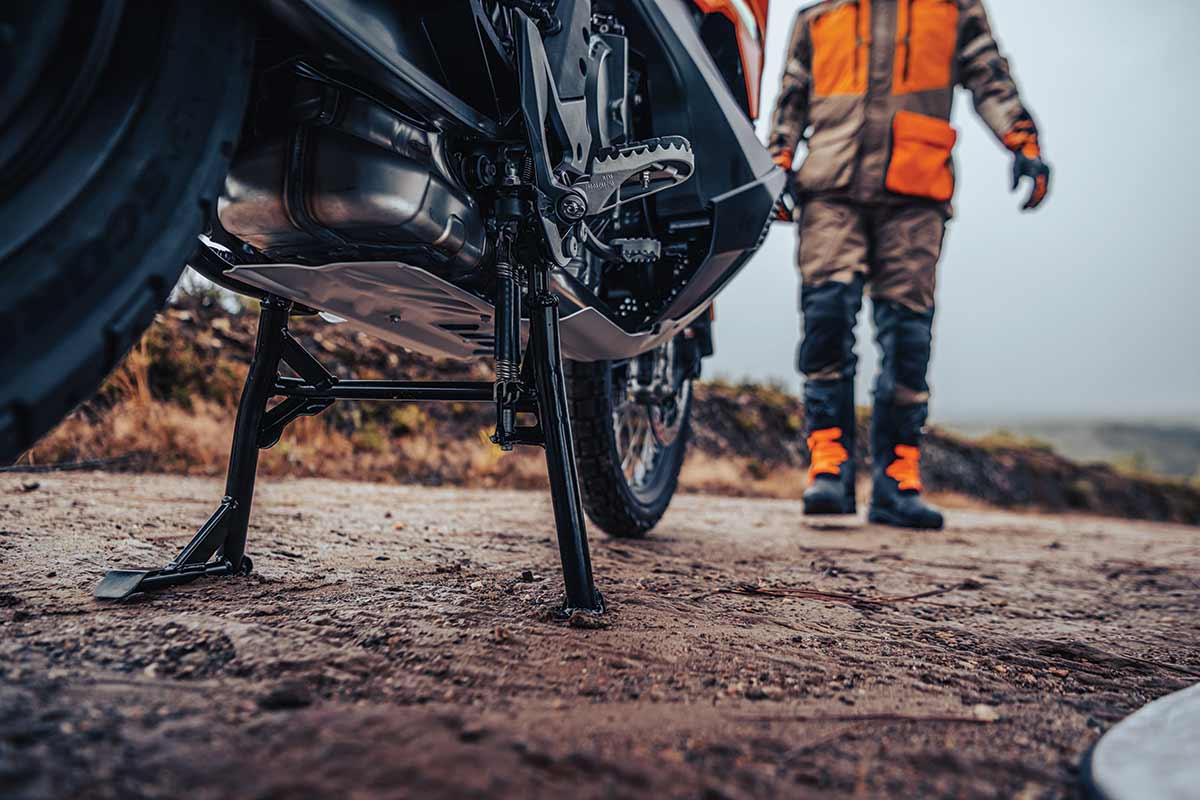 • Conclusion
As the middle-weight segment continues to grow, buyers will likely be even more confused as to which motorcycle is best for them. With new options coming from not only European but also Japanese manufacturers, the mid-sized market has never been more exciting … at least in the USA. 
Riding KTM's new 890 Adventure checks many boxes for me. I dig the new styling, power, suspension and ride height. Also, the MSRP of just under 14k places it in range of some stiff competition. Stay tuned to ADVMoto for a long-term review after we get our hands on a press motorcycle in the New Year.  For more info on the 2023 KTM 890 Adventure, visit: KTM.com
---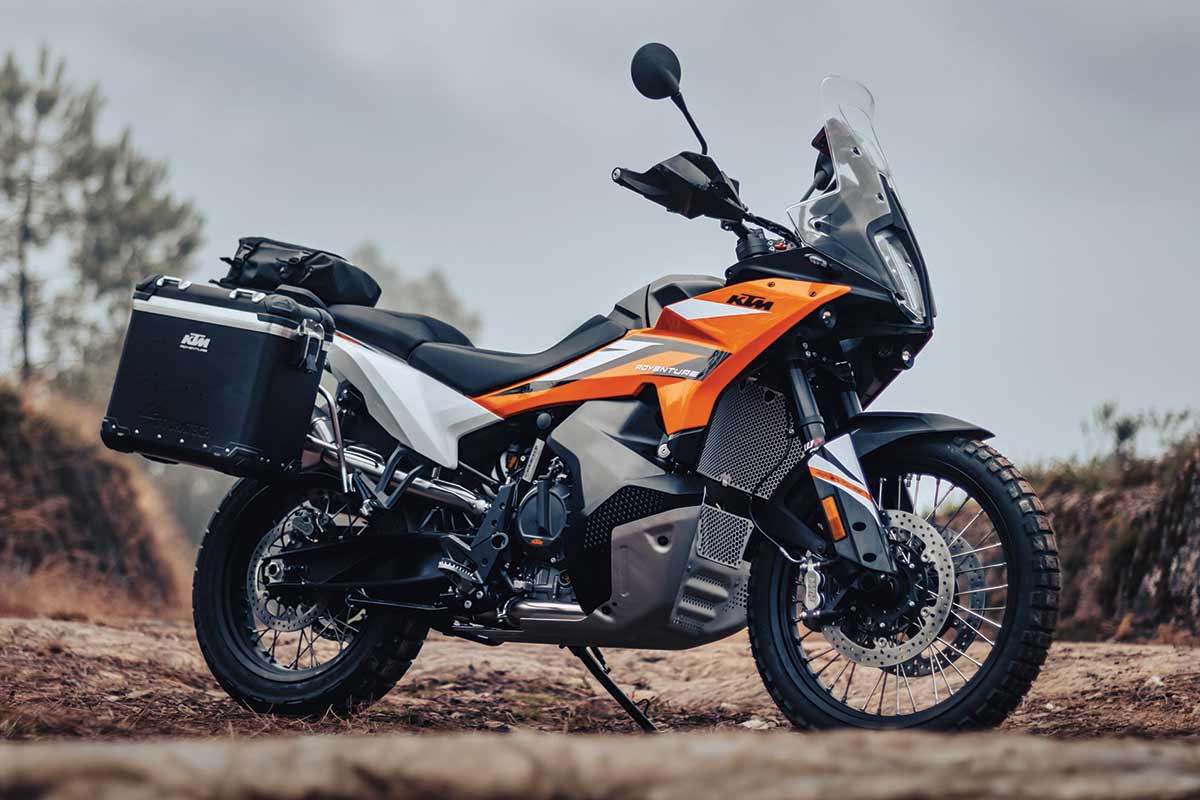 ---
• KTM 2023 890 Adventure Specifications:
• Engine: Parallel twin 4-stroke DOHC
• Bore & Stroke: 90.7mm x 68.8mm
• Displacement: 889cc
• Cooling: Liquid cooled with water/oil heat exchanger
• EMS: Bosch EMS
• Horespower: 105 @ 8,000 RPM
• Torque: 74 @ 6,500 RPM
• Transmission: 6-speed (optional quickshifter)
• Clutch: PASC anti-hopping clutch with cable pull
• Front Suspension: WP Apex 43mm inverted with adjustable rebound and compression with 7.9 in. travel
• Rear Suspension: WP Apex monoshock with adjustable spring preload and rebound damping with 7.9 in. travel
• Front Brake: Dual 4 piston calipers with 320mm rotors
• Rear Brake: Single 2 piston floating caliper with 260mm rotor
• Front Wheel: 21-in. spoked tubeless aluminum wheel mated to Pirelli Rally STR 90/90-21
• Rear Wheel: 18-in. spoked tubeless aluminum wheel mated to Pirelli Rally STR 150/70-18
• Ground Clearance: 9.3 in.
• Seat Height: 33 in. in low position | 33.9 in. in the high position
• Fuel Capacity: 5.3 gal.
• First Major Service: 15,000 km (9,321 miles)
• Weight Dry: 441 lb. | ~474 lb. wet
---