Why This Modified Chevrolet C8 Corvette's Aggressive Styling Makes It Faster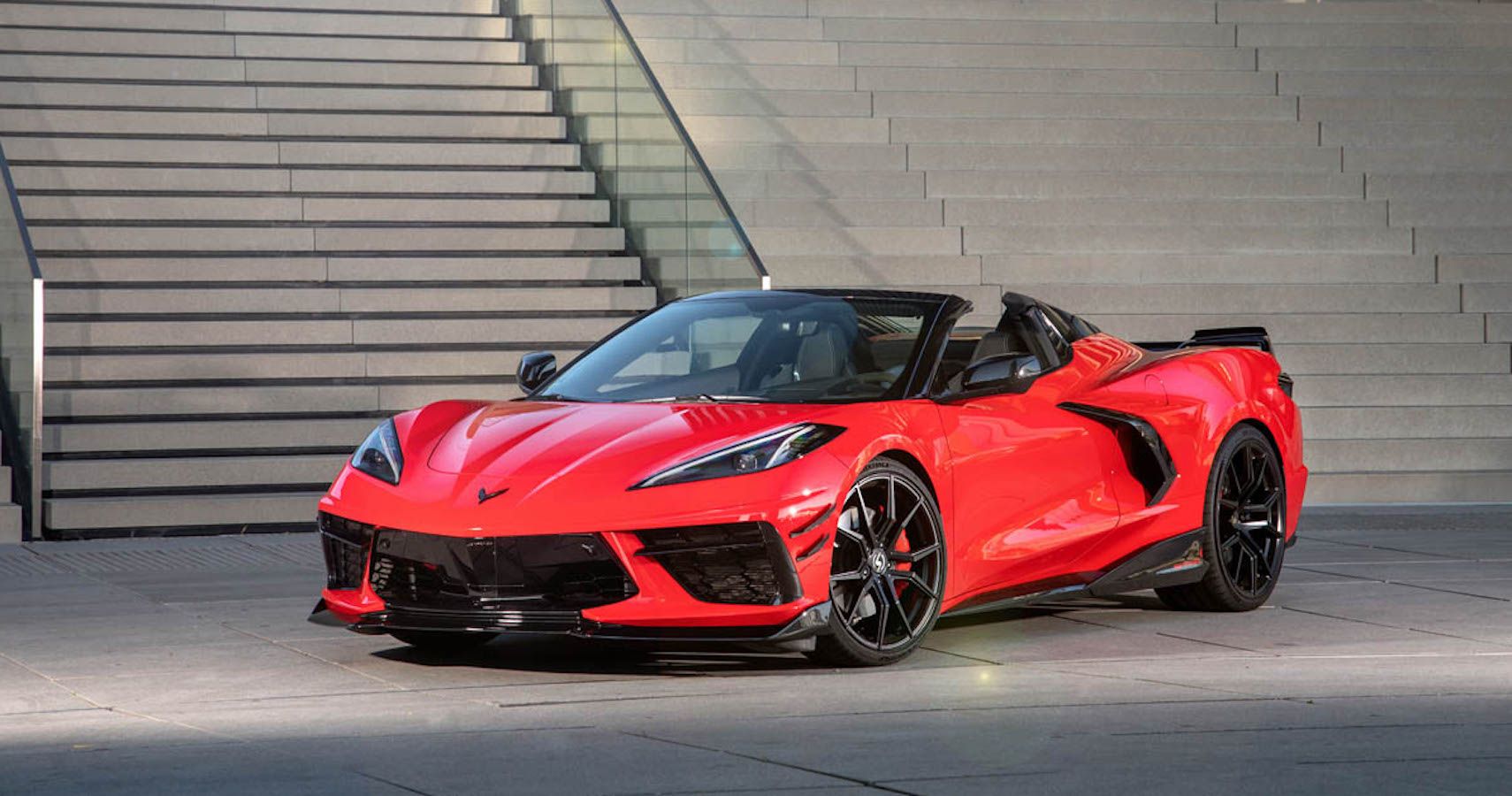 Apart from the cool new aerodynamic modifications, the custom package by SlyStyle for the C8 Corvette also brings a subtle bump in performance.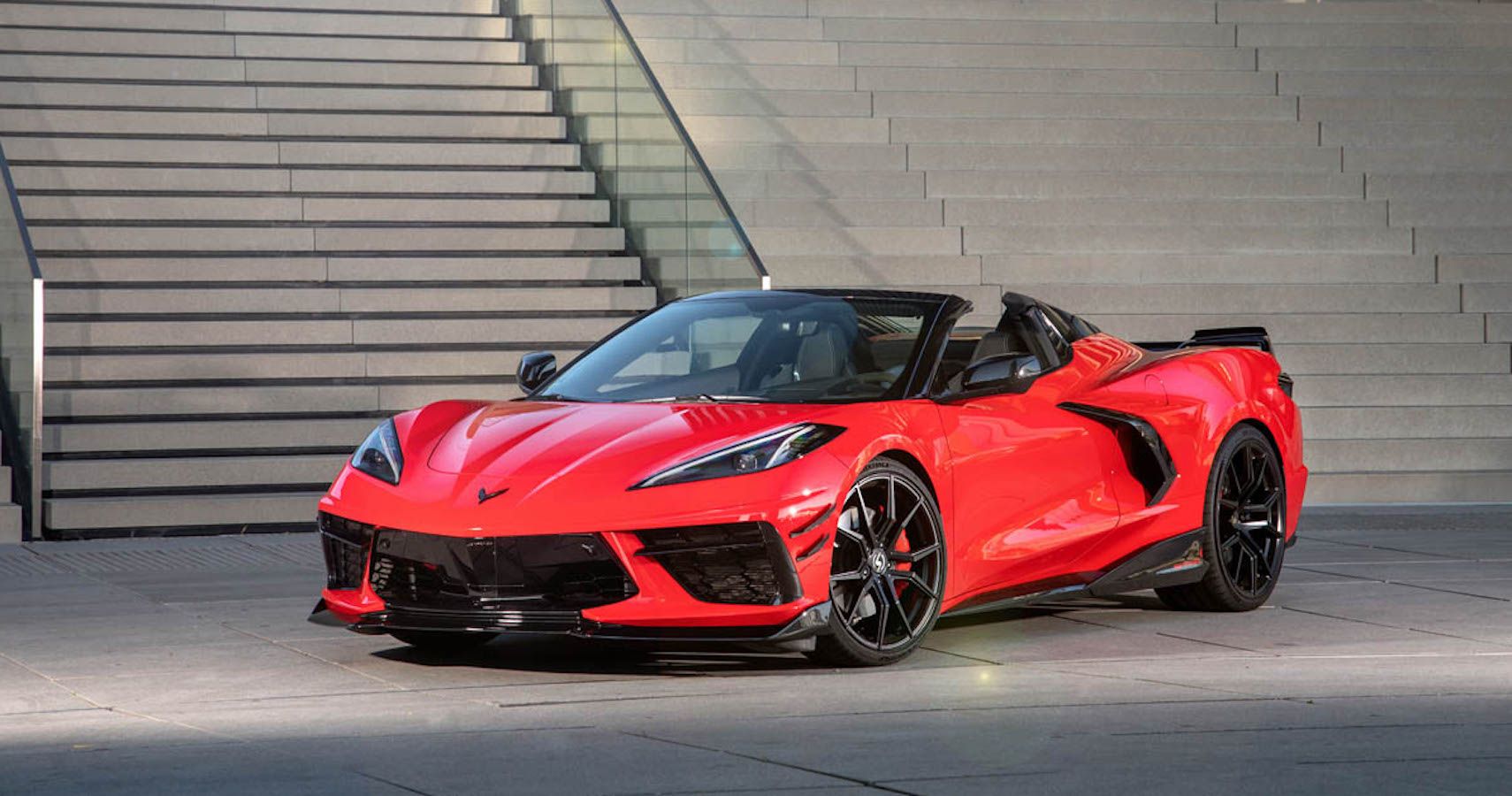 The Chevrolet Corvette C8 as modded by tuning house SlyStyle makes the mid-engine Vette a lot more aggressive. The result of this tinkering is a car that looks a lot sharper than the stock Chevrolet. With an angular rear spoiler, flush front air splitter, and redesigned rear bumper, this car is even more intimidating and eye-catching than the factory original.
But while these modifications significantly transform the visuals of SlyStyle's Corvette C8, they aren't just for looks. These aerodynamic upgrades meet more subtle performance-boosting technology in a quest to unlock every bit of speed, power, and acceleration possible from the flagship Chevy sports car.
RELATED: Here's Why The 700-HP Hennessey Corvette Stingray Is A Better Buy Then The Corvette Z06
How Does SlyStyle Corvette C8 Differ From A Factory Corvette?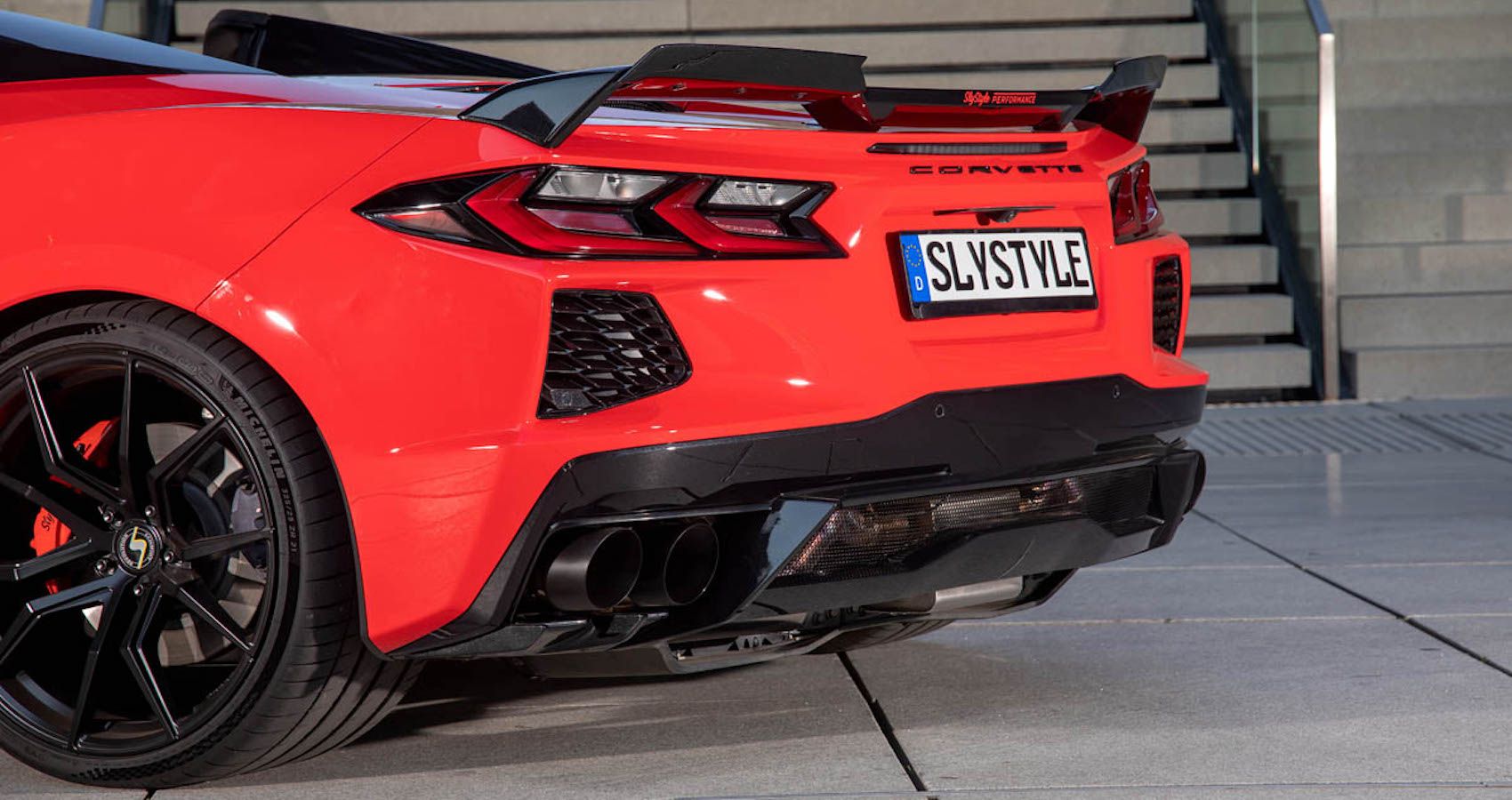 Should you find yourself in the vicinity of the Chevrolet Corvette C8 by SlyStyle, you'll notice that it gives off significantly more aggressive vibes than the standard Chevrolet Corvette C8s. This is largely thanks to the many aerodynamic tweaks and bodywork mods installed to make this car sleeker with an even more performance-friendly aerodynamic footprint than before.
A brief overview of the aero modifications on SlyStyle's 2022 Chevrolet Corvette includes a larger, redesigned front air splitter with a gloss black finish, a remodeled rear bumper with aerodynamic canards, side skirts with integrated fins that direct airflow around the body, and restyled rear wing and rear diffuser.
The goal of these mods is to enhance the aerodynamics and downforce of the standard C8 Corvette. Less wind catching on surfaces and dragging off the back of the car means it will accelerate faster and perhaps even hit a higher top speed. Also, increased airflow entering downforce-inducing air ducts means there's greater grip while hurtling around corners on the racetrack.
The results of these aerodynamic upgrades are 110 lbs. of downforce added thanks to the front splitter. There is an extra 176 lbs. of downforce coming from the installation of the rear wing attachments as well. Improvements such as these are easy to notice while pushing this car to its limit. Sports cars modded out like this one are definitely machines that create new boundaries for performance.
RELATED: Here's What Happens When A British YouTuber Gets The Keys To The C8 Chevrolet Corvette Z06
What Do Aero And Powertrain Upgrades Mean For The C8 Vette?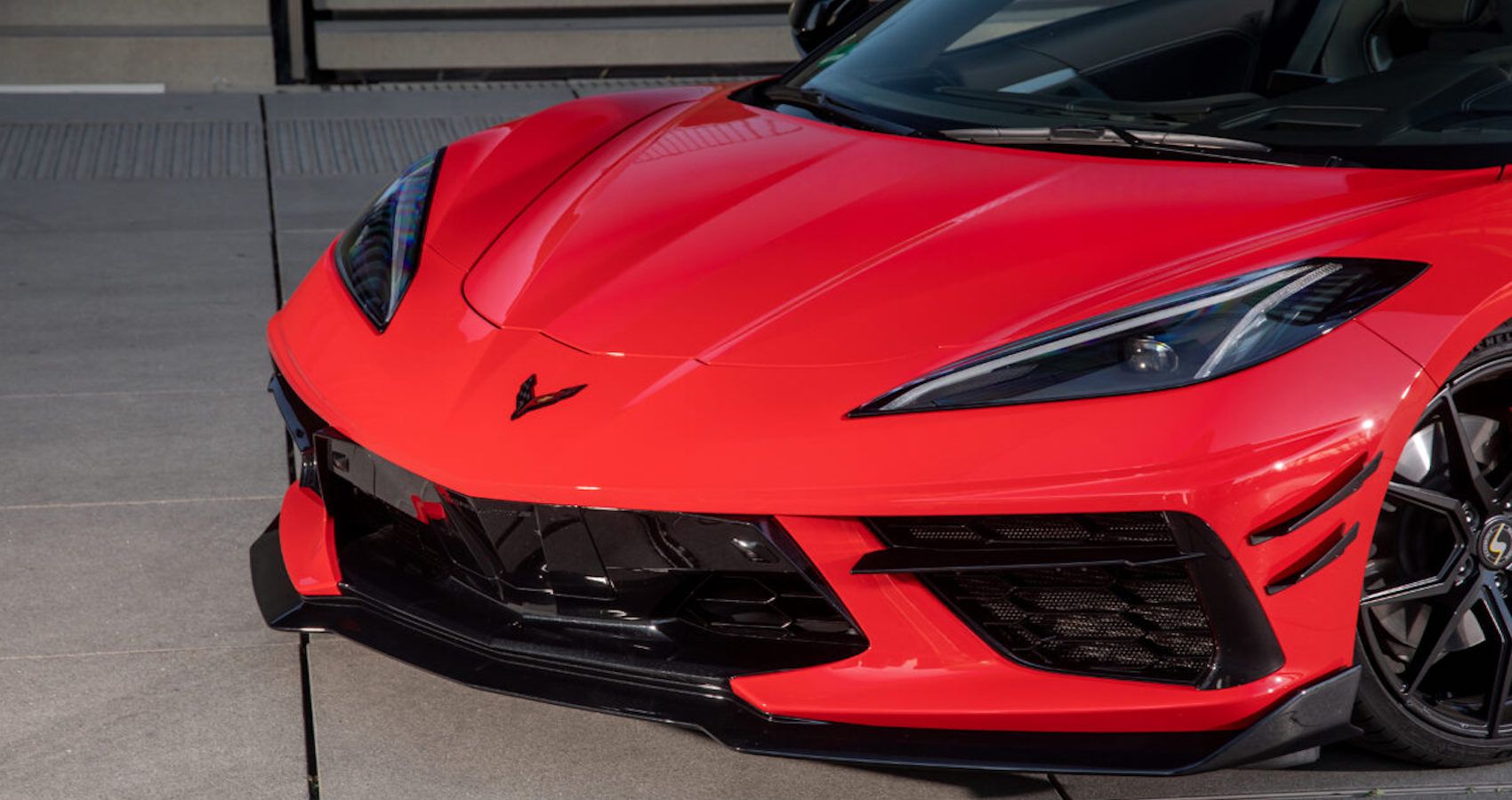 Besides bodywork tuning that's definitely the most visually arresting part of SlyStyle's Corvette C8 mod project, SlyStyle also implemented more subtle tuning tricks in a bid to increase the performance of this already high-performing sports car.
A non-standard K&N high-flow air filter retooled intake, exhaust ports, and a modified exhaust system featuring 114 mm tailpipes have all found their way into this mod job by SlyStyle. These add-ons make it easier for this car to reach and maintain high speeds.
On top of this, a pair of one-piece satin black wheels got swapped in – wearing 255/30 tires on the front and 325/25 tires on the rear. Finally, specially designed lowering collars reduce the ride height at both the front and rear ends by 20 mm.
One confirmed the result of these performance-enhancing swap-outs is a proven performance stat for SlyStyle's Corvette – a 62 to 124 mph sprint time lowered by half a second. These powertrain enhancements alone make the Corvette by SlyStyle a not-insignificant step up in performance value.
RELATED: 10 Exotic Supercars Slower And More Expensive Than The Chevrolet Corvette C8 Z06
How SlyStyle Is Pushing The Boundaries Of C8 Corvette Performance?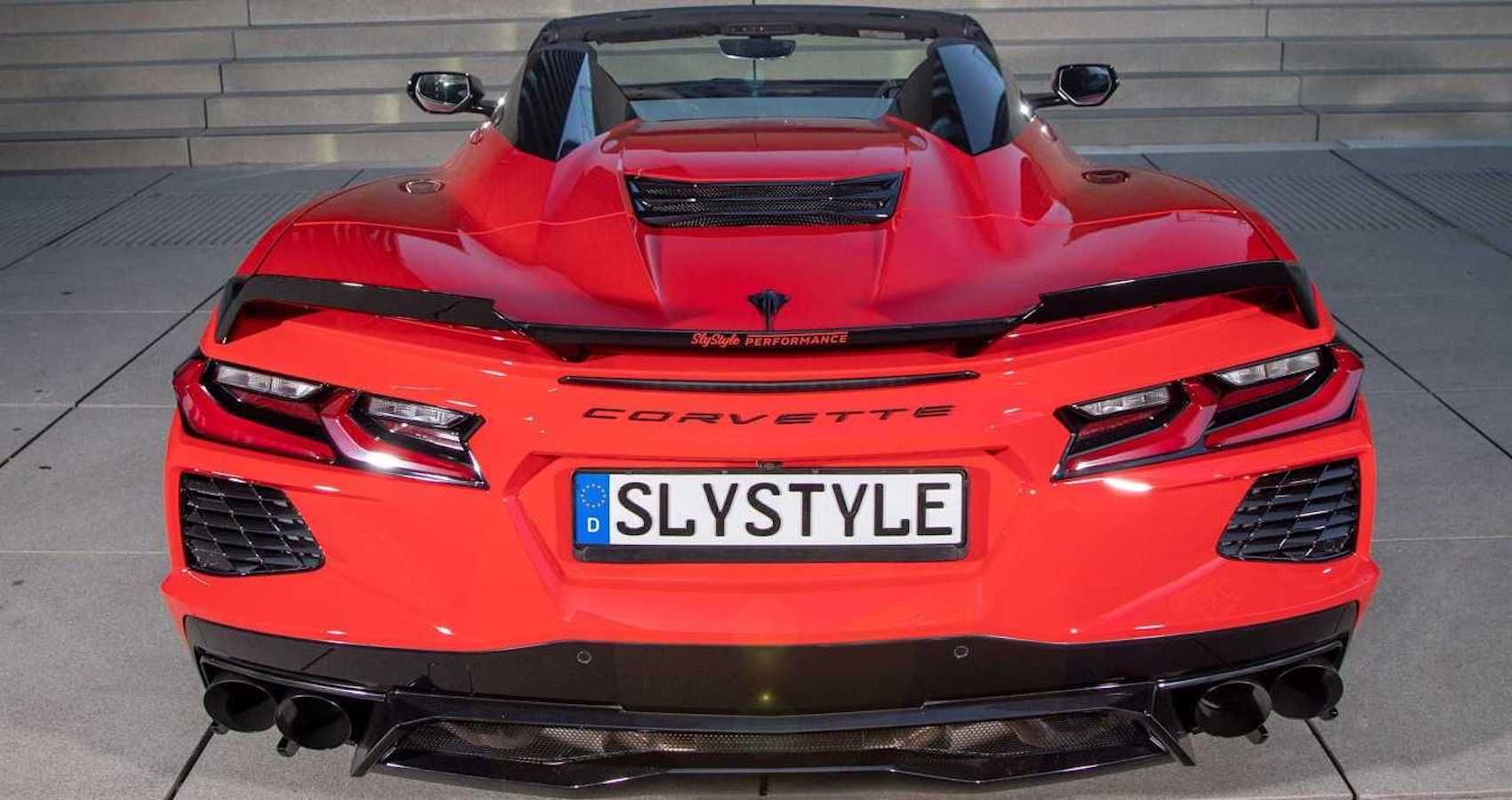 Something that the Chevrolet Corvette C8 is now famous for is its inability to have a tuned engine. Many tuners are still trying to crack the C8 Corvette Stingray's ECU. With engine software that features an encrypted ECU, it's pretty much impossible to use simple engine reprogramming tricks to increase its performance.
A fairly common method used to dial up the performance of a car is to tinker with the ECU, that's often used to limit the top speed, horsepower output, and other attributes of a car's powertrain. Upping the performance on a high-octane sports car like the C8 Corvette could have been a lot simpler had access to the ECU been easier to come by.
SlyStyle has addressed this issue with its aerodynamics-focused approach to enhancing the performance of the base Corvette C8. Anything that increases performance without requiring engine tuning has been the only way to go so far. They've pulled out all the stops to eke out a faster car without having the luxury of simply dialing a higher horsepower number into the engine's internal computers.
Having said that, SlyStyle is in the process of gaining access to the Corvette C8's ECU to have the chance to tune the engine on this peerless performer. Adding the engine remapping capabilities to this sharp custom job will help current C8 Corvette Stingray owners get more juice and a wider grin from their American sports car.