Ranveer Sing to Disha Patani
Bollywood actors and directors often lead a lavish lifestyle. Expensive cars and mansions are part of their lives. We have often seen these celebrities move around in their expensive cars and they have been featured on our website too. In Bollywood there are a few celebs who love cars and have a collection of expensive cars. Some of them have even modified the cars to their liking. One of the most common type of modification we see in celebrity's cars are wraps. Here we have a list of Bollywood stars who have wrapped their cars.
Prakash Raj
Actor, Director and Producer who is quite popular in Bollywood as well as in South Indian movies had bought a Land Rover Defender SUV in 2021. The actor not only got a Land Rover Defender 110 for himself, he also got it wrapped in matte black shade. Land Rover Defender is a huge vehicle and specially with the matte black wrap it looks dominant on the road. The SUV is available in three engine options – two petrol and one diesel.
Ranveer Singh
Ranveer Singh is one of the leading actors in the Bollywood. He is known for his fashion sense and love for cars. He owns several expensive cars and SUVs in his garage including a Lamborghini Urus. He also has a Aston Martin Rapide S sports car. The original shade of the car is white and the actor got it wrapped in an electric blue shade. The car has been spotted on the roads of Mumbai several times. The Rapide S is powered by a 6.0 litre V12 engine that generates 552 Bhp and 620 Nm of torque.
Ananya Panday
Ananya Panday, daughter of actor Chunky Panday is an emerging actress in the industry. The actress was spotted in Range Rover Sport luxury SUV that has been wrapped in matte gree wrap. The original shade of the SUV is not clear and it is registered under her mother's name. The SUV is finished in matte green and gloss black finish. There are no chrome or brushed aluminium inserts visible on the car anywhere. The Range Rover Sport owned by Ananya Panday is powered by a 2.0 litre petrol engine that generates 300 Ps and 400 Nm of peak torque.
Disha Patani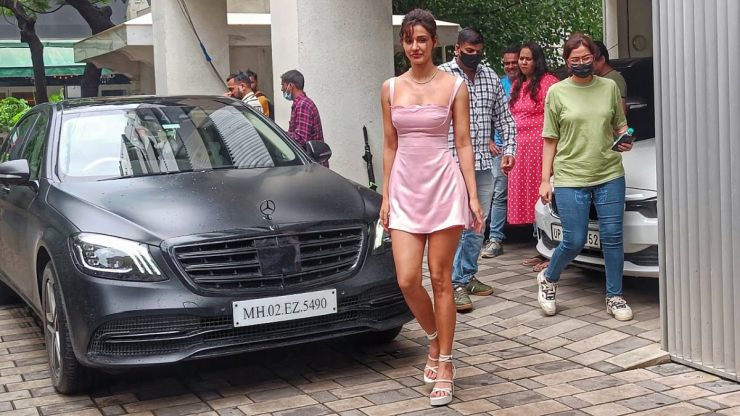 Disha Patani is one of the youngest actresses in the Bollywood film industry. She owns couple of luxury cars in her garage but the Mercedes-Benz S450 luxury sedan is special. This sedan is known for its long list of features and comfort that it offers. The actress however had other plans and decided to get it wrapped in matte black.
Rohit Shetty
The last car in the list is a Ford Mustang. Action movie director Rohit Shetty got it modified to his liking. The whole car gets a purple coloured wrap. Other than the wrap, there are other additions like widebody kit with side scoops, bonnet scoops, new exhaust system, LED DRLs integrated into the grille, aftermarket alloy wheels and so on. The Ford Mustang is powered by a 5.0 litre V8 petrol engine that generates 395 Bhp and 515 Nm of torque.