Jawa-ni Jaaneman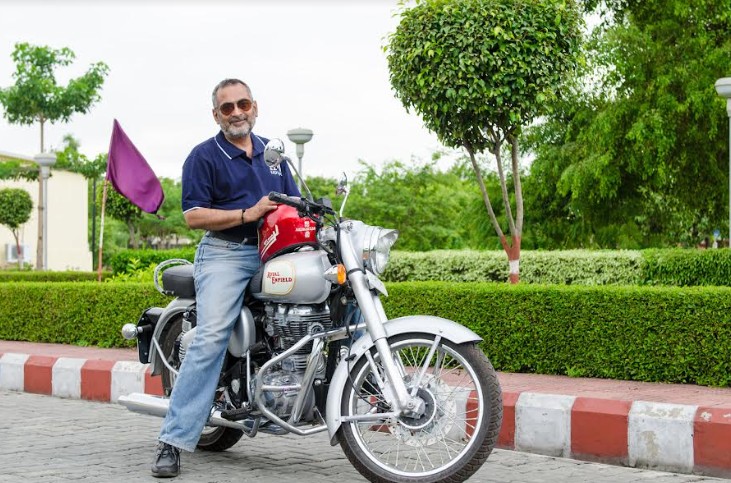 My earliest pleasurable memory —  it should be 1958 — was that of riding on the tank of my father's motorcycle. Later on, I would get to know that it was a Jawa.  I was 5 years old and the stiff breeze through my hair and the feeling of being one with the bike and the elements is one that endures sixty-five years down the line. It was much later, in 1979, when I first laid my hands on Zen and the Art of Motorcycle Maintenance, thanks to my biker friend K V Arun Kumar, when I could see my feelings so well-expressed! A memory sharply etched, of feelings and fleeting but distinct images,  returns of a night-time ride, me firmly anchored to my father though his  trouser belt around me and his left hand reassuringly around my chest to stop me from leaning forward on to the tank, half-asleep that I was. I remember the moon in the sky and my father murmuring, "We'll be home soon". He would have been twenty-nine or thirty at the most and that ride resulted in my grandmother going on a hunger strike. Not only did the young engineer son-in-law ride a bike recklessly, but also took his young son on such perilous rides. Thus the love story between the Jawa and my father ended with the bike being sold immediately.
The memory of wind in my hair endured, and the first thing to do after ending my final semester of engineering, which involved a six-month internship, was to buy —  what else? —  a Jawa 250 in October 1977. My constrained finances would not permit me much, so my dearest friend Somnath (Somu) chipped in half of the princely sum of rupees three thousand five and claimed joint ownership. My half came from that year's scholarship, and I begged my mother for this one indulgence. She must have remembered the earlier Jawa, and the sad look on my father's face way back in 1958 and history was repeating itself after nearly 20 years. She agreed, with a stipulation that I buy a helmet and drive carefully. The joint registration prompted a lot of questions by the dealing clerk at the Motor Vehicles Registration Office at Patna, our home town, about how two young men can own one bike?  Somu's inspired reply about Draupadi of Mahabharata having five husbands raised a round of laughter, the clerk was mollified and the bike was ours, legally. We named her 'Lili Darlin', after an eponymous movie starring Julie Andrews and Rock Hudson.
She was a Jawa 250 cc, 1968 model, in typical Jawa Red and bore the registration number   BRP 5037- technically a two-stroke single cylinder. She was a pleasure to behold, all sleek lines, a piece of elegant engineering that only the Czechs know how to. After all,  Czechs knew their engineering that extended from trucks (Tatra), machine tools and cars (Skoda), motorcycles CZ/Jawa and weapons (centred around the town of Brno); and no wonder the first things Hitler did was to annex Czechoslovakia! She had two silencers for her single cylinder, had a four-speed gearbox and an unheard of innovation- gear lever that doubled as the kick starter! All her functional parts, except the engine, were hidden away under cowlings and covers. Even the control cables were hidden away. The kick-starter had to be brought in to position by pressing the lever at an appropriate place with appropriate pressure. Once in position, the routine for cold start was as follows — keep the bike on centre stand, press the tickler sticking out of the carburettor cover two times (anymore and the carb would be flooded, Somu called it foreplay!), with measured pressure, swing the kick lever down but not to the end and build momentum, finally give it a mighty full downward swing and hopefully, the bike would start with a classic rat-tat-rat-tat Jawa sound when the muffler-plugs are removed from the silencers. Try to look nonchalant while swinging the kick lever. In case, the swing was mistimed, the engine would backfire and the lever would give you a bruised shin and of course, punctured ego. If it did not start, give a Gallic shrug, wait for some more time and try again ("On a (motor)cycle you are in the scene, not just watching it anymore, and the sense of presence is overwhelming" — Zen and the Art of Motorcycle Maintenance, Rober M. Pirsig, Bantam (1975), pg 4; "You wouldn't be riding a motorcycle if you weren't an optimist"! — Shop Class as Soulcraft, Mathew B. Crawford, Penguin (2009), pg 58).
Starting the bike with your left foot, sitting astride, always indicated a seasoned rider!
Somu and I, though childhood friends from high school through engineering, had two completely different attitudes towards our motorcycle. Somu's was the landlord's view of a horse — it should run, the maintaining was someone's job, but he loved the bike in his own way. Mine was diametrically opposite- I had to figure out the inner workings and seek the inner beauty, where engineering meets aesthetics. My explorations started rather disastrously in trying to change the pitch of the horn and the centre nut broke! It did not matter because the silencers, with the muffler plugs removed, made enough sound to awaken the dead! To compensate for the dead horn, I fitted a fog lamp from our family car. That fog lamp was the last piece of memory from the 1958 model Fiat 1100 which my mother had to sell to feed us after our father passed away at a young 39 in 1967. So, Darlin Lili had a distinctive look, no horn notwithstanding.
Before 1978 could unfold, Somu got married in April and went back to our hometown Patna, took up a new job and bought a new Royal Enfield Bullet! Very soon, I had an offer from Larsen & Toubro for their plant in Orissa and I had to join in June. So, Lili Darlin was mine and mine alone. What a heady feeling, not having to share her!
In between two jobs, I had two weeks at home in May 1978. A casual dare at 10 am in the local chai-shop started our journey to Benares at 12 noon! Two bikes and five riders assembled quickly. Me on Darlin Lili with Som as pillion. Som had joined as a clerk in a PSU bank, another friend Gautam Sengupta had joined irrigation department and had a new Yezdi 250. Piku who worked for Apollo Tyres was Sengupta's pillion. Our friend Ramchander Singh had just started as a civil-contractor, and had a rickety Bajaj Priya which possibly could not last the 300-odd kilometres to Benares. So he decided to go along to Maner, about 40 km away and borrow his brother-in-law's Rajdoot. A hurried lunch at 12 and five of us were off, only to be stopped by another friend Bachchu midway. He just hopped on to Ramchander's scooter for a lark and thought it was a joke. When we hit the highway, he realised that we were actually going to Benares and here he was with no money, no change of clothes and no information to family about his whereabouts for the next few days. In those days of rare telephones, he stopped at Maner and called a neighbour, who informed his parents about his sudden disappearance. Off we started at around 1pm. First stop Maner after a slow ride, getting the Rajdoot and off we went. Arrah was another 30km away and its crowded streets were a pain. Soon it was 3pm or so and many of us were hungry, especially Bachchu who was hollering. Soon, we stopped at a wayside village called Belgrami, famous for its eponymous sweetmeat! Belgrami is cottage cheese from buffalo milk, compressed and cut into cubes, fried in ghee and immersed in sugar syrup. It is hard like a stone, but once you gnaw through the crust, you are rewarded with the sweet, soft and fragrant centre. Bachchu was so hungry, he got two more than us, one in each hand and continued his eating while riding pillion. Soon we hit the Grand Trunk (GT) Road at Sasaram, having covered just over half of the journey and started towards Benares. Sengupta and I spotted this goods train drawn by a diesel locomotive on a track parallel to the road and off we went for the next one hour driving like mad at speeds touching 80kmph, two bikes matching the train. In that one hour, we actually covered more than 70km and stopped at Mohania, to cool off our bikes and wait for our friends on the Rajdoot which possibly could not keep up, and have the much- needed chai with samosa to ward off hunger pangs. By the time we entered Benares, it was past 9pm. This was my first long drive of nearly 300km and I had driven all the way! We stayed in a lodge near Dasaswamedh Ghat. A post-dinner walk landed us near a sadhu who beckoned us to partake Shiv-Shambhu's prasad, what else! A couple of drags on the sadhu's chillum, the rigours of the journey and we soon melted in the arms of Morpheus. We awakened to frantic shouts from Som. A look from the balcony- our bikes were standing in water lapping up to the engine chamber. Like idiots, we had parked at a low point in the lane, and it had rained all night. Down to our shorts, we waded in to the rain water, dragged our bikes up on to a higher places and mercifully all three bikes started with choke! To wash our sins and the dirt, we had a bath at Dasaswamedh Ghat and a sumptuous lunch sitting on the balcony. Then we went off to see the sights of Benares, including Bharat Mata Mandir, Sankatmochan Mandir, with a mandatory visit to Som's aunt's house and BHU campus. Evening was spent at Godowlia Chowk with thandhai (sweet buttermilk with a dash of bhang) and gilowri paan, and settled down for the night. Next morning we woke up early and made darshan of Baba Vishwanath Mandir, and set off for Sarnath. After that, we started back towards Patna. My Darlin Lili had a breakdown at Sasaram. The rivets of the rear sprocket sheared off and repair took long after sunset. People around warned us not to drive at night, so we stayed the night at Sasaram. Fighting off mosquitoes all night is what I remember of the night. Rushing to rejoin duty, we started before daybreak and were in Patna well in time for friends to join their duties. Thus ended my first long drive on a bike, many more to come in future.
In June 1978, I joined L&T Kansbahal, was assigned Machine Shop, as Shift Incharge, Light & Medium Section. A job that I loved and revelled in, studying the drawings, loading jobs on to machines, calculating the settings and cutting parameters — a true engineer's job with some new learning every single day. Interacting with German engineers on the shopfloor instilled a sense of precision and punctuality.
Roads there had less traffic and I used to take off during off-duty hours and have a blast. Incidentally, petrol was available at the company petrol pump on credit, so my petrol expenses bordered on the profligate! Early in 1979, Darlin Lili broke a piston ring, due to my rough driving or maybe it was just age catching up with her. Either way, my salary of seven hundred rupees less the compulsory two hundred fifty to be sent home, less food, cigarettes, occasional booze at the club, petrol and fees for German classes (a princely fifty rupees per month),  did not leave much in hand. I could not afford to ride her and risk more broken rings scoring the bore any more. I would need to scrounge to repair Lili Darlin's piston rings. It was time to say goodbye to Lili Darlin!
END OF ARTICLE