HotCars Checks Out The Semi-Secret Honda Museum In SoCal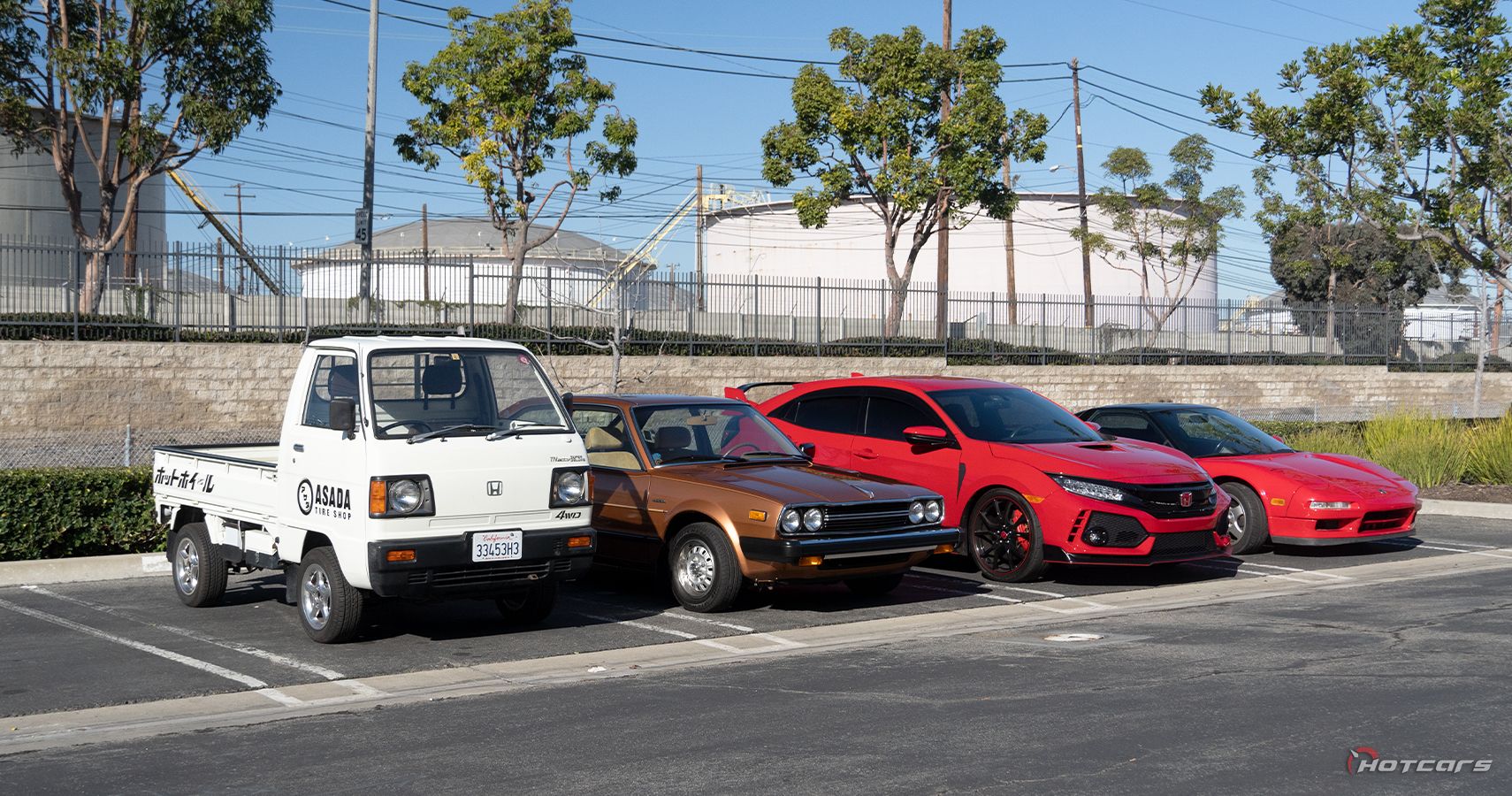 Tucked into a nondescript office park in Torrance, California, hides a semi-secret museum featuring some of the greatest Japanese cars ever built. Though not officially open to the public, the American Honda Museum can still be found on Yelp and Google Maps, and even has its own Facebook page—but that doesn't mean that actually getting inside is easy.
Luckily, I recently received an invite to a tour of the facility with Avants, an enthusiast automotive club that sets up similar events in Los Angeles and the Pacific Northwest. And so, without knowing what exactly to expect upon arrival, I jumped in my car (not a Honda, unfortunately) and headed down to Torrance to check out the history of a car brand I've known well since childhood.
Parking Lot Honda Stars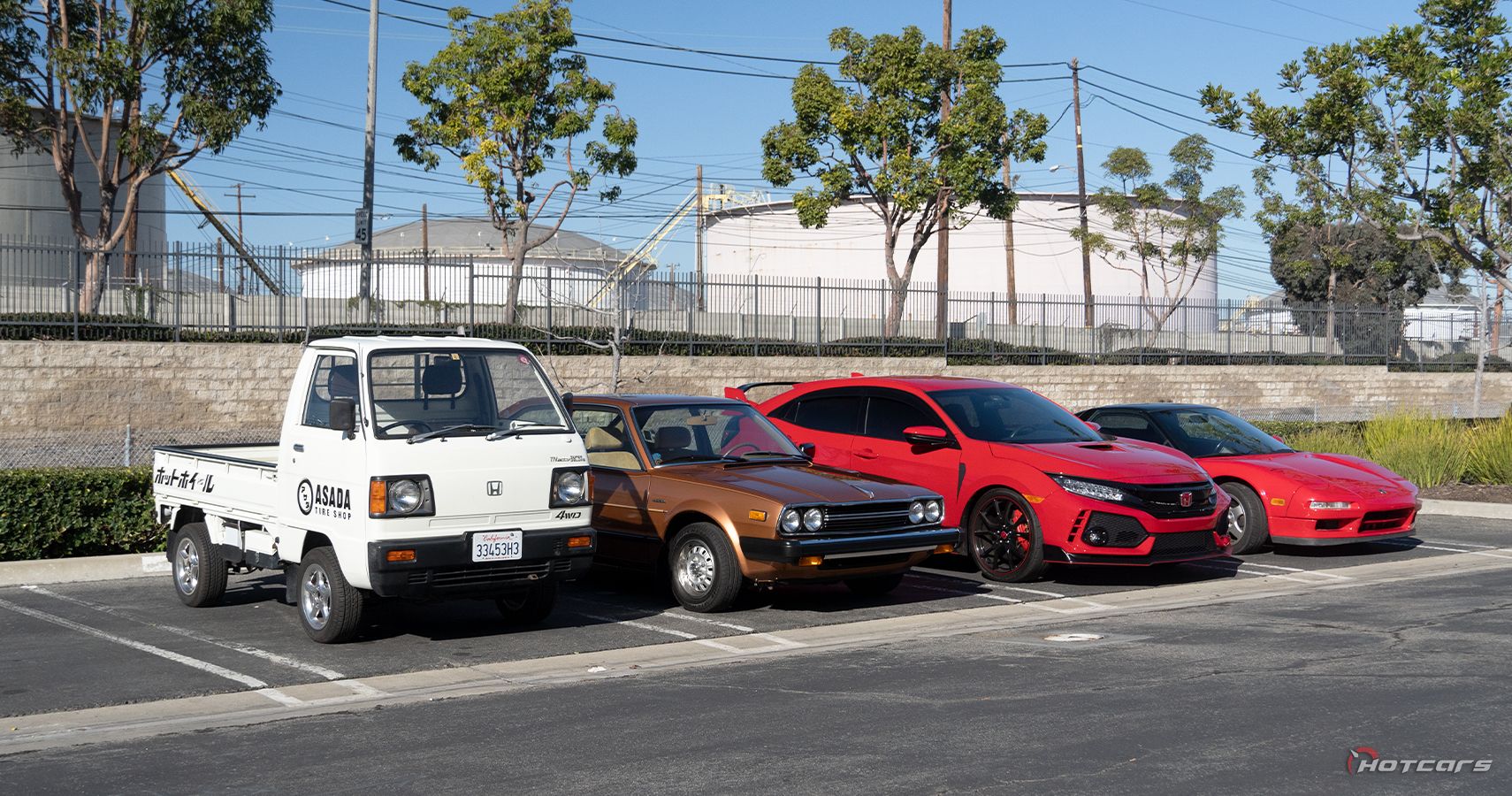 Even pulling up to the nondescript office park that houses the museum, not-so-subtle cues lined up in the parking lot tipped me off that I might be in the right place. From a minuscule Honda Acty kei-class pickup to two Civics of almost exactly opposite generations, and then the Acura NSX—sold in Japan as a Honda—this little primer got my excitement to see more classic and modern Hondas flowing immediately.
FOLLOW HERE: HotCars Official On Twitter
Honda History Starts In Japan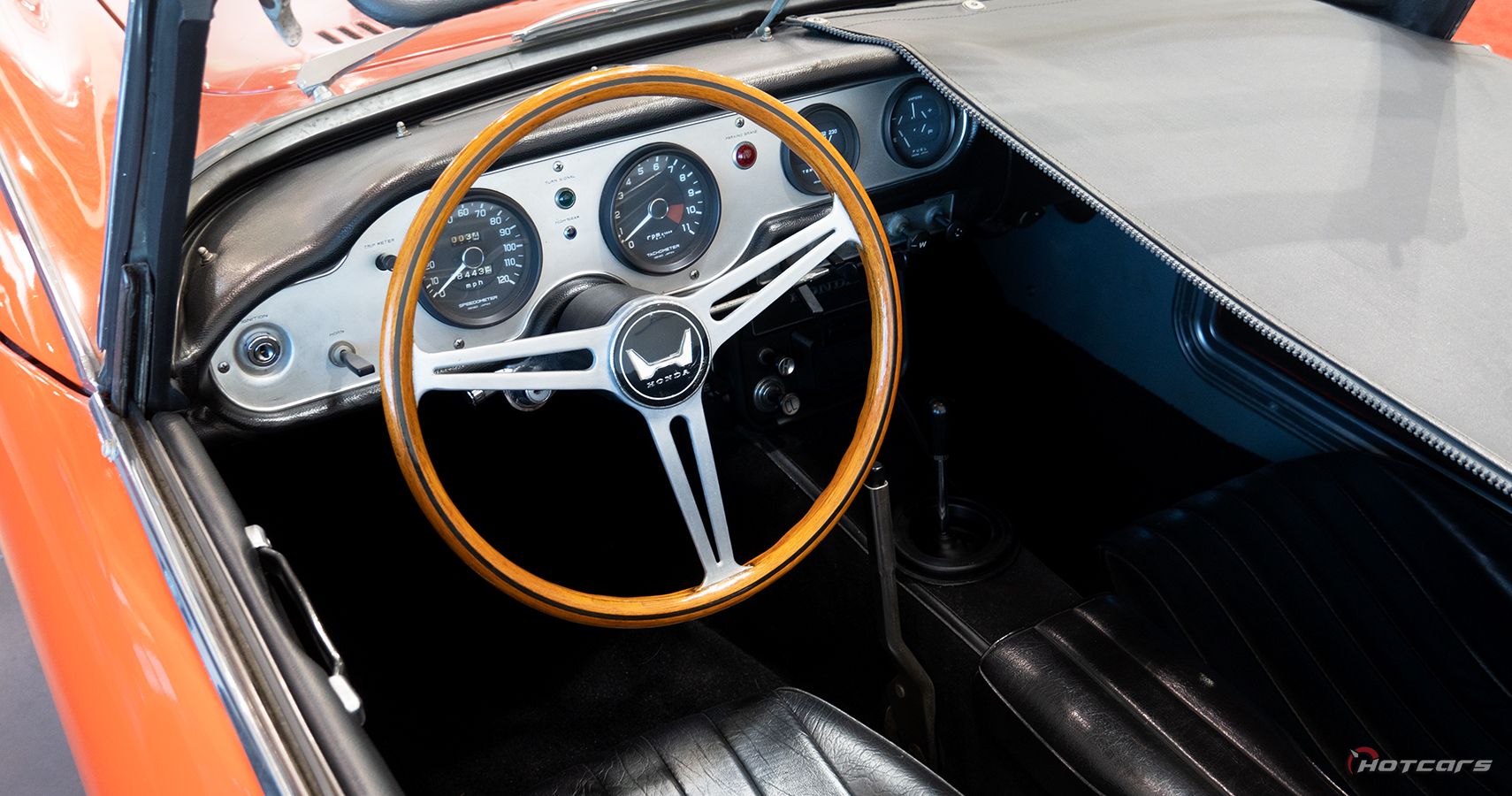 Honda's history begins in Japan as a motorized bicycle manufacturer, after founder Soichiro Honda after working with Toyota and the Japanese military during WWII. By 1964, Honda became the world's largest motorcycle manufacturer and only one year earlier, introduced a first automobile in the form of the tiny T360 pickup truck. By 1965, the S600 sports car joined the lineup with dedicated functional simplicity of design despite advanced, for the time, technology including double overhead cams, four individual side-draft carburetors, and a 9,500-rpm redline. Honda naturally needed to include an S600 in the Torrance museum, even if the model was never originally sold in the United States. The car above hails from Switzerland originally, and the historical significance of the tiny sports car inspires many collectors to import them here now.
RELATED: 10 Of The Greatest Hondas Ever Made
The Acura NSX's Advanced Aluminum Chassis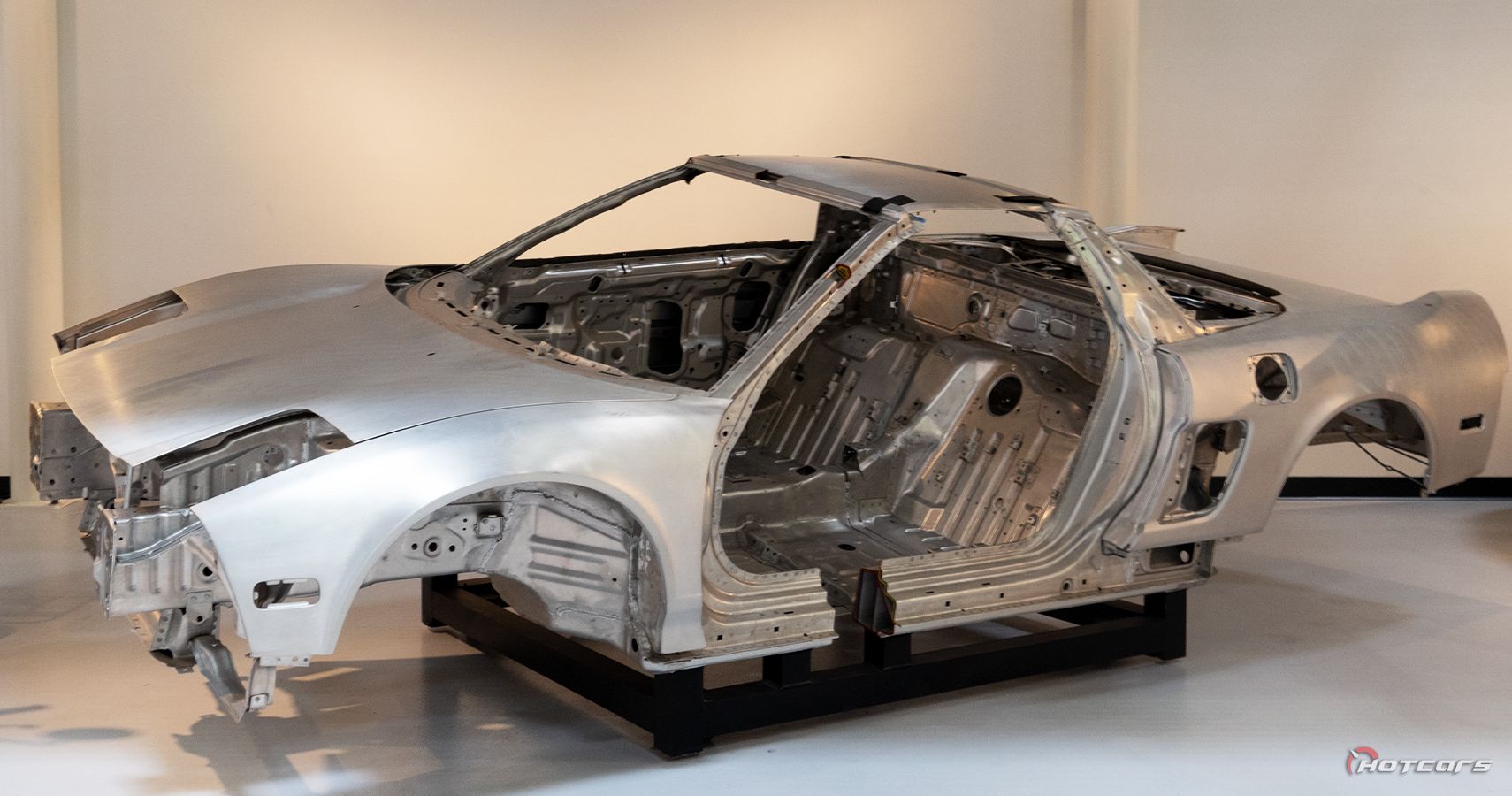 Of course, as soon as we entered the massive white room, my eye immediately rushed over to a display highlighting the advanced technology of the first-gen NSX. Famously an early exercise to prove that Honda could build a mid-engined Ferrari slayer with greater reliability at a fraction of the price, the NSX featured space-age aluminum construction, suspension tuning with help from Ayrton Senna, and a screaming VTEC V6 mounted behind the comfortable cockpit. Talk about a car we all should have bought about five years ago, before values shot through the roof.
RELATED: 10 Things We Love About This New Integra Type R Coupe Concept
Honda Built Motorcycles First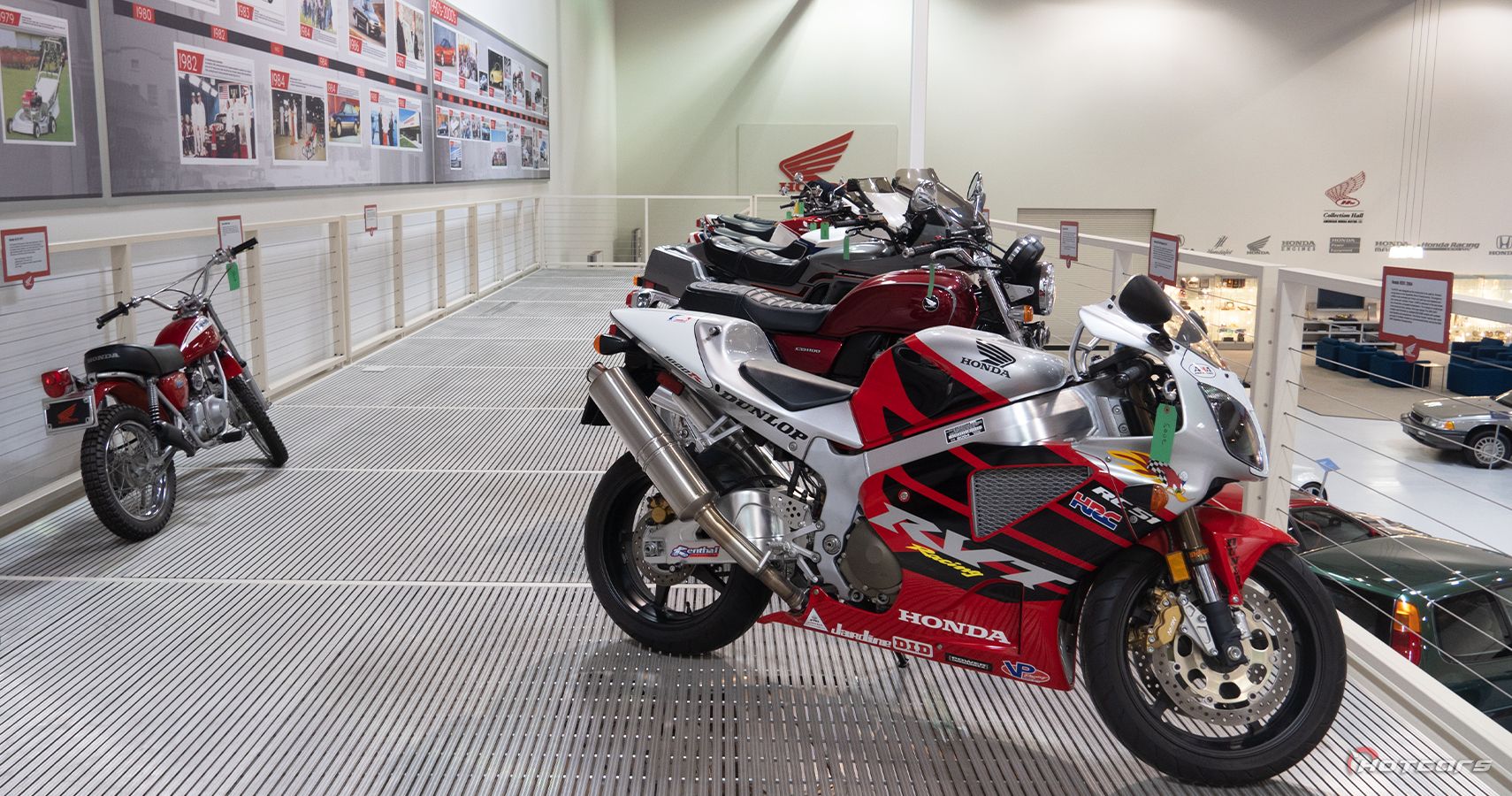 From the NSX display, I climbed up a flight of stairs to get a better view of the whole museum. And in the meantime, found myself checking out a lineup of motorcycles from old to new. I recently earned my motorcycle license and part of me desperately wants to buy an old 1970s CB to modify with some mild cafe-style details. Of course, the Honda museum's absolutely pristine CB350 looks good but then again, at the other end of the row sits an RC51 Nicky Hayden Edition. The timing proved fortuitous, as Iconic Motorbike Auctions had just listed a Nicky Hayden Edition homage build for sale, though I would probably avoid the price bump that both would command due to the MotoGP champion's tragic death following a 2017 bicycle accident in Italy.
RELATED: The 2022 Honda Civic Si Is An Excellent Car For Driving Enthusiasts On A Budget
From Motorcycles To Si-mple Performance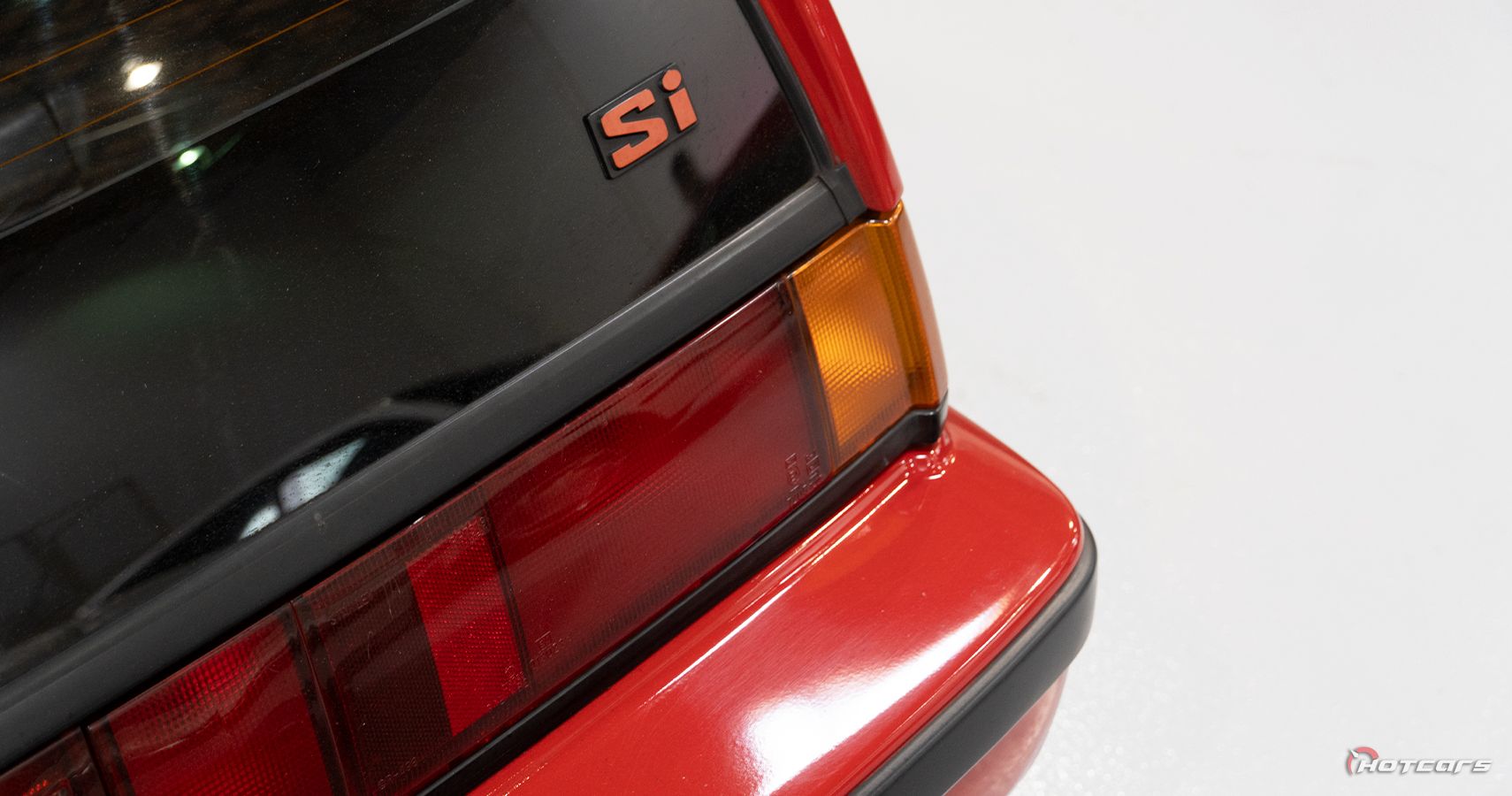 From the S600 to the NSX, with the first "superbike" CB750 and the RC51 on display, Honda's longtime dedication to simple performance in simple vehicles sits on display hidden at the Torrance museum. Maybe as a child who grew up in the 1990s, the clean lines of an early Civic Si just infected my brain with an obsession for JDM cars and their American counterparts. But I still believe that late-90s and early-2000s models from most automakers tend to best combine the eras of computerization and old-fashioned build quality, before the robots began playing nanny and separating drivers from asphalt.
RELATED: Why Most Gearheads Are Wrong About The Acura NSX
Acura Debuts As Honda's Luxury Subsidiary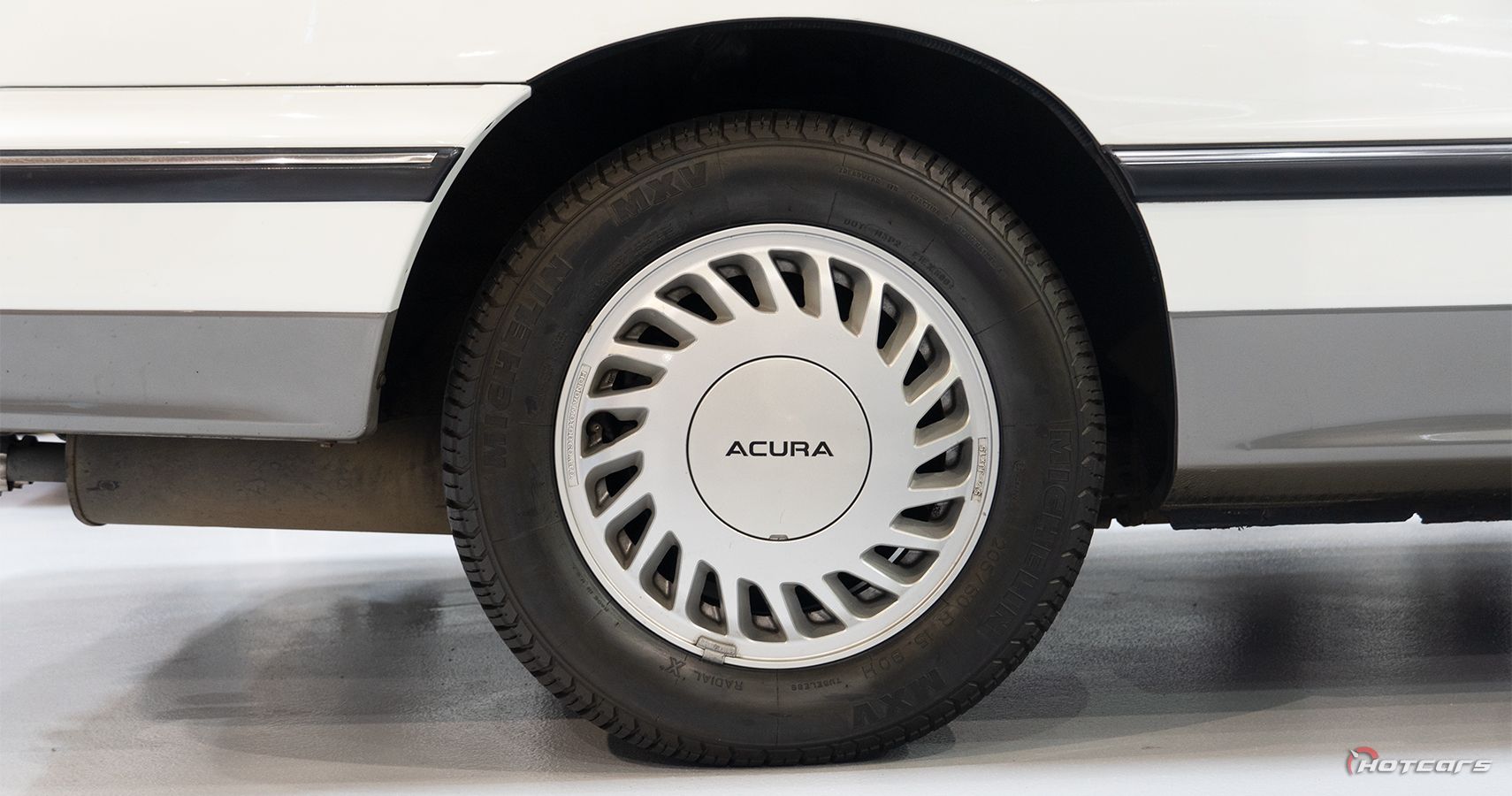 Of course, the Honda museum couldn't be considered complete without many Acuras, especially a first-gen Legend that marked the luxury subsidiary's first foray into the American market. The Legend went on sale on March 27, 1986, and might be most famous today because the rapper Ludacris had his completely restored by Acura. But my mother drove one for much of my childhood, too, and the simple, if slightly more upmarket, upgrade on her previous Honda Civic hatchback still serves as the pinnacle of Acura in my eyes (other than the NSX, of course). Now if only Acura managed to find that original magic once more!
RELATED: 10 Greatest Honda Sports Cars Ever Made
Honda Engines In Motorsport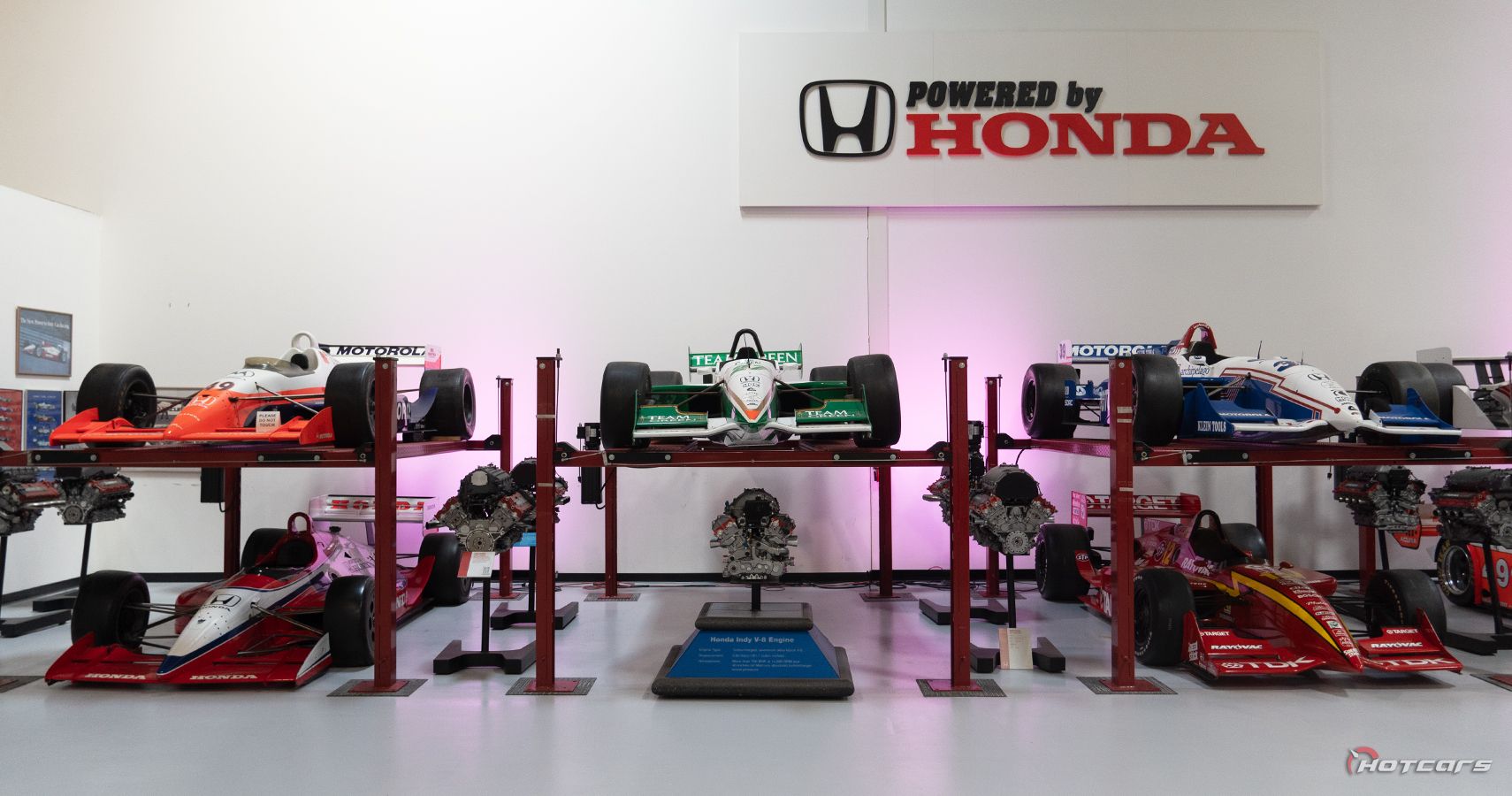 Outside of motorcycles, Honda has for decades also been a big name producing engines in motorsport, ranging from a full-on F1 team between 1964 and 1968, and then producing engines for multiple teams and multiple stints between 1983 and the present. Meanwhile, Honda's Indy V6 in production since 2012, can pump out up to 750 horsepower at 24 PSI of boost and during push-to-pass overtaking can rev up to 12,200 RPM. Not only do many Honda and Honda-powered racecars stack up in the museum, but a row of engines and trophies also requires close attention.
RELATED: 10 Upcoming JDM Cars Every Gearhead Should Drive
What Is The Most Important Car In Honda's History?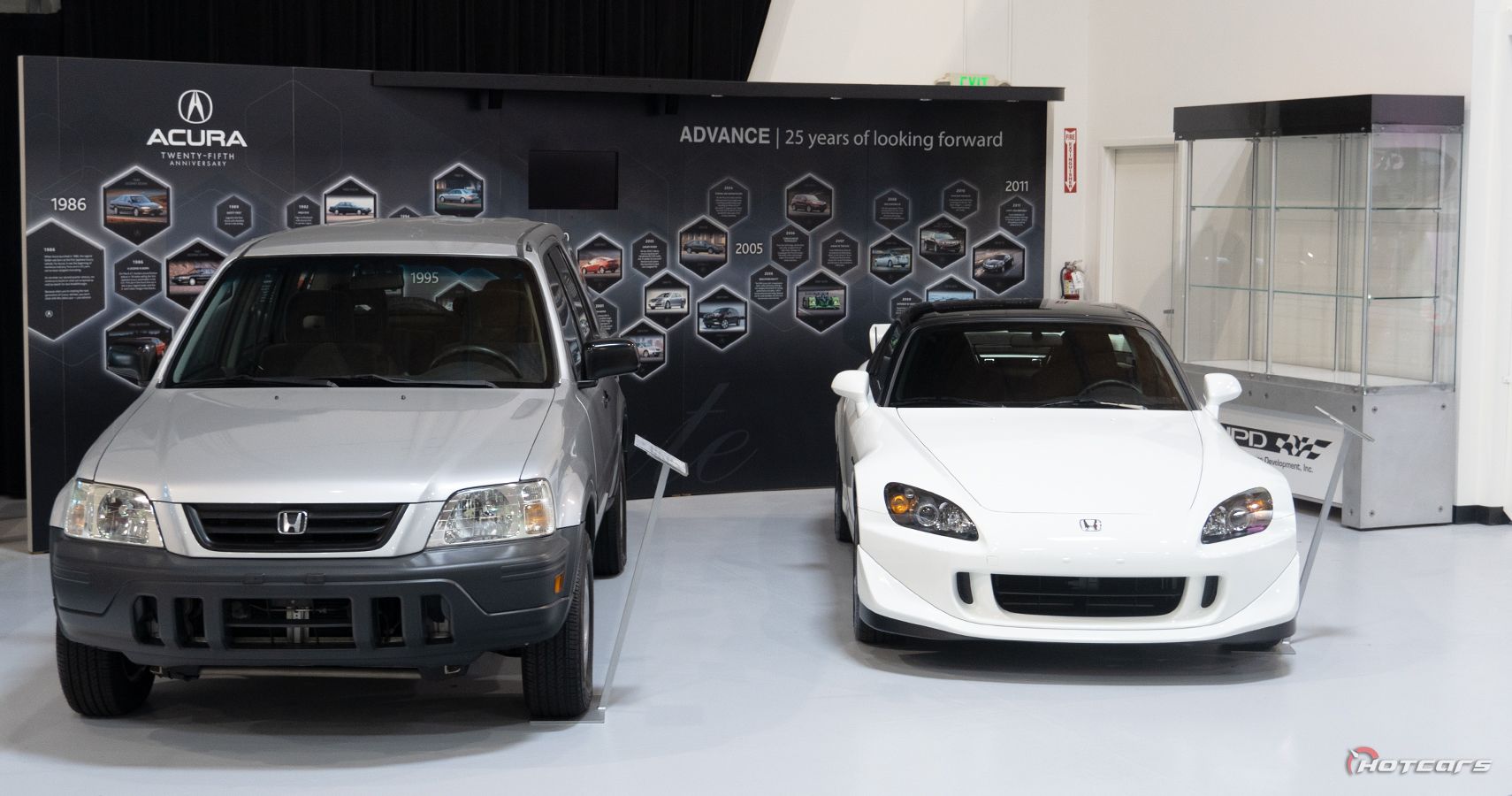 Full-on racecars and sporty street-legal models like the NSX and S2000 above obviously look the most exciting in any museum, but arguably the most important car in Honda's history sits quietly next to that white S2000: the CR-V, an early crossover first built in 1995 on the Civic platform that helped introduce the automotive industry's most popular market segment of the past few decades. Many enthusiasts might hate the CR-V and all the bland unibody SUVs it helped spawn, but the importance from a historical perspective still demands inclusion in any Honda museum.
RELATED: 10 Times JDM Cars Beat American Muscle
Honda Concept Cars And The One Model Missing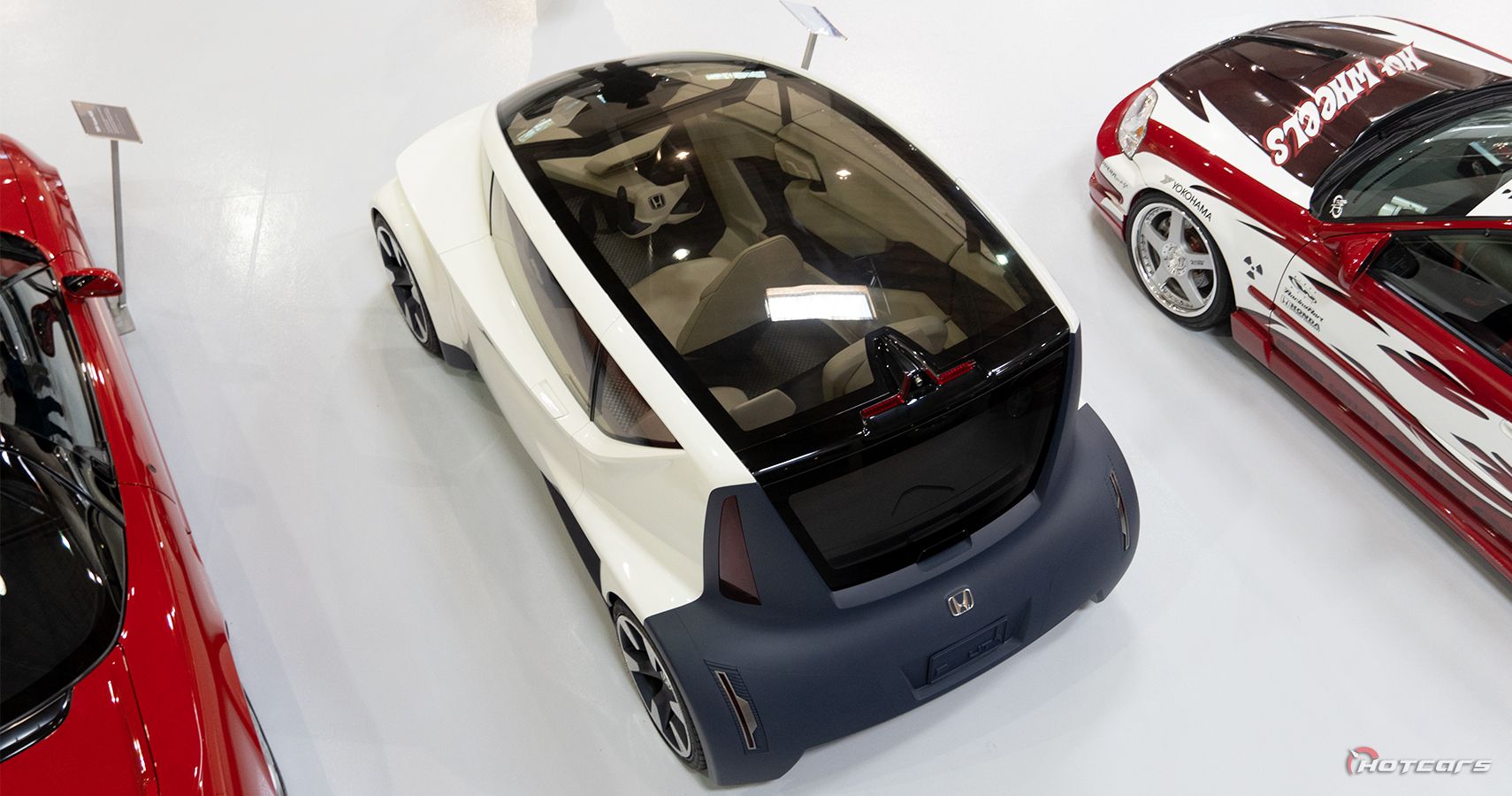 Whether or not Honda full comprehended the CR-V's eventually importance at the time—and who could have, really?—other less influential concept cars also dot the Torrance facility. The peculiar P-NUT concept, in particular, combines a forward-facing design with a three-seat layout and originally aimed to allow for the choice of gas, hybrid, or fully electric powertrains. And yet, as I wandered around, I realized that one very important model in Honda's history was missing: another 1990s favorite of mine, the first-generation Odyssey minivan with its four traditional forward-hinging doors!
The Odyssey quickly evolved into more of a traditional sliding-door minivan, but that didn't stop Honda-obsessed modding to both early and later Oddysseys. Both BoostedBoiz and Bisimoto built absurdly powerful modified Odyssey minivans, perhaps taking the appeal of JDM and Honda culture and doubling down on all-out insanity.
RELATED: 9 Greatest Honda Cars Ever Made (1 That Sucked)
Aftermarket Love And Support For Honda Cars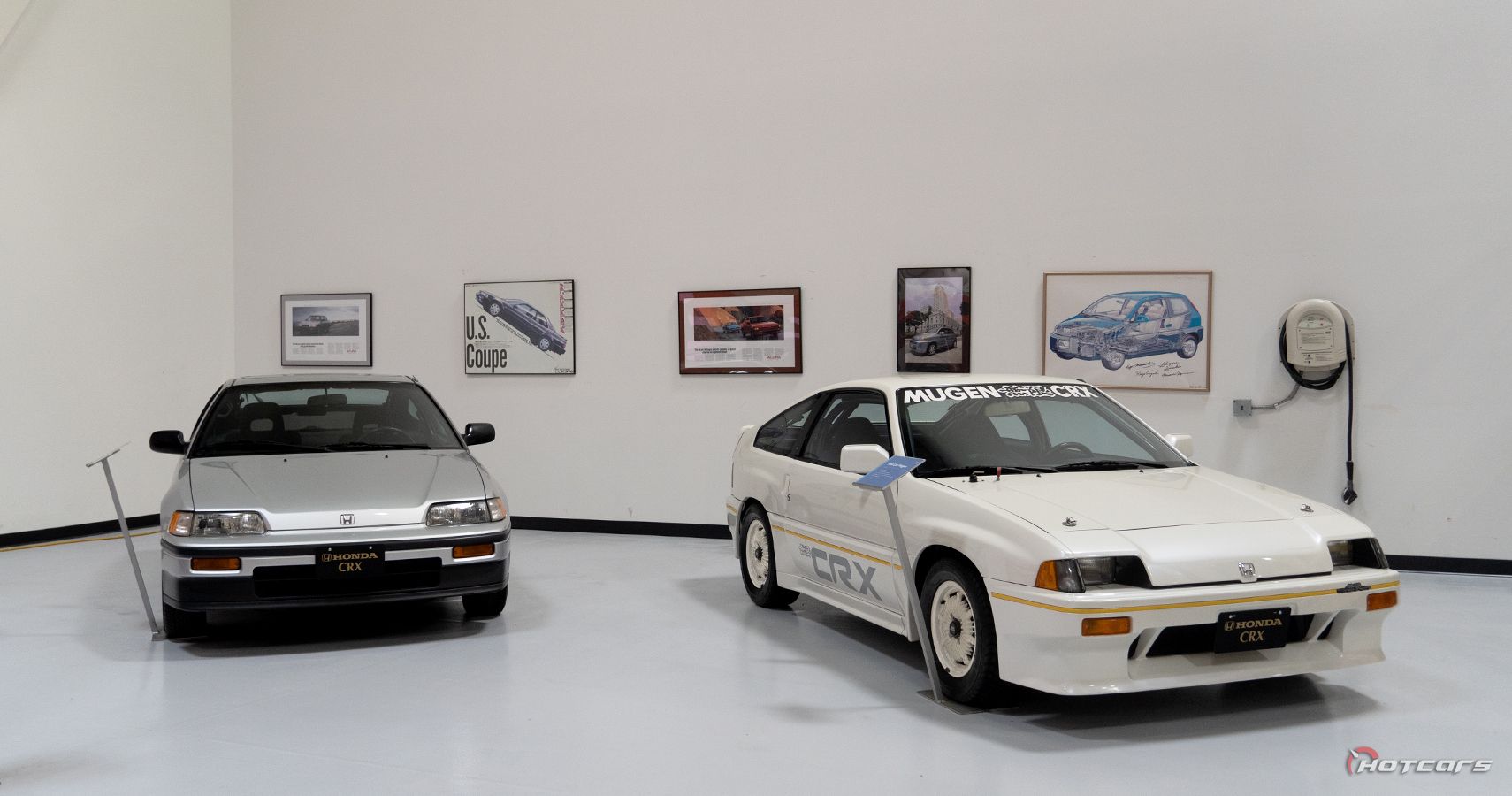 The Mugen-modified 1984 CRX on the right above more perfectly sums up Honda's longtime close relationship with the aftermarket community, having served as a prototype for Mugen's aftermarket parts including camshafts, valves, and springs, plus unique suspension components. White wheels and plenty of decals just look perfect next to a stock CRX for comparison.
A custom CRX back in the 1980s or modified more recently might also bring up some nagging questions for hardcore Honda fans today, though. Where's the fun gone, other than in the Civic Type R (and, to an extent, the questionable Integra). How about a legit competitor to Toyota's stellar-sounding new GR Corolla? Meanwhile, Honda undoubtedly sits a notch behind the hybrid and pickup truck competition from Toyota. And the cute Honda E electric car looks unlikely to ever carry on the company's incredible—and incredibly popular—history of simple design and bulletproof performance here in the United States (at least, so far).
For now, Honda aficionados hoping to get a closer look at the museum in Torrance will have to cross their fingers that a potential move to a more publicly accessible facility might actually happen, after Covid-19 put such plans on hold. But at the very least, the fact that Honda keeps these vehicles in such good shape, despite some having racked up into six figures on the odometer, should be cause for hope about the future for such an iconic and pioneering automotive manufacturer.
Sources: yelp.com, facebook.com, avants.com, iconicmotorbikeauctions.com, and autosport.com.