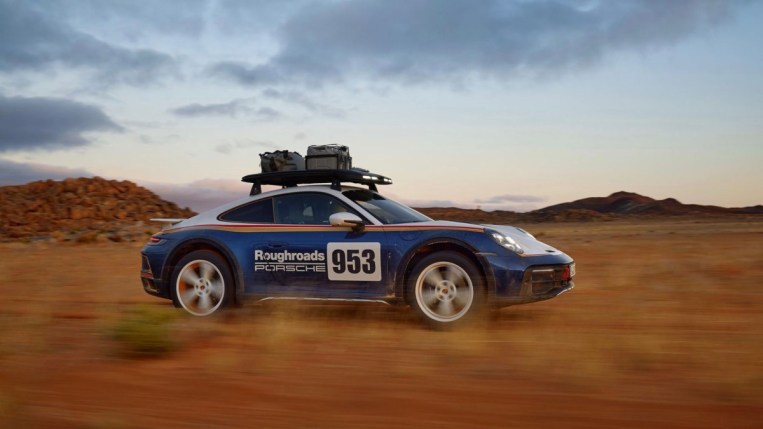 The 2023 Porsche 911 Dakar starts at $222,000, plus a $1,495 delivery fee
Porsche will build just 2,500 worldwide
You're not imagining things — that's a 911 with SUV-like ground clearance
Porsche has built itself a monster. If you have a quarter of a million dollars to spare and can be one of the first 2,500 in line, you can have your own monster.
Porsche today unveiled its own safari 911 – a high-powered sports coupe with a lifted suspension, all-terrain tires, and a roof rack with an optional roof tent.
We'll pause so you can read it again.
A Luxury Sports Coupe With Safari DNA
The 2023 Porsche 911 Dakar is unlike anything else for sale today. This car scares us. And we like it. Now that we have the official numbers, it doesn't seem any less supernatural. But we want one.
It's the classic Porsche 911 – one of the fastest, most agile sports coupes ever built – mated with an off-road trophy truck. It gets from 0-60 mph in 3.2 seconds on pavement, Porsche says. But it hates pavement.
This thing is built for sand and mud.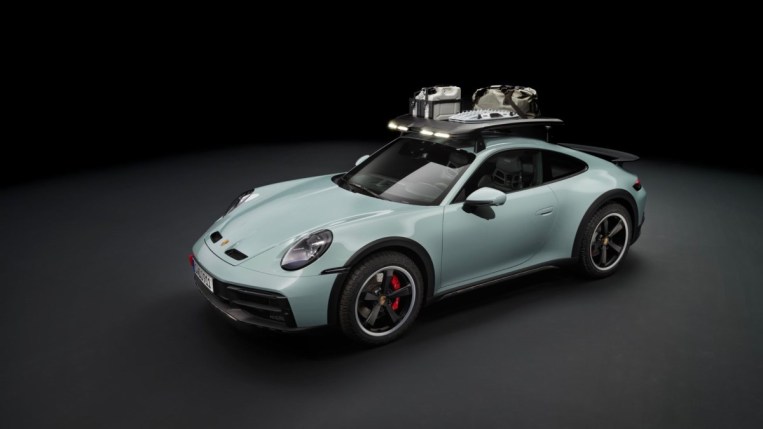 473 Horsepower, Adjustable-Height Suspension
The 911 Dakar uses the 473-horsepower 3.0-liter twin-turbo flat-6 from the 911 GTS. It sends power through an 8-speed PDK automatic transmission to spin all four wheels.
It sits almost 2 inches (50 mm) higher than the standard 911 Carrera. A hydraulic height-adjustable suspension, standard equipment, can raise it another 30 mm. This, Porsche says, is "a level of ride height and ramp-over angles similar to conventional SUVs."
Most sports cars with height-adjustable suspensions automatically drop to their lowest setting at speed, but Porsche says you can take the Dakar up to "approximately 105 mph" at its highest setting.
If your plans require you clear tall obstacles at 106, we'd like an explanation.
Those bulging fenders aren't for show – the track is wider, too. It rides on Pirelli Scorpion Plus all-terrain tires wrapped around 20-inch wheels in the rear and 19-inch wheels up front. Porsche will sell you road tires if you misunderstand their point.
A pair of Dakar-specific driving modes help it conquer different terrain. Rallye mode is for uneven surfaces. Off-road mode is for rough-but-stable terrain. Rear-axle steering (modified for the big tires) and the Porsche Dynamic Chassis Control system enhance handling.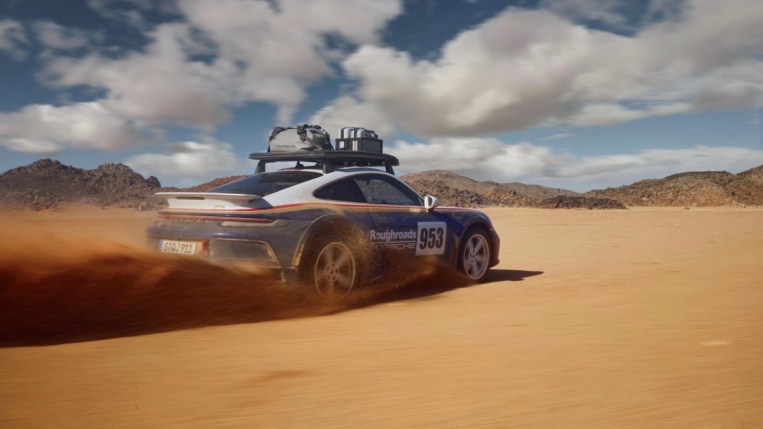 Classic Fixed Spoiler, Available Historic Race Livery
A fixed rear spoiler gives it a classic profile. Red front and rear tow hooks are made of forged aluminum. And the many vents integral to a 911's bodywork are all covered in stainless steel mesh to keep the engine from sucking in debris on your adventures.
Inside, the Dakar uses Porsche's signature Race-Tex leather substitute stitched in an exclusive shade of green. On the front seats. There are no rear seats – what, you were gonna bring the kids to jump off the dunes?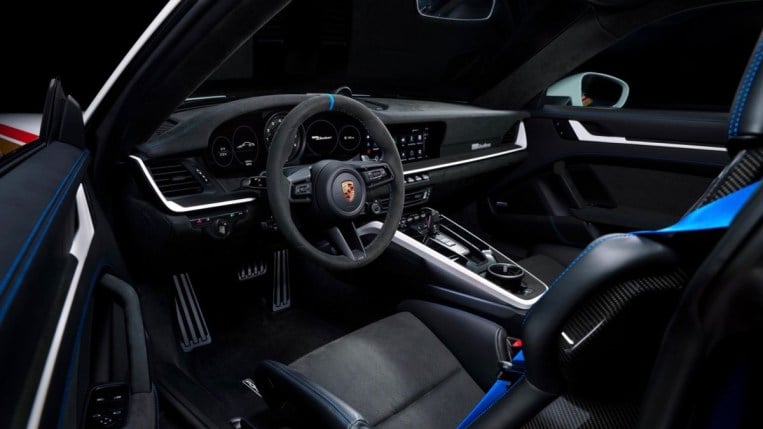 The 911 Dakar starts at $222,000, plus $1,450 to deliver. Porsche will build just 2,500 worldwide. An optional Rallye Design Package paints it in the livery of the 911 that won the 1984 Paris-Dakar Rally with René Metge and Dominique Lemoyne behind the wheel. But race history fans will note that all the tobacco company sponsor logos have been replaced with a "Roughroads" label.