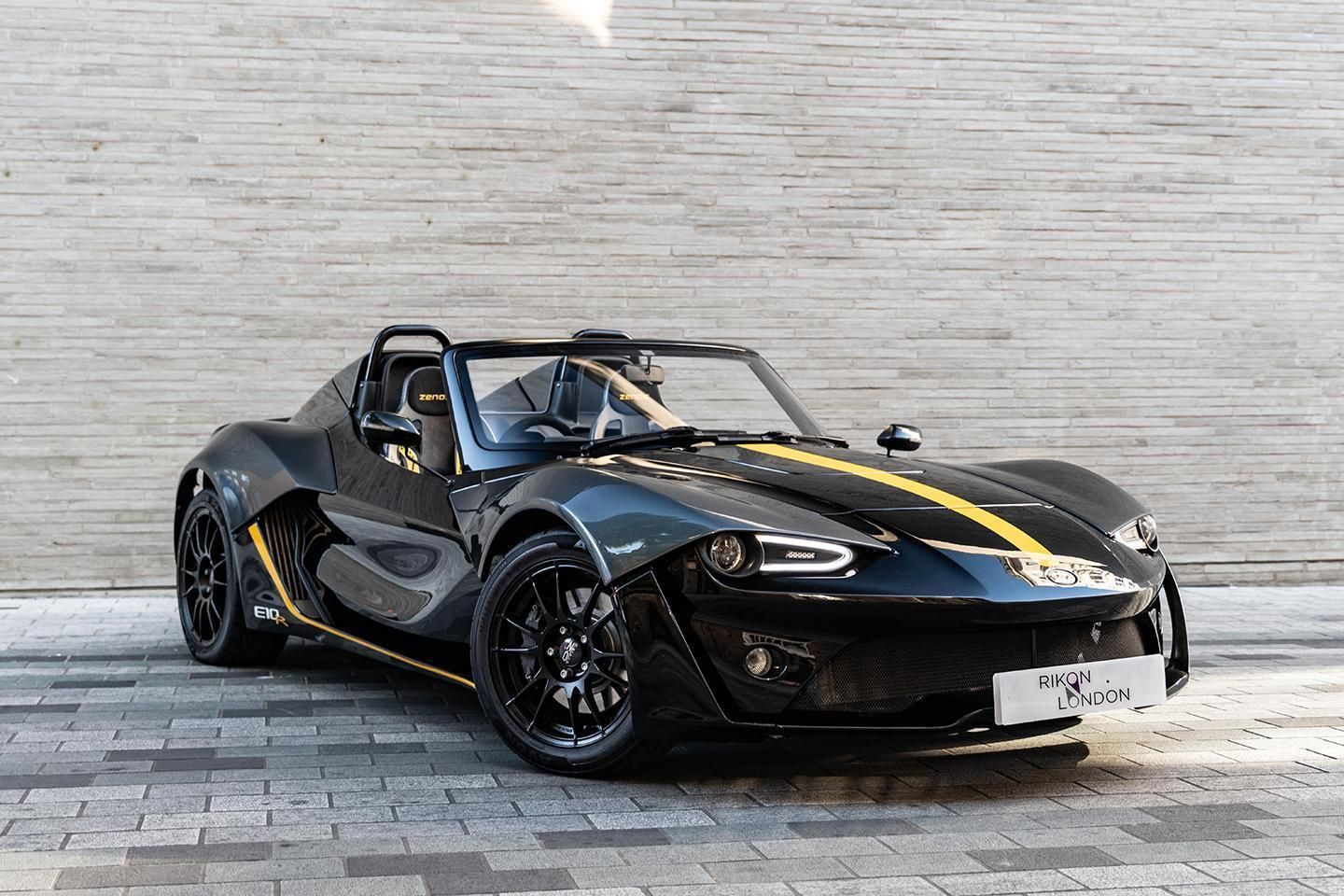 The total number of cars on the world's roads continues to increase at the rate of botulism bacteria in a one-star kebab shop. But the number of actual car companies has been trending downwards for most of the last century, certainly when you strip no-hope Chinese EV startups out of the mix. The decline is especially obvious when it comes to the long list of fallen British sportscar makers, one that stretches alphabetically from Armstrong Siddeley to the one that brings us here this week – Zenos.
The welts are still unhealed on this one, of course. Because while the UK seems to boast a never-ending supply of optimists determined to start producing their own cars, often from scaffolding poles and fibreglass that has clearly been moulded in the garden, Zenos always seemed different. This was a company that seemed professional, clever and viable. Right up until the moment its fortunes changed and it took a sudden header into the scenery.
In proof of the reason car journalists are rarely poached by investment banks, I always thought the idea behind Zenos was a good one. Hell, I still do now – even knowing that it failed.
In late 2012, I was invited to come to the new company's modest HQ on an industrial estate practically overlooking the Lotus factory at Hethel. At the time, Norfolk's more famous carmaker was still under the control of Dany Bahar, who – in between stroking a white cat and cackling – was planning to move the brand away from the simple, affordable sports cars that made it famous. Zenos's plan was to step into the breach.
This wasn't a utopian start-up, but one grounded in comprehensive knowledge of this bit of the market. Company founders Ansar Ali and Mark Edwards had worked at both Lotus and Caterham, and reckoned there was a viable gap for a minimalist, no-nonsense, mid-engined sports car. The Zenos featured some very clever engineering, especially in its combination of an extruded aluminium backbone and a tub made from recycled carbon offcuts bonded around a plastic core. This wasn't as strong as Grade A carbon weave but was nearly as light and far cheaper. With double wishbones at each corner, pushrod-operated front springs and dampers, and cheap, reliable Ford four-cylinder power, the E10 looked like a winner. Even the basic 200hp version had enough grunt when working against just 700kg of mass.
Many boxes were ticked. But, with the brutal honesty of hindsight, one was missed – arguably the most important in this emotion-driven bit of the market. At risk of a fanbase flaming, the Zenos wasn't much of a looker. Its pared-back design and colour-contrasting composite body panels had been chosen to minimise mass and make repairs as easy as possible. But while the form matched the function, the combination of that skeletal front end and the step-over sides always gave it a slightly gawky, unfinished look.
The driving experience was thoroughly special, though. I never got to experience the naturally aspirated base model – it seems unlikely the company sold many. But I remember the next-up E10S using the turbocharged 250hp Ecoboost 2.0-litre from the contemporary Focus ST to deliver a perfect balance of performance and handling. It was quick and grippy enough to be interesting on a track, but supple and dynamically secure in the real world, even with the absence of traction control or ABS. I also remember it being surprisingly comfortable for something lacking a roof or heater, with the combination of a low seating position and the optional-but-removeable windscreen keeping buffeting down at motorway speeds. It was possible to swap the full screen for a minimal aero-flip for track use, too.
Much of the inspiration for the creation of the Zenos had been Lotus's decision to move upmarket, so it was understandable that the new company was determined to make much of the E10's attractively low entry pricing. As launched, the E10S cost an impressively svelte £29,995, but getting to that number had obviously been a squeeze.
Early Zenos buyers discovered a fair amount of what most car makers would regard as must-haves relegated to the options list, most noticeably the full-sized windscreen – which was another £1,700. Add on the extra-cost six-speed gearbox, track-spec brakes, limited slip differential, heated seats, harnesses and removeable steering wheel, and the price got closer to £40,000. Which wasn't outrageous, but was still enough to get the E10 overlapping with established circuit specials being sold by companies with far longer track records.
The punchier 2.3-litre 350hp Zenos R that arrived right at the end of production moved performance to another league, but also cost £39,995 in basic form. Add the tech and weather packs, a funkier colour, the optional body stripes and innovative option of a warranty that allowed regular track use, and it was possible to get that to over £50,000.
Despite delivering just over 100 cars to customers and what was pretty much universal praise, Zenos hit a financial landmine in early 2017 after what seems to have been a sizable, cancelled order saw it run out of cash. It fell into administration and, although AC Cars acquired the company's name and some assets later in 2017, nothing seems to have happened since. Strangely, the Zenos website is still live – in part, at least – so somebody is presumably paying the bills on that one.
The original team behind Zenos rapidly moved onto other things. Ansar Ali is in charge of McLaren's Special Vehicle Operations division. Mark Edwards went to Multimatic and has recently returned to Lotus in a project management role. And Matt Windle, who joined Zenos slightly later as operations director, has gone even further to become Lotus's CEO. In a neat piece of karmic symmetry, his office overlooks the modest industrial unit that once contained Zenos.
But the cars themselves have been left in the wilderness. They aren't plentiful enough to have created an ecosystem of specialists to cater for their needs, and although the Ford-borrowed mechanical bits are reassuringly generic and fixable, you're not going to find any of the bespoke parts at a local motor factor. Or anywhere else. Spending a significant amount of money on a car from a company that no longer exists is always going to be brave, however you look at it.
Our Pill seems to be one of the very last E10Rs, possibly even the final one. It was first registered in February 2018, more than a year after the company went under, and only had its first MOT this year. An inspection of the official record behind the disguised plates confirms that this was passed without any reservations, and also brings good news that the actual mileage at the time was only 3,852 – the 39K miles referenced in the advert being a slip of the keyboard.
For £31,995, it is substantially cheaper than it would have been if sold when Zenos still existed – this in a part of the market where depreciation is often very gentle – and in the pictures it looks fresh and ready to go out and dominate a high-end trackday. Its next owner just needs to be very careful not to bend it.