The Story Of Vintage Electric Bikes And Its Visually-Stunning Masterpieces

With soaring gas prices and a growing concern for the environment, demand for e-Bikes, both in the U.S. and around the world has seen a steady increase over the past decade. More recently, with the Covid19 pandemic, where public transportation really wasn't an option for many, especially if you live in an urban area, an e-Bike fit the bill perfectly. According to a study, the current global e-bike market has a valuation of $19.04 Billion, with that number expected to climb to an estimated $52 Billion by 2030. One player that jumped on this trend early on, was Vintage Electric Bikes.
As the name implies, the California-based company puts a lot of emphasis on capturing that classic aesthetic and combines it with modern electronics and the convenience of an E-Bike. To find out more about how Vintage Electric came into being, its current product lineup, and where the company is headed next, I recently got the chance to speak with the company's founder, Andrew Davidge.
RELATED: Five Electric Bikes You Can Buy For The Price Of An Apple iPhone 14 Pro Max
The Birth Of Vintage Electric
I began by asking Andrew about what made him choose the e-Bike niche. The idea for a company that sells e-Bikes actually happened by chance. Growing up, Andrew used to race bikes and go-carts. While at the track, he wanted a more efficient means to get around.
For me, it was just simplicity. I've tinkered around with a lot of gas-powered vehicles. In 2012 or 2014, the e-bike trend or the EV trend really wasn't there. But I was lucky enough to source a drive train and put it onto that bike, and that totally changed my mind about what an electric vehicle can be. – Andrew Davidge, Founder at Vintage Electric
So he decided to bolt an electric motor to his bike and the rest was history. But why electric? While he still loves the sound and smell of an internal combustion engine, the simplicity of an electric motor was the big draw for Andrew. He wanted something that you could plug in, charge it up the battery and ride. This was well before the trend for electrification even got off the ground.
RELATED: Ferrari Designer Pininfarina Has Whipped Up A Beautiful Electric Bike
The Big Break
As somebody who wanted to pursue transportation design at the Art Centre College in Pasadena, Andrew already had a passion for exterior design and styling. Right from the onset, that was exactly what set his e-bike apart. Little did Andrew know that he had created something that would garner so much interest.
He would often get stopped around by people on the grid asking where they could get such a bike. While the action at the track was enough to cement his faith in bringing such a unique product to market, it wasn't until he showcased the very first prototype of his creation at Pebble Beach Concours back in 2013, that things really took off. They managed to sell about 40 bikes that week.
Starting out, when he was still in high school, Andrew had access to a great metal and fabrication shop. It was there that he was able to rope in many of his friends to join him, many of whom are still on the Vintage Electric team to this day.
RELATED: The New Magicycle Deer E-bike Wants To Be An SUV
A Unique Take On E-Bikes

A shot of a Vintage Electric Shelby Cobra E-Bike
As I've already mentioned, what really sets Vintage Electric apart from other e-bikes on the market is the stunning design and vintage aesthetic. Their current lineup includes the pedal-assist cafe and rally bikes, while throttle-assist bikes consist of the Roadster, Scrambler, Shelby, and tracker classic.
Depending on the model you choose, frames are either made of Chromly steel or Hydroformed aluminum, available in a number of sizes. Drive options range from 750 to 4,000-watt hub motors. Throttle bikes can also be configured with a special race mode ($149) that will offer three times the torque and let you hit a topspeed of 40 mph, which makes it a Class 3 e-bike.
For me, it was just simplicity. I've tinkered around with a lot of gas-powered vehicles. In 2012 or 2014, the e-bike trend or the EV trend really wasn't there. But I was lucky enough to source a drive train and put it onto that bike, and that totally changed my mind about what an electric vehicle can be.
The timeless styling does carry a premium price though, with the most accessible model starting north of $4,000. But for the money, you do get something that is a standout product. What you're also paying for is the exceptional attention to detail and high-quality craftsmanship, which is not something that many e-bikes out there, can brag about.
The bikes from Vintage Electric don't feel mass-produced because customization is a big part of what they do and you can choose from a host of accessories. Be it acks, helmets, mirrors, suspension, or battery upgrades, there is a lot that you can do to elevate the overall experience.
They also do bespoke builds and custom designs if that's your thing. They're also a fan of collaborations and have previously also worked with big names like Shelby American to create some visually stunning masterpieces.
RELATED: The Moto Parilla Tricolore Electric Bike Boasts More Carbon Fiber Than Your Favorite SBK
The Vintage Electric Experience
Today, Vintage Electric goes beyond American shores, selling to customers in Canada, the U.K., and even as far as Indonesia. In the U.S., the company has worked hard to sort out the logistics with a direct-to-customer sales model. So if you buy one of their products online, you get a fully assembled bike delivered to your doorstep, straight from their facility in Santa Clara, California.
As for service, you have several locations across the country that will facilitate the sale of spares. While there's not much that can go wrong with an electric drivetrain, the battery's ability to hold charge diminishes over time. Well, the battery swap is a simple process as Andrew explains below.
The battery is just eight volts. So all that customer has to do is unbolt that battery casing and bolt a brand new one on plug it into the same connector and they're good for another five to six years
But beyond the design, the bikes from Vintage are really well thought out and should last you a long time. For example, Andrew gave me an example of how they were able to upgrade the drivetrain with their latest 72-volt unit, for over 150 bikes that they originally shipped back in 2013 and 2014.
RELATED: Swedish Startup CAKE Takes An All New Direction With Its Latest Electric Bike
Is An All-Electric Motorcycle On The The Horizon?
If we go back in time, the motorcycle was essentially a bicycle with a motor. I asked Andrew if Vintage would ever take that route, this time with an electric drivetrain. The short answer was no.
Andrew wants to continue to stick to their wheelhouse of building these highly sought-after e-bikes. He loves the idea of how such a vehicle blurs the lines between an electric bicycle and a motorcycle.
There are lots of interesting electric motorcycles out there and I have gas-powered motorcycles too, but it's really that blend of bicycles. You can get a bit of exercise when you want it. You push the throttle down and away you go and all of a sudden, it transforms into a motorcycle. That's really what I find interesting about these kinds of vehicles.
RELATED: The GMC Hummer Electric Bike Is The Perfect All-Wheel Drive Partner For Your Hummer SUV
What's Next For Vintage Electric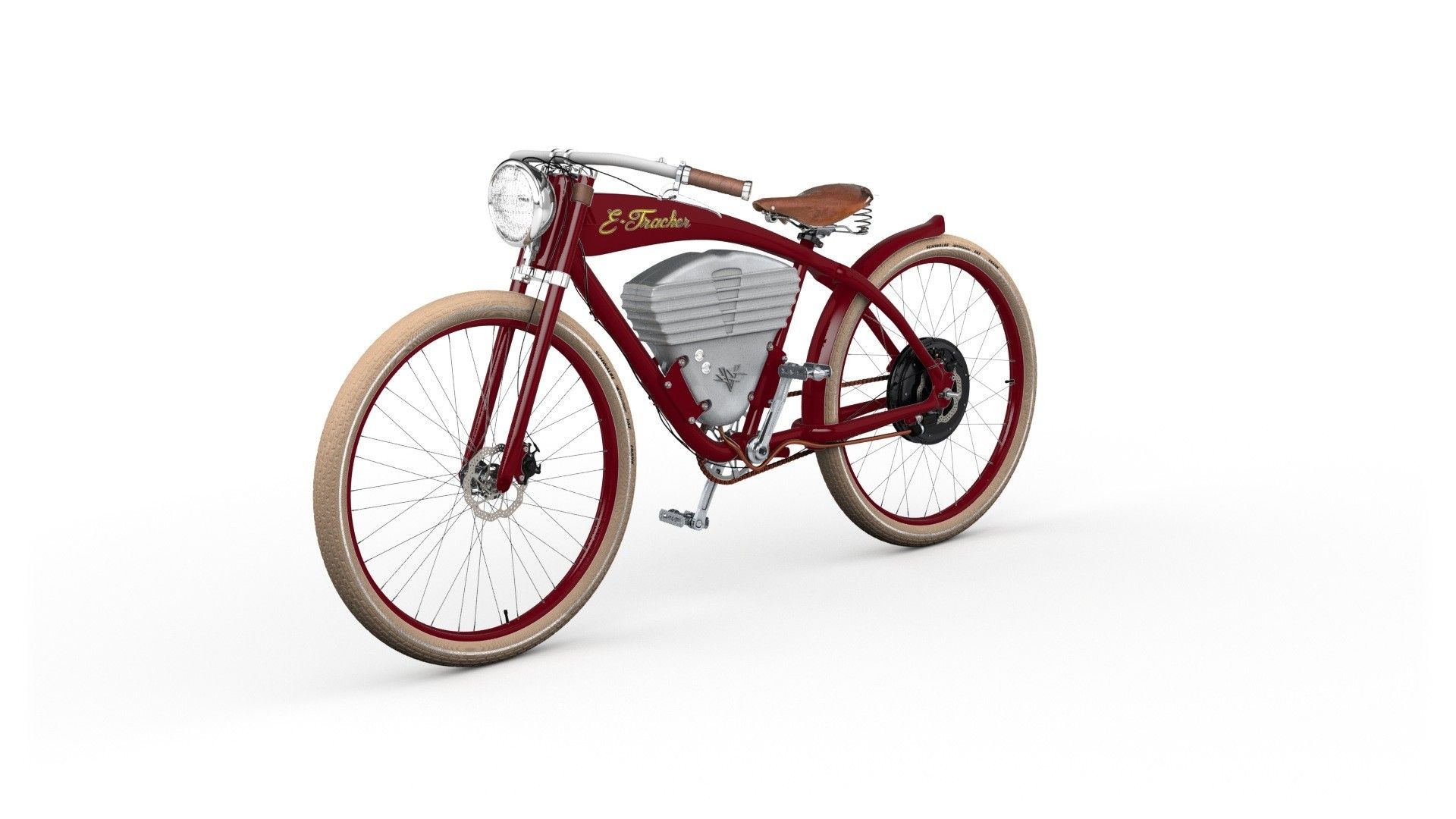 Vintage Electric E-Tracker Electric Bicycle
As a brand that has enjoyed tremendous growth, I was curious to know more about how Vintage wanted to improve upon its product lineup. Was it more power, more range, or was it a bit of both? According to Andrew, Vintage Electric is already an established name for offering up excellent performance.
But the brand's primary focus is on improving the drivetrain's torque, acceleration, and hill-climbing ability. As for range, the brand has made great strides on that front, with some models offering up between 40 to 75 miles of range. This is a far cry from early models that only offered just eight miles on a single charge.
It's all about keeping that timeless aesthetic but continuing to push the envelope on performance. It's about refining the product that we already have. We have really great manufacturing capabilities as well as engineering and design capabilities. We always use an internal slogan of what Porsche has done with the 911
The battery packs on the pedal lines are small enough that you can take it off the bike and charge it up at home or at work. The throttle-line bikes have a bulkier battery pack, but Andrew tells me that most of the people who choose one of their throttle-line bikes generally have access to a garage to charge it up. You're looking at just over two hours for a full charge.
Eventually, what Vintage Electric want to do is to get one of their bikes into the hands of more customers and for this, they're really taking the route that Porsche took with its iconic 911 which is to continue to refine and perfect the product.