The New BMW R 18 Transcontinental Is A Luxurious Grand American Tourer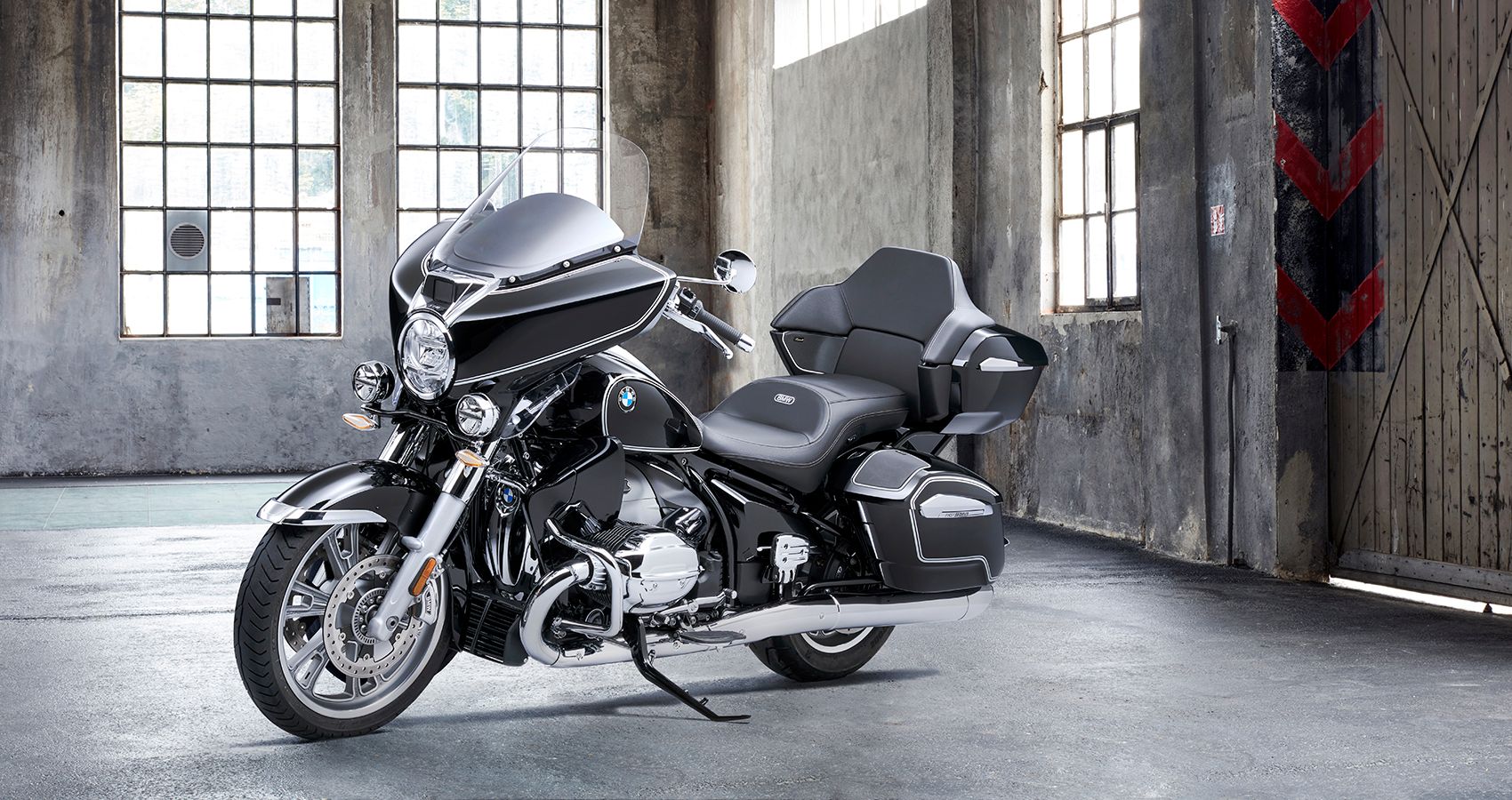 What is it that constitutes a grand American touring motorcycle? Simply being a cruiser motorcycle just won't cut it. In fact, BMW already has a version of the K1600 that's even called the Grand America. But that just won't cut it. It's the essence of being wild and free and simply soaking in the landscape until the horizon comes knocking. There's a certain kind of highway utopia that only the rumble of a big-bore twin-cylinder can assuage. It's like a massage for the soul. Think Peter Fonda in Easy Rider and then deny that wanting to emulate the outlaw life of Wyatt wasn't on your childhood bucket list. Of course, Harley's already immortalized that whole idea, but BMW's just about made that whole deal so much sweeter with its new R 18 Transcontinental.
The Top Box On The Transcontinental Has A Massive 47-Liter Capacity
We're already familiar with the naked R 18. Add a windshield and panniers and you've got the R 18 Classic. Then comes the new R 18 B, which is an urban-friendly weekend touring bagger. But the new flagship in this line-up is the 2022 BMW R 18 Transcontinental. It's got all the creature comforts you could imagine and a top box for those cross-country excursions. So, let's delve into what makes the new Transcontinental so ready to embrace them coast-to-coast rides.
Related: A Look Back At the 40 Year History Of The BMW GS Motorcycle
Now when it comes to motorcycles, BMW has built a rather stellar reputation for its touring models over the last half-century or so. But the machines that cemented this ideology over the last 20 odd years have largely been four-cylinder or even six-cylinder machines. But that's all about to change as the Munich bike builder goes old-school with the new twin-cylinder R 18 Transcontinental. Paradoxical as that may sound, there are some recipes that have just the right set of ingredients, but they can get better. Like with the Transcontinental, it's the same base ingredients, but the way it's been cooked and served has been vastly improved.
The 1800cc Boxer Twin Is Just Oozing With Torque
Now the Transcontinental is rather well-endowed with almost stump-yanking torque. The horizontally-opposed 1802cc big-twin motor cranks out a hefty 116 ft-lbs of torque at 3,000rpm, with the power peaking at 91 horses at 4,750rpm. You won't need too many revs to get things moving. Power passes through a six-speed transmission with an exposed shaft turning the 16-inch rear wheel. The clutch is a dry single-disc variety. But BMW did lend a nod to the classic American motorcycle culture with its three ride modes—audaciously named Rock, Roll, and Rain. These modes modify the power delivery and rider aid electronic functions.
Move Over Enterprise, This Is What A Spaceship Cockpit Should Look Like
As we spoke of earlier, the Transcontinental's creature comforts are vastly impressive. With a splendid leather trim for the seats and a 10.25-inch TFT display. In addition, the infotainment and navigation system is matched to an audio package from Marshall Amplification that has three options: the standard two-speaker setup, a four-speaker configuration, or six speakers with subs and amplifiers. Because why try to emulate characters from the Easy Rider movie when you can just play the actual soundtracks and get fully immersed in it.
Cavernous 27-Liter Bags Sit On Either Side
Once you get onboard this absolute land boat, you're simply enveloped in luxury on the Transcontinental. You've got a combined 102-liters of storage from the two side cases and top box. If that isn't enough luggage space to cross a continent you could probably just strap your house on the back. But for future reference, just don't. The gas tank has gone from 4.2 gallons on the base R18 to a massive 6.3 gallons on the Transcontinental. Too bad there aren't any zombie apocalypses around the corner.
Related: A Detailed Look At The New BMW R18 Custom Bike
Traditional traction control prevents wheelspin under acceleration. But when slowing down, the rear wheel is kept turning in two ways—a slipper clutch and an electronic aid that prevents the rear wheel from skidding due to engine braking. And the braking is fully linked. So, if you use either the foot or hand brake, all three calipers start working on the 300mm discs. ABS steps in as needed. And there's going to be adaptive cruise control coming as an optional extra.
Just from appearances, this is a big bike, no doubt. But the Transcontinental's weight is something else. BMW is claiming an absolutely planetary 941-lbs ready to ride. That's 181 pounds more than the already hefty R18. So, the last thing you'd want to do is drop it. You'd probably need an industrial crane to get it upright again. If you aren't already drawn into its orbit, that is.
A Pillion Sofa If There Ever Was One
Oh, and aside from that sofa-like pillion backrest, the rear suspension automatically adjusts ride height via hydraulically regulated spring-preload for weight and road conditions. No excuses for projecting the pillion into outer space here. Inside the shock, though, the damping changes through the stroke of the travel.
The MSRP for the standard 2022 BMW R 18 Transcontinental is $24,999. But it's hard to imagine anyone getting out the door for anything near that, of course. The First Edition Package runs $2150, while the Premium Package extracts $3225 from your wallet—and that just gets you started. The budget-sensitive rider will take a close look at the $950 Select Package. But if you're willing to splurge on something so luxurious, would you really be cutting any corners?
Here's What Makes The BMW R nineT A Slick Combination Of Old And New
The Rnine T offers a refined ride, modern design, and sleek looks.
Read Next
About The Author