As Hendrick Motorsports gears up to prepare its overhauled Cup car for the upcoming and iconic European endurance race in France, a NASCAR insider, Bozi Tatarevic reveals some of the key differences between the Cup cars and their new modified variants.

ADVERTISEMENT
Article continues below this ad
Tatarevic tweeted, "Garage 56 Takeaways from digging through the Hendrick gallery and RaceHub video: -Big aero changes -All 3 pieces of chassis modified (rear significantly) -Fuel cell moved to GT3/Supercars style location -Fuel cell capacity increased to 30+ gallons -Oil tank relocated -Weight drop."
ADVERTISEMENT
Article continues below this ad
The picture Tatarevic tweeted showcased a key difference. The variation between the splitter on the regular Cup car versus the Garage 56 car. He further stated, "Moving the fuel cell closer to the centre of the car allowed them to increase it to a higher capacity and also allows for better balance of the car especially over a long run because the weight is closer to centre. A secondary effect is that it also changes rear crash structure."
Tatarevic concluded, "The centre section modifications on the sides seen in the video point to significant weight savings which would partly help explain why the car is so much faster than the standard Next Gen in addition to the engine that has been turned up."
What is the Garage 56 Project?
ADVERTISEMENT
Article continues below this ad
Garage 56 is a project executed by NASCAR in collaboration with Hendrick Motorsports. The two combined to modify a Cup car. And to make it compatible with the prerequisites of the iconic French endurance race at Le Mans.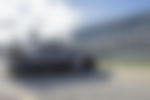 Garage 56 is a special garage. Non-competing cars have this garage reserved for them. The ones that race in the iconic Le Mans series at Circuit de la Sarthe. They often regard cars racing from these garages as exhibition cars. Their participation in the race is purely for ornamental purposes.
ADVERTISEMENT
Article continues below this ad
Watch This Story: "He Did to Me What He Did to Kyle Larson" – Unheard Bubba Wallace Victim Breaks His Silence & Launches Alleged Exposé
This project will highlight and showcase the new Next-Gen cars from the top flight of NASCAR. It will also be visible how they compare to the regular participants in the iconic French race. They also would not affect the points distribution. If anything, this project will serve as a great marketing tool for the American stock car racing organization. In order to promote itself outside of American shores.