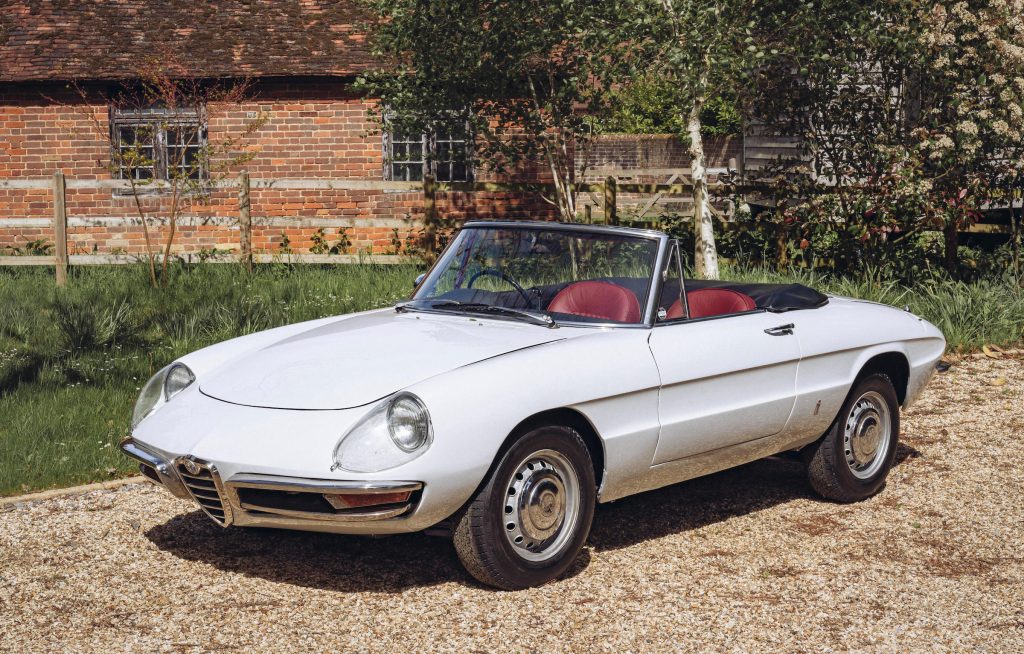 Editor's note: Welcome to Icon vs Underdog – a series where we look at whether you can find the thrills of an iconic but expensive classic hero in a more attainable package. If you have suggestions for comparisons, add them to the Comments and we'll get to work… James Mills
Italian roadsters offer the key to instant glamour in a way few other vehicles can match – and two of the greatest proponents were the Alfa Romeo Spider and Fiat 124 Sport Spider, both of which debuted in 1966.
How much is your car to insure? Find out in four easy steps.
Get a quote
Similar on paper, these two cars are today divided quite significantly on price, at least in their earliest (and some might say most desirable) iterations, with Alfa Spiders typically around double the price of their Fiat equivalents.
While the Fiat, a celebrated classic in its own right, is far from an underdog in the traditional sense, it still has the potential to tempt someone out of their search for an Alfa. So with the help of Hagerty's team of valuations experts, we've looked at what you can expect to find with an eye on this pair of Italian classics.
Potted history: Alfa Spider and Fiat 124 Spider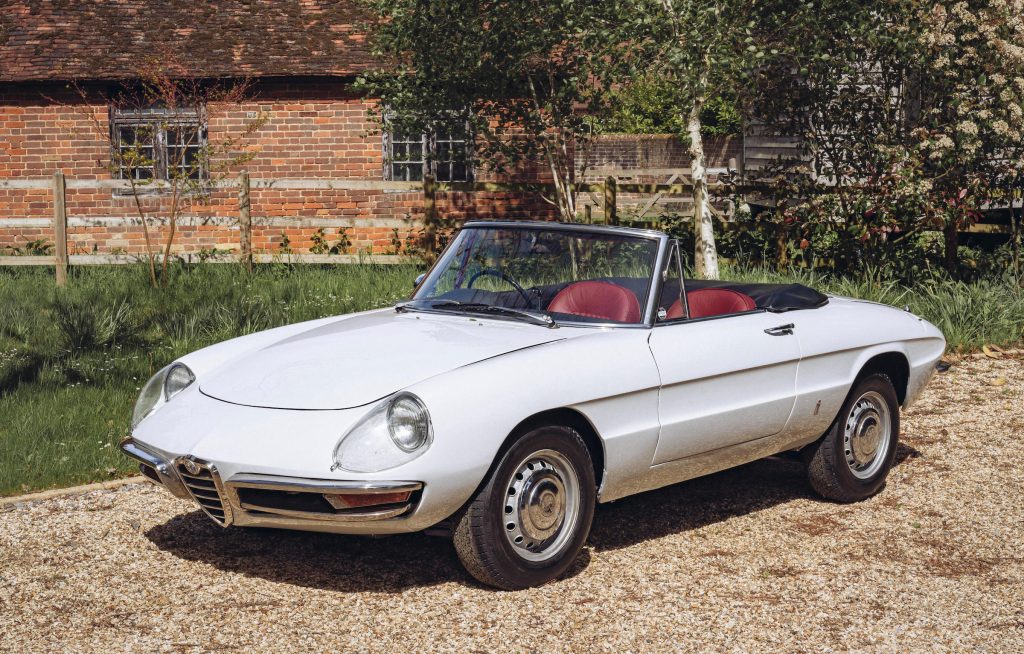 You could reasonably argue that both these cars are icons, but twist an arm and you'd have to concede it's the Alfa that best meets the definition, as both one of the definitive Italian shapes and one of Alfa Romeo's most celebrated models.
The Spider formed part of Alfa's 105 and 115 series cars alongside the 1962-on Giulia Berlina and the '63-on Giulia coupés, each respectively replacing their equivalent 1950s Giulietta lines.
While mechanically similar, fielding a range of twin-cam inline fours, and utilising independent front suspension with a solid rear axle, Pininfarina's 1966 Spider moved away from the more upright styling of its Fifties forbear with a sleek and seductive look now instantly recognisable as hailing from the era.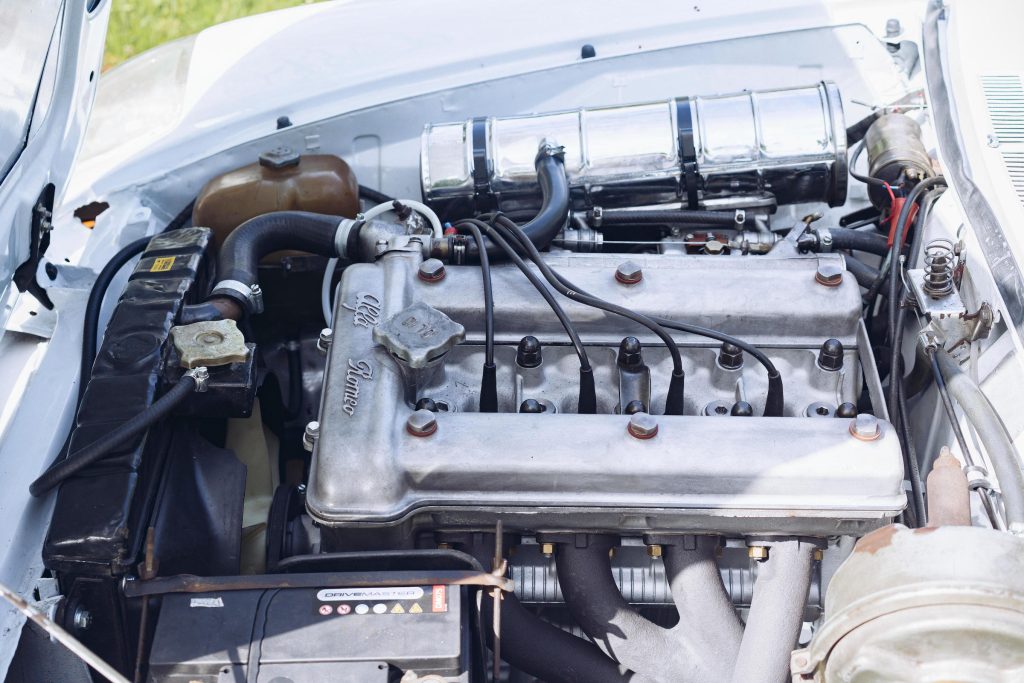 It's these early cars that are most prized, and most distinctive, with a curved "boat tail", a styling cue dropped in later series 2, 3 and 4 variants – though those later models gave the Spider a notably long life. The last Spiders rolled off the line in 1993, by which time the Mazda MX-5 – itself inspired by 1960s roadsters like the Spider – was the dominant force in the roadster market.
Series 1 "Duetto" Spiders – the name chosen through a competition, but never officially applied to the model – were offered with first 1570cc then later 1779cc twin-cam fours, while an entry-level Spider 1300 Junior joined the range in mid-1968.
Fiat's Spider arrived the same year as the first 105-series Alfa Spiders, and the similarities didn't stop there. This too was designed by Pininfarina (the work of Tom Tjaarda, and initially at least, built by the carrozzeria too), and based on a platform shared with a saloon, a coupé and an estate.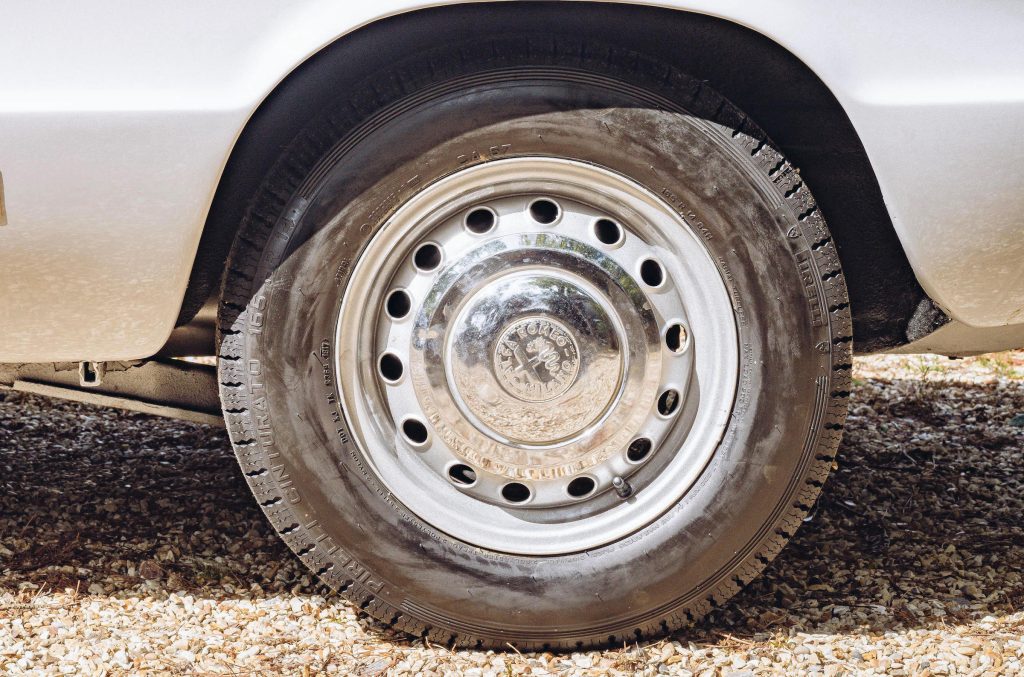 It used a combination of independent suspension (double wishbones in this case) up front and a live rear axle, while engines ranged from a 1.4-litre in the earliest cars, to a 2-litre before it left the market in 1985. Interestingly, it was sold alongside another sports car, the mid-engined X1/9, for several years – those were the days, eh?
The 124 became wildly popular, particularly in the US, where it pretty much defined the Fiat brand in the same way the 1950s 500 does in Europe. Of the roughly 200,000 Spiders ever built – just shy of double the number of Alfas that found homes worldwide – around three quarters found their way to the US.
There is a shared footnote to the story of both cars: Back in the early 2010s, Alfa Romeo and Mazda announced a joint venture that would see a new Alfa Spider developed alongside the fourth generation of Mazda's MX-5. The plans for the Alfa were abandoned when the late Sergio Marchionne, head of the Fiat Group, declared that an Alfa must be built in Italy – but there was no such stipulation for Fiat, which launched a new, Hiroshima-built 124 Spider in 2016, with styling inspired by Tom Tjaarda's original.
Why you'll want one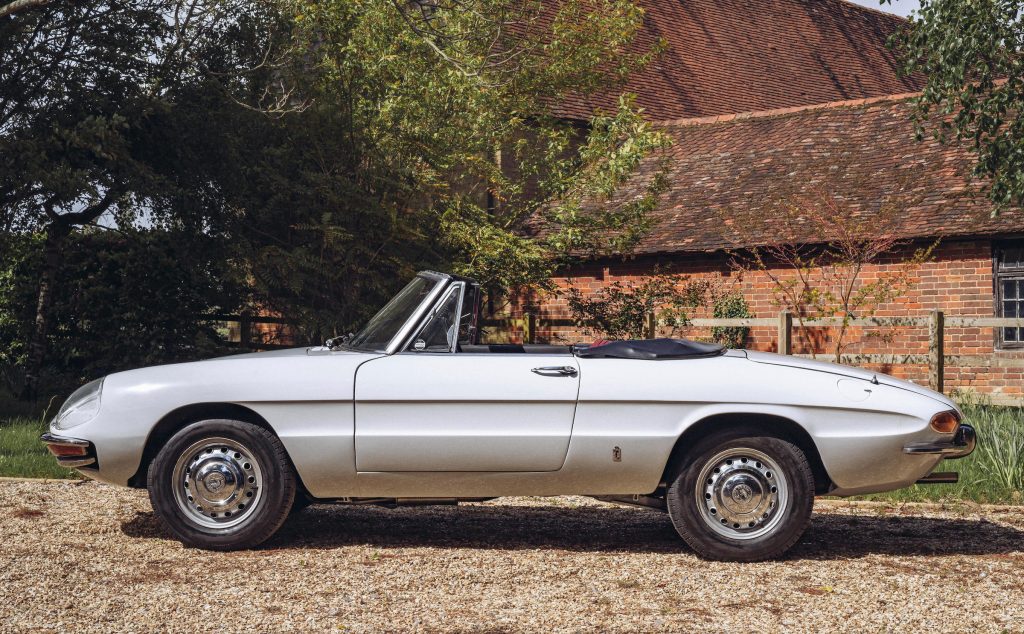 Even without prominent pop culture roles – everyone remembers the Duetto in The Graduate, but it's also been virtually the default car casting choice for glamorous individuals in dozens of other TV series and movies – the Spider's appeal is impossible to ignore. It's one of the prettiest small roadsters ever built, from one of the most celebrated automotive brands, and like all 105-series Alfas, is renowned too for the way it drives.
Key Spider characteristics are vocal, responsive and lusty twin-cam powerplants, and a balanced chassis that suffers nothing in response or feedback for using a steering box rather than a typically more precise rack and pinion setup.
If you do find any aspect of the driving experience lacking, there's a willing aftermarket only happy to change that too, with the likes of Alfaholics offering everything from improved components to incredible ground-up builds – though this can start to push the Alfa into the territory of true exotics, both in terms of price and performance.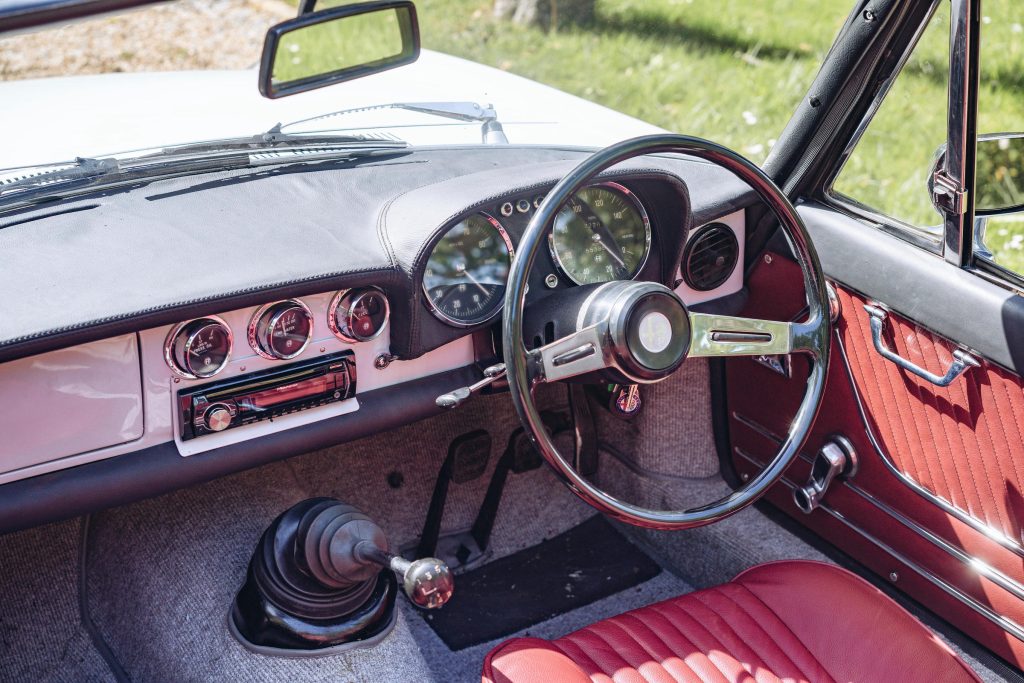 The Fiat's draw is offering all the qualities of a pert and pretty Italian roadster in a far more affordable package – one of the reasons these Spiders were so popular in the first place.
You still get a revvy, twin-cam four cylinder in any Spider, for example, rather than the more prosaic overhead-valve units used in regular 124s of the era. These units, the work of Aurelio Lampredi and often referred to as Lampredi engines, stuck around for decades, so sourcing spare parts is generally not an issue, nor finding specialists to work on them.
It's worth noting that, like the Barchetta that Fiat sold in the 1990s, Spiders were built in left-hand drive only (the car in the photos, sold at auction recently by Car & Classic, has been converted to right-hand drive, which isn't unusual), whereas the Alfa was offered in right-hand drive from the factory. And which is prettier? That's for you to decide, though we suspect the earliest cars of both the Alfa and Fiat will appeal to the eyes more than later iterations.
Values: Alfa Spider and Fiat 124 Spider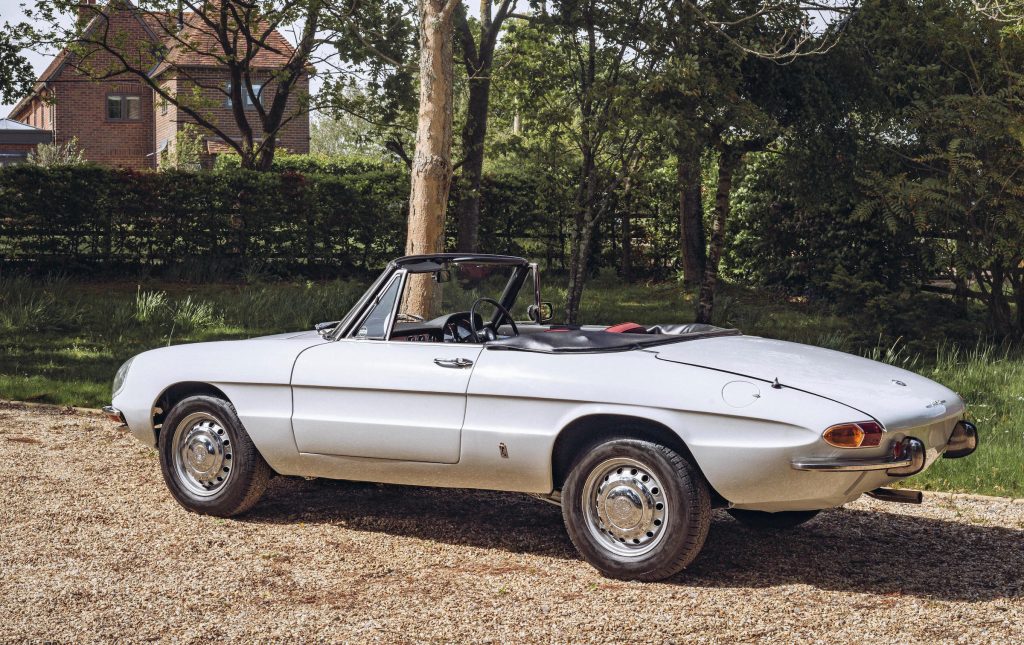 In many ways the comparison between the Alfa 1750 'round tail' Spider and the Fiat 124 1.4 Spider is an unfair one, writes John Mayhead, Editor of the UK Hagerty Price Guide. The Alfa is arguably the best 105-series Spider there was, combining the elegance of the original design with the free-revving 1779cc engine and various other driving advances over the earlier Duetto including better brakes. Ease of adding upgraded parts thanks to the commonality of spares between 105-series models and the efforts of companies like Alfaholics and Classic Alfa make it a very popular car indeed.
On the other hand, the 124 Spider 1.4 although popular has never quite had the same attraction for buyers in the UK. That said, prices of both Spiders have risen significantly over the last few years and since 2014, average Hagerty Price Guide values have actually risen more for the Fiat (up by 90.6%) than for the Alfa (up 87.3%).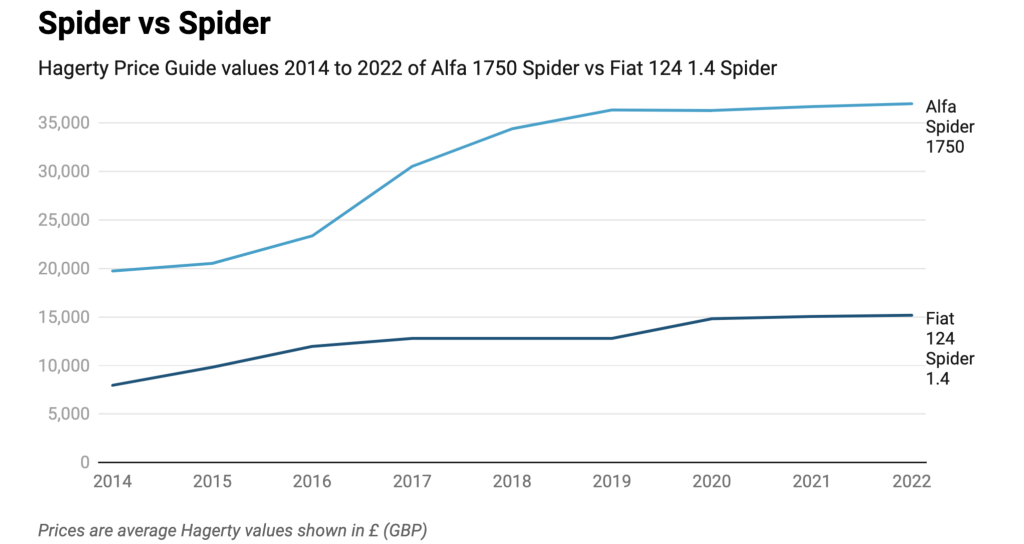 What's the outlook? Values of both cars have stabilised over the last couple of years as they seem to have found their level. There are a lot of alternatives available on the market, especially to British buyers who can choose from a range of home-grown roadsters, and this has undoubtedly kept prices in check, but the forecast for the Alfa is still strong: the 1750 Spider was built for only a couple of years and UK-spec cars are rare.
Earlier Alfa Spiders such as the 1600 Giulia and 2000 (102 Series) cars have become seriously collectible; surely a good-quality, original 1750 Round Tail will find itself in that area soon.
Icon or underdog?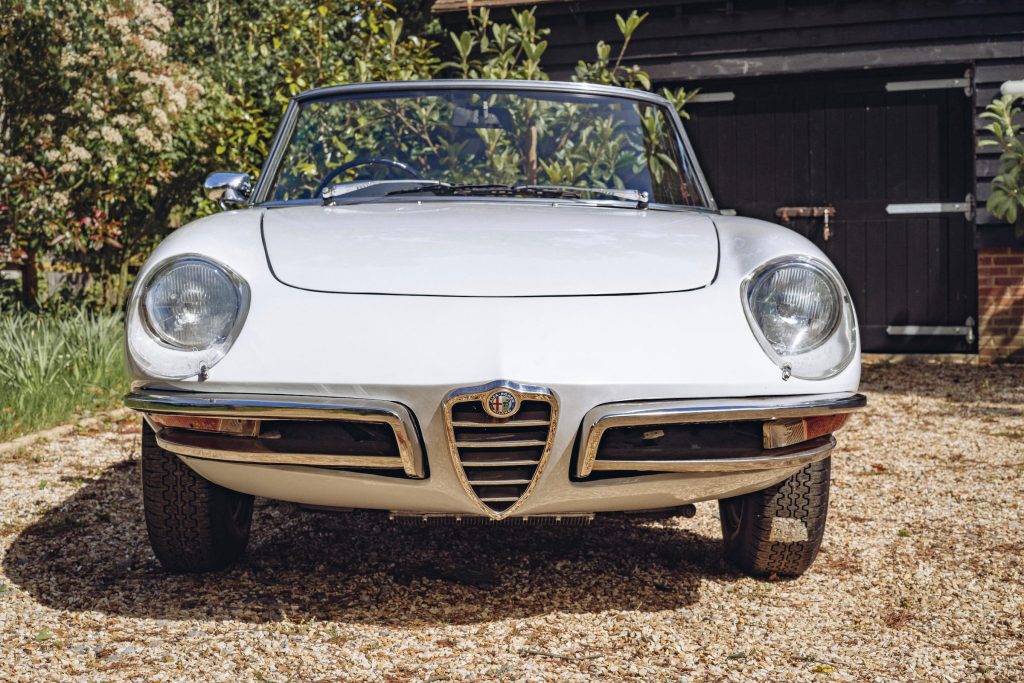 As with any duo in our Icon vs Underdog series, a car's price will determine whether you can put an early Alfa Spider or 124 Spider in the garage, and with the former currently priced from £21,400 for a car in 'fair' condition to £59,600 for a concours car, and the latter at £4700–£29,300 in equivalent condition, far more people can get into the Fiat.
Should you though? What's interesting is that the Fiat probably has a lot more competition for your affections at its price point, from the British equivalents mentioned earlier by John Mayhead, up to and including less pristine Duettos, or fresher examples of any of the later Alfa Spiders. With the Alfa, in contrast, we suspect more than a few potential owners would consider nothing else.
This makes our conclusion a little more clear-cut than most. Unless you have your heart set on the 124, it's all too tempting to find a late series 2 Alfa Spider for similar money, and enjoy much of the experience, if not quite the looks, of those boat-tailed series 1s.
Read more
Alfa Romeo launches heritage certification and restoration programme
Buying Guide: Alfa Romeo GTV6 (1981 – 1987)
Concept Cars That Never Made The Cut: Fiat 850 City Taxi