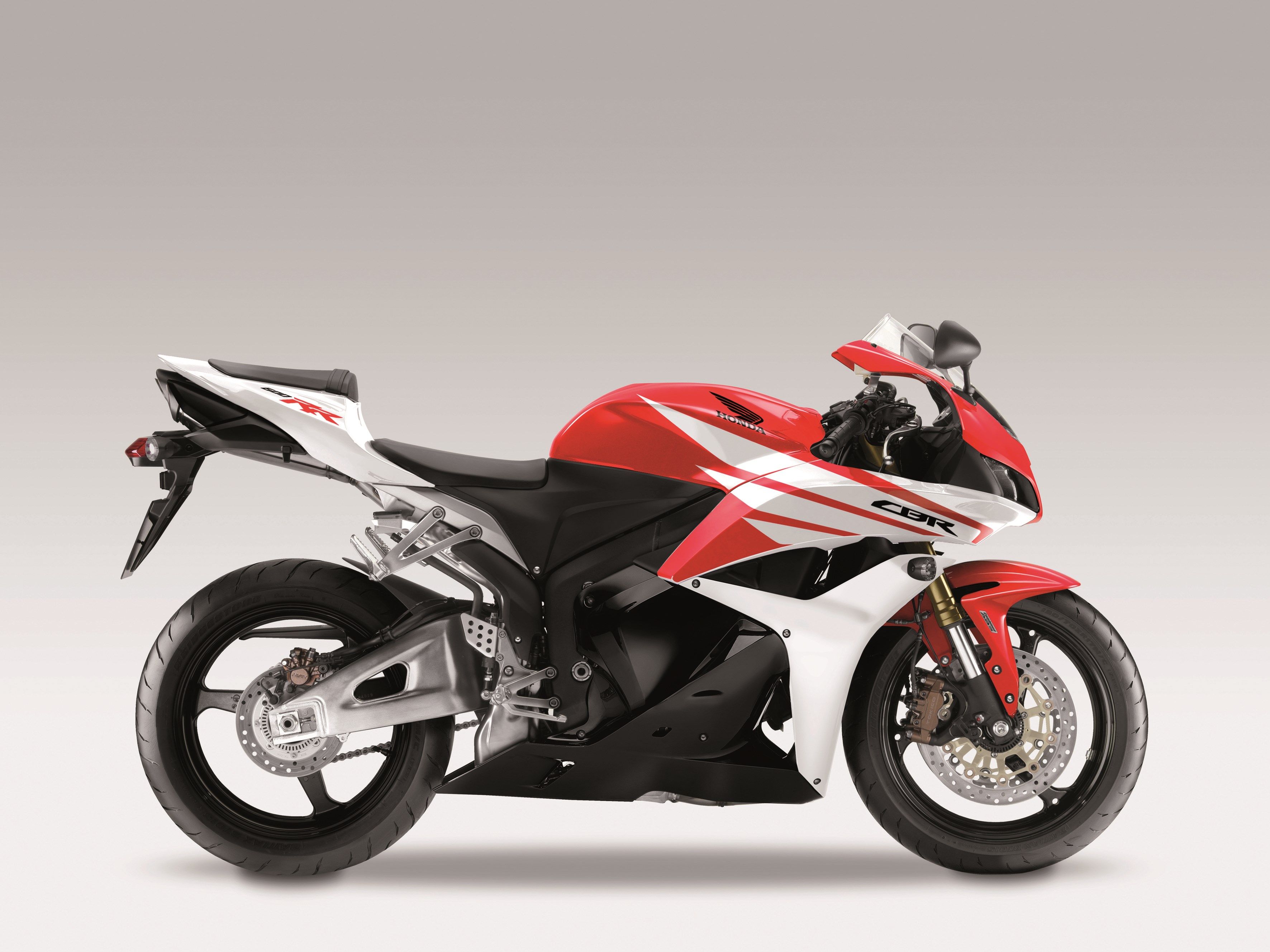 There was a time when the 600cc super sport class was an important one for the Japanese manufacturers but, gradually, the class has lost its importance to the point where new models are few and far between. One that has survived is the Honda CBR600RR, which enters its 20th year of production in 2023. It was preceded by the CBR600F4i, which possessed a mixture of practicality and performance, more docile and comfortable than rivals such as the Yamaha YZF-R6, Kawasaki Ninja ZX-6R and Suzuki GSX-R600. To compete with these, Honda announced the CBR600RR (Race Replica), a more track-focussed version of the CBR600F.
Related: The 10 Best Honda Sport Bikes
10
Honda CBR600RR Origins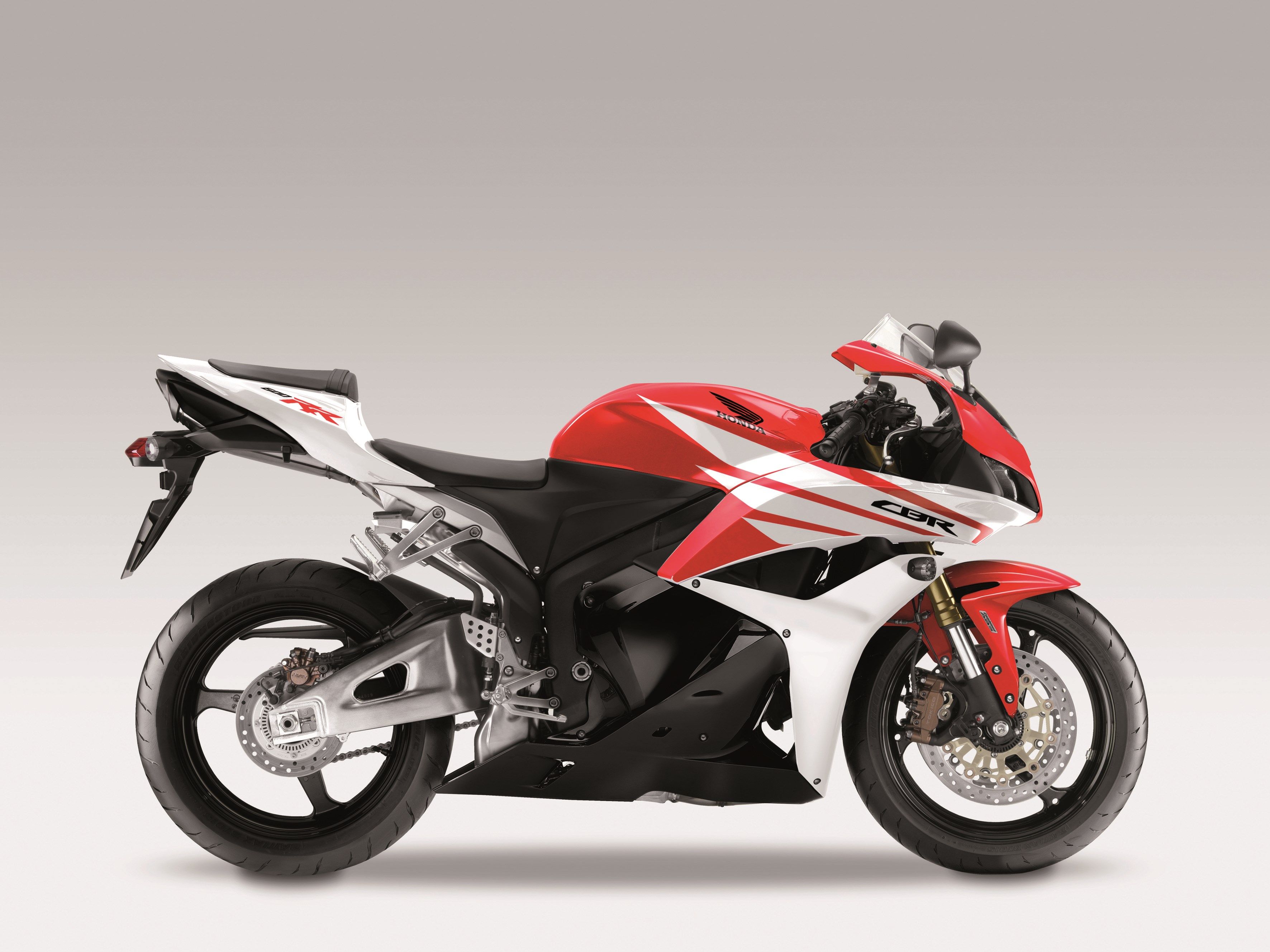 Honda CBR600RR in red, white and black, facing right
Before the CBR600RR, came the CBR600F, which was a model that wasn't purely either track or road focussed but intended to fill two roles at the same time. By 2003, competition from Japanese rivals Kawasaki, Suzuki, and Yamaha prompted Honda to create two distinct models with the addition of the CBR600RR running alongside the CBR600F. The new model was much more aggressive in terms of its riding position, engine power delivery and chassis dynamics. Over the years, it has become lighter, gained some more electronic rider aids, and mid-range torque – always a sticking point with these small-displacement four-cylinder engines – has been improved. As almost the last of a dying breed, it holds a special place in motorcycling history.
9
Honda CBR600RR: Ergonomics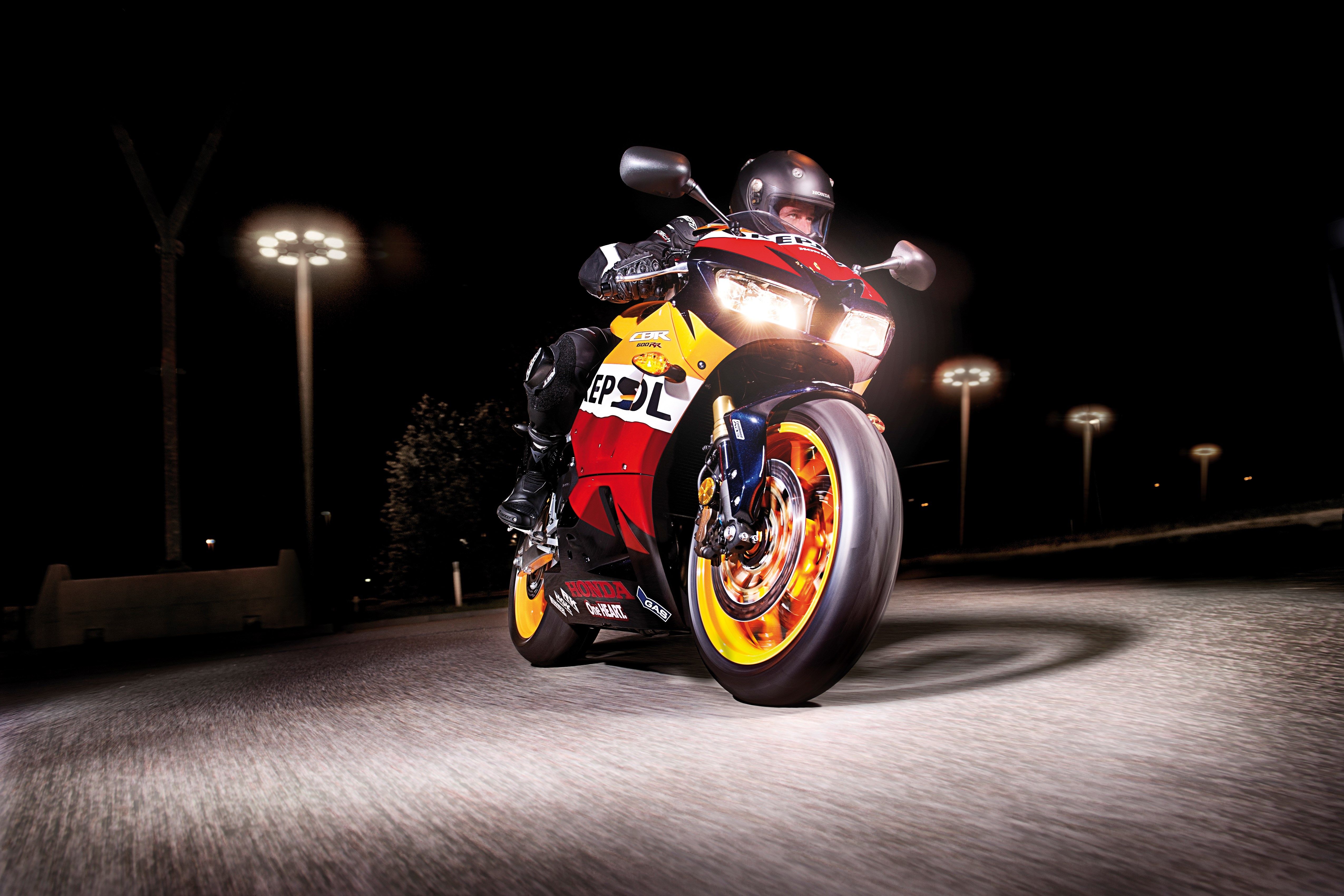 Honda CBR600RR riding at night, left to right
Honda has a knack of making its super sport motorcycles both extreme and strangely accessible – the CBR600RR is no exception. While we might not go so far as to say it's comfortable, it's certainly one of the best in its class in this regard. All 600cc sports bikes are super compact, meaning they might be a little cramped for taller riders, but at least the reach to the 'bars isn't excessive, pulling you down onto the tank. The seat might not be cruiser-plush, but it is bearable for a couple of hours, and the foot pegs aren't mounted so high up that you need to pull your leg up to get your foot onto them.
Related: 10 Powerful Used Sports Bikes That You Can Buy Without Breaking The Bank
8
Honda CBR600RR: Engine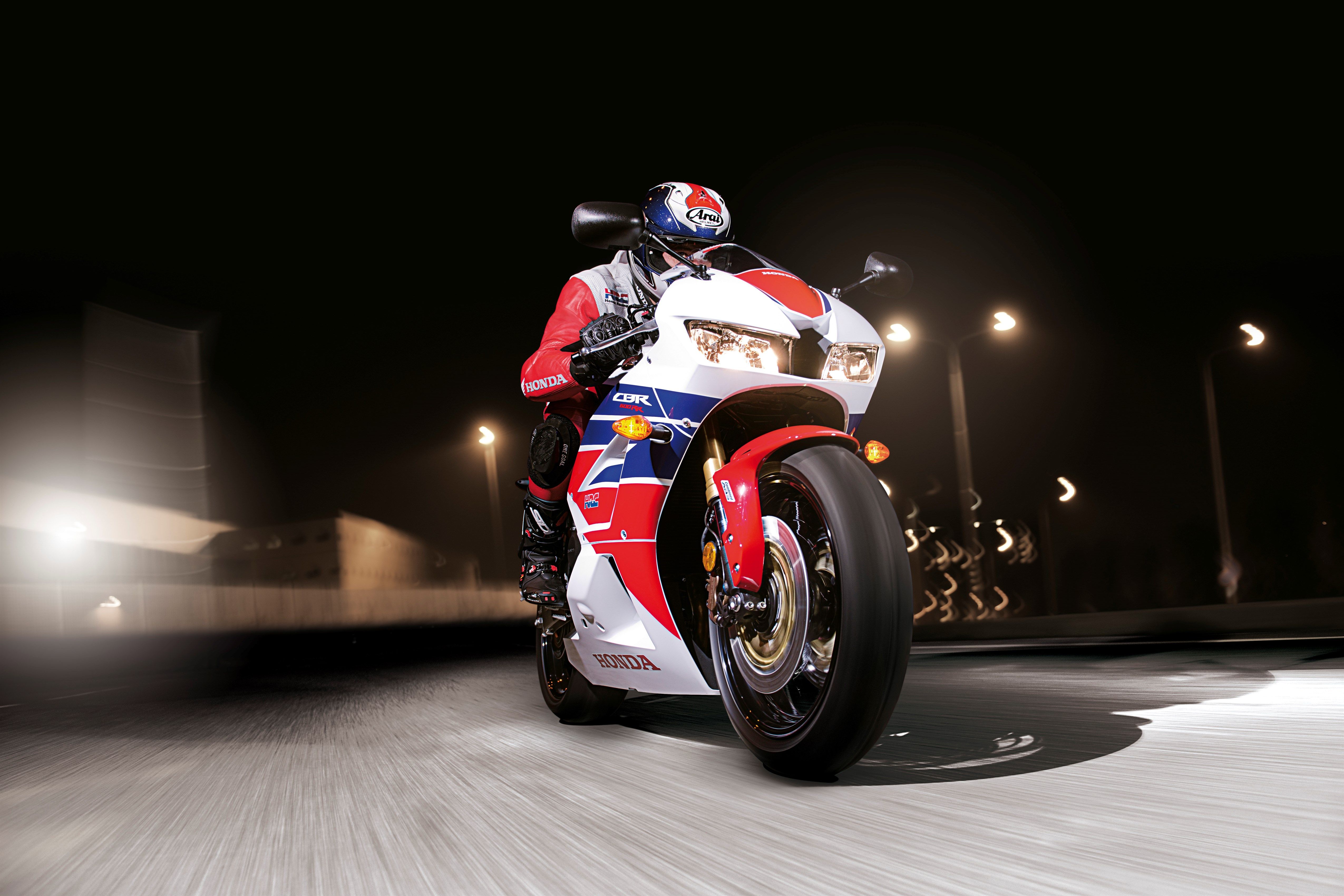 Honda CBR600RR riding at night, left to right
A small-displacement 600cc inline four-cylinder engine is always going to love to rev and really needs to if you are going to unlock all the power and access the torque. The rev limit for the Honda is 15,500rpm, peak horsepower of 118 comes at 13,500, and peak torque of 48.6 foot pounds is at 11,250rpm. This type of four-cylinder engine is always going to be lacking torque in the low- to mid-range, but they rev so freely and quickly that there is no reason to be lugging along in high gears at low revs, unless you really want a calm ride. Having said that, the torque delivery of the Honda is relatively linear compared to the Yamaha YZF-R6, which has a large hump in the middle of the rev range which can make things interesting if you're not expecting it. Super-smooth, the character of an inline four is completely different to that of a V-Twin, for example, but that doesn't mean to say there isn't any character. It's all in the revs!
7
Honda CBR600RR: First Generation (2003-2004)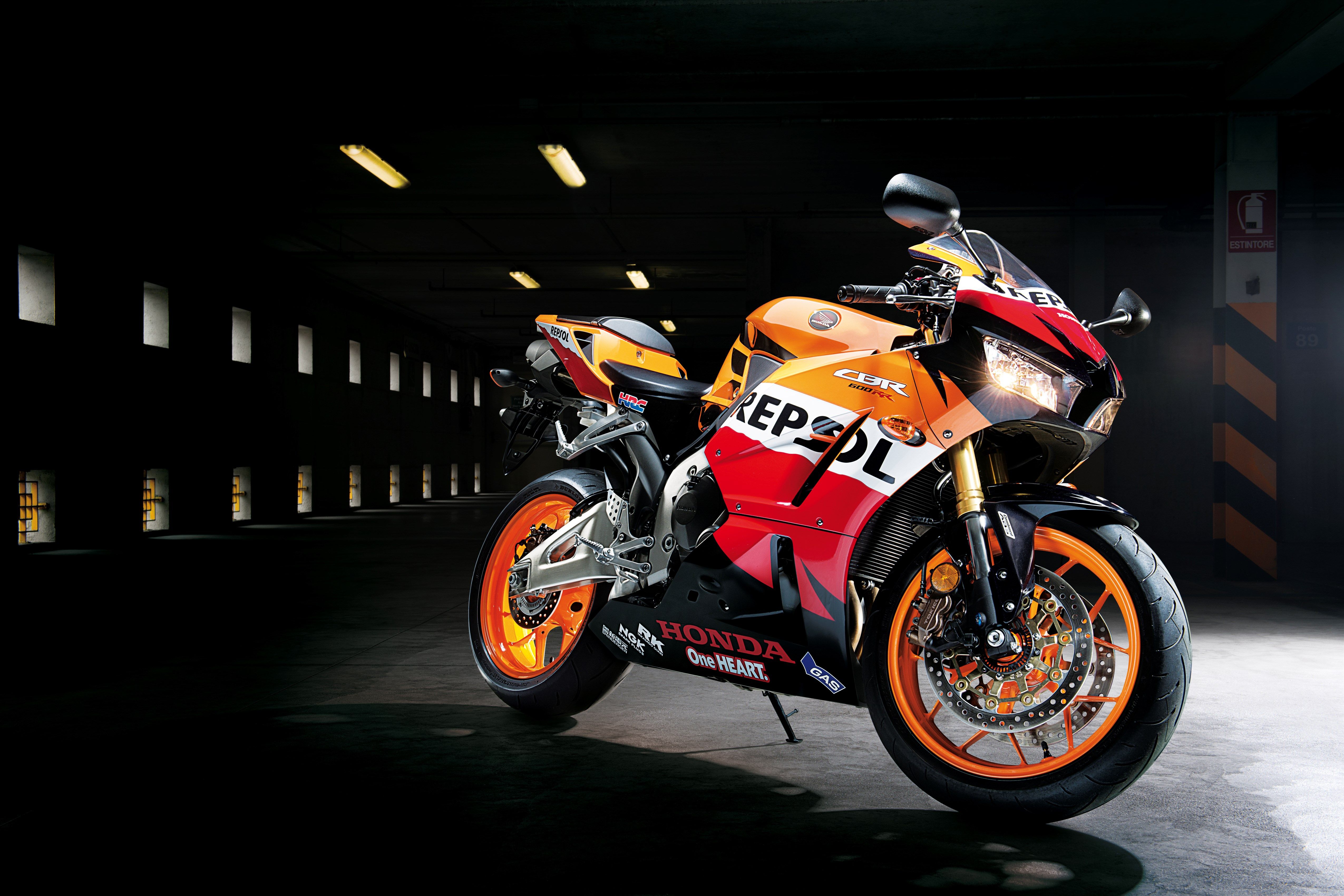 Honda CBR600RR against a black background
When it first appeared, the Honda CBR600RR was a more track-focussed version of the existing CBR600F4, which came in the form of a more aggressive riding position. 107 horsepower at 13,500rpm and a 445 pound overall weight, which wasn't especially light. It was the first Honda to use ProLink rear suspension and still had conventional forks at the front. It used fuel injection technology from the RC211V MotoGP bike and had axially mounted front brake calipers. In terms of the suspension and brake set-up, many people prefer later models although there is some collector value to the original models.
Related: 10 Middle-Weight Sport Bikes For The Casual Rider
6
Honda CBR600RR: Second Generation (2005-2006)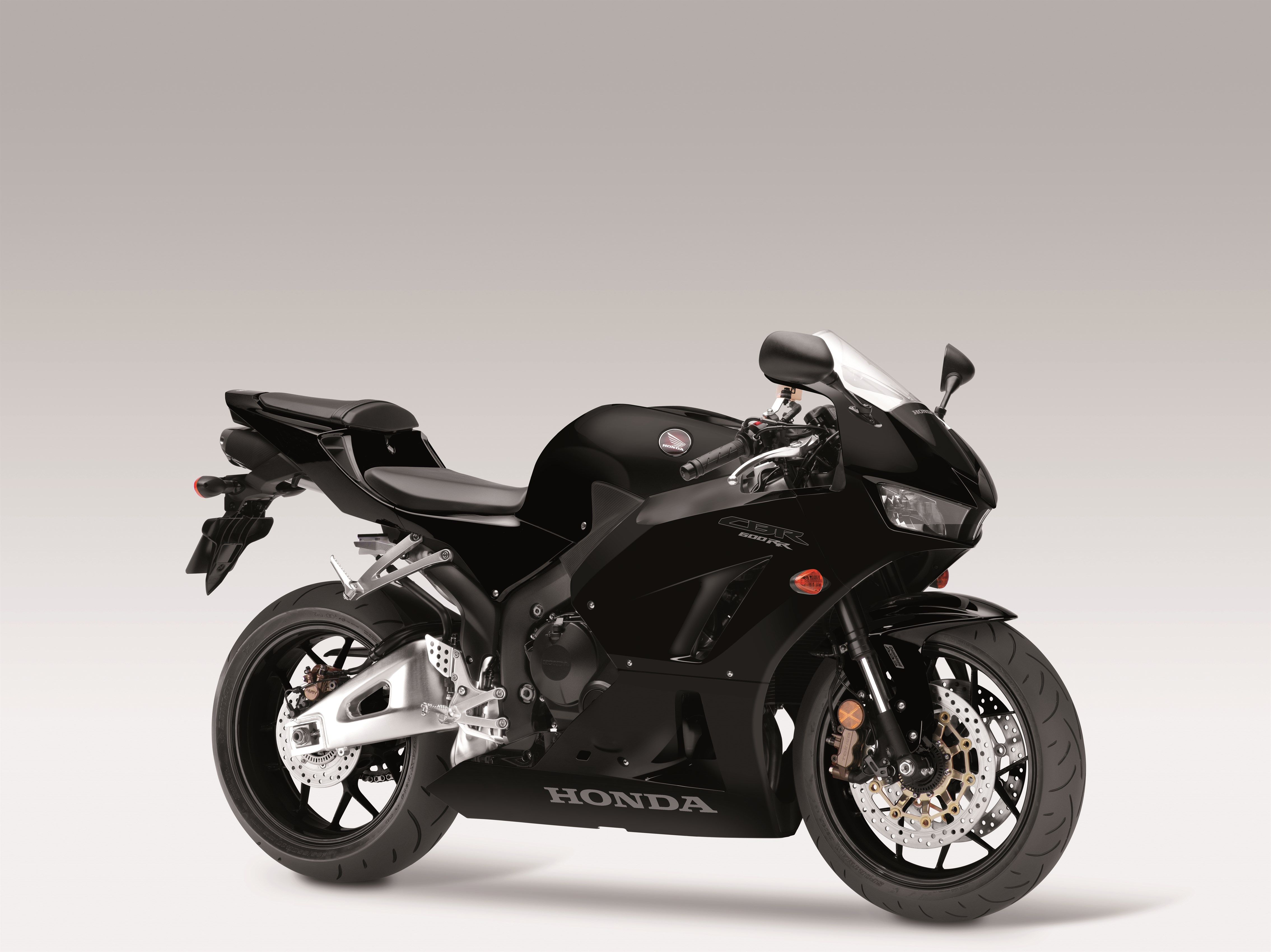 Honda CBR600RR in black, against a white background
As you would expect, things changed for the second-generation CBR600RR. While there was less weight (431 pounds overall), there was also a tiny amount less power (105.6 horsepower at 13,500rpm) but a little more torque (an extra 3 foot pounds at 10,750rpm) with a bit more shifted to the mid range. Upgraded brake calipers at the front were mounted radially to new upside-down forks, which incorporated full adjustability. These are probably the oldest CBR600Rs you should consider, being much closer to modern sports bikes than the first generation.
5
Honda CBR600RR: Third Generation (2007-2008)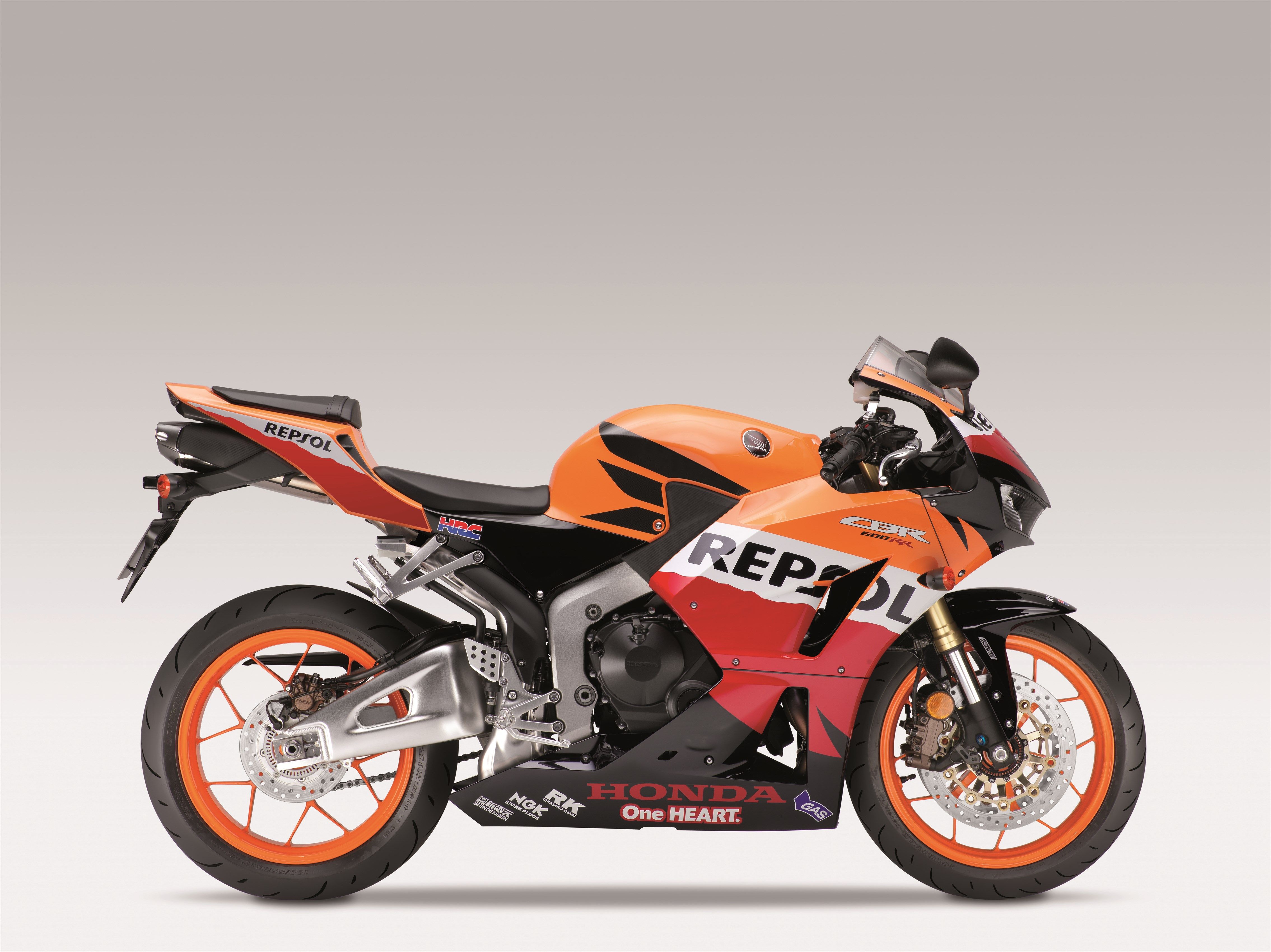 Honda CBR600RR in Repsol colours, against a white background
It's almost as if Honda couldn't make its mind up! Less weight again (overall weight down to 415 pounds), similar power but less torque than the second generation (but more than the first gen!). The wheelbase was shortened by 20mm and overall, the styling was tweaked to bring it into line with up-to-date styling thoughts in the class. Given their similar specs, it is no surprise that all the 600cc class Japanese bikes look remarkably the same, even if the way they go about their work shows many differences. By this time, the CBR600RR is reaching a peak of development and the 2007-2008 models are highly sought after as still being able to hold their heads up in more modern company.
Related: Ultimate Supersport Battle: Honda CBR600RR Takes On The Yamaha YZF-R6 In A Drag Race
4
Honda CBR600RR: Fourth Generation (2009-2012)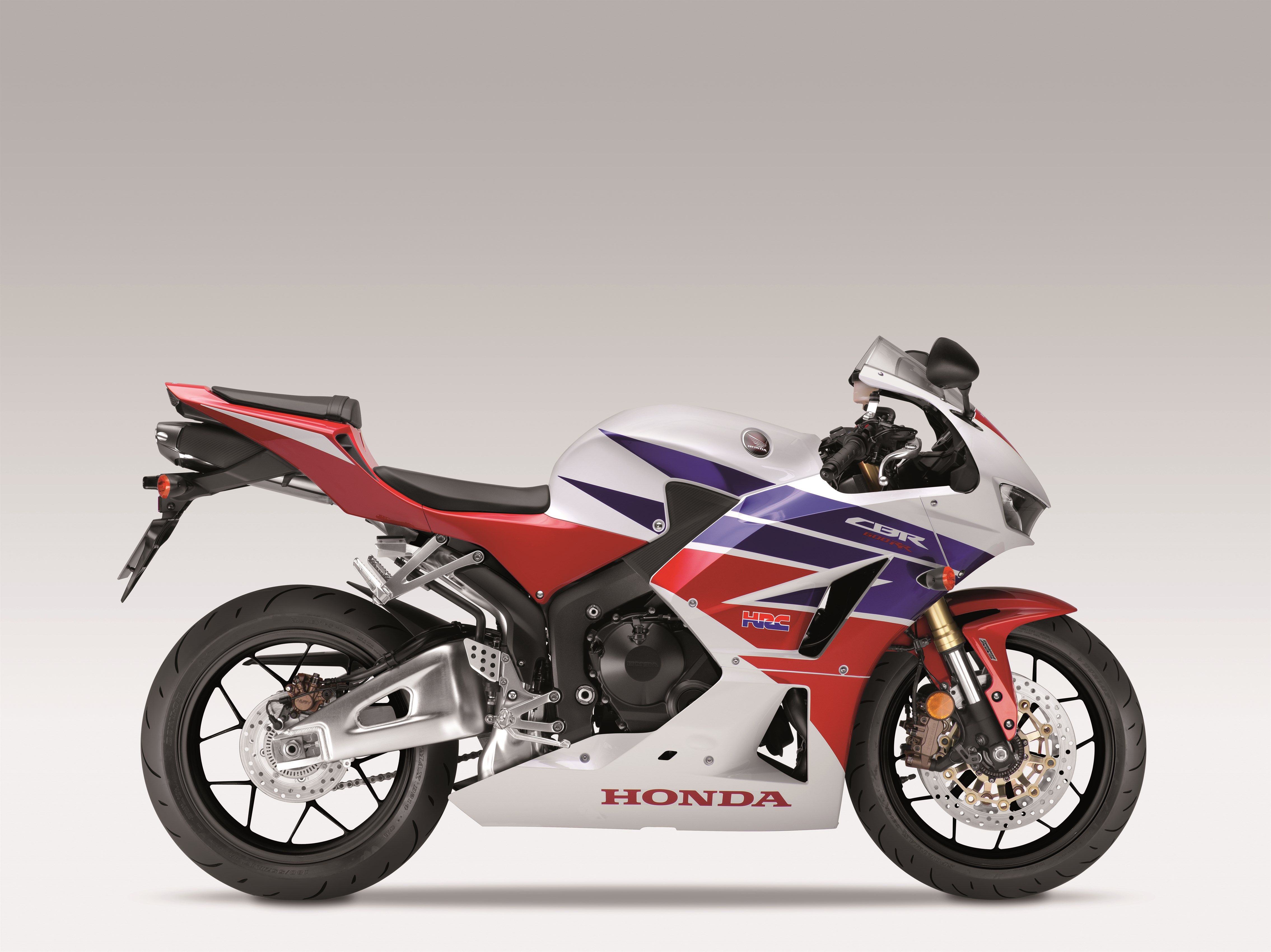 Honda CBR600RR in red, white and blue, against a white background
The correct word is evolution, not revolution, for the development of the CBR600RR. Weight, power, and torque all stay roughly the same, the emphasis obviously being on incremental improvements to the riding experience. The styling similarly underwent small changes to improve stability at high speeds as well as reduce noise levels. The big news, however, was the fitment of Honda's C-ABS, or Combined ABS, which was a combination of linked braking, anti-lock braking, and brake-by-wire. However, as it added 22 pounds to the overall weight of the CBR600RR (and because many owners bought the bike to race), it wasn't a popular option, nor was it available in every color the CBR600RR was offered in. Thankfully, modern ABS systems are infinitely lighter, which takes the sting out of them being mandatory.
3
Honda CBR600RR: Fifth Generation (2013-2020)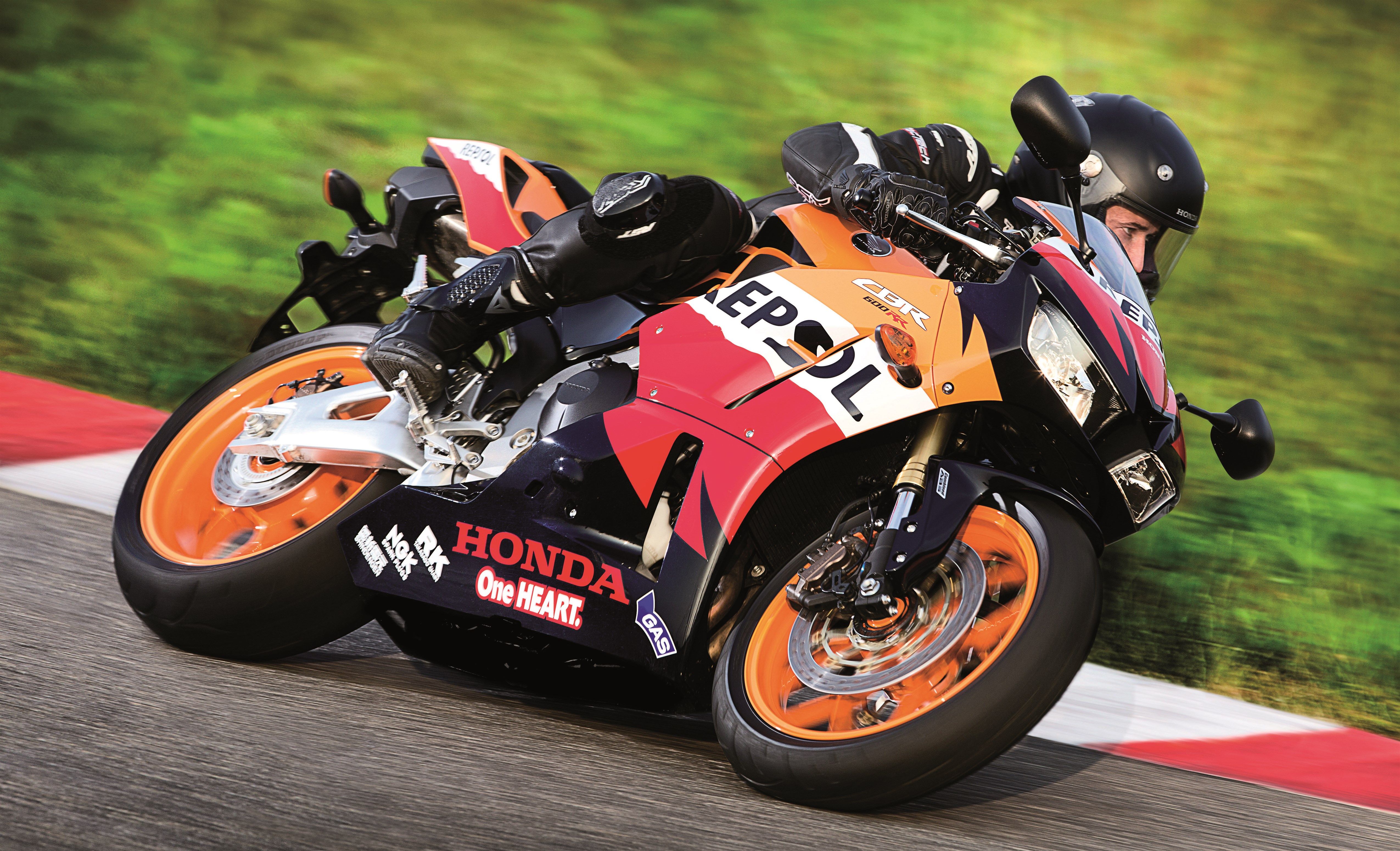 Honda CBR600RR cornering fast
The longest-lasting generation and also the one with the least changes over the previous generation. Power and torque remain largely the same, but there is more mid-range torque. Weighing about the same, C-ABS was still a (not very popular) option. The forks changed to Showa Big Piston 41mm units, giving improved handling characteristics. Further weight could be lost for the track by removing emissions components from the exhaust. Because of the mid-range torque values, one of the fastest of the CBRs, even though it was withdrawn from certain markets due to not meeting emissions regulations in 2016. Brilliant, but starting to look a little under-specc'ed in the modern era of electronics.
Related: The 10 Most Powerful Superbikes In The World
2
Honda CBR600RR: Current Generation (2021 – date)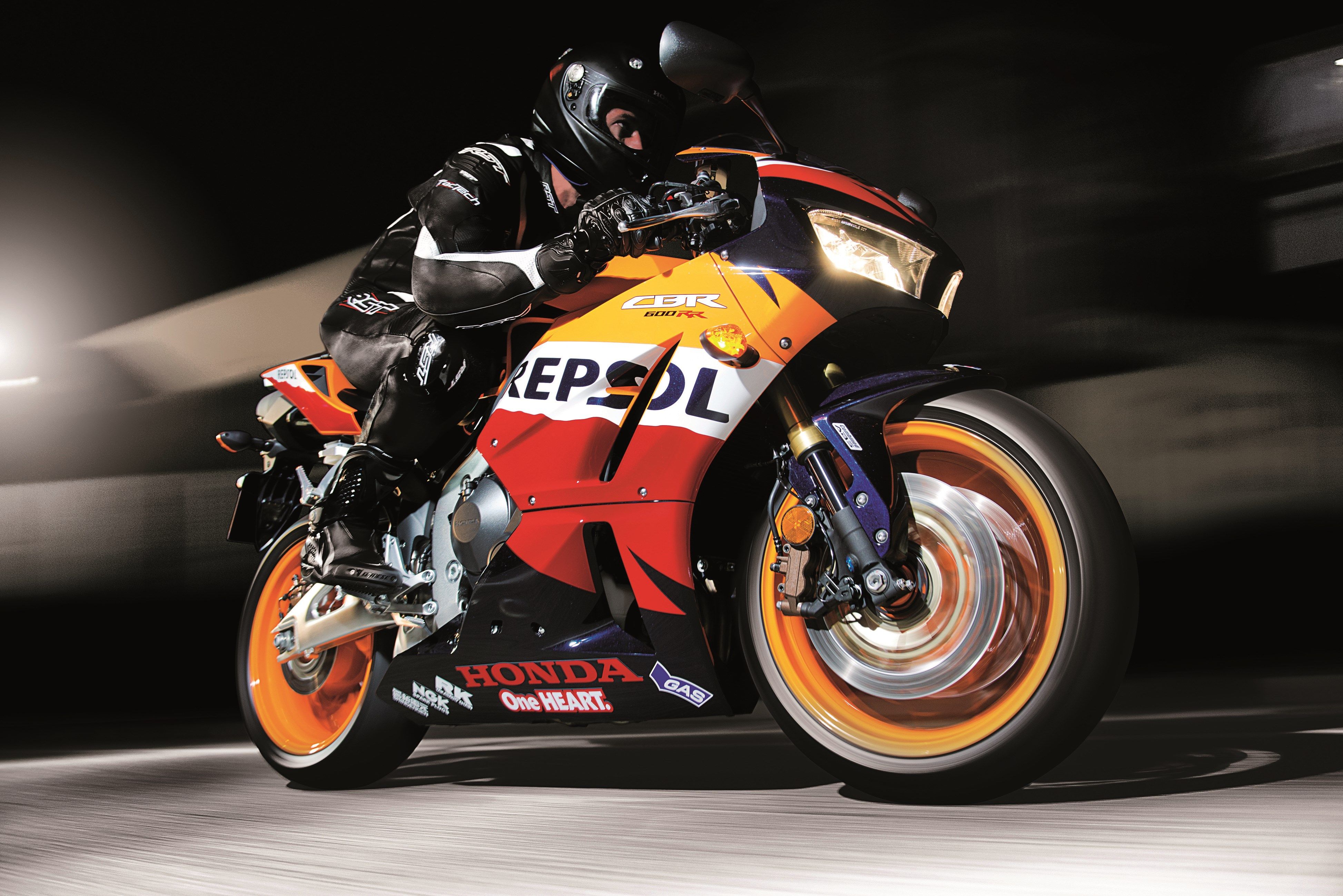 Honda CBR600RR riding left to right at night
The latest and, some say, the best, although enthusiasts in Europe and the U.S. will have to take their word for it as it isn't available there. To counteract the emissions regulations, there is a higher rev limit and more power nearer the top as well. Electronics fully upgraded to include an IMU, giving lean-sensitive ANS and traction control. A TFT dash, slip/assist clutch, quick-shifter, and LED lighting align it with its larger brother, the CBR1000RR Fireblade, but the CBR600RR is starting to look a little expensive for what it is. Having said that, it is still an exceptionally brilliant track bike that many of today's stars cut their racing teeth on.
1
Honda CBR600RR: Rivals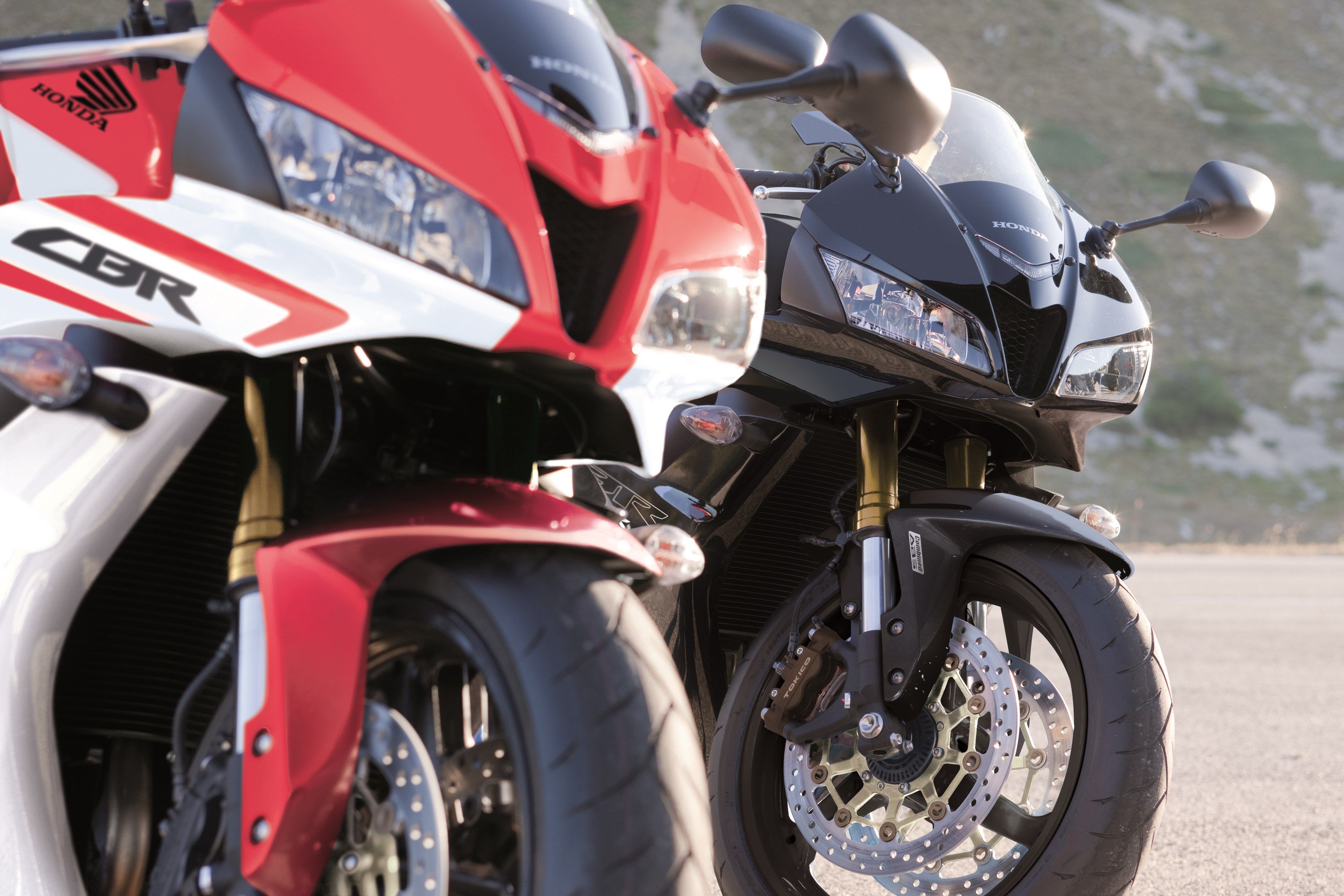 Honda CBR600RR pair, standing side by side
This was a hotly contested class at one point in time, the Big Four Japanese manufacturers all vying for top honors. The Kawasaki ZX-6R (and the ZX636), has always been the most powerful and fitted with the most electronics. The Yamaha YZF-R6 was always the dedicated track rider's dream bike, even if it does make it extremely unforgiving on the road. The Suzuki GSX-R600 was a brilliant mix of all three contenders. Interestingly, the Honda always had the least power of the quartet – a similar situation to the liter-class superbikes, where the Fireblade was always down on power compared to rivals – but it makes up for it with a sweet-handling chassis and longevity!