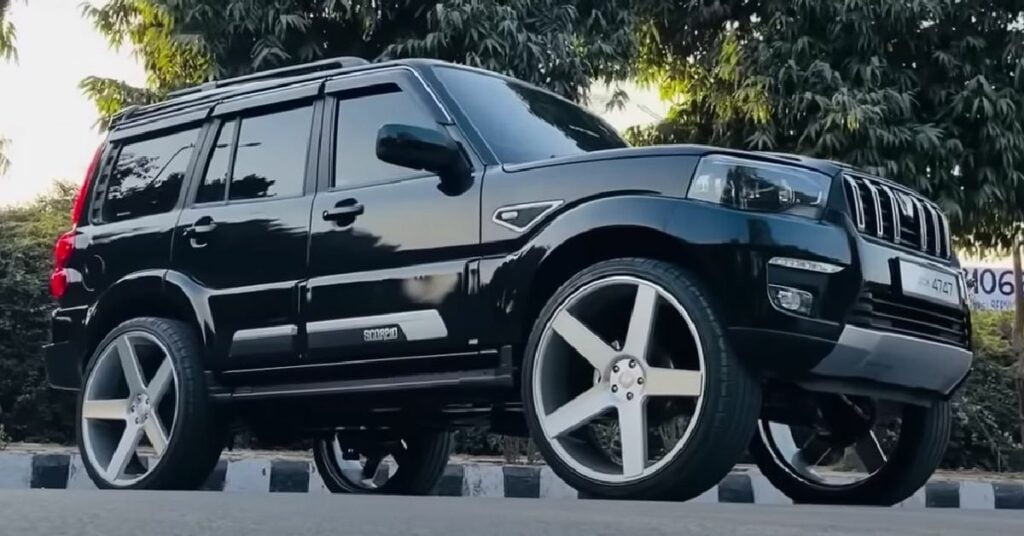 People have a tendency to get oversized custom alloy wheels to make their cars stand out in the crowd.
But there is no limit to how large the alloys can be.
This Mahindra Scorpio Classic with 26-inch alloys is a prime example of that.
Here is a special Mahindra Scorpio Classic with India's first 26-inch alloys. Scorpio is an iconic name in the Indian automobile market for a long time now. Its rugged build, tough off-roading capabilities and practical cabin are some of the major reasons for its success. The aftermarket car modification houses are capable of making cars look even more unique. Alloy wheels are the easiest and most effective way to change the appearance of any vehicle. Here are the details.
You may also like: Mahindra Scorpio Classic of Mr Indian Hacker TOTALLED in Accident
You may also like: First-Ever Mahindra Scorpio Classic Accident Bears Shocking Results!
Mahindra Scorpio Classic with 26-inch Alloys
This video has been uploaded by Tarun Vlogs3445 on YouTube. The YouTuber interacts with the owner of this unique Scorpio Classic. Having talked to him about the modifications on the SUV, it is revealed that the owner spent a whopping Rs 3.2 lakh for these alloys alone. The design is quite interesting with a 5-spoke pattern. The profile of the tyre is 295/30 R26 which is what you would generally find in sports cars. This makes the sidewall very thin allowing thuds and pothole jerks to enter the cabin.
You may also like: Mahindra Scorpio Classic Mileage Test – Can it do Delhi-Bhopal Run on a Single Tank of Fuel?
Yet another disadvantage of these alloys is the added weight which is resulting in a mileage of around 8-9 km/l, as confirmed by the owner. To accommodate these alloys, the front bumper and the area around the tyre have been cut. Also, there is an additional component attached to the wheel assembly to raise the height of the SUV by 2 inches. In addition to that, the owner has even modified the headlamp cluster with 120 W LED and HID elements in the headlights and LED fog lamps.
You may also like: India's First Mahindra Scorpio Classic with Custom Luxe-Class Interior
Total Cost
What is even more shocking is that the owner also splurged a cool Rs 65,000 on the custom number. He plans to upgrade the music system of the Scorpio in the future. But as of now, the total money he spent on the SUV is well over Rs 5.5 lakh. This also includes a Rs 1.2 lakh PPF coating to protect the paint. While many people would argue that one could buy an entire car for this money, there is a case to be made that these are the passions of people. If someone likes such modifications and can afford it, then he/she is well within his rights to do so. We would still like to hear your comments about this unique Mahindra Scorpio Classic with humungous 26-inch alloys.
You may also like: India's 1st Mahindra Scorpio Classic with 24-inch Aftermarket Alloy Wheels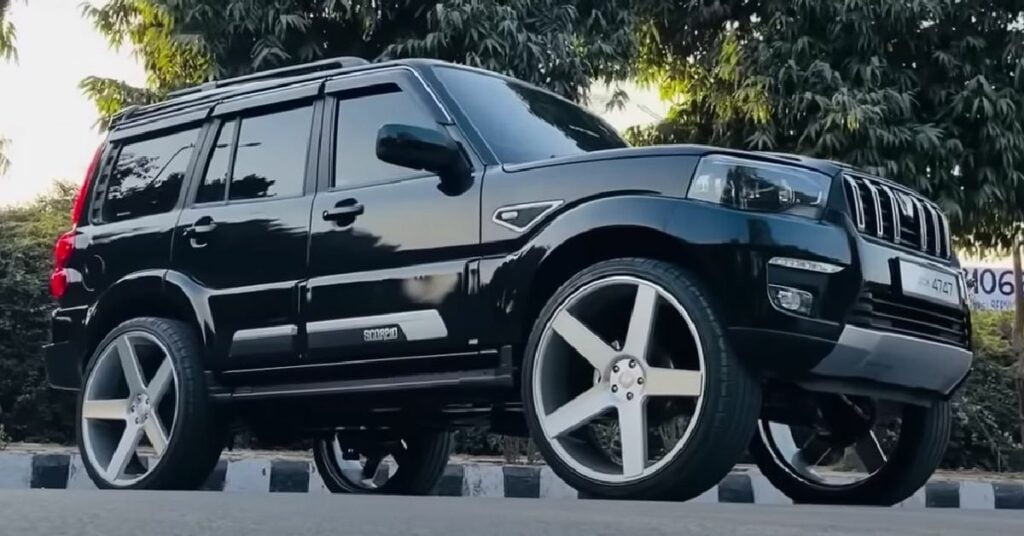 You may also like: First Ownership Review of Mahindra Scorpio Classic is Out
Disclaimer- The embedded videos/ external content is/are being used as a convenience and for informational purposes only; they do not constitute an endorsement or approval by Car Blog India of any of the products, services, and /or opinions of the corporation or organization or individual. Car Blog India bears no responsibility for the accuracy, legality, and/or content of the external site or for that of subsequent external videos/ external content. Contact the external publisher for answers to questions regarding its content.
Join our official telegram channel for free latest updates and follow us on Google News here.