Expert Mechanics Reveal What to Keep in Your Toolkit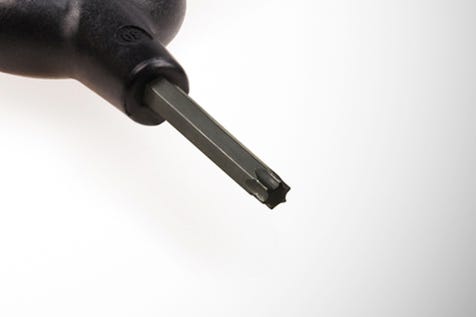 For many cyclists, having the know-how along with the right bike tools to perform basic maintenance feels incredibly empowering. It allows us to feel more secure out riding, knowing we can handle any problem the ride may throw at us, like repairing a flat or fixing a chain. These bike maintenance skills also involve cleaning bikes, as keeping things dirt-free and lubricated is essential if we want headache-free miles.
Keeping your bike humming along smoothly is easier than you think—and it's a lot more enjoyable if you have the right bike tools. So, here are the 18 essential items (well, 20, since two of them do double duty) for your home shop that will handle almost any bike repair or maintenance job, whether you're a master mechanic or turning your first wrench.
What's New in Bike Tools
Companies are constantly coming out with new tools, both to improve existing designs and to adapt to new technologies emerging in the sport. One example: the range of 12-speed drivetrains, which feature narrower chains and cassette spacing that require slightly different tool interfaces for things like chain whips and chain breaker tools.
Torque wrenches are increasingly popular, and necessary even for home mechanics because a number of fasteners, like stem bolts, require tightening to an exact range to hold securely without damaging carbon fiber parts.
Not to be confused with torque, Torx-head wrenches are also more ubiquitous, as parts makers are using the star-shaped bolts more widely than ever. For years, these were found primarily on disc-rotor fixing bolts, but today we see them in stem bolts, hydraulic disc brake calipers, and broadly across many components from SRAM.
Some tools are decreasing in importance. Cone wrenches, for example, with their thin wrench flats for adjust hub-bearing cones, used to be a vital tool even for home mechanics. But modern hubs often use cartridge bearings without adjustable preload, so increasingly these sit on the pegboard unused.
What You Need to Know About Bike Tools
You may already have a bike toolkit at home that's well-stocked with items like wrenches, sockets, and screwdrivers. Those can be useful, but bike-specific tools exist for a good reason: many parts on bikes today require specialized tools to properly service.
These tools often aren't expensive, but using the proper tool is the difference between a quick and easy maintenance session and an extended interlude of cursing, bleeding knuckles, and possibly damage to pricey parts.
Thankfully, several companies specialize in making only cycling tools. Three of the best are Park Tool (which essentially invented specialized bike tools), Pedros, and Feedback Sports. They all make quality tools that will serve you well for years, or even decades, to come. You can also find tools from a number of other brands that make parts and accessories, like Topeak and Bontrager. They don't have complete offerings, however.
Tools from large, general-purpose tool companies can fit the bill in some instances, and we've included several of them here. In some cases, they're more affordable than tools from cycling-specific companies; in others, we picked them because they do broader duty than some cycling-specific options.
The Best Bike Tools: How We Make the Selections
This collection of bike tools is intended to help you set up a home workshop that's capable of tackling roughly 80 percent of the maintenance and repair jobs your bike may need. There are a ton of single-purpose tools out there that can be quite handy for specific repairs, but most of us will never need a headset press or a hydraulic brake-line cutter, for instance.
For some of these repairs, it's still best to take your bike to a qualified, experienced professional. The 18 tools we've collected here should handle almost anything a home mechanic will want to attempt.
Many of these products, we use regularly in our own shops and at the Bicycling office. We also talked to mechanics about what tools they use every day, which brands they trust, and consulted consumer ratings for each item from several sources.
We picked one item in each category, based on which types of tools we end up reaching for the most often. These are rarely the only item in a category, and oftentimes the choices are broadly similar in quality. So price sometimes played a key role.
Speaking of price: you can find ready-assembled tool kits for around, or less, than the cost of the picks we have here. Those are a fine option, especially if you want to simply buy one time and not worry about it. But, those kits only draw from a single brand's offerings, and may include tools you don't really need, either because they're general tools you already have (like an adjustable crescent wrench) or because, like cone wrenches, they're just not as essential anymore.
The other benefit of a kit you assemble yourself is you can buy it piecemeal, over time. If that's your approach, then you'll appreciate that we've ordered these by general priority. Just start at the top, and work your way through.
---
Best Hex Wrench Set
Wera | 950 SPKL – HF Multicolour L-Key Set
You'll use these more than any other tool so invest in a quality set.
If you buy one tool for your shop, make it this set of metric hex wrenches, which includes everything from a 1.5mm wrench for the tiniest bolts all the way up through a meaty 10mm fitting. The hardened tool steel will last for years, and the ball end on the long arm is perfect for quickly tightening hard-to-access items like bottle cage bolts.
---
Most Versatile Floor Pump
Bontrager Dual Charger
Adjustable volume for fast and easy inflation and a large and easy-to-read gauge.
With durable steel barrel, a stable tripod base, and an oversize gauge, the Dual Charger already checks most of the boxes we want from a good floor pump. But two nifty features put it over the top. First, a foot lever switches inflation modes between high-volume (ideal for quickly inflating larger mountain bike tires) and high pressure so you don't have to muscle the pump to get road tires to optimal pressure. The chuck fits Presta and Schrader valves automatically, and the long hose reaches tire valves even when the bike is on a repair stand.
---
Best Compact Chain Tool
Topeak Super Chain Tool II
Use it in your shop then fold it up and bring it on your ride.
If we had to pick one chain tool for shop and carry-along, this is it. Chain tools tend to aim at one use or another; shop tools end up being too bulky to bring on a ride, and carry-along tools often suffer from lack of leverage. The Topeak Super Chain Tool II folds compact enough to fit in a seat bag, but the all-steel handles offer enough grip to loosen even the most stubborn pins. It also works with any multispeed chain, even the new Campagnolo 13-speed system.
---
Best Tire Levers
Pedro's Tire Levers
Wide, stiff, and inexpensive.
These burly plastic tire levers are the ideal combination of strength and softness. The box-style construction makes them stiff enough to handle even the tightest tires like tubeless varieties without bending, but the plastic material won't harm carbon fiber rims. Comes in packs of two.
---
Best Brush Set
Finish Line 5-Piece
Clean all your bike's weird crevices properly.
A good set of brushes helps make bike cleaning faster, easier, and more thorough. This five-piece set includes the essentials, like a large frame brush, a "paint" brush for derailleurs and other nooks and crannies, and long-handled brushes for hard-to-access spots like hub bodies and between the crankset and chainstay.
---
Best Folding Repair Stand
Feedback Sports Pro Elite
The sturdy base and secure clamp make repairs easier.
This folding workstand is one of our editor's choice picks for home use for any number of reasons: it's light and portable, but the tripod base has enough stability to support the burliest of bikes. The ratchet-and-dial closure is quick and secure, and high-quality aluminum construction means the stand will last for years—even decades.
---
Best Value Torque Wrench
EPAuto 1/4-Inch Drive Torque Wrench
Protect your lightweight parts and protect yourself.
We've tried a number of excellent click-type torque wrenches from bike companies, but they're usually quite expensive, and it's not clear that they're any more accurate than general-use torque wrenches like this affordable option from EP Auto. The ¼-inch drive fits most common tool heads, and the adjustable torque ranges from 2.26 to 22.6 Newton-meters, which covers most fasteners on bikes except for high-torque fittings like BB cups and crank bolts. You'll need to supply your own tool heads, however.
---
Best Torx Y-Wrench
Park TWS-3
A classic tool for new-school fasteners.
Star-shaped Torx bolts are increasingly common on bikes; SRAM uses them widely on many of its components. This Y-wrench covers the three most common sizes for things like disc brake rotor, chainring, and stem bolts, in an ergonomic grip that's comfortable and secure in the hand.
---
Best Chain Wear Checker
Aoutecen MZ-32
Learn when it's time for a new chain.
There are cheaper chain checkers out there (in a pinch, you can even use a ruler). We like the MZ-32 because it's more than a simple go/no-go tool. The clever swingarm gauge tells you just how much your chain has worn, which is essential because 11- and 12-speed drivetrains have a different wear life than 9- and 10-speed systems and need to be replaced sooner. The MZ-32 takes all the guesswork out of knowing when to replace your chain to ensure most reliable shifting and longest drivetrain life.
---
Best Cable and Housing Cutters
Pedro's Cable and Housing Cutters
Make every cut the best cut it can be.
We don't know if these high-quality cable cutters are actually made by the well-regarded Swiss brand Felco. What we do know is that they're visually similar, and less expensive. They make sharp, clean cuts in everything from derailleur cables to compressionless cable housing, and even handles precise cuts on reinforced housing like the Yokozuna Reaction.
---
Best Chain Cleaning Machine
Park Tool CM 5.2
Spinning brushes scrub links and rollers clean.
A dirty chain will kill your whole drivetrain, grinding grit into every part and eventually destroying shift quality. The simplest, most affordable way to clean it is this ingenious little tool from Park. Simply fill the reservoir with degreaser (or even just warm, soapy water), fasten around the chain and secure the top cap, and backpedal until the rotating brushes scrub your drivetrain clean. Park even sells replacement brush heads and internals.
---
Best Dual Range Tape Measure
Stanley Tylon 8m Measuring Tape
See how your bike measures up.
You can buy a tape measure from a bike brand, but this one from trusted toolmaker Stanley gets our vote because it's long enough (26 feet) for general household use too. It's marked in both imperial and metric dimensions, and the sturdy one-inch wide tape holds its shape when extended, so it's ideal for measuring things like reach to the handlebar.
---
Best Value Chain Whip
Park HCW 16.3
You can't remove a cassette or fixie cog without one.
Okay, we cheated a bit here. This isn't one tool, it's two. A chain whip is vital for removing cassettes and freewheels, and Park's updated HCW-16.3 features broader drivetrain compatibility, fitting narrow 12-speed cassettes the older HCW-16 didn't. The 15mm pedal wrench on the other end is a bonus for any pedal that has wrench flats only, without a hex head back.
---
Best BB and Cassette Tool
Feedback Bottom Bracket + Lockring Tool
One side for external BB cups, the other for cassette and disc rotor lockrings.
Yet another twofer, this wrench features a lockring to fit common external bottom bracket cups on one end, and a cassette tool on the other with Shimano's almost-ubiquitous HG spline pattern, which is also used on many Centerlock disc brake rotor fasteners. About the only thing it doesn't fit is Campagnolo cassettes. The high-quality cast-steel construction won't round or mar BB cups.
---
Best Shop Shears
Wiss
Snip it. Snip it good.
A set of durable shop shears is the perfect thing for jobs like trimming handlebar tape, frame protector armor, excess helmet strap, or any of a hundred other uses. These utility scissors feature a titanium coating for long life and a large, ergonomic grip for comfortable, sure-handed control.
---
Best Value Apron
Park Shop Apron
Effortlessly transitions from bike repair to BBQ.
One absent-minded brush of a dirty hand and that clean shirt you're wearing has bike grease on it. Avoid extra laundry duty (or buying new clothes) with a good shop apron like this one from Park. It features full coverage in heavy duty poly-cotton twill to keep dirt and grime off you. Three large front pockets offer quick-access tool and part storage, and there's a handy pen pocket at the left breast.
---
Best Chain Keeper
Feedback Sports Chain Keeper
Lets you spin the cranks without a wheel installed for better cleaning.
This handy little item replaces your rear wheel during maintenance to keep your chain from dragging over the frame and damaging the paint. It's ideal for drivetrain cleaning as well, because it holds the chain in tension like a cassette would. Durable aluminum construction and a long-wearing Delrin running surface promise years of service, and it's compatible with both conventional quick-release and 12mm through-axle dropouts.
---
Best Tool Ever
Pro Clean Basics White T-Shirt Cloth Rags
If you order one tool from this list, make it this one.
Maybe you've got enough old towels and t-shirts around that you don't need more, but if you find yourself running short, this eight-pound box of rag scraps is the ticket. The absorbent cotton comes from recycled t-shirts, so you can feel good knowing they had a second life. The lint-free cotton works for everything from getting the gunk off that chain to final wipe-down and detailing of frames and parts.