Big Motorbike Trending
Electric motorbikes could alleviate Indonesia's congestion and pollution, but experts cite challenges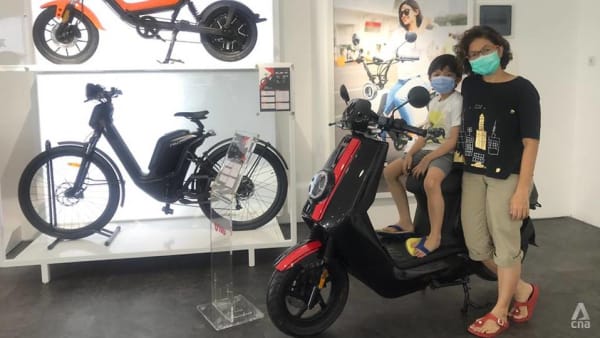 According to the McKinsey report, the cost of owning an electric motorbike is soon expected to drop below that of its traditional counterpart.
"A lower total cost of ownership will be the primary driver for a shift toward electric two-wheelers. This could help it become cost-competitive with internal combustion engine two-wheelers by 2022. 
"These lower economics for electric two-wheelers will be attractive to consumers both in big cities and outside big cities," said Mr Thomas Hansmann, a partner with McKinsey & Company in Indonesia.
Mr Hansmann said that the primary driver in reducing the total cost of ownership is a reduction in battery cost through technological improvement. "As more electric vehicles are manufactured, electric two-wheelers may achieve cost reduction through economies of scale in manufacturing," he explained. 
He added that electric motorbikes do not require separate power infrastructure, unlike electric cars.
"Batteries today cover a range of 40km to 70km, while most consumers drive less than 40km a day. As such, we anticipate most of the consumers to charge their electric two-wheelers at home," Mr Hansmann added.
READ: Cycling fever hits as Jakarta residents avoid congestion, public transport
Mr Jonathan Simon, salesperson of Niu in the South Jakarta showroom noted that practicality and its relatively affordable price are the key selling points of electric motorbikes.
Niu-branded motorbikes, which are made in China, for example, are available at around 23 million rupiah and can be charged anywhere as long as there is enough power from the household electric socket.
"Every house has different power units …But motorbikes don't take up a lot of power," he claimed, adding that Niu's motorbikes consume between 700 watt and 1,500 watt.
CHALLENGES TO EV ADOPTION
Despite the potential benefits of higher EV adoption in Indonesia, human behaviour, national fuel mix and vehicle pricing are among the factors that could affect whether such vehicles will become mainstream. 
According to Mr Bima Adhiputranto, operational manager of Motolife Internusa, a distributor in Jakarta of electric vehicles and internal combustion engine vehicles, the biggest challenge in EV adoption is people's behaviour.
"The challenge is in educating the public. How to convince them to switch over to electric vehicles if they have been used to tank up their vehicles … In our view, electric vehicles have more advantages because they don't need maintenance. You don't need to change the oil. All you need is to charge and then off you go."
He added: "But what you need to change is your habit. If they are used to filling their vehicles with fuel once or twice a week, now they may need to recharge every day … so they need to adapt," said Mr Adhiputranto.
READ: Indonesia is poised for EV riches as Tesla circles, but a nickel rush could hurt the environment 

Jakarta-based transport analyst Darmaningtyas, who goes by one name, is less enthusiastic about the potential of EVs in Indonesia.
"If the electricity is still derived from coal-fired power plants, actually it is just shifting over the problem. Because the coal reserve is limited, coal also generates dangerous waste, and it also disrupts the environment from the mining," he said, referring to how Indonesia's energy mix is dominated by fossil fuel.
"That's why I'm not euphoric regarding electric vehicles as long as our electricity is still being produced by coal. Whether they are two-wheelers or four-wheelers, they can only be regarded as a solution to environmental problems if the electricity is from water, which we have abundant of in Indonesia such as seawater or from dams," he added.