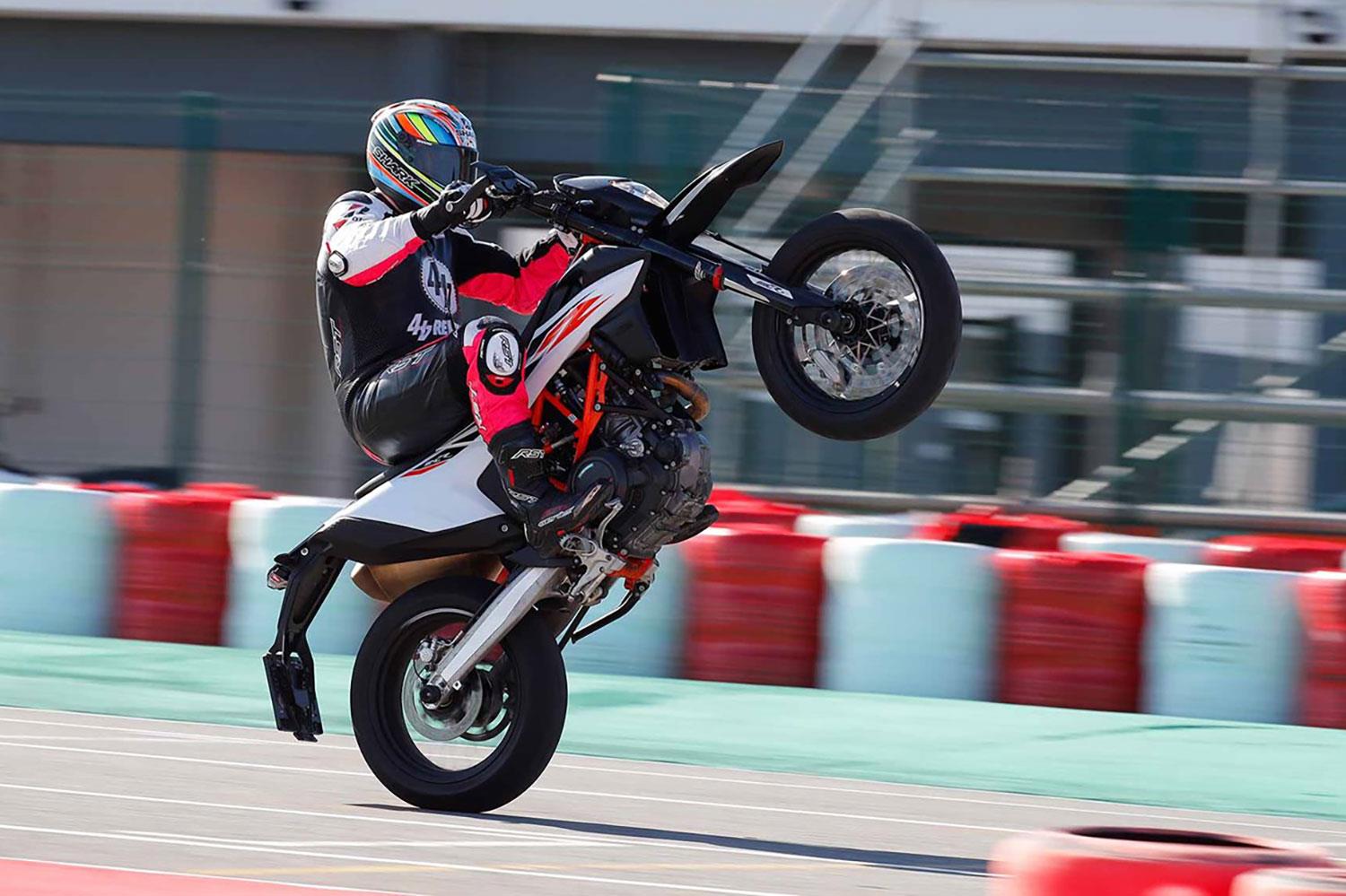 What is a supermoto? Well, there was a time in the late nineties and early noughties where the pinnacle of two wheeled excitement was a supermoto. It's a simple formula; choose a dirtbike, fit uprated and stiffer suspension, a smaller front wheel and road tyres and what you end up with is a nimble, lightweight, wheelie-popping superbike-slayer.
With short, off-road gearing and torquey single or twin-cylinder engines, supermotos are ideal bikes for winning the traffic light GP around the city centre – plus, you can embarrass superbike riders on a twisty B-road scratch at the weekend.
Supermotos actually originated in America in the late '70s and early '80s thanks to a TV show called Superbiker. The idea was to pit the best riders from different racing disciplines against one another on a track that combined short circuit, flat track and motocross sections.
The show's popularity and large prize fund attracted the biking royalty of the day (Eddie Lawson, Kenny Roberts and Håkan Carlqvist to name a few) who modified their own bikes for the job. The field generally included a mixture of Japanese crossers and American V-twin flat trackers with smaller front wheels and fatter tyres fitted and the racing was close and exciting.
When the concept came to Europe, the Superbiker name was translated as Supermotard and the bikes became known as supermotos spawning the race discipline we know today. The supermoto riding style is epitomised by the way the riders 'back it in' to corners – a technique where the rear wheel is allowed to break traction while the front brake is applied on the way into a corner.
It wasn't long before manufacturers began to build their own SM models alongside their MX and enduro machines. The Suzuki DR-Z400SM is a great example of this kind of supermoto. Then, keen to capitalise on the trend, some manufacturers devised bigger-engined supermoto-inspired road bikes such as the Ducati Hypermotard or KTM 690 SMC R.
The craze for supermotos may have died away but roadsters like the KTM Dukes Yamaha MTs and Triumph Street Triple are still flying the flag. These bikes retain some of the drama, scalpel like handling and fun that the supermoto category offers – even if they're not really supermotos anymore.
Supermotos are razor-focused, desperately impractical and in some cases expensive, but you'd be hard pressed to find a biking niche that offers more fun for a sunny Sunday blast. Here's MCN's list of the best new and used supermotos on the market right now.
Best supermoto motorbikes of 2021
---
KTM 690 SMC R
Spec: 693cc / 74bhp / 147kg / 890mm seat height
Price: £7500 (used) – £9599 (new)
The KTM 690 SMC R does a great job of being a proper road bike without losing too much of the raw excitement and rough edges that make supermoto so fun to ride. Built around KTM's excellent 690cc water-cooled single, the SMC R has plenty of torque for low-rev acceleration but really comes to life in the corners thanks to excellent WP suspension.
The 2019 version has tweaks to the chassis and the latest version of the LC4 engine with a second balancer shaft to iron out vibration. There's very little in the way of practicality or creature comforts to be had, as evidenced by the tiny LCD dash readout. But that's not what supermotos are about.
---
KTM 990 SM R
Spec: 999cc / 114bhp / 192kg / 875mm seat height
Price: £4000 (used) – Rarely come up for sale
If you're looking for a bike that perfectly encapsulates the hooligan spirit of the supermoto, look no further than the KTM 990 SM R. With its 999cc V-twin engine pumping out 114 unruly horses, Brembo brakes and adjustable WP suspension, you'll be grinning from ear to ear the whole time you're in the saddle.
The 990 SM is most at home firing between tight bends, but it'll power on to a top speed of 143mph if you can hang on and would be an absolute riot at a trackday, too.
---
Husqvarna 701 Supermoto
Spec: 693cc / 74bhp / 147kg / 890mm seat height
Price: £7995 (used) – £9799 (new)
The Husky is based around the same single-cylinder engine as the KYM 690 mentioned above, but that's a good thing. In fact, underneath the distinctive white paintjob, there's not an awful lot to choose between the two – although you do get a slightly bigger fuel tank on the KTM.
The similarities are, of course, due to the fact that KTM own Husqvarna and both bikes are built using the same platform. All of the fun of the KTM applies here, too, but it's a better-looking option; like a KTM in a tuxedo.
---
Ducati Hypermotard 950 / 950 SP
Spec: 937cc / 112bhp / 200kg / 870mm seat height
Price: £9500 (used) – £10995 (new) – standard model
The Ducati Hypermotard is a more grown up take on the supermoto concept, but only slightly. The 950 is the latest version, following on from the Hypermotard 939, and despite packing enough electronics to stock a small branch of Curry's, it still retains the fun factor you would expect.
You get a TFT dash, lean sensitive ABS (that can't be switched off), traction and wheelie control, slide control and three rider modes.
The SP version gets Öhlins suspension, quickshifter/autoblipper as standard and Marchesini wheels for an extra £3300.
---
Husqvarna SM610
Spec: 576cc / 52bhp / 142kg / 910mm seat height
Price: £4500 (used)
Supermoto style bikes are all single-minded and impractical, but the Husqvarna SM610 is about as close as you can get to a true supermoto race bike for the road. The big single is raw and vibey but meters out torque from practically no revs. Up to 80mph you'll have an absolute blast before it begins to run out of poke.
The suspension is firm and it needs to be ridden hard to get the most from it but it's got plenty of grip and stops well thanks to its single Brembo caliper and 320mm disc. It also looks as fierce as it should and came in suitably mad colour options. They're not the easiest to find on the used market, though, and good ones hold their value.
---
Yamaha WR125X
Spec: 124cc / 15bhp / 137kg / 920mm seat height
Price: £2400 (used)
Proof that supermotos don't have to be fire-breathing hooligans you can break your leg just looking at is the Yamaha WR125X. This learner-legal supermoto is based on the excellent WR125 dirtbike and is a fun way to spend your CBT years or commute across a city.
It's quite tall as 125s go with a 920mm seat height that won't necessarily suit less experienced or shorter riders but it's also very narrow, which helps. The WR125X only went off sale in 2017 so there should be some good low-mileage examples to be found on the used market.
---
Other supermoto motorbikes you might consider
SWM SM125R: also suitable for those with a CBT
SWM SM500R: proper supermoto skills from SWM
Lexmoto Assault 125: at £1400 brand new this is a very cheap option
---
More of MCN's Best articles