A Dodge Challenger Hellcat and Ford Mustang Shelby GT350 see if they have what it takes against the Porsche powerhouse.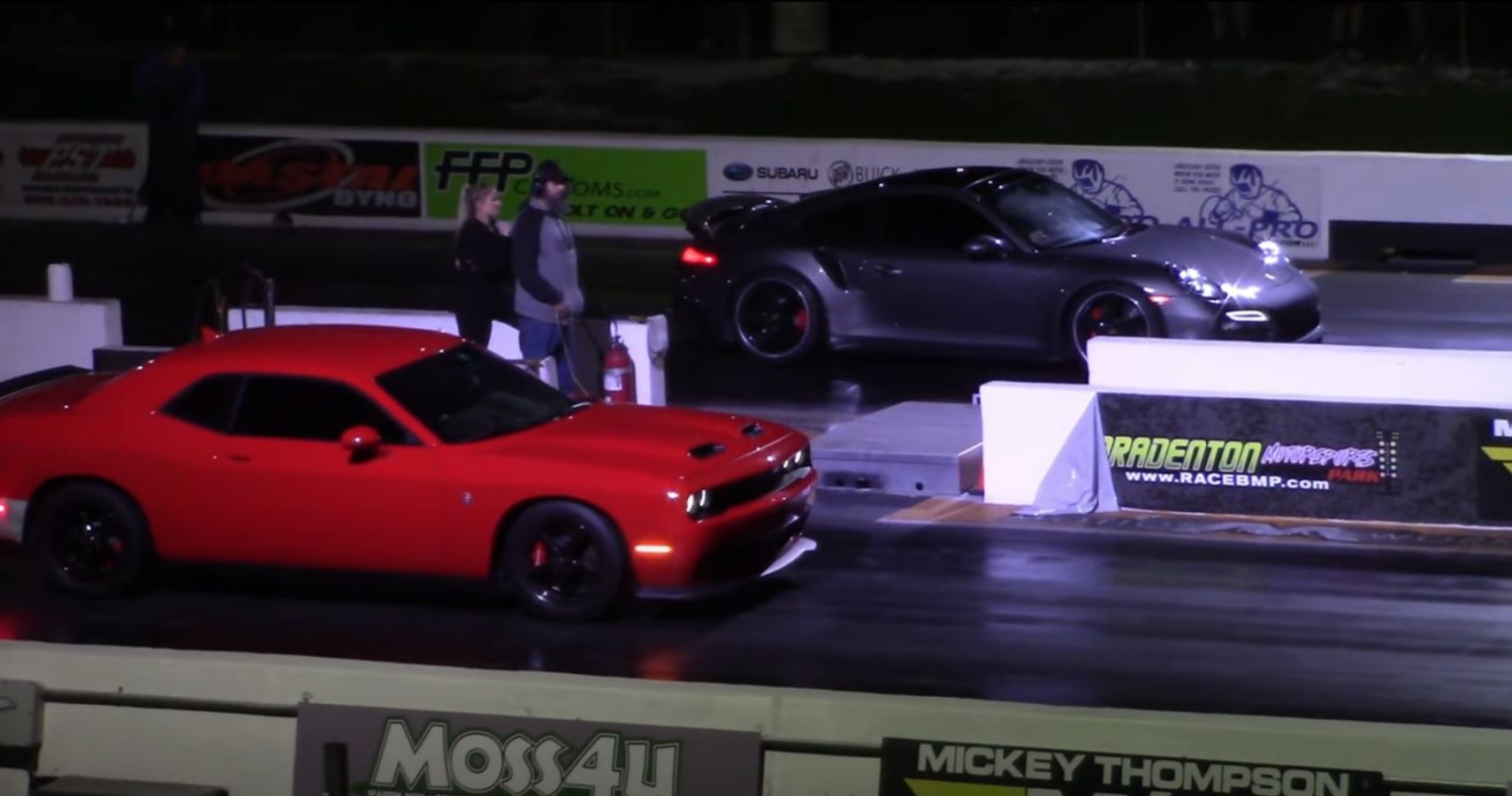 Due to its powerful turbocharged engine and all-wheel drive system, the Porsche 911 Turbo S is a powerhouse when it comes to straight-line performance. With that in mind, many competitors want to test their abilities against the high-end german sports car.
The YouTube channel Drag Racing and Car Stuff looks to showcase such an event when a Dodge Challenger Hellcat and a very modified Ford Mustang Shelby GT350 line up against two clean Porsche 911 Turbos.
The video looks to end the ever-lasting debate between which is better, the loud and proud American Muscle car, or the prestigious and highly refined European Sports car.
RELATED: Watch The Dodge Challenger Scat Pack Destroy The Nissan Z In A Drag Race
Dodge Hellcat Challenges The Porsche 911 Turbo S
The bright red Hellcat immediately demands your attention with its loud V8 engine overpowering the sound of the Porsche's twin-turbo setup. Right off the line, the Hellcat leaps forward with an impressive start and overwhelms the microphone with its 707 hp.
It roars onward but the 911 is quick to fight back, recovering from the minor wheel spin it had off the line. Once it gains its footing, the Porsche is impossible to catch, beating the Hellcat with a time of 10.38 seconds at 137.32 mph. The Hellcat was not far behind with a 10.87-second finish at 126.73 mph
The more subtle, much lighter body of the 911 had enough to fend off the power of the Hellcat in the first race, but it might not be enough for a fully-upgraded Ford Mustang Shelby GT350 up next.
RELATED: Modified Mustang Drag Racing Madness As BoostedGT And Chuck Seitsinger Do Battle
American Muscle Fights Back With An Upgraded Shelby GT350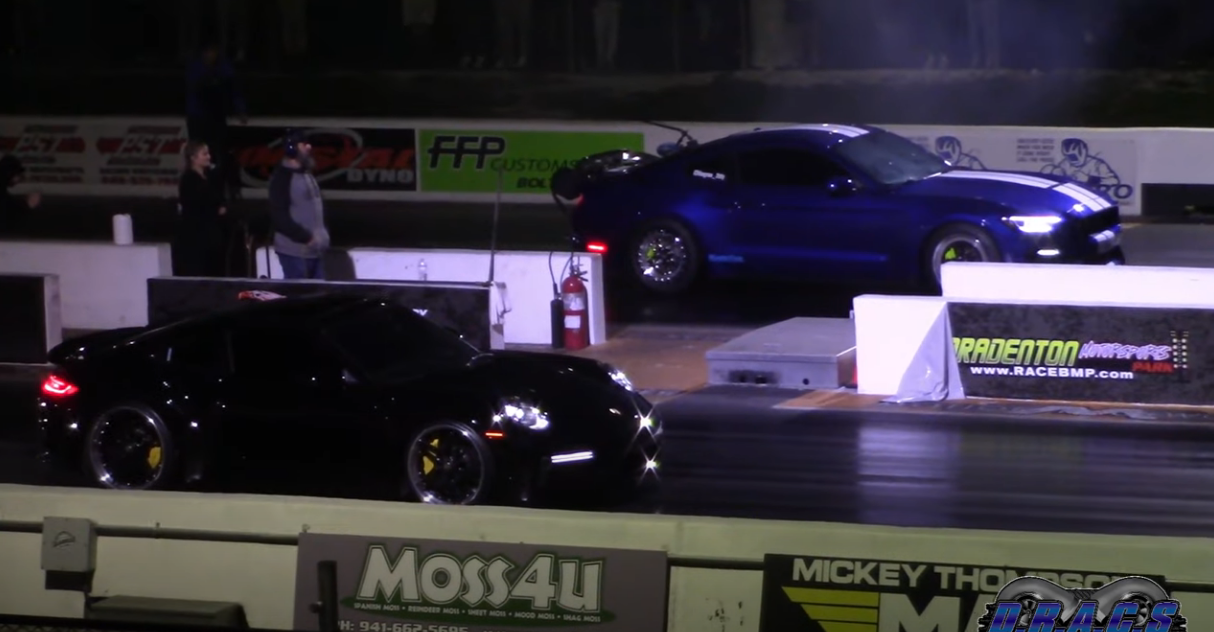 The next Porsche 911 Turbo S looks stunning with chrome-lipped wheels and yellow calipers, but it's still the American Muscle that commands the attention. Nothing represents a drag car better than racing stripes and a parachute kit on the back. Huge drag slicks make sure we know this Mustang means business.
Right from the start and just like the Hellcat, the roar of the American V8 is overwhelming and impossible to ignore. In intimidating fashion, the Mustang launches into the 1/4 mile on nearly 2 wheels, blowing away the Porsche and never giving it a chance.
The GT350 roars over the line with an impressive sub-10-second time of 9.20 seconds at 156.25 mph. The Porsche finished with a time of 10.44 seconds at 134.95 mph.
For many drag racers, a sub-10-second time is a benchmark for an amazing car and a fast driver. With that in mind, the cars in the video all get fairly close to that milestone, showing what true powerhouses they are.