People have been taking motorcycles on long-distance, continent-crossing journeys practically since the machines were first invented. While initially done by manufacturers to demonstrate a given motorcycle's speed or reliability, long-range riding has grown increasingly popular over the last century. As a result, major marques have been producing an ever-evolving range of purpose-built two-wheelers that have been engineered from the ground up specifically for eating up hundreds and hundreds of highway miles.
While the touring segment's rise in popularity has given way to more touring-specific motorcycles than ever before, the sheer number of available choices has also made it more and more difficult to hone in on the genre's true standout models. So, with this in mind, we've thoroughly scoured the two-wheeled realm to deliver this curated guide to the best touring motorcycles. In addition to counting down our picks for the best touring bikes on the market, we'll also be delving into just what exactly a touring motorcycle is as well as exploring what to consider when shopping for one.
What Exactly Is A Touring Motorcycle?
Long-Range Explorers
A touring motorcycle — or "tourer" — is a genre of bike that's been designed specifically for long-range travel and riding. Because these machines are engineered to log countless miles on the open road, they tend to feature larger, freeway-capable engines along with hefty curb weights and long wheelbases that make these motorcycles particularly stable at high speeds. These bikes also feature larger fuel cells — or, in the case of electric motorcycles, batteries — that allow for longer ranges and more autonomy in between trips to the pump (or charging station).
What's more, the engines used in touring motorcycles tend to be incredibly reliable and are often paired with components to minimize the need for maintenance and upkeep — such as a shaft final drive. It's also grown increasingly commonplace to see modern tourers come loaded with cutting-edge tech in the form of onboard moto GPS systems and connectivity to dedicated smartphone apps. Likewise, tourers are usually equipped with ample storage and/or luggage, wind protection, and upright (or slightly leaned back) riding positions that allow riders to comfortably spend hours in the saddle. These machines also come in a wide variety of styles, too, from cruisers to adventure tourers to baggers to sport-tourers.
Two-Wheeled Tourers
10 Main Factors To Consider When Buying A Touring Motorcycle
Because touring motorcycles are engineered specifically for long-range travel, there are a handful of unique factors that are crucial to take into consideration when shopping. Below, we'll briefly delve into the ten most important areas to think about before pulling the trigger on your purchase.
Type Of Bike: While all touring motorcycles are aimed at long-distance riding, these bikes do come in a fairly wide variety of styles. As previously mentioned above, this includes cruisers and baggers, as well as sport-tourers and adventure-tourers. It's also worth noting that when equipped with the right upgrades — such as auxiliary fuel tanks, extended windscreens, hard luggage, auxiliary lighting, and crash protection — almost any freeway-capable motorcycle can be transformed into a bonafide touring machine. 
Engine & Power: As the heart of the bike, a touring motorcycle's engine is unquestionably one of the most important areas to consider when shopping. These powertrains need to be large and powerful enough to comfortably ride at freeway speeds for long durations. As such, multi-cylinder engines are almost always utilized in this segment (with very few exceptions). Horsepower and torque figures also help to provide a more objective sense of a touring bike's performance — especially when coupled with said bike's curb weight (an area we'll touch on more directly below).
Weight: Curb weight (i.e. the weight of the bike fully fueled and topped off with fluids) is a fairly unique area to take into consideration when buying a tourer, as excessive weight is typically viewed as a negative when looking at most genres of motorcycle, however, with tourers, a decent amount of weight is required for the bike to be stable at freeway speeds (even in heavy winds). This ultimately does require some sacrifice, as a heavy weight will compromise a motorcycle's low-speed maneuverability, making it important to try to find an ideal balance.
Wheelbase: Just like with a heavy curb weight, a touring motorcycle's long wheelbase will hugely bolster its stability at high speeds, though will also pretty massively hinder low-speed handling. And, just like with the bike's weight, this area is all about striking a balance between stability and maneuverability.
Storage & Luggage: Not unlike grand touring cars, touring motorcycles are designed with storage in mind. As a result, two-wheeled tourers tend to be equipped with integrated luggage compartments or (often removable) top cases and hard panniers. While this may not sound like much, it's not uncommon to see modern touring bikes that boast well over 100 liters of storage space — and that's before factoring in available aftermarket storage options such as tank bags, riding backpacks, tail bags, and soft panniers.
Tech & Amenities: Over the last decade, motorcycles have been increasingly bestowed with cutting-edge tech — with the touring sector being far from an exception. On top of often sporting glare-proof, full-color TFT displays, a great many of today's latest touring bikes also feature elements such as GPS, onboard sound systems, built-in comms, onboard real-time diagnostics, and a generous slew of electronic rider aids such as cruise control, traction control, and multi-channel antilock brakes, just to name a few.
Crash Protection & Aux Lighting: Though they're more commonly found as upgrades on adventure bikes, having auxiliary lights and crash protection can also be immensely helpful when on a touring motorcycle, helping to better light up what's in the bike's path and protecting the engine, frame, and bodywork in the event of a tip-over, slide, or crash. As such, certain trim levels of touring models come equipped with these items as standard. 
Maintenance & Reliability: If you're traveling hundreds of miles a day on a motorcycle, it's imperative that the bike be extremely reliable and require minimal routine maintenance. As a result, most tourers can go thousands of miles before requiring servicing, and many feature maintenance-mitigating systems such as shaft-driven final drives. There are also owners of vintage BMW and Honda touring motorcycles that have racked up over 1,000,000 miles on the original engine — a fact that points to just how insanely reliable and bulletproof these brilliantly-engineered powertrains truly are.
Comfort: When you're spending all day in the saddle, comfort becomes extremely important. As such, touring bikes tend to be equipped with a host of features that bolster their rider's comfort. This includes elements such as adjustable windscreens and other wind-blocking elements, relaxed (sometimes adjustable) riding positions, cruise control, and heated (and/or cooled) grips and seats. Quite a few touring bike owners also opt to upgrade their bike's saddle to a more plush, aftermarket unit from brands like Saddlemen and Corbin.
Range: Because touring motorcycles are primarily used for long-distance travel, they tend to be outfitted with extended-range fuel cells that afford anywhere from 100 to 200 miles of autonomy on a single tank. In most parts of the developed world, this will be more than sufficient, though there's also the option of mounting auxiliary RotopaX-style fuel cells or traditional jerry cans for additional range.
Kawasaki KLR 650 Adventure
Representing what's almost certainly the best value in the touring motorcycle space, Kawasaki's KLR 650 is an incredibly affordable, on-road, off-road, touring-ready dual-sport bike that's powered by a ridiculously reliable liquid-cooled 652cc single. Adorned in a model-exclusive "Cypher Camo Gray" livery, the Adventure-spec KLR 650 comes loaded with antilock brakes, a skid plate, a tank pad, frame sliders, crash bars, auxiliary lights, and a set of hard side cases — all of which are factory-installed and come as standard. 
Engine: Liquid-Cooled 652cc Single-Cylinder
Power: 34.6HP & 39.1FT-LBs
Curb Weight: 482.7LBs
Wheelbase: 60.6"
Tank Size: 6.1 Gallons
Purchase: $7,699+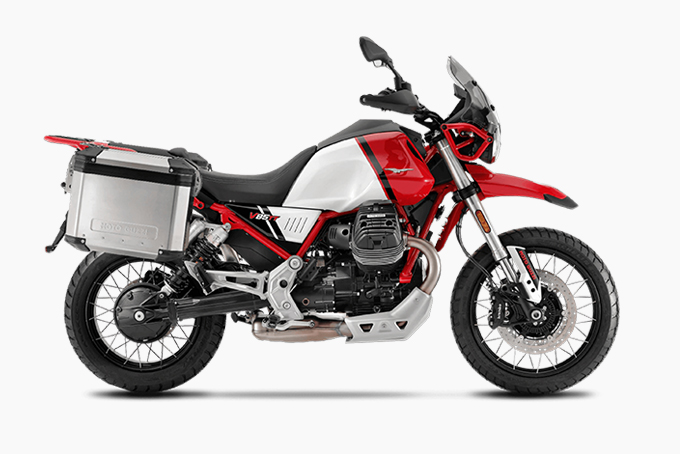 Moto Guzzi V85 TT Adventure
First unveiled in 2017 before entering production two years later, the Moto Guzzi V85 TT Adventure is a modern adventure-touring motorcycle that draws ample visual inspiration from vintage off-road bikes. Kicked along by a 76-hp transverse-mounted overhead-valve V-Twin, this shaft-driven tourer comes loaded with fork guards, an extended windscreen, a skid plate, crash bars, a set of side cases, and a top box straight off the showroom floor. 
Engine: Air-Cooled 853cc V-Twin
Power: 76HP & 62FT-LBs
Curb Weight: 507LBs
Wheelbase: 60.24"
Tank Size: 6 Gallons
Purchase: $13,190+
Yamaha Niken GT
Powered by the same proven CP3 engine from Yamaha's MT-09, the Tuning Fork Company's Niken uses a front-end that's equipped with two inverted forks, providing substantially more stability and more planted cornering thanks to an extra tire's worth of contact patch — and the feedback from a second fork. Made specifically for touring, the GT version of the Niken comes with an extended adjustable windscreen, heated grips, a comfort saddle, an extra 12-volt socket, a center stand, cruise control, a rear grab handle, and a set of 25-liter semi-rigid panniers. 
Engine: Liquid-Cooled 847cc Parallel-Twin
Power: 115HP & 64.5FT-LBs
Curb Weight: 580LBs
Wheelbase: 59.4"
Tank Size: 4.8 Gallons
Purchase: $15,999+
Suzuki Hayabusa
Though the Suzuki Hayabusa was already a bonafide icon of a motorcycle, the Hamamatsu marque opted to heavily revise the 'Busa for the third-generation model in early 2021, ultimately giving way to a quicker-accelerating, markedly more advanced sport tourer. On top of sharper, sleeker bodywork, the latest Hayabusa also gets a retuned 1,340cc four-banger making 187hp, a slipper clutch, a TFT display, a bi-directional quick shifter, launch control, low-RPM assist, and wheelie control, plus a six-axis IMU-regulated Drive Mode Selector. 
Engine: Liquid-Cooled 1,340cc Inline-Four
Power: 187HP & 110FT-LBs
Curb Weight: 582LBs
Wheelbase: 58.3"
Tank Size: 5.3 Gallons
Purchase: $18,599+
BMW R 1250 RT
Tipping the scales at over 600lbs and sporting a 58.5" wheelbase, the BMW R 1250 RT is a full-size sport tourer that offers incredible stability and speed, with the 1.25-liter Boxer twin topping out at around 125mph. Alongside a set of locking hard cases, the R 1250 RT also features LED lighting all around, onboard wireless charging, BMW's ShiftCam variable intake camshaft control, BMW's Dynamic Traction Control and adaptive cruise control, a trio of ride modes (ECO, Rain, and Road), Hill Start Control, and a 10.25″ TFT display with smartphone connectivity and integrated map navigation.
Engine: Air & Oil-Cooled 1,254cc Boxer Twin
Power: 136HP & 105FT-LBs
Curb Weight: 615LBs
Wheelbase: 58.5"
Tank Size: 6.6 Gallons
Purchase: $19,695+
KTM 1290 Super Duke GT
An even more capable European-built full-size sport tourer, KTM's 1290 Super Duke GT is a high-performance touring model with razor-sharp handling and lightning-fast acceleration with a 0-60mph time of just 2.75 seconds. At the heart of the Super Duke is KTM's LC8 V-Twin which is good for 175hp and 104ft-lbs of torque. These immense horsepower and torque figures are kept in check via a state-of-the-art suite of rider aids and a top-shelf running gear setup with some of the finest hardware that money can buy. If you're looking for a touring-capable bike with aggressive performance, look no further. 
Engine: Liquid-Cooled 1,301cc V-Twin
Power: 172.5HP & 104FT-LBs
Curb Weight: 515.8LBs
Wheelbase: 58.34"
Tank Size: 6 Gallons
Purchase: $20,070+
Ducati Diavel 1260
Combining Ducati's signature brand of class-leading performance capabilities with a long and low-slung chassis, the Ducati Diavel 1260 is an Italian-made cruiser bike that's brimming with premium componentry and an advanced suite of tech. Powered by Ducati's Testastretta DVT 1262 engine, the Diavel 1260 is capable of gobbling up countless freeway miles in its stock form, however, with just a few basic aftermarket additions, this Ducati can be transformed into an incredibly competent tourer. 
Engine: Liquid-Cooled 1,262cc L-Twin
Power: 157HP & 95FT-LBs
Curb Weight: 544LBs
Wheelbase: 63"
Tank Size: 4.5 Gallons
Purchase: $21,195+
Triumph Rocket 3 GT
With an absolutely massive 2.5-liter inline-three, Triumph's Rocket 3 packs the largest displacement engine of any production motorcycle in history. Good for 165hp and 163ft-lbs of torque, the Rocket 3 can hit 60mph from a complete standstill in only 2.73 seconds — placing it on par with a slew of today's latest and greatest supercars. The GT-spec of this two-wheeled muscle roadster also gets a height-adjustable brushed aluminum pillion backrest, a plush touring saddle and pillion, an extended flyscreen, heated grips, adjustable ergonomics, hidden folding passenger foot-pegs, and an extended range, five-gallon tank. 
Engine: Liquid-Cooled 2,458cc Inline-Three
Power: 165HP & 163FT-LBs
Curb Weight: 710LBs
Wheelbase: 66"
Tank Size: 4.8 Gallons
Purchase: $24,100+
BMW R18 Transcontinental
Powered by the largest Boxer engine ever made by BMW — a 91-hp air- and oil-cooled 1.8-liter twin — BMW's R18 is a behemoth Bavarian cruiser bike that takes ample inspiration from BMW's vintage models, more specifically its 1930s-era R5. Costing only $3,500 more than the base model R18, the Transcontinental-spec is a full-on bagger, complete with a massive front fairing, an oversized adjustable windscreen, a rear top box with an integrated passenger backrest, locking hard luggage, additional storage compartments, active cruise control, wind deflectors, a TFT display, and a built-in Marshall Gold Series 2 audio system. 
Engine: Air & Oil-Cooled 1,802cc Boxer Twin
Power: 91HP & 116FT-LBs
Curb Weight: 942LBs
Wheelbase: 66.7"
Tank Size: 6.3 Gallons
Purchase: $24,995+
Honda Gold Wing
Originally introduced in 1974 and now on its sixth generation (the GL1800), the Honda Gold Wing is undoubtedly one of the most legendary touring motorcycles of all time. Engineered from the ground up for long-distance riding, the latest Gold Wing is kicked along by an enormous 1.8-liter six-cylinder engine that's backed by a suite of electronic rider assists. Alongside the base model Gold Wing, the Japanese moto maker also produces automatic DCT versions of the legendary tourer, as well as a variant with a built-in automotive-style airbag system, and a Touring-spec with a top box and pillion seat and backrest. 
Engine: Liquid-Cooled 1,833c Horizontally-Opposed Six-Cylinder
Power: 90HP & 102.5FT-LBs
Curb Weight: 843LBs
Wheelbase: 66.9"
Tank Size: 5.55 Gallons
Purchase: $25,300
Energica Experia
The first-ever electric motorcycle designed specifically for touring duties, the Energica Experia is a high-end, Italian-made adventure tourer with a 75kW (102hp) motor that produces an ungodly 664ft-lbs of torque, allowing for a 3.5-second 0-60mph time and an electronically-limited top speed of 112mph. Affording a range of up to 261 miles, the ADV bike's lithium polymer battery can receive a 0-80% recharge in as little as 40 minutes. Other details include long-travel ZF Sachs suspension, heated grips, Brembo brakes, a 5" TFT display, a lockable storage compartment, two USB ports, and an available suite of hard luggage that offers a collective 112 liters of storage space.
Engine: 75-KW Permanent Magnet-Assisted Synchronous Reluctance Motor
Power: 102HP & 664FT-LBs
Curb Weight: 573LBs
Wheelbase: 59.5"
Battery: 22.5-kWh Lithium-Polymer
Purchase: $25,880+
Kawasaki Ninja H2 SX SE
Powered by the same supercharged 998cc inline-four used in Team Green's Ninja H2 superbike, the H2 SX SE is an incredibly powerful sport tourer that comes loaded with more tech than your average new car. This includes adaptive cruise control, blindspot detection, forward collision warning, a new 6.5" TFT display with connectivity to a dedicated Kawasaki smartphone app, an intelligent proximity activation start system, Kawasaki Intelligent ABS, electronically-controlled suspension, active cornering LED lights, a quick-shifter, multiple power modes, electronic throttle valves, and Kawasaki traction, engine braking, and launch control systems. This version of the H2 SX also comes with removable hard luggage as standard. 
Engine: Liquid-Cooled Supercharged 998cc Inline-Four
Power: 228HP & 101FT-LBs
Curb Weight: 590.9LBs
Wheelbase: 58.3"
Tank Size: 5 Gallons
Purchase: $27,500+
MV Agusta Turismo Veloce RC SCS
A top-shelf adventure-touring model with the handling of a supersport, MV Agusta's Turismo Veloce RC SCS offers incredibly sharp and planted performance and comes loaded with cutting-edge tech — as one would expect from one of MV's "Reparto Corse" (or "RC") models. Boasting a top speed of over 140mph, this race-derived motorcycle also comes with MV Agusta's Smart Clutch System (or "SCS") that allows its rider to change gears without having to operate the clutch — thereby eliminating one of the most difficult aspects of learning to ride a motorcycle. Removable luggage also comes as standard on this model. 
Engine: Liquid-Cooled 798cc Inline-Three
Power: 110HP & 59FT-LBs
Curb Weight: 472.8LBs
Wheelbase: 56.89"
Tank Size: 5.68 Gallons
Purchase: $27,898+
Harley-Davidson Road Glide ST
Equipped with a distinctive "Sharknose" fairing, the Harley-Davidson Road Glide ST is a Grand American Touring model made for mowing through miles in comfort. Powered by the MoCo's Milwaukee-Eight 117 V-Twin engine, the Road Glide ST features a Boom! Box GTS infotainment system paired with a TFT display, plus a Daymaker LED headlight, a smart security system, 49mm forks with dual bending valve suspension technology, Emulsion-technology rear shock, and ABS — all as standard. Harley also offers upgrades for this model such as TPM sensors, vehicle hold control, drag torque slip control, upgraded cornering ABS and traction control, and electronically-linked cornering brakes. 
Engine: Air & Oil-Cooled 1,917cc V-Twin
Power: 121HP & 127FT-LBs
Curb Weight: 842LBs
Wheelbase: 64"
Tank Size: 6 Gallons
Purchase: $29,999+
Indian Pursuit Limited
Taking aim directly at Harley's Road Glide, Indian's Pursuit is an American-made bagger that boasts a more advanced engine and tech suite compared to its Milwaukee-made counterpart. Even the base model Pursuit — known as the Pursuit Limited — features a fuel-injected, liquid-cooled 1,768cc PowerPlus V-Twin, plus a chassis-mounted front fairing, an adjustable FOX rear shock, a premium 200-watt onboard audio system, a 7" touchscreen RIDE COMMAND display with Apple Carplay integration, all-LED lighting, and more than 132 collective liters of remote-lockable, weatherproof storage space. This Indian motorcycle also makes slightly more power than the Harley directly above. 
Engine: Liquid-Cooled 1,768cc V-Twin
Power: 122HP & 128FT-LBs
Curb Weight: 912LBs
Wheelbase: 65.7"
Tank Size: 6 Gallons
Purchase: $29,999+
The 12 Best Adventure Motorcycles
Interested in checking out an additional selection of touring-ready bikes? Then be sure to cruise over to our guide to the best adventure motorcycles for a dozen of the latest and greatest touring-capable models capable of gobbling up countless miles — whether on or off-road.